AAA girls | AAA boys | AA girls | AA boys | PCL/Public
Can Jessica Cickay win that elusive state championship
and get back to FootLockers? Will Jesi Christiansen thee-peat? Will the great Henderson program re-assert itself? Will Ryan Blood put it all together? Don't know. But guessing is fun!
Click section headings for full story on PennTrackXC
2001 Foot Locker finalist Jessica Cickay is the veteran now and favored to win the state championship. Defending champion Allentown Central Catholic will have to fight off last year's favorite, North Penn.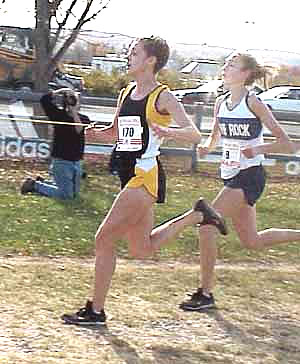 In 2001 state championship, young soph Jessica Cickay (right) was outkicked by veteran Stephanie Madia in one of the most thrilling races ever in the state meet. Both later qualified for the Foot Locker national finals. [photo by PennTrackXC]
In first year of cross country, USATF JO 3000m champion Eric Fleming hopes to follow championship footsteps of Dan Mazzocco and Shawn Cavanaugh. Council Rock split appears to leave Henderson West Chester the clear favorite for team honors.
Greenville sr Jesi Christiansen will gun for a third straight state title, with the Huss twins ready if she slips. Wyomissing is armed for 4th straight championship; they will try for national ranking at the Great American Cross Country Championships in Charlotte in September.
Pennsboro sr Ryan Blood gets nod in competitive field. Team race is even more wide open.
O'Hara may be poised to sweep both boys and girls titles in the Philadelphia Catholic League. Best individual matchup is Steve Hallinan of O'Hara vs. Tim O'Neill of St. Joseph's Prep.