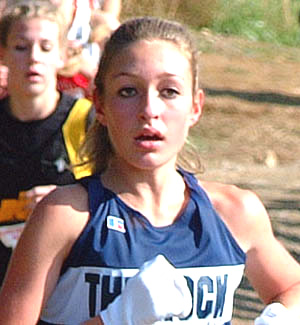 by Don Rich,
PennTrackXC
Jessica Cickay is in transition. From a precocious, young talent, to
a mature, young talent. That's the good news. The bad news is we
won't get to see that talent until the Spring season in 2003.
For those who observe the sport too closely, Jessica did not have
the season of our expectations this year. For that matter, Jessica
didn't have the season of her expectations.
"I had body changes. I started lifting to get stronger for the long
term. I grew two inches. And I gained ten pounds of muscle
weight. I just need time to adjust to my new body. And I will."
Cickay started the season as the heir-apparent to 2001 state
champ Stephanie Madia, who clipped her nearing the line after a
furious charge. But kids grow, and Jessica grew after her Foot
Locker national appearance as a sophomore. "Maybe I didn't have
such a bad spring, running 5-flat. But the state 1600 was so deep
last year."
Cickay began the cross country season feeling a bit out of sorts. "I
knew I didn't feel like last year. I felt amazing last year." That
amazing feeling resulted in a 6th place finish at Northeast Foot
Lockers. "But I don't feel I'd be competitive this year. I'm not
mentally there. I need a break from racing."
Cickay's times were not up to her previous performances. But she
never quit. In fact, she surged at the end of the season to medal at
both Districts and ultimately, finish 10th at States. "For an off year,
10th in States is great. I think I was able to do well because I took
the pressure off. I was barely running. I didn't do the workouts. I
was relaxed. And I did did well."
Cickay also noted that the split of her school into North and South
may have had some impact. "Nothing against my teammates this
year, they were great. But those were my best friends who went to
South this year. I missed them after school every day."
To help her return to form, Cickay is taking off the indoor season,
but will resume training soon. "I feel better running. I want to come
back wanting to run. I want to have a lot of confidence."
Cickay is still the same competitor others have come to respect.
And when she comes back, stronger and fresh, they'll find her as
fast as ever. "I'm looking forward to it."
So are we, Jessica.