New Balance Greets New Star
by Leo Collins
On a day that makes one just love Cross Country the weather was balmy and the runners from Oregon & Washington took advantage of it. By mid-meet not a cloud could be seen in the sky and the temperature was a pleasant 80 degrees as the elite field of runners met at Clackamas Community College in a meet sponsored by New Balance. Due to construction on campus the course was a bit different than in the past and even included a slight hill so times in comparison to the past are a bit of a stretch.
The race of the day was the Girl's Sweepstakes, which included a fine field led by Meghan Armstrong of Tualatin second in the state in 2002. Also competing in the race were Olivia Bender of Cleveland & Danielle Jordan of North Medford who placed third & ninth at state last year. Based on those results one would have scripted the race differently but such is the beauty of racing and one can not simply mail in the results. Olivia Bender assumed a slight lead at the start and was joined by Armstrong & Jordan yet surprisingly there was another competitor interspersed in between that group. After two minutes of running on the flat the group ascended a slight rise and Bender took a slight lead followed by a new runner in the yellow uniform of Bend High School. Not clear at the time who it was, there was no question that this runner would not simply sit back and follow her more noted opponents.
Running back down the grade the Bend runner moved into second and even pushed the pace as they left the track heading for the remote portion of the course. During the back part of the course Meghan Armstrong moved up to contend with the Bend freshman Kimber Mattox as well as Jordan with Bender falling back to fourth. Heading back up the rise Armstrong assumed the lead with Mattox trailing by a bit but they were back together once they returned to the flat area. By this time the race was down to only three possible winners as Bender had fallen a good forty yards behind Jordan in third.
The race remained this way for most of the race and it appeared that Mattox was making a concerted effort, yet there was no break until the rise. Then with about 200 yards to go Meghan Armstrong opened a gap on Mattox as they returned to the track. In the end Armstrong won in a fine time of 18:02 with Mattox 2nd in 18:10 & Jordan in 3rd with a time of 18:13. Olivia Bender finished 4th by herself in 18:32 about a half minute ahead of Anne Murphy-Hagan of St. Mary's.
Armstrong finishes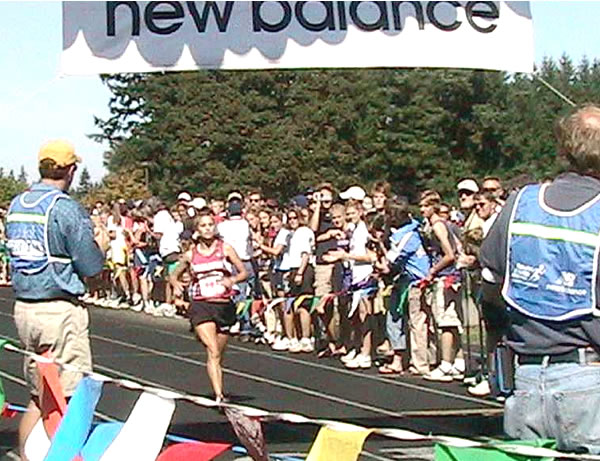 It was a good win by the Tualatin runner, who noted, when asked, that she only felt like she'd win by "that red flag" pointing to a flag half way up the aforementioned rise. No question she had more in the tank too. One has to have a great deal of respect for the young freshman, who certainly put in a great deal of effort. She was obviously tired & her voice broke, when commenting afterwards but there is no doubt that she will continue to get stronger & has the heart that it takes to be an excellent racer.
It was a bit unfortunate that Anna Stombo of West Salem & junior Annaliese Chapa, no longer of Grant but Central Catholic, were in the girl's varsity division as their times of 18:38 & 18:41 would have put them in the mix for the Sweepstakes. As good as the individual race was Snohomish of Washington made no question about the team competition winning by a 58 to 140 over Crescent Valley. St. Mary's placed third ahead of fourth place Grant with 143 thanks to the sixth place tie-break.
Stuart Eagon, who placed sixth at State last year in a remarkably stellar group, left no doubt about the Boys' Sweepstakes Race. He held the lead up the hill the first time and after around three-quarters of a mile the race was never in doubt. He continued to stretch his lead and won by over half a minute cruising past the finish in 15:09 close to the course record in spite of the fact that it was a tougher course this year. Kkkenyen Neoman of Summit placed second ahead of Travis Hartanov of Mt. Spokane in 15:43. Harrison Wilson of Sunset out kicked Sage Canady of Newberg both in 15:47. It was an impressive improvement for Neoman & Canady who placed 16th & 18th repsectfully at State last year.
The team race was once again a Washington mismatch as Mt. Spokane won with 82 points while Bend was a distant second with 161. The fight for second was a good one as Sunset tallied 162 points with Mountain View close behind with 168 & Central Catholic fifth with 171. Sadly the boys race left as many questions as answers, although Stuart Eagon made known that he will be a force to be reckoned with at State. Defending State champion Galen Rupp did not run with his team mates, and touted transfer Scott Wall was a disappointing 41st, so an early show of form was not available. Ryan Vail of Centennial, yet another individual of note, and the defending champion Jesuit team, were also absent.

Results and Highlights
Boys
Boys Varsity Sweepstakes
Minus Footlocker favorite Galen Rupp of Central Catholic who was away on a
visit to Michigan, Stuart Eagon of Beaveron did not disappoint race fans
with an amazing solo run against the course record of 15:06. Eagon led
from the gun, pushing the pace throughout the course. After passing
through two miles in 9:40, Eagon battled himself and the 85 degree heat to
just miss the course record with a time of 15:09.87. Behind Eagon, a
battle loomed between an number of talented runners from Oregon and
Washington. The rest of the top five included Kenyon Newman--Summit
15:43.14, Travis Hartanov--Mt. Spokane 15:44.77, Harrison Wilson--Sunset
15:47.11, and Sage Canaday--Newberg 15:47.86. Mt. Spokane looked ready to
challenge perennial Washington power Mead after winning team title with
82(3-10-15-16-26). They were followed by Bend 161, Sunset 162, Mt. View
168, and US #8 Central Catholic(minus Rupp) at 171.
Team
Mt. Spokane 82
Bend 122
Sunset 162
Mt. View 168
Central Catholic 171
Newberg 174
Ashland 183
Snohomish (Wa) 188
Heritage (Wa) 200
Beaverton 212
Kelso 235
Individual
1 Stuart Eagon Beaverton 15:09.87
2 Kenyen Neoman Summit 15:43
3. Travis Hartanov Mt. Spokane 15:44
4. Harrison Wilson Sunset 15:47
5 Sage Canaday Newberg 15:47
6. Kevin Khron Heritage (Wa) 15:49
7. Andrew Wright Ashland 15:50
8 Chris Rodriguez Kelso 15:53
9. David Morgan Ashland 15:54
10. Kohl Crecelius Mt. Spokane 15:55
11. Vertin Alvarez Newberg 15:57
Boys Invitational
Rob Schlegel of Crescent Valley was a runaway winner with a time of
15:59.27. The rest of the top five included Nick Clark--Gresham 16:35.21,
Chris Jacobsen--West Linn 16:37.85, Geoff Read--16:40.71, and Nik
Karr--Tigard 16:51.93. Team Scores: Clackamas 97, Crescent Valley 103,
Tualatin 107, Franklin 111, Gresham 115.
Girls
Girls Varsity Sweepstakes
The top individual battle of the day pitted Meghan Armstrong of Tualatin
against freshmen Kimber Mattox of Bend, Olivia Bender of Cleveland and
Danielle Jordan of North Medford. Mattox took the lead early and pushed
the pace throughout. Armstrong, Bender and Jordan followed closely
through two miles with Bender losing contact with the group just after
two miles. Mattox continued to push the pace with Armstrong and Jordan
shadowing her every move. With less than 800 to go, Armstrong moved to
the lead with a strong move and never looked back winning in 18:02.07.
Armstrong was followed by Mattox in 18:10.04, Jordan in 18:13.46, Bender
in 18:32.29 and Anne Murphy-Hagan of St. Mary's in 19:00.18. In the team
battle, US #8 Snohomish's depth rained supreme winning with 58
points(8-9-10-15-16), followed by Crescent Valley 140, St. Mary's 143(56),
Grant 143(87), and Bend 171.
Team
Snohomish (Wa) 58
Crescent Valley 140
St. Mary's 143
Grant 143
Bend 171
McMinnville 174
Tualatin 176
Kelso (Wa) 192
Cleveland 194
Summit 204
Individual
1. Meghan Armstrong Tualatin 18:02.07
2. Kimber Mattox Bend 18:10
3. Danielle Jordan N. Medford 18:13
4. Olivia Bender Cleveland 18:32
5. Anne Murphy-Hagan St. Marys 19:00
6. Kira Donnelly Grant 19:10
7. Zoe Roy Summit 19:10
8. Lucy Miller Snohomish 19:14
9. Alysa Modrell Snohomish 19:18
10. Amanda Stopa Snohomish 19:25

Women's Invitational Race
A sensational battle between Annaliese Chapa of Central Catholic and Anna
Stumbo of West Salem went down to the final strides before Stumbo
prevailed 18:38 to 18:41. Chapa took that race out for a fast first two
miles before Stumpo pulled up along side and a furious battle over the
last mile ensued. Top five finishers were Anna Stumbo--West Salem
18:38.96, Annaliese Chapa--Central Catholic 18:41.13, Angelina
Turner--Tigard 19:08.01, Meghan Leonard--Newberg 19:30.89, and Heather
Fitz-Gustafson--The Dalles 19:40.13. Team Scores: Clackamas 74, Tigard
112, Gresham 147, Corvallis 172, Central Catholic 172.

Preview
Women's Invitational
The women's invitational race should be a tight battle between several up
and coming teams. The team battle should be very close with Oregon 4A
power Ashland, facing Oregon 3A powers Wilsonville and The Dalles, with
challenges also expected from Central Catholic, West Linn, Gresham and
Newberg. The individual race should see some surprises, but expect to see
Annaliese Chapa of Central Catholic, Meghan Leonard of Newberg and Heather
Fitz-Gustafson of The Dalles run at the front.
Men's Invitational
The men's invitational race shapes up to also be a tight battle between a
number of teams. The team race should include Oregon 4A powers Tualatin,
West Linn, Corvallis, Crescent Valley and McMinnvile facing 3A power The
Dalles all battling it out for the team title. The individual race should
be wide open, but should include Rob Schlegel of Crescent Valley, Roman Ng
of Franklin and Nick Clark of Gresham at or near the front.
Women's Sweepstakes
The women's sweepstakes race could be the top team battle of the day.
Look for nationally ranked Washington powerhouse Snohomish #8(nation) #2
in Washington, Kelso #7(3A) in Washington and a host of ranked teams from
Oregon including #2 St. Mary's, #8 Grant, #10 Sunset, #6 Tualatin, #4
Crescent Valley, #7 Bend and #9 McMinnville. Expect a close battle that
won't be decided until the final steps on the track. The individual race
should be incredible with Megan Armstrong of Tualatin, Samone Brockett of
Sunset, Olivia Bender of Cleveland, Zoey Roy of Summit, Anne Murphy-Hagan
of St. Mary's and Danielle Jordan of North Medford expected to do battle
with a number of other talented runners for the top spot.
Men's Sweepstakes
The men's sweepstakes race will feature a number of top-ranked teams from
Oregon and Washington. Perennial Washington powers #6 Snohomish, #5 Mt.
Spokane and #5(3A) Kelso should do battle with nationally ranked Central
Catholic #8(nation) #2 in Oregon as well as several other top ranked
Oregon teams including , #3 Bend, #9 Sunset, #4 Beaverton, #8 Putnam, #10
Ashland and 3A power Wilsonville. Central Catholic will be a strong
favorite, but look for a closely bunched group after that. Galen Rupp of
Central Catholic should face stiff challenges from Stuart Eagon of
Beaverton, Kenyon Newman of Summit and several other very talented
runners. The men's individual field is very deep, so look for a few
surprises in the top ten.