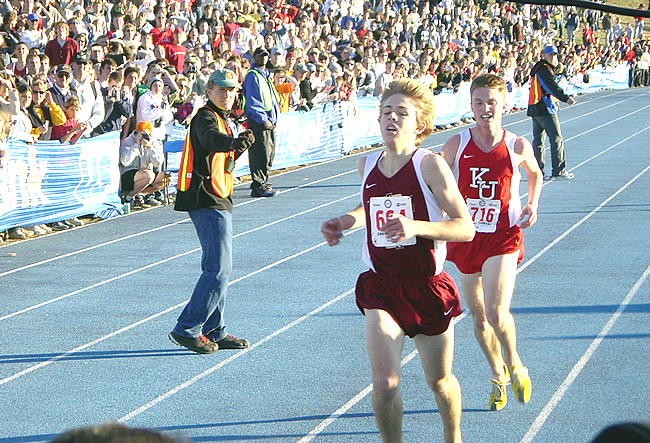 Rupp and Jesperson at the finish - photo by Josh Rowe
Galen Rupp goes wire to wire and holds off fast closing Lauren Jespersen 14:56 to 14:57 5k, both beating the old record. Rupp led all the way through a mile in 4:45 and 2 miles in 9:40, but Jespersen nearly made up a 40-meter gap in the finish on the track. Next were Alec Wall 15:26, Patrick Werhane 15:36, and Joaquin Chapa 15:47. Jesuit beat Grant for the team title on the 6th man tie breaker after the first five for each team totalled 115. Jesuit shook off Grant's 2-3-7 lead with a 29-second gap from 1 to 7; their 6th man was 38th to Grant's 95. In the girls race, soph Erin Gray was clearly the best in 18:14.
Mike Kennedy says (from Foot Locker West preview):
"One of the most anticipated state meet races of the season—The Oregon 4-A Division championships at Lane CC. Last year Lauren Jespersen and Jacob Gomez, both of Klamath (Klamath Falls) set the course record at 15:29, listed by Oregon's Who's Who of track and Cross country, as the fastest in state history. There is some question as to what the record should be since current co-head coach at South Eugene, Jeff Hess ran 14:33 in 1978 to win the state meet for South. However, Hess demanded that then Coach and now co-coach John Gillespie, measure the course the next day. Gillespie did and found it to be 3 miles, about 188 yards short of 5,000 meters. Two years earlier another South Eugene legend, Bill McChesney, had run 14:51. No other runners have ever broken 15 minutes in the state meet but that barrier will be challenged this Saturday. Pushing the undefeated Jespersen, who won the Stanford invitational in a course record 14:54 earlier this year, will be junior sensation, the undefeated Galen Rupp of Central Catholic (Portland), who won his district meet in 15:15 and last year at the U.S. Junior National ran 14:34 on the track for 5,000 meters. Joining these two are the Grant (Portland) duo of Alec Wall and Joaquin Chapa, who ran 15:02 and 15:11 behind Jasperson at Stanford. Rounding out what just might be the best five-some ever to face off in Oregon harrier history is Lincoln (Portland) senior Mike McGrath, who possess 1:50 speed and finished just behind the Grant pair in last weeks district meet. These peope are going to COOK."
Elite ties to U. of Oregon stars of the 1970s: Joaquin Chapa is the son of Rudy Chapa and Rupp is coached by Alberto Salazar.
The Oregonian says it is "a race for the record books." Portland Central Catholic coach Dave Clark told The Oregonian:"I think that the distance runners in Oregon this year will ultimately be considered one of the finest collections from a single state in a single year in U.S. history."