For details, go to ArmoryTrack.com, the site for New York news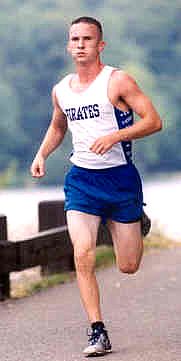 9/21 - Suffern Invitational - Bear Mountain SP
Brendan Fennell (left, photo by Garret Meade, TrakShots) sets meet record 14:57 for 3 mile course. Shoreham-Wading River's Toni Ann Salucci is top girl in 18:12.5. Northport, Commack and Arlington state cases for boys rankings with class team titles, as do
Shaker & Warwick.
9/21 - Regis Invitational - VCP
Speedy siblings Beth and Mark Alizzi win matching golds, the latter blazing
to meet record 12:52.4 over storied VCP course.
Argyle ranked #1.
The surprise team of the season is ranked ahead of perennial Class D power
Bronxville for the first time. Week 2 Rankings
9/21 - Section 2: Guilderland Invitational Girls - Boys - Tawasentha Park
Argyle (with five 7th graders and a 9th grader!) stuns NYS#2 Colonie;
Niskayuna's Caitlin McTague repeats as Champ race winner; Shenendehowa over
Kellenberg as the latter's Dan Naughton sets CR.
from Jon Broderick of section2harrier
9/21 - Briarwood Invitational - Belmont Plataeu, PA
Hunterdon Central rolls, Chaminade 5th in boys championship race.
9/21 - Bob Pratt Invitational - Sunken Meadow SP
Mullen sisters lead Bronxville to Class A title, Bay Shore's Laura Cummings
is day's fastest at 20:16 for 5K; boys see Jim Butchel log top 5K at 17:29.
9/21 - Section 3: East Syracuse-Minoa Invitational - Pine Grove MS
Ashley Hughes (Phoenix) had the fastest girl's time of the day (18:34.6) and
Dan McKenna (Liverpool) had the fastest boy's time (15:31.1). Central Square
boys edged CNS by a score of 44-45 in the closest team race.
Sauquoit Valley boys beat Tully by 35-48 in a match-up of the top Class C
teams in the State ... Tully's Dominick Luka and Lopez Lomong finished
one-two as they crossed the finish-line together
from Bill Meylan's tullyrunners.com
9/21 - Section 6: WNY TRACK/CC OFFICIALS MEET - Beaver Island SP
Lockport's Mark Russell races to day's fastest time for day's fastest team;
Caitlin Higgins does the same for Nardin.
9/21 - Section 6: East Aurora Invitational - East Aurora, NY
Williamsville North's Mike Long sets course record, Frontier is boys team
winner; Erica Somogyi's 1st place finish leads Orchard Park to girls win.
9/21 - Section 3: Auburn Invitational - Auburn, NY
Kyle Paolangelli (Ithaca) and Katie Derusso (Fairport) race to day's fastest
times in leading their squads to large school division wins.
many photos at www.communitypictures.org
9/21 - Section 4: Hickories Invitational - Hickories Park, Owego, NY
Horseheads' Mike Keating sets course mark but mates fall just shy of A-B
champs Maine-Endwell; Chelse Usack duplicates Keating's feat, as Horseheads
gets 2nd to strong Elmira Southside team. Waverly boys and Seton Central
Catholic's girls are C-D winners.
9/21 - Section 7: Ft. St. Frederic Invitational - Crown Point, NY
Saranac's Sarah Paul and Emily Medeiros go 1-2, but can't push team past
Cobleskill-Richmondville; Queensbury takes boys title.
9/21 - Gressler Invitational - White Plains HS
Edgemont's Christa Hunter and hosts' Mike Smayda record top 5K times;
Edgemont & Ursuline are girls team champs, Egdemont and West Islip take home
boys trophies.
9/21 - PSAL Group Run - Van Cortlandt Park
Naomi Reynolds of Stuyvesant is top girl in 16:26 over 2.5m course. Campus
Magnet's Jerrell Wisdom is boys counterpart in 14:38.
9/21 - Section 2: Fort Plain Invitational - Harry Hoag ES
Notre Dame-Bishop Gibbons' Justin Pantalone takes the large school title as
Averill Park beats out Ballston Spa for the team title 97-115. Galway's
Justin Daino logs day's fastest time (16:26) in small school race as Salmon
River takes the team title over Berne-Knox-Westerlo 64-94
Girls: Caitlin Doherty leads Notre Dame-Bishop Gibbons individual title
sweep of large school races by logging fastest time of the day (19:39),
Lansingburgh places three in top ten to take team title over Averill Park
67-102. from Jon Broderick of section2harrier
9/21 - NJCTC Class XC Invite - Waranico Park, NJ
Pope John XXIII's Justin Scheid (16:30) and Passaic Valley's Jesse Mizzone
(19:46) log best times at 23rd Annual.
Newly posted.....
9/14 - Section 5: Fairport Classic - Center Park, Fairport, NY
9/17&18 - PSAL Brooklyn Group Run - Prospect Park