Top teams have close races - US#1 Los Alamos girls beat Albuquerque Academy by 9 points. New Mexico #1 Academy boys beat Los Alamos by 7 points.
US #1 Girls win again but Albuquerque Academy girls give the Hilltoppers a tough test and finish 9 points behind the national power. On the boys side 5-time defending state champs, Albuquerque Academy and Los Alamos battle to a 7 point margin. With the Chargers winning despite a 15 second pack time by the Hilltoppers.
Heather Wood and Kristen Hemphill would lead the green-clad Los Alamos girls with 1-2 finish.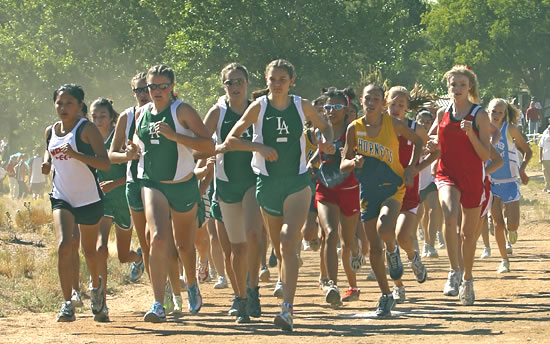 Academy sr Andres Urbina (red) leads Pojoaque's Darren Calvert early and they finished that way too.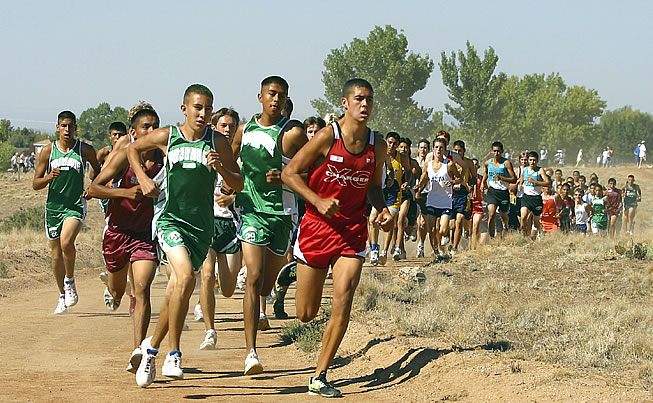 photos by Peter Davies
Girls: Individuals
1. Kristen Hemphill Los Alamos 19:38
2. Heather Wood Los Alamos 19:40
3. Lyndsay Harper Abq. Academy 20:11
4. Laura Hughes La Cueva 20:19
5. Anna Miller Los Alamos 20:23
6. Rachelle Billie Shiprock 20:30
7. Leslie Luna Abq. Academy 20:38
8. Lindsay Machacek Abq. Academy 20:43
9. Ariel Emig Abq. Academy 20:54
10. Lindsay Barr La Cueva 20:58
Grils: Teams
1. Los Alamos 34
2. Abq. Academy 43
3. La Cueva 85
4. Grants 138
5. Shiprock 173
6. Pojoaque 183
7. Highland 228
8. Wingate 232
9. Taos 237
10. Laguna-Acoma 247
11. Tohatchi 272
12. Sandia Prep 293
13. Menaul 317

Boys: Individuals
1. Andres Urbina Abq. Academy 16:22
2. Darren Calvert Pojoaque 16:39
3. Sheldon Benally Shiprock 16:42
4. Mitch Bible Abq. Academy 16:47
5. Marvis Aragon Laguna-Acoma 16:54
6. Daniel Hemphill Los Alamos 16:56
7. Cody Harper Abq. Academy 16:59
8. Brad Pulliam Los Alamos 17:01
9. Nathan Romero Los Alamos 17:04
10. Ryan McNiff Los Alamos 17:11
Boys: Teams
1. Abq. Academy 37
2. Los Alamos 44
3. Pojoaque 116
4. La Cueva 130
5. Del Norte 164
6. Sandia Prep 213
7. Shiprock 214
8. Wingate 217
9. Highland 237
10. Laguna-Acoma 240
11. Taos 250
12. Tohatchi 287
13. Grants 319
14. Menaul 381
15. Thoreau 449