by Adam Kedge
The US#5 Los Alamos girls and the US#8 Albuquerque Academy boys continued their winning ways and capped off undefeated seasons with dominating performances at the New Mexico State Championships. Both teams won the 4A division with scores of 15 and 21 points respectively. Alex Romero's (Albuquerque High School – 5A) time of 16:57 and Kristen Hemphill's (Los Alamos – 4A) 19:46 were the fastest times of the day.
4A Girls
The nationally ranked (5th) Los Alamos Hilltoppers made NM state history when they became the first girls team to earn a perfect score at the state championships. Impressively, after combining all classifications, the Hilltoppers had five of the six fastest times of the day and would have scored 18 in an all-classes race.
Pre-race favorite Leslie Luna of Albuquerque Academy took the lead for the 1st mile with the Los Alamos pack of five and Lyndsay Harper of Academy close on her heels. Soon after the mile and as the runners approached the biggest hill on the course, Kristen Hemphill of Los Alamos overtook Luna with the rest of her teammates right on her heels. By the midpoint of the race, the LA fivesome of Hemphill, Heather Wood, Brittany Somers, Marisa Sandoval, and Anna Miller were running 1 through 5. Wood took the lead at this point and ran in the front until Hemphill caught up with approximately a quarter mile to go. With 200 meters remaining Hemphill took the lead for the final time and finished three seconds in front of Wood. The LA girls finished with a :33 pack time – their best of the season.
| | |
| --- | --- |
| 1 mile | halfway |
4A Boys
The nationally ranked (8th) Albuquerque Academy Chargers continued their dominance on the boys side by extending their meet streak to 25 consecutive victorys. Their 5th state title in a row was highlighted by placing all of their top 5 in the top 10 places. Senior Alan Weeth defeated defending state champ and teammate John Bunting with a surge at the 2 ¼ mile mark.
Alan Weeth (left) and John Bunting at 2 miles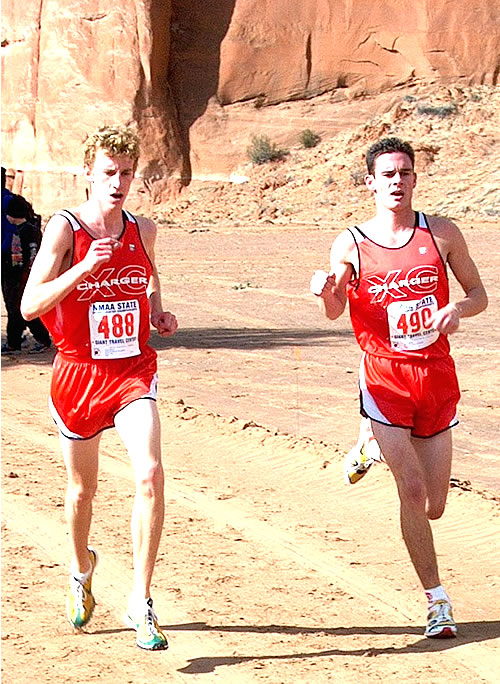 5A Boys
1. Gallup 49, 2. Albuquerque La Cueva 89, 3. Albuquerque Sandia 105
1. Alex Romero, Albuquerque High, 16:57; 2. Chris Bratton, Albuquerque Manzano 17:12; 3. Josh Rogers, Albuquerque La Cueva, 17:16; 4. Eddie Lopez, Las Cruces Mayfield, 17:22; 5. Michael Clarke, Albuquerque Sandia 17:31
4A Boys
1. Albuquerque Academy 21, 2. Los Alamos 53, 3. Kirtland Central 103
1. Alan Weeth, Albuquerque Academy, 17:00; 2. John Bunting, Albuquerque Academy, 17:21; 3. Andres Urbina, Albuquerque Academy, 17:26; 4. Matt Benally, Kirtland Central, 17:35; 5. Teo Cutter, Albuquerque Academy, 17:38
3A Boys
1. Pojoaque 30, 2. Wingate 90, 3. Tohatchi 96
1. Stephen Martinez, Pojoaque, 17:27; 2. Darren Calvert, Pojoaque, 17:28; 3. Dwight Carlston, Tohatchi, 17:34; 4. Robert Roybal, Pojoaque, 17:59; 5. Vince DeVargas, Pojoaque, 18:13
1A-2A Boys
1. Jemez Valley 29, 2. Rehoboth Christian 105, 3. Zuni 135
1. Lloyd Yazzie, Rehoboth Christian 17:20; 2. Vernon Tosa, Jemez Valley, 17:28; 3. Garren Waquiu, Jemez Valley, 17:38; 4. Marvin Aragon, Laguna Acoma, 17:47; 5. Eugene Gachupin, Jemez Valley, 17:48
5A Girls
1. Gallup 18, 2. Albuquerque Eldorado 84, 3. Albuquerque Sandia 100
1. Sheyenne Lewis, Gallup, 19:59; 2. Jerri Martin, Gallup, 20:28; 3. Roxanne James, Gallup, 20:29; 4. Krista Monaghan, Gallup, 19:32; 5. Lynn Brasher, Albuquerque Eldorado, 20:48
4A Girls
1. Los Alamos 15, 2. Albuquerque Academy 50, 3. Shiprock 101
1. Kristen Hemphill, Los Alamos, 19:46; 2. Heather Wood, Los Alamos, 19:49; 3. Brittany Somers, Los Alamos, 20:11; 4. Marisa Sandoval, Los Alamos, 20:16; 5. Anna Miller, Los Alamos, 20:19
3A Girls
1. Pojoaque 47, 2. Grants 61, 3. Cobre 100
1. Cateka Tsosie, Wingate, 20:54; 2. Erin Lewis, Grants, 21:10; 3. Valerie Detrick, Cobre, 21:20; 4. Sophia Vigil, Pojoaque, 21:33; 5. Myrriah Gomez, Pojoaque, 21:41
1A-2A Girls
1. Zuni 79, 2. Pecos 92, 3. Crownpoint 105
1. Phillana Belone, Rehoboth Christian, 21:21; 2. Monique Garcia, Laguna Acoma, 21:11; 3. Ashley Quintana, Pecos, 21:33; 4. Jessica Hale, Rehoboth, 21:24; 5. Crystal Morgan, Crownpoint, 21:39