| Results | photos by Pat Montferrat / MySportsShot
Janine Davis doubles 400/800. Jennifer Clausen US#4 3200m.
left, Janine Davis (Queen of Peace) leads Kimarra McDonald (Rancocas Valley) through the half way mark of the Girls 800m. Davis completed her 400m(57.66), 800m double in 2:14.6. She also placed 5th in the 55m

below, Jennifer Clausen (Jackson Memorial) en route to her 10:54.67 victory in the Girls 3200m

Boys - Vineland sr Darren Ford 6.47 55m (Sherron Bullock 6.48). Franklin sr Greg Gomez 1:55.93 800m. Washington Twp. sr Carmen Cavella 4:19.09 1600m. Kennedy Patterson jr Mohamed Khadraoui 9:06.58 3200m. Winslow sr Reuben McCoy 7.48 55H. Camden HS 3:27.53 4x400. Vineland sr Jamal Ames 6-6 HJ. Wall sr Dave Zaycek 58-7 SP.
Girls - Montclair sr Sophia Wallace 7.25 55m. Queen of Peace jr Janine Davis doubles 57.66 400m and 2:14.60 800m. Hunterdon Central sr Casey Nelson 5:00.21 1600m. Jackson Mem soph Jennifer Clausen 10:54.67 3200m US#4. Manchester jr Sonia Sullivan 8.28 55H. Willingboro HS 4:01.90 4x400. Mainland sr Marcene Jack 5-6 HJ. Millvilee sr Sylvia Galarza 44-1.5 SP.
Boys 3200 lead pack is a Who's Who of current NJ distance talent: from right: Mohamed Khadraoui, Chris Pannone, Jeremy Zagorski, Justin Scheid, and Greg Hughes.


Khadraoui

wins
Girls 1600m stretch drive: Hunterdon's

Casey Nelson

and Cherokee's

Lisa Burkholder

match strides until Nelson wins the lean at the finish, 5:00.21 to 5:00.39.
Greg Gomez (Franklin) leads Steve Iannacone (Toms River East)
early in the Boys 800m. Gomez went on to win in 1:55.93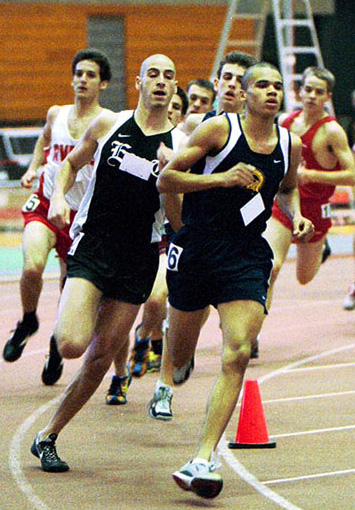 Results
results from Ed Scullion Timing
Boys
NJSIAA MEET OF CHAMPS - BOY'S
                    Hy-Tek's Meet Manager 2/29/2004 06:18 PM
              2004 NJSIAA/STAR-LEDGER MEET OF CHAMPS - 2/29/2004               
                          DON DANSER - MEET DIRECTOR                           
                      PRINCETON UNIVERSITY, PRINCETON, NJ                      
                                    Results                                    
 
Boys 55 Meter Dash
============================================================================
10 Advance:  Top 1 Each Heat plus Next 5 Best Times
Meter Record:    6.39  1986        Joe Henderson, Freehold Boro                
Yards Record:    6.1h  1974        John Chambers (60y), Neptune                
 Yard Record:    6.3h  1981        Mike Parker/Dennis Mitchell 1983 (55m), MP-S
    Name                    Year School                  Seed    Prelims  H#
============================================================================
Preliminaries
  1 Sherron Bullock           12 CAMDEN                  6.58       6.58Q  5 
  2 Darren Ford               SR VINELAND                6.58       6.59Q  4 
  3 Shaun Lockhart            SR NEW BRUNSWICK           6.68       6.64Q  2 
  4 Jahre Cheeseman           11 EASTERN                 6.68       6.67Q  1 
  5 Tony Williams             12 SHABAZZ, MALCOM         6.78       6.68Q  3 
  5 Adian Sanderson           SR EWING                   6.61       6.68Q  3 
  7 Bruce Owens                  DEPTFORD                6.79       6.68q  1 
  8 Shurnon Flavaney          11 SAYREVILLE WAR M        6.82       6.75q  4 
  9 Jonathon Watkins          12 MONTCLAIR KIMBER        6.93       6.77q  3 
 10 Joseph George             12 HANOVER PARK            6.76       6.78q  5 
 11 Joseph Mastrangelo        JR W.WIND PL NORTH.        6.77       6.79   4 
 12 Cameron Craig                LAKEWOOD                6.80       6.81   2 
 13 Shonn Greene              12 WINSLOW TOWNSHIP        6.72       6.83   1 
 13 Norman Stubbs                BRIDGETON               6.86       6.83   2 
 15 Mike Rush                 12 TOMS RIVER NORTH        6.77       6.84   5 
 16 Sultan Scott              12 HILLSIDE                6.88       6.87   2 
 16 Keith Taylor              SR ELIZABETH               6.76       6.87   3 
 18 Nick Murray               12 SHORE REG               6.85       6.88   4 
 18 Mike Demko                10 HIGHTSTOWN              6.80       6.88   3 
 20 Jamar Byrd                JR VINELAND                6.79       6.89   1 
 20 Shevroy Greene            12 PLAINFIELD              6.76       6.89   4 
 20 Dwayne Lewis              12 CAMDEN                  6.82       6.89   5 
 20 Marcous Turner            10 EASTERN                 6.83       6.89   5 
 24 Ronald Sheppard              PENNSAUKEN              6.88       6.90   1 
 25 Lamar Johnson             12 RAHWAY                  6.97       6.91   3 
 26 David Lazaro              12 MANCHESTER TWP.         6.85       6.93   3 
 27 Sullivan Parker           SR BERGENFIELD             6.78       6.95   2 
 28 Daryl Toney               11 SUMMIT                  6.87       6.97   1 
 29 Peter Papanestor          SR SPARTA                  6.94       6.98   5 
 30 Anthony Parillo              SOUTH RIVER HIGH        6.93       7.00   4 
 31 Anthony Pomo              11 SADDLE BROOK            6.95       7.01   4 
 32 Bryan Messina             SR WHIPPANY PARK           6.94       7.03   5 
 33 Quawee Williams           SR CENTRAL-NEWARK          6.72       7.38   2 
 
Boys 55 Meter Dash
=========================================================================
Meter Record:    6.39  1986        Joe Henderson, Freehold Boro                
Yards Record:    6.1h  1974        John Chambers (60y), Neptune                
 Yard Record:    6.3h  1981        Mike Parker/Dennis Mitchell 1983 (55m), MP-S
    Name                    Year School               Prelims     Finals 
=========================================================================
Finals
  1 Darren Ford               SR VINELAND                6.59       6.47  
  2 Sherron Bullock           12 CAMDEN                  6.58       6.48  
  3 Shaun Lockhart            SR NEW BRUNSWICK           6.64       6.58  
  4 Bruce Owens                  DEPTFORD                6.68       6.63  
  5 Adian Sanderson           SR EWING                   6.68       6.67  
  6 Tony Williams             12 SHABAZZ, MALCOM         6.68       6.71  
  7 Joseph George             12 HANOVER PARK            6.78       6.73  
  8 Shurnon Flavaney          11 SAYREVILLE WAR M        6.75       6.74  
  9 Jonathon Watkins          12 MONTCLAIR KIMBER        6.77       6.86  
 -- Jahre Cheeseman           11 EASTERN                 6.67         FS  
 
Boys 400 Meter Dash
============================================================================
Meter Record:   48.50  2/23/2003   Lance Wigfall, EAST ORANGE                  
Yards Record:   49.0h  1973        Dave Law (440), Snyder                      
    Name                    Year School                  Seed     Finals  H#
============================================================================
  1 Andrew Anderson           SR MONTCLAIR              51.16      50.63   4 
  2 Carl Smith                11 CAMDEN                 51.14      51.04   4 
  3 Paul Fay                  SO CENTRAL REGIONAL       51.25      51.05   4 
  4 Alex Whirledge            SR CHEROKEE               51.06      51.07   5 
  5 Jihad Springer            11 SHABAZZ, MALCOM        51.24      51.17   4 
  6 Rupert Gill                  LAKEWOOD               51.30      51.21   4 
  7 Dave DE Palma                OLD BRIDGE             50.96      51.33   5 
  8 Mike Carhart              SR POPE JOHN XXIII        50.86      51.36   5 
  9 Justin Gaymon             11 PHILLIPSBURG           52.06      51.49   3 
 10 Keith Taylor              SR ELIZABETH              50.75      51.52   5 
 11 Adian Sanderson           SR EWING                  50.25      51.71   5 
 12 Alonzo Brown              12 CAMDEN                 51.57      51.88   4 
 13 Marcel VanEeden           11 MENDHAM                51.91      51.92   3 
 14 Randall Harris            04 WILLINGBORO            51.71      52.18   3 
 15 Daniel Ruch               SR WARREN HILLS           52.33      52.44   3 
 16 Chris Leonberg            SR MOORESTOWN             52.28      52.58   3 
 17 Saladeen McGrady          SR WEST ORANGE            52.62      52.62   2 
 18 Nick Reid                 SR PARSIPPANY             52.20      52.66   3 
 19 Anthony Parillo              SOUTH RIVER HIGH       52.89      52.68   1 
 20 Givan Johnson             12 MORRISTOWN             52.76      52.72   1 
 21 Sultan Scott              12 HILLSIDE               52.65      52.99   2 
 22 Josh Simmons              SR HACKENSACK             52.63      53.17   2 
 23 Jeff Eames                SR WHIPPANY PARK          53.17      53.40   1 
 24 Dave LaRocca              SR SPARTA                 52.51      53.41   2 
 25 Reuben McCOY              12 WINSLOW TOWNSHIP       49.98    1:01.13   5 
 
Boys 800 Meter Run
=========================================================================
Meter Record:   1:53.77  1991        Jean Destine, Elizabeth                   
Yards Record:   1:55.5h  1969        Joe Savage (880), Roselle Catholic        
 Yard Record:   1:55.5h  1972        Gary Trojanowski (880), St. Joseph        
    Name                    Year School                  Seed     Finals 
=========================================================================
  1 Greg Gomez                SR FRANKLIN             1:59.08    1:55.93  
  2 Mike Carmody              SR GOV. LIVINGSTON      1:57.01    1:56.27  
  3 Thomas Dickson            SR HADDONFIELD          2:02.11    1:59.70  
  4 Patrick Mellea            SR ST. PETER'S PREP     1:58.59    1:59.83  
  5 Rob Novak                 11 BORDENTOWN           2:04.03    1:59.87  
  6 Jim Madden                   TOMS RIVER SOUTH     2:00.05    2:00.02  

  7 Ron Fialk                 12 JOHN P. STEVENS      2:02.81    2:00.03  
  8 Ian Waterhouse               RANCOCAS VAL         1:58.99    2:00.11  
  9 John Guzman               12 BRIDGEWATER-RARI     2:01.66    2:00.18  
 10 Brett Fiorovanti          SR CHRISTIAN BROS A     1:58.91    2:00.30  
 11 Matthew Filandro          SR INDIAN HILLS         2:02.21    2:00.57  
 12 Paul Bahamondes              JACKSON MEM          2:00.77    2:00.67  
 13 Keith Tharrington         11 WINSLOW TOWNSHIP     2:02.80    2:00.69  
 14 Brent Napoleon            JR DON BOSCO PREP       2:03.10    2:00.71  
 15 Evan Colquhoun            SR MORRIS HILLS         2:00.98    2:00.81  
 16 William Doherty           SR MADISON              2:01.56    2:01.60  
 17 Spenser Popeson           SR MAINLAND             2:00.97    2:02.05  
 18 John Campoli                 MORRIS CATHOLIC      2:04.68    2:02.14  
 19 Jonathan Salamon          12 ST. JOE-METUCHEN     2:03.30    2:02.23  
 20 Ryan McMahon              JR CRANFORD             2:02.92    2:02.76  
 21 Scott Britton             11 SHORE REG            2:01.96    2:03.65  
 22 Byron Williams            10 RIDGEWOOD            2:04.11    2:03.71  
 23 Jonathan Collins          SR SPARTA               2:04.40    2:03.92  
 24 Chad Vidal                11 SPOTSWOOD HIGH S     2:06.61    2:04.46  
 25 Evan Campbell             11 WAYNE VALLEY         2:04.90    2:04.52  
 26 Chris Harris              SR WEST ORANGE          2:03.67    2:05.20  
 27 Josh Sheldon              12 HIGHTSTOWN           2:04.48    2:06.92  
 28 Steve Iannaccone          12 TOMS RIVER EAST      1:58.25    2:07.21  
 29 Jeff Ostermueller         10 METUCHEN             2:06.60    2:09.85  
 30 Jerry Whittaker           SR MOUNT OLIVE          2:04.40    2:09.93  
 
Boys 1600 Meter Run
=========================================================================
Meter Record:   4:16.27  1992        Chris Lear, Pingry                        
Yards Record:   4:06.6h  1972        Vince Cartier (Mile), Scotch Plains-Fanwoo
 Yard Record:   3:59.6h  1981        Cliff Sheehan (1500m), Westfield          
    Name                    Year School                  Seed     Finals 
=========================================================================
  1 Carmen Cavella            SR WASHINGTON TOWNS     4:26.96    4:19.09  
  2 Jim Wyner                 JR MAINLAND             4:27.94    4:20.08  
  3 Daniel Bingham            12 TOMS RIVER NORTH     4:27.91    4:20.71  
  4 Joe Kingsbery             12 RED BANK REG         4:24.41    4:21.71  
  5 Ari Zamir                 12 RIDGEWOOD            4:27.83    4:23.04  
  6 Brian Lang                SR ST. PETER'S PREP     4:27.91    4:23.37  
  7 Jeffrey Klatsky           12 NUTLEY               4:30.96    4:26.02  
  8 Justin Scheid             SR POPE JOHN XXIII      4:28.32    4:26.39  
  9 Scott Bastek              12 DELBARTON            4:30.92    4:26.44  
 10 Joshua Davis              11 PHILLIPSBURG         4:33.37    4:26.98  
 11 Robert Dennis             12 RED BANK REG         4:26.56    4:28.07  
 12 Dan Whitt                 12 DELBARTON            4:32.83    4:29.01  
 13 Mohamed Khadraoui         JR KENNEDY PATERSON     4:27.30    4:29.43  
 14 Jeff Perrella             10 WESTFIELD            4:37.48    4:29.60  
 15 David Maher               12 RIDGEWOOD            4:33.06    4:29.98  
 16 Chris Pisano              11 TOMS RIVER NORTH     4:35.61    4:31.15  
 17 Dale Taylor               SO NORTH HUNTERDON      4:35.31    4:31.30  
 18 James Kavaliauskas        JR HIGHLAND REGIONA     4:37.72    4:31.91  
 19 Zachary Tedoff            11 COLTS NECK           4:33.78    4:32.91  
 20 Matt Dahl                 JR RARITAN              4:35.52    4:34.91  
 21 Tom Walsh                 JR MATAWAN              4:33.94    4:34.94  
 22 Paul Chegwidden           SR WALLKILL VAL         4:32.48    4:35.42  
 23 Tom Finnerty              12 MIDLAND PARK         4:39.49    4:36.79  
 24 Joe McKenney              FR CRANFORD             4:37.50    4:38.80  
 25 Hany Abdallah             SR MADISON              4:37.50    4:40.08  
 26 Kevin Thorpe              12 SPOTSWOOD HIGH S     4:34.68    4:40.31  
 27 Chris Ricci               12 BUENA                4:38.39    4:40.59  
 28 Richard Dube              12 ST. ROSE             4:41.25    4:40.77  
 -- Will Melofchik            SR CHRISTIAN BROS A     4:26.98        DNF  
 
Boys 3200 Meter Run
=========================================================================
Meter Record:   9:11.9h  1982        J.J. Clark, Columbia                      
Yards Record:   9:07.8h  1973        Chris Inman (2-mile), Essex Catholic      
 Yard Record:   8:45.80  1981        J.J. Clark (3000m), Columbia              
    Name                    Year School                  Seed     Finals 
=========================================================================
  1 Mohamed Khadraoui         JR KENNEDY PATERSON     9:02.72    9:06.58  
  2 Christopher Pannone       12 HUNTERDON CENTRA     9:02.84    9:10.27  
  3 Greg Hughes               SR MAINLAND             9:32.25    9:17.55  
  4 Oscar Nordenbring         12 MONTCLAIR KIMBER     9:30.21    9:19.16  
  5 Craig Forys                9 COLTS NECK           9:20.59    9:25.49  
  6 William Rowland           12 HUNTERDON CENTRA     9:37.50    9:25.90  
  7 Brian Goldberg            SR HADDONFIELD          9:42.93    9:27.64  
  8 Robert Dennis             12 RED BANK REG         9:26.04    9:29.04  
  9 Justin Scheid             SR POPE JOHN XXIII      9:27.56    9:35.16  
 10 Paul Kornaszewski         SR CLIFTON              9:50.04    9:38.95  
 11 Matt Caporaso                OLD BRIDGE           9:49.53    9:39.94  
 12 Brian Kopnicki            SR SCOTCH PLAINS-FA     9:51.88    9:41.61  
 13 Chris Guerriero           11 SADDLE BROOK         9:39.33    9:42.67  
 14 Ryan Williams             SR EAST BRUNSWICK       9:48.46    9:44.20  
 15 John Smith                SR MATAWAN              9:44.10    9:47.52  
 16 Joe Ennis                 10 W WIN PLAINS SOU    10:02.66    9:48.54  
 17 Hany Abdallah             SR MADISON              9:41.17    9:49.05  
 18 David Alfano              SR WEST ORANGE          9:41.05    9:50.08  
 19 Anthony LaMastro          SO POPE JOHN XXIII      9:37.88    9:50.99  
 20 Kyle Alpaugh              SR VOORHEES             9:57.33    9:52.14  
 21 Andrew Catalano           JR ROSELLE CATHOLIC     9:51.97    9:53.64  
 22 Jeremy Zagorski           SR PAR HILLS            9:20.57    9:54.73  
 23 Matthew Klypka            SR INDIAN HILLS         9:45.29    9:57.64  
 24 Brandon Rodkewitz         SO MORRIS HILLS         9:57.89    9:59.62  
 25 Justin Hedderich          JR SPARTA               9:57.91    9:59.77  
 26 Brian Dennis              10 HILLSBOROUGH        10:00.77   10:00.36  
 27 Michael Burghoffer        SR WALLKILL VAL         9:43.68   10:01.52  
 28 Matt Mitchell             SO HADDON HEIGHTS      10:06.41   10:03.90  
 29 Anthony Arnold            12 ST. ROSE            10:04.47   10:04.87  
 30 Evan Geilich              12 BERNARDS            10:02.69   10:09.12  
 31 Ben Massam                SO CHATHAM              9:50.99   10:09.69  
 32 Nick Freeman              SR CHEROKEE            10:01.19   10:09.71  
 
Boys 55 Meter Hurdles
============================================================================
10 Advance:  Top 1 Each Heat plus Next 6 Best Times
Meter Record:    7.36  1996        Sultan Tucker, Delsea                       
Yards Record:    6.9h  1993        Reggie Blackshear (60y), Metuchen           
 Yard Record:    6.9h  1977        Renaldo Nehemiah (60y), Scotch Plains-Fanwoo
    Name                    Year School                  Seed    Prelims  H#
============================================================================
Preliminaries
  1 Reuben McCOY              12 WINSLOW TOWNSHIP        7.71       7.65Q  4 
  2 Greg Bloemer              SR SPARTA                  7.72       7.74Q  2 
  2 Micheal Pohludka          SR VERNON                  7.89       7.74Q  1 
  4 Robert Penn               12 WINSLOW TOWNSHIP        7.81       7.78Q  3 
  5 Jason Bradley                SOMERVILLE              8.07       7.82q  2 
  5 Dwayne Joseph             04 WILLINGBORO             8.06       7.82q  1 
  7 Javon White                  TOMS RIVER SOUTH        7.86       7.83q  3 
  7 Jean Gentil               SR ABRAHAM CLARK           7.77       7.83q  1 
  9 Chris Haley               11 UNION                   7.96       7.84q  3 
  9 Jeremy Perussi            10 NV @ DEMAREST           7.71       7.84q  3 
 11 Dan Oquendo               JR HACKENSACK              7.95       7.85   2 
 12 Marcus Lee                SR VINELAND                7.87       7.89   1 
 13 Brandon Mason             12 PHILLIPSBURG            7.78       7.90   2 
 13 Corey Nelms               10 NEPTUNE                 7.86       7.90   4 
 15 Thomas MACKEY                BRIDGETON               8.08       7.97   3 
 16 Emmanuel Bamgbade            HAMILTON WEST           8.00       8.02   3 
 16 Reggie Berry              12 MORRISTOWN              7.98       8.02   4 
 18 Justin Gaymon             11 PHILLIPSBURG            7.82       8.05   4 
 19 Anthony Pomo              11 SADDLE BROOK            8.05       8.06   2 
 20 Anthony Gaugler           12 PASSAIC TECH            8.08       8.07   4 
 21 Luis Cartagena            SR ELIZABETH               8.18       8.10   4 
 22 Nick Murray               12 SHORE REG               8.44       8.15   2 
 23 Kevin Gauntt              SO SENECA                  8.19       8.22   3 
 24 Reggie Clarke             11 RAHWAY                  8.00       8.24   4 
 25 Tyrell Ross               11 CLEARVIEW               8.06       8.29   1 
 26 Marcellus Manning         11 BUENA                   8.22       8.30   2 
 26 Andrew Fontana            SR PASCACK HILLS           8.25       8.30   1 
 28 Scott Atkins              JR PASCACK HILLS           8.37       8.52   1 
 29 Mike Dvorak               12 SPOTSWOOD HIGH S        8.70       8.70   3 
 29 Shawn Murtagh             11 METUCHEN                8.76       8.70   4 
 31 Ron Green                    OLD BRIDGE              7.78       8.81   1 
 
Boys 55 Meter Hurdles
=========================================================================
Meter Record:    7.36  1996        Sultan Tucker, Delsea                       
Yards Record:    6.9h  1993        Reggie Blackshear (60y), Metuchen           
 Yard Record:    6.9h  1977        Renaldo Nehemiah (60y), Scotch Plains-Fanwoo
    Name                    Year School               Prelims     Finals 
=========================================================================
Finals
  1 Reuben McCOY              12 WINSLOW TOWNSHIP        7.65       7.48  
  2 Micheal Pohludka          SR VERNON                  7.74       7.65  
  3 Greg Bloemer              SR SPARTA                  7.74       7.66  
  4 Jean Gentil               SR ABRAHAM CLARK           7.83       7.71  
  5 Jeremy Perussi            10 NV @ DEMAREST           7.84       7.74  
  6 Robert Penn               12 WINSLOW TOWNSHIP        7.78       7.78  
  7 Javon White                  TOMS RIVER SOUTH        7.83       7.82  
  8 Jason Bradley                SOMERVILLE              7.82       7.83  
  9 Chris Haley               11 UNION                   7.84       7.84  
 10 Dwayne Joseph             04 WILLINGBORO             7.82       7.89  
 
Boys 4x400 Meter Relay
============================================================================
Meter Record:   3:22.44  2001        , Willingboro                             
                         Dwight Ruff, Maurice Young, Jade Smith, John Morri
Yards Record:   3:21.1h  1970        4x440y (Mile) Relay, Seton Hall           
    School                                               Seed     Finals  H#
============================================================================
  1 CAMDEN                                            3:25.74    3:27.53   5 
     1) Sherron Bullock 12              2) Devon Burroughs 11             
     3) Alonzo Brown 12                 4) Carl Smith 11                  
  2 CHRISTIAN BROTHERS                                3:29.17    3:28.86   5 
     1) Dan McLeod SR                   2) Brett Fiorovanti SR            
     3) Peter Glackin JR                4) Chris Vuono SR                 
  3 SETON HALL                                        3:29.86    3:29.08   5 
     1) Philip Baldwin 12               2) Patrick Blackie 9              
     3)                                 4) Patrick Altema 11              
  4 VINELAND                                          3:28.06    3:29.46   5 
     1) Bruce Bartley SO                2) Darren Ford SR                 
     3) Jamar Byrd JR                   4) Marcus Lee SR                  
  5 FRANKLIN                                          3:35.84    3:31.02   3 
     1) Homer Nelson, III               2) Oscar Wilson SO                
     3) Greg Gomez SR                   4) Gregory Tucker SR              
  6 WINSLOW TOWNSHIP                                  3:25.96    3:31.98   5 
     1) Frank Jackson 11                2)                                
     3) Brandon Grantham 11             4) Reuben McCOY 12                
  7 WEST ORANGE                                       3:34.41    3:32.02   4 
     1) Saladeen McGrady SR             2) Louis Antenor JR               
     3) Chris Harris SR                 4) Michael Desir SR               
  8 JACKSON MEMORIAL                                  3:33.80    3:32.30   4 
     3) Jason Staggers                  4) Paul Bahamondes                
  9 TOMS RIVER SOUTH                                  3:35.59    3:32.67   3 
     1) dave McCullough                 2)                                
     3) Jim Madden                      4) Andrew Triolo                  
 10 MORRISTOWN                                        3:37.25    3:32.92   2 
     1) Doug Cloninger 10               2) Kevin Kohn 10                  
     3) Givan Johnson 12                4) Reggie Berry 12                
 11 POPE JOHN XXIII                                   3:34.02    3:33.02   4 
     1) Steve Kulsar SR                 2) Chris Seabold SR               
     3) Rob DeVasto SR                  4) Mike Carhart SR                
 12 OLD BRIDGE                                        3:30.86    3:33.64   5 
     1) Ron Green                       2) Bryant Mc Combs                
     3) Allan Lunkenheimer              4) Dave DE Palma                  
 13 NEPTUNE                                           3:34.58    3:33.73   4 
     1) Corey Nelms 10                  2) Corey Wright 10                
     3) Tyrone Luckey 12                4) Ryan Brinson 12                
 14 NOTRE DAME                                        3:33.70    3:33.93   4 
     1) Steve Sionne                    2) James Maleski                  
     3) Guy Castranova                  4) Jarrett Pelzer                 
 15 BUENA                                             3:35.53    3:34.31   3 
     1) Rob Manning 12                  2) Victor Rivera 11               
     3) Seann Linus 12                  4) David Ashenfelter 12           
 16 COLUMBIA                                          3:34.75    3:34.60   3 
     1)                                 2) Kevin Ross 12                  
     3)                                 4) Richard Wyche 12               
 17 PLAINFIELD                                        3:36.10    3:34.80   2 
     1) Willie Bryant 12                2) Jamal Elder 11                 
     3) Kelley Peterkin 11              4)                                
 18 SHORE                                             3:39.70    3:35.23   1 
     1) Matt Villane 10                 2)                                
     3) Taylor Kirk 10                  4) Scott Britton 11               
 19 CENTRAL REGIONAL                                  3:38.05    3:35.48   2 
     1) Sean Clayton SR                 2)                                
     3) Paul Fay SO                     4) William Mamagona JR            
 20 IRVINGTON                                         3:38.80    3:36.95   2 
     1) Jamar Cotton JR                 2) Fednel Darius SR               
     3) Ishmael Robbins FR              4)                                
 21 METUCHEN                                          3:42.24    3:37.61   1 
     1) Richard Rosenblum 11            2) Marcus Farris 10               
     3) Dan Ziznewski 11                4) Jeff Ostermueller 10           
 22 PLEASANTVILLE                                     3:40.69    3:38.55   1 
     1) Anthony Murphy 11               2) Alan Laws, Jr. 09              
     3)                                 4) Reginald Teemer 12             
 23 GOVERNOR LIVINGSTON                               3:34.62    3:39.19   3 
     1) Sean Carmody JR                 2) Greg Batejan JR                
     3) Joe Murphy JR                   4) Mike Carmody SR                
 24 RED BANK CATHOLIC                                 3:39.16    3:39.27   1 
     1)                                 2) Casey StFleur 11               
     3) Robbie Gruner 11                4) Donald Brown 11                
 25 MANCHESTER TWP.                                   3:35.84    3:39.82   2 
     1)                                 2) Chris Eno 12                   
     3) Scott Moore 11                  4) Joseph Sposato 12              
 26 EASTERN                                           3:35.03    3:41.88   3 
     1)                                 2) David Martell 11               
 27 NEW BRUNSWICK                                     3:39.77    3:42.10   1 
     1) Shane Mendez SR                 2) Shaun Lockhart SR              
     3) Duval Sewer SO                  4) Reggie Eato SR                 
 28 WHIPPANY PARK                                     3:38.87    3:44.23   2 
     1) Bryan Messina SR                2) Mark Critchley JR              
     3)                                 4) Jeff Eames SR                  
 29 SHABAZZ, MALCOM X                                 3:34.34    3:45.20   4 
     1) Jihad Springer 11               2)                                
     3) Adonis Thomas 09                4) Tony Williams 12               
 30 SCHALICK, ARTHUR P.                               3:48.18    3:48.80   1 
     1) Matthew Garrison 11             2) Donnie Hill 10                 
     3) Rickey Brown 12                 4) Kyle Perry 10                  
 
Boys High Jump
=========================================================================
Meter Record:    7-01  2001        Mike Morrison, Willingboro                  
    Name                    Year School                  Seed     Finals 
=========================================================================
  1 Jamal Ames                SR VINELAND             6-00.00    6-06.00  
  2 Chris Haley               11 UNION                6-06.00   J6-06.00  
  2 Kyle Calvo                   SOMERVILLE           6-06.00   J6-06.00  
  4 Jude Rene                 12 HAMILTON NORTH       6-00.00    6-04.00  
  5 Jerett Sanderson          11 LONG BRANCH          5-10.00   J6-04.00  
  6 Museveni Akanno           12 SETON HALL           6-04.00   J6-04.00  
  7 Greg Giardino             SR CHRISTIAN BROS A     6-02.00    6-02.00  
  7 Harold Burton             12 LONG BRANCH          6-02.00    6-02.00  
  7 Tim Boeni                 11 BRICK TWP            6-02.00    6-02.00  
  7 Chris Sole                SR MIDDLETOWN SOUTH     6-02.00    6-02.00  
  7 Nick Syzonemko            JR RANDOLPH             6-02.00    6-02.00  
  7 Bruce Francis             SR TIMBER CREEK         6-04.00    6-02.00  
  7 Obinna Emenike            12 ST. JOE-METUCHEN     6-04.00    6-02.00  
 14 Noel Reyna                SR BURLINGTON TWP       5-10.00    6-00.00  
 14 Eric Haines                  NOTRE DAME           6-00.00    6-00.00  
 14 Thomas MACKEY                BRIDGETON            6-00.00    6-00.00  
 14 Darnell Barber            10 WINSLOW TOWNSHIP     6-00.00    6-00.00  
 14 Tim Lawrence              SR WEST MILFORD         6-00.00    6-00.00  
 14 James Ivey                12 SOUTH BRUNSWICK      6-00.00    6-00.00  
 14 Dan Oquendo               JR HACKENSACK           6-00.00    6-00.00  
 14 Tom McCarthy              12 SADDLE BROOK         6-00.00    6-00.00  
 14 Donnie Hill               10 SCHALICK, ARTHUR     6-00.00    6-00.00  
 14 Jermaine High                MANALAPAN            5-10.00    6-00.00  
 14 Kevin Coleman             12 PLAINFIELD           6-02.00    6-00.00  
 25 Brian Hart                12 WINSLOW TOWNSHIP     5-10.00    5-10.00  
 25 Jon Linton                SR RIDGE                6-00.00    5-10.00  
 25 Greg Kilgore              SR BOUND BROOK          6-00.00    5-10.00  
 25 Dilbert Johnson           05 WILLINGBORO          6-00.00    5-10.00  
 25 Chris Treble              11 MONTGOMERY           6-00.00    5-10.00  
 -- Justin King               JR WHIPPANY PARK        5-06.00         NH  
 -- Anson Fraser              12 SUMMIT               5-08.00         NH  
 -- Chris DeVaughn            SR MOORESTOWN           6-00.00         NH  
 -- Barry James               12 EDISON               6-02.00         NH  
 -- Scott Atkins              JR PASCACK HILLS        6-00.00         NH  
 
Boys Shot Put
=========================================================================
Meter Record:   67-03  1998        Kevin DiGorgio, Bayonne                     
    Name                    Year School                  Seed     Finals 
=========================================================================
  1 Dave Zaycek               12 WALL                57-02.00   58-07.00  
  2 Tavaris Wright               BRIDGETON           52-04.25   57-11.00  
  3 Elle Ashe                 04 WILLINGBORO         57-02.50   55-11.50  
  4 Chris Keller              SR MATAWAN             53-08.25   54-10.50  
  5 Ed Skowronski             SR RARITAN             51-04.50   53-00.75  
  6 James Correa              JR EAST BRUNSWICK      51-05.00   52-05.00  
  7 Bernard McKenna           12 SHORE REG           54-02.25   51-11.00  
  8 Jason Maier               12 NEW MILFORD         52-00.00   51-10.00  
  9 Brian Donatelli           12 HUNTERDON CENTRA    50-06.50   51-04.25  
 10 Steve Bachman                MANALAPAN           46-04.00   50-08.50  
 11 Perry Hellriegel          SR WEST MOORIS         51-10.25   50-07.50  
 12 Doug Alpers               SR SPARTA              50-11.75   50-07.00  
 13 Bill Kidd                 12 SOUTHERN REG        49-05.75   50-02.50  
 14 Rob Allen                    OLD BRIDGE          50-03.00   49-11.75  
 15 Roger Hunter              JR BURLINGTON TWP      48-02.00   49-00.00  
 16 Brian Donohue             SR HADDONFIELD         50-10.00   48-11.25  
 17 Robert Crudup             12 PLAINFIELD          49-10.25   48-04.75  
 18 Seyon Bedell                 PENNSAUKEN          49-03.25   47-10.75  
 19 Gerald Lewis              SR VINELAND            50-01.50   47-06.25  
 20 Joe VanderBogart          SR WEST MILFORD        46-04.25   47-04.50  
 21 Brian Brazinski           SR RIDGE               47-11.00   47-02.00  
 22 Paul Panchesine              BUENA               47-07.75   46-07.50  
 23 Sal Delhierro             11 TOMS RIVER EAST     51-11.00   46-05.50  
 24 Jordan Ali                12 SHORE REG           46-03.50   46-03.50  
 25 Pat Defazio               11 DELBARTON           47-02.75   45-05.00  
 26 Joshua Hazen              JR VERNON              46-08.75   45-03.50  
 27 Mike Trulby               SR MORRIS HILLS        47-03.50   44-09.00  
 28 Vinny Stetsko                TOMS RIVER SOUTH    48-10.25   44-00.50  
 28 Lamont Howard             11 WINSLOW TOWNSHIP    48-01.00   44-00.50  
 30 Jack Kavner               12 NEW MILFORD         44-05.50   43-07.50  
 31 Chris Berezansky          11 HILLSBOROUGH        46-09.50   43-05.50  
 32 Reggie Robinson           SR HADDON HEIGHTS      45-02.00   39-09.50  
 -- Jonathan Ventola          12 HANOVER PARK        46-09.00         ND  
 -- Tim Payne                    MONROE              46-09.00         ND  
 
Girls
                       Hy-Tek's Meet Manager 2/29/2004 06:19 PM
              2004 NJSIAA/STAR-LEDGER MEET OF CHAMPS - 2/29/2004               
                          DON DANSER - MEET DIRECTOR                           
                      PRINCETON UNIVERSITY, PRINCETON, NJ                      
                                    Results                                    
 
Girls 55 Meter Dash
============================================================================
10 Advance:  Top 1 Each Heat plus Next 6 Best Times
Meter Record:    6.7h  1984        Wendy Vereen, Trenton                       
Yards Record:    7.0h  1979        Robin Stephens (60y), Lakewood              
    Name                    Year School                  Seed    Prelims  H#
============================================================================
Preliminaries
  1 Sophia Wallace            SR MONTCLAIR               7.32       7.30Q  3 
  2 Dominique Merchant        11 WINSLOW TOWNSHIP        7.29       7.33Q  4 
  3 Consandria Walker         SO HACKENSACK              7.34       7.35Q  1 
  4 Adaku Ezeonwuka           11 NEPTUNE                 7.40       7.41Q  2 
  5 Janine Davis                 QUEEN PEACE             7.42       7.31q  3 
  6 Shavon Greeves               LAKEWOOD                7.43       7.40q  4 
  7 Toneisha Friday           SO FRANKLIN                7.39       7.41q  1 
  8 Jamillah Nock             SR WOODROW WILSON          7.56       7.43q  4 
  9 Racquel Vassell            9 EAST ORANGE             7.33       7.44q  2 
 10 Emi Briggs                SR HOLMDEL                 7.59       7.49q  1 
 11 Celeste Holder            SO PARSIPPANY              7.45       7.52   4 
 12 Chyncia Smith             12 HUNTERDON CENTRA        7.48       7.53   2 
 13 Jessica Childress         SR MONMOUTH REGIONA        7.57       7.55   3 
 13 Ashley Gonzalez              OLD BRIDGE              7.60       7.55   4 
 15 Shaylah Counts             9 ARTS                    7.49       7.56   1 
 16 Nadine Hurd               11 LONG BRANCH             7.54       7.57   3 
 17 Channel Hamilton             WILLINGBORO             7.61       7.59   4 
 18 Angela Anderson           SR WILLIAMSTOWN            7.59       7.62   2 
 19 Cheryl Anscombe           SR WESTWOOD                7.45       7.63   3 
 19 Brittany Hohn             SO EAST BRUNSWICK          7.50       7.63   2 
 21 Tiffany Grant             SO OCEAN  TWP.             7.56       7.64   4 
 21 Kesiha Anderson           SR MONMOUTH REGIONA        7.58       7.64   1 
 21 Rasheda Spratley          04 WILLINGBORO             7.48       7.64   1 
 24 Leigh Hoffman             JR PASCACK HILLS           7.74       7.70   2 
 25 Tiera Brown               JR VINELAND                7.74       7.71   1 
 26 Danielle Marshall         FR LINDENWOLD              7.73       7.73   3 
 27 Robin Barnett             12 LENAPE                  7.60       7.74   3 
 28 Elizabeth Spokony         11 WOODSTOWN               7.77       7.81   1 
 29 Lindsay Earle             10 MONTCLAIR KIMBER        7.79       7.91   2 
 30 Liz Masucci               10 NEW PROVIDENCE          7.91       7.95   3 
 
Girls 55 Meter Dash
=========================================================================
Meter Record:    6.7h  1984        Wendy Vereen, Trenton                       
Yards Record:    7.0h  1979        Robin Stephens (60y), Lakewood              
    Name                    Year School               Prelims     Finals 
=========================================================================
Finals
  1 Sophia Wallace            SR MONTCLAIR               7.30       7.25  
  2 Dominique Merchant        11 WINSLOW TOWNSHIP        7.33       7.29  
  3 Consandria Walker         SO HACKENSACK              7.35       7.31  
  4 Adaku Ezeonwuka           11 NEPTUNE                 7.41       7.38  
  5 Janine Davis                 QUEEN PEACE             7.31       7.40  
  6 Toneisha Friday           SO FRANKLIN                7.41      J7.40  
  7 Jamillah Nock             SR WOODROW WILSON          7.43       7.41  
  8 Racquel Vassell            9 EAST ORANGE             7.44       7.44  
  9 Shavon Greeves               LAKEWOOD                7.40      J7.44  
 10 Emi Briggs                SR HOLMDEL                 7.49       7.48  
 
Girls 400 Meter Dash
============================================================================
Meter Record:     55.45  1998        Mikele Barber, Montclair                  
Yards Record:   1:02.1h  1979        Robin Stephens (440), Lakewood            
    Name                    Year School                  Seed     Finals  H#
============================================================================
  1 Janine Davis                 QUEEN PEACE            58.38      57.66   5 
  2 Krystal Cantey            10 WINSLOW TOWNSHIP       59.84      58.13   4 
  3 Marcene Jack              SR MAINLAND             1:00.26      58.37   3 
  4 Symone O'Connor           FR FRANKLIN               59.01      58.42   5 
  5 Aisha Bilal-Mack          12 EAST ORANGE            58.76      58.43   5 
  6 Kaitlin Lambracht         12 HUNTERDON CENTRA       58.77      58.69   5 
  7 Celeste Holder            SO PARSIPPANY             58.71      58.79   5 
  8 Tiffany Grant             SO OCEAN  TWP.            59.55      58.94   4 
  9 Maria Fasolino            SO WASHINGTON TOWNS       59.62      59.00   4 
 10 Michelle Losey            10 PISCATAWAY             59.94      59.03   4 
 11 Natalie Mapp              11 HOPEWELL VALLEY      1:00.82      59.22   2 
 12 Sophia Davis                 QUEEN PEACE          1:00.78      59.34   1 
 13 Lauren Blake              JR JACKSON MEM          1:00.50      59.36   3 
 14 Rose Drayton              11 FREEHOLD BOROUGH       59.80      59.70   4 
 15 Carolyn Gray              SR SOUTHERN REG         1:00.60      59.83   3 
 16 Katie Bieganousky         SR POPE JOHN XXIII      1:00.95      59.89   2 
 17 Jamanah Freeman           12 PLEASANTVILLE          59.96    1:00.13   3 
 18 Channel Hamilton             WILLINGBORO          1:01.24    1:00.34   1 
 18 Illiana Blackshear        JR WEST ORANGE          1:00.30    1:00.34   3 
 20 Jordan Sarruda            JR BISHOP EUSTACE       1:00.96    1:00.60   2 
 21 Alison DI Domenico        JR PASSAIC VAL          1:00.56    1:00.63   3 
 22 LaVonne Ellerbe           11 WAYNE VALLEY         1:01.06    1:00.79   2 
 23 Pari Hashemi              11 RANDOLPH               59.87    1:01.15   4 
 24 Ashley Adams              10 PLAINFIELD           1:01.32    1:01.21   1 
 25 Kristen Pierce            10 SHORE REG            1:03.35    1:01.32   1 
 26 Christina Johnson         10 EGG HARBOR           1:01.31    1:01.87   1 
 27 Lauren Fike               JR BISHOP EUSTACE       1:01.11    1:01.98   2 
 
Girls 800 Meter Run
=========================================================================
Meter Record:   2:11.50  1987        Jasmin Jones, Hackensack                  
Yards Record:   2:24.7h  1979        Mary Ellen Damutz (880), Hightstown       
    Name                    Year School                  Seed     Finals 
=========================================================================
  1 Janine Davis                 QUEEN PEACE          2:20.58    2:14.60  
  2 Alisa Budd                12 TOMS RIVER EAST      2:20.21    2:16.59  
  3 Kimarra McDonald             RANCOCAS VAL         2:18.30    2:17.72  
  4 Becky Crossin             SR NORTH HUNTERDON      2:20.99    2:18.21  
  5 Emily MacNeil             JR WESTFIELD            2:21.03    2:18.45  
  6 Kimberly Standridge        9 RANDOLPH             2:20.05    2:19.75  
  7 Aisha Bilal-Mack          12 EAST ORANGE          2:27.68    2:20.14  
  8 Ashley Thorton            JR HIGHLAND REGIONA     2:21.86    2:20.33  
  9 Emily Sherrard            10 HOPEWELL VALLEY      2:23.12    2:20.58  
 10 Elizabeth Mayer           12 RED BANK REG         2:19.83    2:20.63  
 11 Stephanie Herrick         11 WAYNE VALLEY         2:23.57    2:20.84  
 12 Lindsay Newman            12 LIVINGSTON           2:22.50    2:21.30  
 13 A. Bianca Cruz            10 COLUMBIA             2:19.67    2:21.42  
 14 Carolyn Lipovsky             BISHOP AHR           2:22.55    2:21.96  
 15 Cristine Marquez             OLD BRIDGE           2:22.86    2:22.25  
 16 Lauren Rugge              SR VOORHEES             2:21.71    2:22.89  
 17 Anne Onishi               JR WESTFIELD            2:23.76    2:23.48  
 18 Robin Daniels             11 BRICK TWP            2:26.85    2:23.54  
 19 Kendra Boyd               JR HENRY HUDSON         2:26.88    2:24.60  
 20 Gizelle Joshua            SR WEST ORANGE          2:26.05    2:25.14  
 21 Emily McMillan            11 ST. ROSE             2:22.86    2:25.27  
 22 Colleen O'Brien           SR NORTH HUNTERDON      2:24.30    2:25.33  
 23 Caroline Mannaerts        12 SUMMIT               2:27.72    2:25.95  
 24 Elizabeth Kennedy         SR VILLA WALSH          2:26.01    2:26.57  
 25 Allie Moreland            11 OCEAN CITY           2:25.51    2:26.68  
 26 Martine McGrath           11 SHORE REG            2:27.92    2:26.76  
 27 Holly McGarvie            JR SHAWNEE              2:18.31    2:27.04  
 28 Tara Gorka                11 MONTGOMERY           2:23.55    2:27.19  
 29 Jessica Rodriguez         11 ROSELLE CATHOLIC     2:20.20    2:28.12  
 30 Jessica Farawell          SR VERONA               2:28.08    2:28.40  
 31 Rachel Rome               12 MORRISTOWN           2:26.33    2:29.18  
 32 Jill Lissenden            SO SAINT DOMINIC        2:25.74    2:29.20  
 33 Jordan Sarruda            JR BISHOP EUSTACE       2:22.49    2:29.99  
 34 Shari Griffith            JR WEST ORANGE          2:25.92    2:30.81  
 35 Nicole Holt               12 CAMDEN               2:22.06    2:31.70  
 
Girls 1600 Meter Run
=========================================================================
Meter Record:   4:49.5h  1983        Michelle Rowan, Washington Twp.           
Yards Record:   5:21.5h  1979        Mary Beth Hogan (Mile), Cranford          
 Yard Record:   4:36.8h  1980        Joetta Clark (1500m), Columbia            
    Name                    Year School                  Seed     Finals 
=========================================================================
  1 Casey Nelson              12 HUNTERDON CENTRA     5:14.19    5:00.21  
  2 Lisa Burkholder           SO CHEROKEE             5:15.19    5:00.39  
  3 Leah Brogan               JR MNSGR. DONOVAN       5:19.91    5:03.29  
  4 Jamie Liberti             SR MIDDLETOWN SOUTH     5:11.95    5:05.70  
  5 Alexis Gray               12 TOMS RIVER EAST      5:10.19    5:05.81  
  6 Christina Nelson          10 RED BANK REG         5:14.21    5:07.40  
  7 Jenn Ennis                SO ROXBURY              5:12.50    5:09.08  
  8 Ashley Higginson           9 COLTS NECK           5:18.37    5:11.63  
  9 Lauren Gregory            SO MORRIS KNOLLS        5:27.78    5:15.60  
 10 Jennifer Therkorn         11 ST. JOHN VIANNEY     5:23.81    5:15.81  
 11 Amanda Marino             FR JACKSON MEM          5:34.51    5:19.60  
 12 Brittnee Bynoe            06 WILLINGBORO          5:24.16    5:20.35  
 13 Samantha Lee              09 SUMMIT               5:30.58    5:20.77  
 14 Meghan Bohren             SR RIDGE                5:30.37    5:21.44  
 15 Lauren Bariexca           FR WEST MOORIS          5:28.33    5:21.70  
 16 Meaghan Lynch             SR PRINCETON            5:30.36    5:24.11  
 17 Erin Marshall             11 LENAPE               5:31.88    5:26.12  
 18 Lisa Miller               11 W WIN PLAINS SOU     5:26.02    5:26.47  
 19 Denise Scarfi             SR WESTWOOD             5:36.47    5:27.47  
 20 Alison Root               10 TOMS RIVER EAST      5:24.79    5:27.89  
 21 Christine Capetola        JR SAINT DOMINIC        5:29.82    5:28.91  
 22 Oghogho Aifuwa            12 EDISON               5:21.98    5:29.57  
 23 Lili Perez                SR VOORHEES             5:26.10    5:32.84  
 24 Stephanie Lafergola          OLD BRIDGE           5:27.82    5:33.76  
 25 Cate Walsh                JR VERONA               5:32.88    5:33.94  
 26 Jahlisa Smith             09 PLAINFIELD           5:33.71    5:34.54  
 27 Allison Marcsisin         10 HILLSBOROUGH         5:23.40    5:35.42  
 28 Jessica Rodriguez         11 ROSELLE CATHOLIC     5:25.27    5:36.88  
 29 Kaitlyn Regan                OLD BRIDGE           5:19.00    5:38.08  
 
Girls 3200 Meter Run
=========================================================================
Meter Record:   10:38.87  2/23/2003   Amanda Trotter, RED BANK REG             
Yards Record:   11:17.5h  1979        Ann Gladue (2-mile), Bayley-Ellard       
 Yard Record:   10:11.5h  1980        Theresa Gschwind (3000m), Summit         
    Name                    Year School                  Seed     Finals 
=========================================================================
  1 Jennifer Clausen          SO JACKSON MEM         11:08.69   10:54.67  
  2 Jacqui Carroll            12 WAYNE VALLEY        11:36.15   11:12.20  
  3 Julie Ullmeyer            12 SHORE REG           11:42.11   11:15.55  
  4 Vanessa Wright            SO HADDONFIELD         11:42.42   11:22.91  
  5 Juli Stensland            JR VOORHEES            11:54.60   11:24.21  
  6 Theresa Cattuna           FR CHERRY HILL EAST    12:07.22   11:24.48  
  7 Cheyenne Ogletree            GARFIELD            11:37.37   11:33.28  
  8 Arianna Mckinney          JR HIGHLAND REGIONA    11:33.90   11:33.52  
  9 Kelly Chencharik          12 TOMS RIVER EAST     11:49.44   11:35.60  
 10 Lisa Miller               11 W WIN PLAINS SOU    11:36.43   11:37.02  
 11 Kathleen Henry            JR RIDGE               11:50.09   11:37.56  
 12 Franny Morro              SR POPE JOHN XXIII     11:39.21   11:41.96  
 13 Kim Bonner                SR SHAWNEE             11:37.77   11:43.66  
 14 Michelle Barbarsch        11 W WIN PLAINS SOU    11:41.92   11:46.46  
 15 Mary Shashaty             JR SCOTCH PLAINS-FA    11:52.88   11:47.13  
 16 Jenna Bauberger           SR INDIAN HILLS        11:39.11   11:47.25  
 17 Megan O'Leary             JR CHEROKEE            12:01.73   11:48.10  
 18 Amy Rhein                 11 SOUTH BRUNSWICK     12:04.95   11:49.81  
 19 Elizabeth Bissell         JR INDIAN HILLS        11:54.03   11:52.30  
 20 Angela Kaon               12 BRIDGEWATER-RARI    12:02.27   11:53.75  
 21 Alex Hyland               SR TOMS RIVER SOUTH    11:58.29   11:55.10  
 22 Ashley Davies             10 HUNTERDON CENTRA    11:55.10   11:59.06  
 23 Lindsey Pierret           10 MORRISTOWN          12:06.44   12:01.13  
 24 Carolyn Heisler           JR MADISON             12:02.72   12:04.82  
 25 Amy Van Alstine           10 MIDLAND PARK        11:59.41   12:05.45  
 26 Tara Duggan               10 MORRISTOWN          11:51.41   12:06.97  
 27 Mallory Harlin            SR CRANFORD            11:36.66   12:12.25  
 28 Laura Embrey              10 SHORE REG           11:57.15   12:16.90  
 -- Karen Guthrie             11 MENDHAM             11:39.69        DNF  
 
Girls 55 Meter Hurdles
============================================================================
10 Advance:  Top 1 Each Heat plus Next 6 Best Times
Meter Record:    7.86  1997        Charmaine Walker, Plainfield                
Yards Record:    8.0h  1979        Cheryl Morrison (60y), Lincoln              
 Yard Record:    7.8h  1984        Wendy Vereen (55m), Trenton                 
    Name                    Year School                  Seed    Prelims  H#
============================================================================
Preliminaries
  1 Bryanna Johnson           JR JACKSON MEM             8.50       8.36Q  3 
  1 Sonya Sullivan            11 MANCHESTER TWP.         8.39       8.36Q  2 
  3 Jamillah Nock             SR WOODROW WILSON          8.52       8.48Q  4 
  4 Kim Allen                 04 WILLINGBORO             8.44       8.60Q  1 
  5 Delicia Sample            12 KINGSWAY                8.37       8.44q  3 
  6 Imani Gilliam                PENNSAUKEN              8.50       8.52q  2 
  7 Kortni Lane               SR NEW BRUNSWICK           8.59       8.62q  3 
  8 Andrea March              SO WASHINGTON TOWNS        8.70       8.64q  1 
  9 Tramaine Shaw             12 PISCATAWAY              8.32       8.65q  4 
 10 Michelle Smith            11 TEANECK HIGH SCH        8.44       8.66q  1 
 11 Brianne Willson           10 BUENA                   8.73       8.70   1 
 12 Christina Smith           12 WINSLOW TOWNSHIP        8.60       8.73   2 
 13 Letecia Taylor            10 PLAINFIELD              8.54       8.79   4 
 14 Iman Johnson              10 COLUMBIA                8.94       8.80   3 
 15 Alison Crowley            SR PRINCETON               8.90       8.82   4 
 16 Alexi Capsouras           11 RANDOLPH                8.81       8.87   3 
 16 Jennifer Cosby            SR ABRAHAM CLARK           8.78       8.87   2 
 18 Brittany Gross            11 BRIDGETON               8.87       8.91   4 
 19 Terri Hannah              11 BRIDGETON               9.02       8.99   2 
 20 Annie Taft                SO BISHOP EUSTACE          9.00       9.02   1 
 21 Elisha Tegeder            SR SOUTHERN REG            9.12       9.04   4 
 21 Christine McCurdy         11 GOV. LIVINGSTON         9.11       9.04   3 
 23 Jenizah Melendez          12 HILLSBOROUGH            9.02       9.11   1 
 24 Lindsay May               12 DUMONT                  9.41       9.27   3 
 25 Alaina Alfano             11 HANOVER PARK            8.94       9.28   2 
 26 Savannah Creamer             PENNS GROVE             9.20       9.32   4 
 27 Jennifer Lefebvre         12 HANOVER PARK            9.64       9.39   1 
 28 Rachel Woodward           SR GATEWAY                 9.60      10.03   2 
 
Girls 55 Meter Hurdles
=========================================================================
Meter Record:    7.86  1997        Charmaine Walker, Plainfield                
Yards Record:    8.0h  1979        Cheryl Morrison (60y), Lincoln              
 Yard Record:    7.8h  1984        Wendy Vereen (55m), Trenton                 
    Name                    Year School               Prelims     Finals 
=========================================================================
Finals
  1 Sonya Sullivan            11 MANCHESTER TWP.         8.36       8.28  
  2 Tramaine Shaw             12 PISCATAWAY              8.65       8.29  
  3 Michelle Smith            11 TEANECK HIGH SCH        8.66       8.47  
  4 Jamillah Nock             SR WOODROW WILSON          8.48       8.49  
  5 Imani Gilliam                PENNSAUKEN              8.52       8.50  
  6 Bryanna Johnson           JR JACKSON MEM             8.36       8.52  
  7 Delicia Sample            12 KINGSWAY                8.44       8.55  
  8 Kim Allen                 04 WILLINGBORO             8.60       8.59  
  9 Andrea March              SO WASHINGTON TOWNS        8.64       8.60  
 10 Kortni Lane               SR NEW BRUNSWICK           8.62       8.80  
 
Girls 4x400 Meter Relay
============================================================================
Meter Record:   3:55.24  1998        , Montclair                               
                         M.  Barber, A. Williams, C.Coppedge, Mikele Barber
Yards Record:   4:00.1h  1980        4x440y (Mile) Relay, Plainfield           
    School                                               Seed     Finals  H#
============================================================================
  1 WILLINGBORO                                       4:03.44    4:01.90   6 
     1)                                 2) Channel Hamilton               
     3)                                 4) Brittnee Bynoe 06              
  2 FRANKLIN                                          4:03.64    4:02.13   6 
     1) Tracey Cameron FR               2) Symone O'Connor FR             
     3) Toneisha Friday SO              4) Chavanne Hubbard JR            
  3 CAMDEN                                            4:07.40    4:02.49   6 
     1) Avionne Sloan F                 2) Erin Johnson 10                
     3) Shawanna Gray 12                4) Nicole Holt 12                 
  4 WASHINGTON TOWNSHIP                               4:04.22    4:04.83   6 
     1) Maria Fasolino SO               2) Desirae Irby SR                
     3) Lauren Myers SO                 4) Andrea March SO                
  5 PISCATAWAY                                        4:10.69    4:05.83   5 
     1) Michelle Losey 10               2) Collene Cumberbatch 11         
     3) Tramaine Shaw 12                4)                                
  6 HOPEWELL VALLEY                                   4:09.80    4:06.16   5 
     1) Natalie Mapp 11                 2) Jackie Barrett 10              
     3) Emily Sherrard 10               4) Miriam Khan 10                 
  7 RANDOLPH                                          4:10.13    4:07.00   5 
     1) Laura Going 10                  2) Kimberly Standridge 9          
     3) Alexi Capsouras 11              4) Pari Hashemi 11                
  8 WAYNE VALLEY                                      4:12.45    4:07.44   4 
     1) Erin Anthony 10                 2) LaVonne Ellerbe 11             
     3) Tara Ricciardi 10               4) Stephanie Herrick 11           
  9 WESTFIELD                                         4:10.53    4:07.49   5 
     1) Emily MacNeil JR                2) Meg Driscoll SO                
     3) Jennell Carter SR               4) Anne Onishi JR                 
 10 TOMS RIVER EAST                                   4:09.66    4:08.26   5 
     1) Alexis Gray 12                  2) Alisa Budd 12                  
     3) Dianna Cornelius 12             4) Maria Dillon 11                
 11 SCOTCH PLAINS-FANWOOD                             4:11.33    4:09.86   5 
     1) Meaghan Kelly SO                2) Kim Appezzato FR               
     3) Samantha Gates FR               4) Aja Bundy JR                   
 12 JACKSON MEMORIAL                                  4:13.19    4:10.29   4 
     1) Lauren Blake JR                 2) Joanne Shia SR                 
     3) Erin Kennedy JR                 4) Savanna Knox SR                
 13 MONTVILLE TWP.                                    4:17.20    4:11.11   3 
     1) Courtney Stanton SR             2) Kelsy Shea FR                  
     3) Danielle Stanton SR             4) Christina Scherer SR           
 14 WEST ORANGE                                       4:05.55    4:11.18   6 
     1) Gizelle Joshua SR               2) Shari Griffith JR              
     3) Lelyn Knowlden SO               4) Illiana Blackshear JR          
 15 HUNTERDON CENTRAL                                 4:08.95    4:12.91   6 
     1) Rachel Villa 09                 2) Marjorie Schmidt 12            
     3) Chyncia Smith 12                4) Kaitlin Lambracht 12           
 16 PENNSAUKEN                                        4:16.71    4:13.21   3 
     1) Shquanda Meylor                 2) Majenta Taylor                 
     3) Olakiitan Babalola              4) Courtney Melvin                
 17 MATAWAN                                           4:19.89    4:13.60   2 
     1) Michelle Cornachia JR           2) Peggy Lau SO                   
     3) Aisha Srephens SO               4) Kristin Wolf                   
 18 LENAPE                                            4:15.45    4:14.52   4 
     1) Alyssa Kuzminski 10             2) Rachel Goldberg 11             
     3) Lauren Walsh 11                 4) Alexandra Hill 10              
 19 PLAINFIELD                                        4:19.05    4:14.58   2 
     1) Ashley Adams 10                 2) Letecia Taylor 10              
     3) Jahlisa Smith 09                4) She'Tara Farnell 12            
 20 FREEHOLD BOROUGH                                  4:19.56    4:15.23   2 
     1) Anne Sobrin 11                  2) Zara Zweber 12                 
     3) Elise Tagatac 10                4) Rose Drayton 11                
 21 MORRISTOWN                                        4:16.54    4:16.01   3 
     1) Courtney Donnelly 9             2) Tricia Hoen 10                 
     3) Shivani Sharma 9                4) Rachel Rome 12                 
 22 TEANECK                                           4:17.34    4:16.33   3 
     1) Racquel Clarke 10               2) Shetoi Frances 12              
     3) Kadian Dockery 12               4) Michelle Smith 11              
 23 HADDONFIELD MEMORIAL                              4:17.28    4:17.12   3 
     1) Jamie Sobolewski JR             2) Kim Abel JR                    
     3) Vanessa Wright SO               4) Claire Duffy JR                
 24 WINSLOW TOWNSHIP                                  4:15.66    4:17.31   4 
     1) Christina Smith 12              2) Angel Exum 11                  
     3)                                 4) Krystal Cantey 10              
 25 PARSIPPANY                                        4:12.20    4:17.37   4 
     1) Stephanie Young SR              2) Stephanie Zalewski SR          
     3) Brianna Merill FR               4) Celeste Holder SO              
 26 BISHOP EUSTACE                                    4:11.76    4:18.28   4 
     1) Jordan Sarruda JR               2) Kelly Wurst JR                 
     3) Annie Taft SO                   4) Lauren Fike JR                 
 27 SHORE                                             4:27.59    4:20.24   1 
     1) Kristen Pierce 10               2) Laura Hayden 12                
 28 VERONA                                            4:20.79    4:21.37   2 
     1)                                 2) Toni Mahotiere JR              
     3) Jessica Farawell SR             4) Kerrin Goosman JR              
 29 NEW PROVIDENCE                                    4:21.84    4:22.64   1 
     1) Elizabeth Wagner 12             2) Liz Masucci 10                 
     3) Molly Graepel 10                4) Caitlin Pellas 10              
 30 POPE JOHN XXIII                                   4:19.35    4:25.41   2 
     1) Kate Lynch SO                   2)                                
     3)                                 4) Christine DeVasto SR           
 31 SUMMIT                                            4:27.36    4:27.17   1 
     1) Rachel Smith 10                 2) Caroline Mannaerts 12          
     3) Jodi Callender 11               4)                                
 -- TRENTON CENTRAL                                   4:17.56         DQ   3 
     1) Shakeyta McCallister 12         2) Alicia Mcmullen 09             
     3) Rejoh Littlepage 11             4) Janica Austin 09               
 
Girls High Jump
=========================================================================
Meter Record:   5-10.50  1984        Tatiana Smolin, Randolph                  
    Name                    Year School                  Seed     Finals 
=========================================================================
  1 Marcene Jack              SR MAINLAND             5-06.00    5-06.00  
  2 Tiyana Peters             SR MOUNT OLIVE          5-06.00    5-04.00  
  3 Jacqueline Sendgikoski    JR MOUNT OLIVE          5-04.00   J5-04.00  
  4 Latasha Leake             12 N. BURLINGTON        5-02.00   J5-04.00  
  5 Rebecca Baskinger         SR BUTLER               5-06.00   J5-04.00  
  6 Laura Passalacqua            RANCOCAS VAL         5-04.00   J5-04.00  
  7 Alaina Alfano             11 HANOVER PARK         5-04.00    5-02.00  
  7 Karie Nugent              JR MAINLAND             5-00.00    5-02.00  
  7 Jenn Carson               11 MONTGOMERY           5-02.00    5-02.00  
  7 Rose Lang                 JR FREEHOLD TWP.        5-02.00    5-02.00  
  7 Christine McCurdy         11 GOV. LIVINGSTON      5-00.00    5-02.00  
 12 Jessica Malacrida         11 PARAMUS              5-02.00    5-00.00  
 12 Kristen Tricocci             CINNAMINSON          5-00.00    5-00.00  
 12 Kortni Lane               SR NEW BRUNSWICK        5-04.00    5-00.00  
 12 Christina Smith           12 WINSLOW TOWNSHIP     5-02.00    5-00.00  
 12 Kelly Wurst               JR BISHOP EUSTACE       5-00.00    5-00.00  
 12 Jessica Marcasciano       12 EGG HARBOR           5-02.00    5-00.00  
 12 Abigail Campbell          SR SHAWNEE              5-04.00    5-00.00  
 12 Kathleen Rooney           11 MENDHAM              5-00.00    5-00.00  
 12 Jessica Matthews          SR TOMS RIVER NORTH     5-00.00    5-00.00  
 21 Maura MACZINKO               NOTRE DAME           5-00.00    4-10.00  
 21 Jennifer Lefebvre         12 HANOVER PARK         4-10.00    4-10.00  
 21 Heather Scudellari        11 SUMMIT               4-10.00    4-10.00  
 21 Jenizah Melendez          12 HILLSBOROUGH         5-00.00    4-10.00  
 21 Latoya Dixon               9 JOHN P. STEVENS      5-00.00    4-10.00  
 21 Jennifer Bulger           JR VERONA               4-10.00    4-10.00  
 21 Dana Liteplo              JR EAST BRUNSWICK       5-00.00    4-10.00  
 28 Rachel Smith              10 SUMMIT               4-10.00    4-08.00  
 28 Kathleen Cammidge         JR EAST BRUNSWICK       5-00.00    4-08.00  
 28 Terri Hannah              11 BRIDGETON            5-00.00    4-08.00  
 28 Kim Abel                  JR HADDONFIELD          5-00.00    4-08.00  
 -- Ashley Adams              10 PLAINFIELD           5-02.00         NH  
 -- Kallyn Falvo              JR SPARTA               5-00.00         NH  
 -- Wynne Mulvey              JR BISHOP EUSTACE       5-00.00         NH  
 
Girls Shot Put
=========================================================================
Meter Record:   49-09.75  1991        Nicole Sims (4kg), Plainfield            
Yards Record:   41-06.75  1979        Beth Bittel (8 lbs), Toms River North    
    Name                    Year School                  Seed     Finals 
=========================================================================
  1 Sylvia Galarza            SR MILLVILLE SENIOR    44-06.50   44-01.50  
  2 Lizzelle Cintron          SR ELIZABETH           42-05.75   40-11.00  
  3 Amanda Harmata            SR RARITAN             39-11.00   40-06.75  
  4 Jocelyn White             JR DELSEA              44-03.50   39-11.25  
  5 Michelle Cintron          SR ELIZABETH           40-11.00   39-09.75  
  6 Iman Johnson              10 COLUMBIA            37-04.50   39-04.00  
  7 Vanessa Michel            SR JACKSON MEM         39-01.50   39-01.00  
  8 Jenizah Melendez          12 HILLSBOROUGH        39-07.00   38-04.00  
  9 Devin Picott              SR LAWRENCE            36-08.25   38-01.00  
 10 Amanda Marshall           11 HIGHTSTOWN          38-05.50   37-09.75  
 11 Daria Zivanovic           JR SAINT DOMINIC       36-11.00   37-09.00  
 12 Asha Stokes               SR JACKSON MEM         35-00.75   37-01.75  
 13 Andrea Cerbie             SR NV @ OLD TAPPAN     37-01.00   37-00.75  
 14 Carrieann Zielinski       SR ROSELLE CATHOLIC    38-04.00   36-11.00  
 15 Amy Marshall              12 EGG HARBOR          37-00.50   36-03.50  
 16 Caitlin Kelly             11 HANOVER PARK        36-09.50   36-03.00  
 17 Kendra Bussey             SR BURLINGTON TWP      36-03.00   36-02.25  
 18 Balkis Bernard            SR WEST MOORIS         38-01.75   35-11.25  
 19 Lindsay Renna             12 HASBROUCK HEIGHT    36-04.50   35-10.50  
 20 Vicky Melroy              JR POPE JOHN XXIII     36-10.50   35-10.00  
 21 Stephanie Moton           SR DELSEA              35-06.50   35-09.00  
 22 Tiona Long                FR NEW BRUNSWICK       36-09.50   35-04.25  
 23 Danielle Dailey           JR FREEHOLD TWP.       35-06.50   35-02.25  
 24 Alison Petrow             12 WESTFIELD           35-03.75   35-00.75  
 25 Teneika Warren            11 MONMOUTH REGIONA    34-05.00   34-10.50  
 26 Gemma Naclerio            JR MORRIS HILLS        35-08.50   34-09.00  
 27 Caroline Sheridan         SR WESTFIELD           34-00.75   34-08.25  
 28 Amanda Nasr               SR SOUTHERN REG        34-01.50   34-02.25  
 29 Lindsey Waters            12 HANOVER PARK        33-04.00   33-09.25  
 30 Allison Sheridan          12 HOPEWELL VALLEY     33-07.50   33-03.50  
 31 Angie Garafalo            SO MAINLAND            33-08.25   32-09.50  
 32 Sarah Whiting             11 NEW PROVIDENCE      33-03.75   32-09.00  
 33 Laura Kuchar              12 METUCHEN            32-08.00   31-01.00  
 34 Melissa Wherley           12 BERNARDS            30-10.00   30-06.50