Maddie Schueler and Sacred Heart girls dominate
by Charles Zimmerman
Kentucky 's Maddie Schueler set a new standard for Kentucky girls as she clocked a breath-taking 17:47 for 5000 meters in winning the Louisville Academy Meet. The ever-smiling Sacred Heart senior and defending state cross-country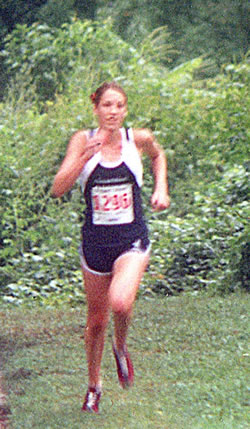 champion was unchallenged as she almost flew over the Seneca park course on a fall day that was just made for cross-country. Although state records can only be set at the state meet, Schueler's performance bested the current state record by an astounding 48 seconds and, according to knowledgeable coaches and officials, is the fastest time ever reported since Kentucky girls began running 5000 meters in 1999. ( The current state record for girls is 18:35.4, set by Suzanne Cooney of Paul Dunbar in 2000 .)
Schueler, who finished a close 6 th at the Great North American Cross-Country Festival in North Carolina last month, still feels she has room to improve and hopes to accomplish her goal of running in the 17:30 's before the end of the season. Her other two pre-season goals were to repeat as state champion and to lead her Sacred Heart Academy teammates to a repeat victory as state champions. Their performances at Tuesday's Academy Meet demonstrated that both Schueler and Sacred Heart are well on their way to accomplishing those goals. Schueler's teammate, Leah Ryan, was second in 18:06 , followed by Kipling Hill, who was third in 18:38. Both Schueler and Sacred Heart are undefeated in Kentucky competition this fall—and, in fact, Schueler has only been pushed once this season when cross-town rival, 2002 Footlocker finalist and defending AA state champion Carmen Mims of Mercy Academy pulled within five seconds of Schueler in Sacred Heart's Valkyrie Inviatational two weeks ago.
Schueler will have another attempt to raise the bar for girl runners in Kentucky when she and her teammates compete in the Metro Meet of Champions this Saturday on the same ( Louisville , KY ) Seneca Park course.
Sacred Heart Academy from Louisville, Kentucky dominated the 2003 Academy Champiuonship meet, on Tuesday, October 21, 2003.The team averaged 18:55, one of the fastest team averages ever by a KY team, if not the fastest.
Sacred Heart, the number 1 ranked team in Kentucky, scored 20 points against the state's 3rd ranked team and runner-up Assumption which had 42 points. The team was lead by 2002 Foot Locker finalist Maddie Schuler who won in a new course record of 17:47, breaking her old course record she set in 2002 in the Regional 3 Championships race. Schuler, a Senior blazed her first mile in 5:17. She was followed by 10th grader, Leah Ryan with a final time of 18:06, (2003 KY State Mile Champ) and Kipling Hill in 18:39, also a 10th grader, giving Sacred Heart the first ever race with three runners under 19:00. They were followed by Olivia Higdon, a 9th grader in 19:33 for 5th place and Katie Wells, a 11th grader in 20:31 for 9th place. 9th grader Adrienne the 6th runner for Sacred Heart finished 11th in 20:40 and Susanna Doran, a 11th grader, rounded out the top 7 with a 20:45 good for 12th place

The Seneca course is the most established course in the state of Kentucky and races have been held on the course for over 35 years.