story and photos by Charles Zimmerman, Jr.
Carmen Mims of Louisville's Mercy Academy clocked a sizzling 17:59 in winning this week's Academy Meet in Louisville, but she needed every second of that record-breaking time just to hold off cross-town rival Sacred Heart's Maddie Schueler and Sacred Heart's freshman sensation, Leah Ryan, who were right behind Mims in 18:06 and 18:07.
Mims and Schueler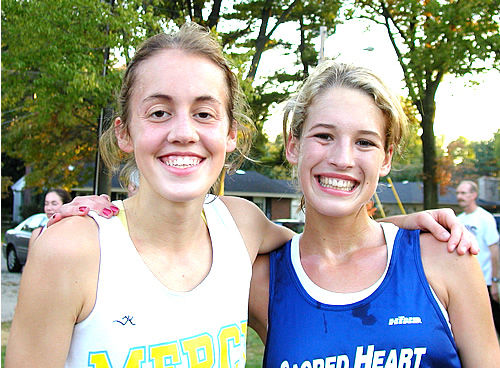 Mims, Schueler, and Ryan were formerly team-mates at Our Lady of Lourdes Elementary School and carried that school to the championship of the Catholic School Athletic Association's strong elementary program (the same program which produced Saint X's Bobby Curtis), but sentiment takes a back seat when the four powerful girls' academies toe the line for the annual Academy Meet. That fierce competition and the presence of three unusually gifted runners resulted in what is undoubtedly the fastest 1-2-3 finish in any girls race in Kentucky since the state adopted the 5000 meter distance. What made the times even more impressive was the fact that the certified 5000 meter course was muddy in spots from several days of rain but Mims, Schueler, and Ryan nevertheless utterly destroyed the old record of 18:42.
This was only Mims' second race since a three-week layoff brought about by soreness in her right leg.( "I went aquajogging for six days in a row.. Do you what that is? It is boring."). Schueler and Ryan clearly decided to try Mims' race-fitness and worked together to achieve a ten-second lead at the top of the steep hill which marks the half-way point, hitting it in a very quick 9:05. Mims admitted later to having "a lot of negative thoughts" at that point. "But when I hit the two-mile mark, all the students were just yelling so hard that I was inspired by the crowd and I decided to try to catch Leah. And then when I passed her, I thought that Maddie was just right ahead, so..."
Mims caught Schueler in the last turn with about 6/10ths of a mile to go, but both Schueler and Ryan kept the pressure on until the last 150 yards. "I have come back on her in other races, but I wasn't able to do so this time" said Schueler. "She's just such a great runner."
Mims, who won the state Class AA championship last year as a freshman, had run 18:00 just before she was injured, but this is the first time she has ever broken 18:00. She will be racing at the Kentucky Track and Cross Country Coaches Meet of Champions on Saturday in an attempt to sharpen her race fitness before regionals begin the following weekend.
Schueler, who set the old record of 18:42 in this race last year when she was a sophomore, plans to take several days off after leading Sacred Heart to the team title in the Academy Championship.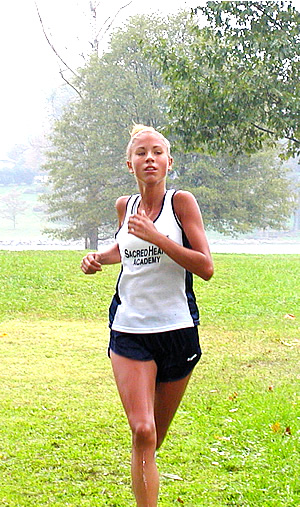 Ryan, (above) a freshman and the youngest of the three former teammates, started off the season with a 19:36 in the Tiger Run, but has shown tremendous improvement each week. If she continues to push Schueler and Schueler continues to push Mims, this year's state championship should prove to be not only fast but very exciting.