by Charles Zimmerman, Jr.
Neither the rain, the mud, the 20-mph winds, or a hard fall could stop Kentucky's Bobby Curtis from victory in a classic cross-country duel with Missouri's Adam Perkins as two of the country's top runners went head-to-head in the North Hardin Invitational in Elizabethtown, Kentucky.
On a day and a course where nine-inch nails would have been preferable to cross-country spikes, Curtis proved that he has not only improved his strength from last year but has also improved that devastating kick which has put away so many other opponents.
But it didn't come easy. Running side by side from the gun, the respective state champions in Kentucky and Missouri ran almost as one across the soft grassy fields, through woods, over two wooden bridges, and around hairpin turns where both runners had to grab a tree just to keep from going off course. Then just before the two-mile mark, Bobby Curtis went down hard in the mud. For a second most observers–and Perkins–thought the race was over, but Curtis literally bounced back up, resumed his pace as if nothing whatsoever had happened, and was right beside Perkins again before most spectators realized what had happened.
Three-tenths of a mile later as the two began a long hill, Perkins surged and quickly gained a yard on Curtis, who expressed his frustration both verbally and in his body language. By the time the two reached the top of the hill, Perkins had extended his lead to almost two yards as Curtis moved first from one side of Perkins to the other in an attempt to keep the 4:07 miler from breaking the race open.
Perkins, aware of Curtis' vaunted kick, kept glancing quickly over his left shoulder in order to be prepared for the expected move from Curtis. And it came: At exactly 2.8 miles Curtis found that gear which only the great runners possess. And being prepared for it doesn't help, as Adam Perkins learned. Within the flash of an eye Curtis caught Perkins, went past him, and never looked back, eventually winning by 12 seconds in 15:29 Perkins was clocked at 15:41 on the very muddy, wet, and slow course.
Afterwards both Perkins and Curtis said that they were pleased with their performances but expressed frustration at the weather and the toll it took on the course. "I was sort of hoping for faster times," said Perkins, "but this will help me get ready for Wisconsin." (the site of the Foot Locker regionals). Perkins also noted that although he and Curtis have been involved in some ferocious one- mile races on the track, he had never before raced Curtis in cross-country and did not know what to expect. Curtis said that they practically had to stop on some of the turns and described the course as "sloppy." But he was happy with his victory: "This is only my third race and while I'm fit, I'm not yet race-fit." He also said that he had experienced some soreness in his left calf as a result of a number of 400 meter intervals earlier this week.
Curtis' next race is the Metro Meet of Champions in Louisville next Saturday. Although he declined to predict a time, he noted that he had been doing tempo runs of 4 miles in twenty minutes flat and was looking forward to running well under 15 minutes.

Perkins will return to Missouri where his teammates won their conference in his absence. "I'm really proud of them," he said. "I wish they could have been here, because a number of them would have been running right up front with us, and everyone would have seen how good they all are."
One Kentucky runner who showed how good he could be was South Oldham's Kal Clark, who led Curtis and Perkins through a 4:53 first mile and then held on for a very respectable third. Perkins and Curtis surged at exactly the one-mile mark and Clark later regretted the hesitation which prevented him from matching their surge and caused him to lose contact with the two leaders. "I was really cruising at that point but I was thinking about the third mile, and just doubted myself. However, I now know that I should have and could have gone with them."

On the girls' side, Maddie Schueler of Louisville's Sacred Heart Academy went out fast and was never challenged. "Coach (Rick Heim) told me to go out and just see how I felt. I really liked the course and just had a good time running. I like running, it's fun, and although the course was slippery, I was enjoying myself." Schueler, whose winning time was 18:50, easily outdistanced Sara Hater of Campbell County, who had finished right behind Schueler at last year's state cross-country championship.
South Oldham's boys barely defeated defending champion Saint X for the team title, 55 to 57. However, Saint X divided its varsity into two teams, an "A" squad and a "B" squad. If Saint X's top five runners had been on the same squad, the defending state champions would have won 47 to 55.
The girls' team race was even closer with Sacred Heart upsetting number one ranked Campbell County 50 to 51. Sacred heart's victory was the result of Schueler's first place, the improvement in the times of freshmen runners who have been gaining experience every week, and the recovery of veteran runners who had been suffering from early-season injuries.

Preview
Bobby Curtis returns to Kentucky running this weekend in the North Hardin Invitational where Curtis and his defending state champion Saint Xavier HS will take on Adam Perkins and his highly-ranked team from Liberty HS.
Although Curtis has run in a sufficient number of dual meets to insure his qualification for the state meet, he has not run in a Kentucky invitational since the Tiger Run hosted by Saint X in mid-August. Instead Curtis has been running in national meets, such as the Great American Cross-Country Festival in Charlotte two weekends ago and, in the words of his coach, has been "training like a banshee." This weekend's race should provide Kentucky runners with some indication of where that training has taken the three-time state X-C champion.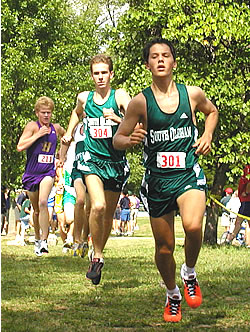 In Curtis' absence, boys' cross-country has been dominated by South Oldham HS and its two stars, Ondrej Puskar and Kal Clark (left at Trinity Inv). Puskar, an exchange student from Slovakia, has been the surprise of the year, establishing himself week in and week out as the dominant number two runner behind Curtis. Or at least that was the case until last two weekends ago when Clark ran to what observers had expected his potential to be and beat Puskar for the first time this season.
Regardless of whether Puskar is second and Clark third or vice-versa, the truth is that South Oldham is the team to beat and Curtis and his fellow Saint X runners should learn this weekend how far they have to go between now and November 9th if they want to add to their record seventeen state X-C championships.
On the girls' side, the North Hardin Invitational will feature Sacred Heart Academy of Louisville, which has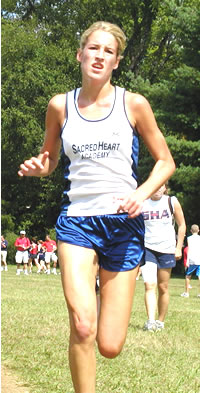 established itself as the number-one team in AAA. SHA is led by junior Maddie Schueler, (right) a gutsy hard-working runner who is not afraid of challenging whatever big-name runner shows up at the starting line, including the very talented Carmen Mims. Mims, of cross-town rival Mercy Academy, is clearly the best female high-school runner in the state and should prove herself later this season as one of the best in the southeast. However, Schueler has not been afraid to go head-to-head with her or any other ranked runner and in doing so has elevated both her own racing and her team as well.
As the clock ticks down to the state championship, this weekend's invitational should prove exciting.