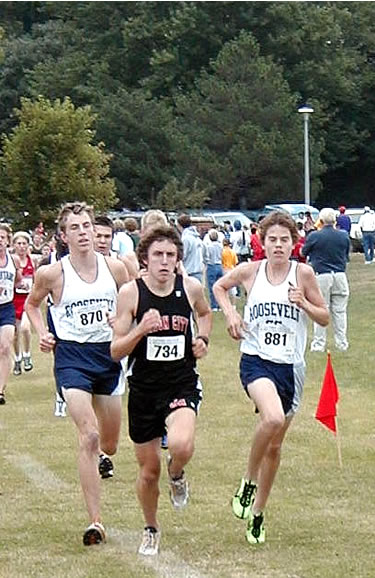 Ryan McCurnin (center) of Mason City, the defending Iowa individual champion, is flanked by Austin Williamson (l) and Jon Thomas (r), both of Des Moines Roosevelt. McCurnin went on to win the individual race in 15:53, followed by Thomas and Williamson who led Roosevelt to the team title.
Roosevelt wins season opener,
Iowa City West girls win again
Thirty-three colleges and high schools from 5 midwestern states gathered at Luther College in Decorah, IA for the 32nd annual All-American Invitational on Saturday. In the high school boys' division, this meet picked up where last season ended. US #4 Des Moines Roosevelt (IA), in their season debut, did not disappoint, scoring just 35 points over their nearest rival, Linn-Mar (IA), 85 points. Roosevelt, the defending Iowa state team champion, placed 5 runners in the top 15. Ryan McCurnin of Mason City, the defending Iowa state individual champion, claimed the top spot in this race. After losing by one second at last year's meet, McCurnin ran a 15:53 5K, seven seconds ahead of Jon Thomas of Roosevelt.
In the high school girls' division, Iowa City West - fresh off an upset of US #10 Iowa City High on Thursday - managed another impressive team win. Placing four runners in the top 10, West scored 33 points in a close win over Cedar Falls' (IA) 46 points. However, the top two teams did not claim the top two individual spots. Nicole Calabrese of Kingland (MN) High School, currently the top-ranked runner in Minnesota Class A, completed the 4K race in 14:23 to finish ahead of runner-up Hannah Roeder of Des Moines Roosevelt (14:54).
FULL RESULTS: Luther College web site