Christy Brewer leads the way through the fog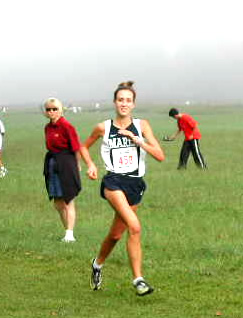 Marist girls eke out a 1 point win over Southeast number 6 and current state number 1 Lakeside-DeKalb, 83 to 84. Southeast number 9 Westminster comes in fourth with 152 points. Marist's Christy Brewer dominates with 30-second win in 18:42.

Southeast number 7 Brookwood boys trounce the field with 107 point win. State number 2 ranked Cristan Duvall and number 5 Ashenafi Arega battle to the finish, with Duvall winning 15:33 to 15:36. Brookwood's junior sensation Matt Roberson is 3rd in 15:47. State number 1 ranked Bobby Reyes is 4th in 15:53.

Weather is hot and foggy with 100% humidity, Course is flat and fast.
Boys
Alexander / Asics Invitational 
Boys Championship 
October 5, 2002 
McIntosh Nature Preserve 
                                  Team Results                                  
~~~~~~~~~~~~~~~~~~~~~~~~~~~~~~~~~~~~~~~~~~~~~~~~~~~~~~~~~~~~~~~~~~~~~~~~~~~~~~~~
 PL   BIB NAME                              TIME      TEAM                      
*****    1 BROOKWD Total Points:   69                                           
   3   29 MATT ROBERSON                     0:15:47.2 BROOKWD                   
   5   30 KURT KIMMONS                      0:15:55.8 BROOKWD                   
  18   31 SAM LEY                           0:16:34.7 BROOKWD                   
  20   35 NAZAR TRILISKY                    0:16:43.5 BROOKWD                   
  23   36 TYSON MANALO                      0:16:48.9 BROOKWD                   
  26   32 BUCK PARDEE                       0:16:59.2 BROOKWD                   
  27   34 JACOB MELNICK                     0:16:59.6 BROOKWD                   
*****    2 WESLEYAN Total Points:  176                                          
   1  881 CRISTON DUVALL                    0:15:33.4 WESLEYAN                  
  34  886 TAYLOR NILAN                      0:17:11.6 WESLEYAN                  
  35  884 HARRISON MEADOWS                  0:17:12.5 WESLEYAN                  
  50  885 JOHN BALL                         0:17:29.4 WESLEYAN                  
  56  882 JONATHAN BUCHNER                  0:17:40.2 WESLEYAN                  
  66  883 DREW PREHMUS                      0:17:50.2 WESLEYAN                  
  74  887 BRANDON WHITE                     0:17:59.0 WESLEYAN                  
*****    3 DACULA Total Points:  186                                            
   4  159 BOBBY REYES                       0:15:53.3 DACULA                    
  12  160 MATT GORDON                       0:16:22.8 DACULA                    
  24  162 KYLE EKMAN                        0:16:50.4 DACULA                    
  43  161 RYAN MCCLAY                       0:17:24.5 DACULA                    
 103  165 BENNY KOSTO                       0:18:30.8 DACULA                    
 115  163 JEREMY CHILDERS                   0:18:59.4 DACULA                    
 119  164 MIKE DEMAREST                     0:19:04.8 DACULA                    
*****    4 MARIST Total Points:  188                                            
  14  451 JAMES RAFETY                      0:16:30.0 MARIST                    
  36  453 DOUGIE COFFED                     0:17:13.1 MARIST                    
  41  455 JOHN WHITCOMB                     0:17:22.7 MARIST                    
  46  454 KEITH RESETER                     0:17:27.1 MARIST                    
  51  452 IAIN TURNBULL                     0:17:31.7 MARIST                    
  57  456 ROB HEROMAN                       0:17:41.2 MARIST                    
  63  457 PETE ZIMMERMANN                   0:17:48.4 MARIST                    
*****    5 N-GWNNTT Total Points:  195                                          
  10  532 BRIAN LANGMAN                     0:16:15.6 N-GWNNTT                  
  30  533 BRIAN POSTMA                      0:17:07.8 N-GWNNTT                  
  42  535 JOSH HAYCOCK                      0:17:23.2 N-GWNNTT                  
  49  534 ADAM MONZIES                      0:17:29.0 N-GWNNTT                  
  64  543 KIEM HO                           0:17:48.9 N-GWNNTT                  
  67  536 EVAN WIMPEY                       0:17:51.2 N-GWNNTT                  
  69  537 ADAM WILLIAMS                     0:17:54.3 N-GWNNTT                  
*****    6 LASSITER Total Points:  225                                          
  33  385 JOSH HAMMEL                       0:17:09.6 LASSITER                  
  38  384 STEPHEN DESVERNINE                0:17:15.8 LASSITER                  
  44  400 DAVID KYLE                        0:17:25.0 LASSITER                  
  52  399 BREN ISBELL                       0:17:34.3 LASSITER                  
  58  386 CLINT JONES                       0:17:41.6 LASSITER                  
  65  402 DANIEL BERMAN                     0:17:49.5 LASSITER                  
  98  383 CHRIS BENASSI                     0:18:25.8 LASSITER                  
*****    7 CHAP-HIL Total Points:  237                                          
  21  125 ZAVEN O'BRYANT                    0:16:45.6 CHAP-HIL                  
  28  126 MATT TOWNSEND                     0:17:00.0 CHAP-HIL                  
  32  127 ERIC WRIGHT                       0:17:08.7 CHAP-HIL                  
  59  128 SEAN ROGERS                       0:17:43.9 CHAP-HIL                  
  97  129 JASON BAKER                       0:18:25.5 CHAP-HIL                  
 105  130 ZACH WANSLEY                      0:18:33.7 CHAP-HIL                  
 123  131 JUSTIN TUCKER                     0:19:14.5 CHAP-HIL                  


*****    8 S-FRSYTH Total Points:  237                                          
   7  780 BRIAN DEAL                        0:15:59.4 S-FRSYTH                  
  31  781 BO BRAWNER                        0:17:08.4 S-FRSYTH                  
  53  783 CHRIS BRUCE                       0:17:34.8 S-FRSYTH                  
  54  782 NATHAN CHURCHWELL                 0:17:35.7 S-FRSYTH                  
  92  784 JAMES TAYLOR                      0:18:20.5 S-FRSYTH                  
  99  785 BEN TAYLOR                        0:18:27.0 S-FRSYTH                  
 116  786 BRIAN SCHENCK                     0:19:00.1 S-FRSYTH                  
*****    9 LAKESIDE Total Points:  249                                          
  11  329 ERIC ALBRECHT                     0:16:21.7 LAKESIDE                  
  40  332 DANNY WILEY                       0:17:20.3 LAKESIDE                  
  61  333 PATRICK HOYE                      0:17:45.2 LAKESIDE                  
  62  336 JOHN CHOL                         0:17:48.0 LAKESIDE                  
  75  331 NATHAN PRICE                      0:17:59.6 LAKESIDE                  
  78  334 STEVE NAWROCKI                    0:18:02.1 LAKESIDE                  
  82  330 ANDREW SWERLICK                   0:18:04.5 LAKESIDE                  
*****   10 STARRSML Total Points:  259                                          
  29  822 DANIEL SHANKIE                    0:17:06.7 STARRSML                  
  37  824 BRADLEY MORRIS                    0:17:15.2 STARRSML                  
  39  823 CRIAG HYATT                       0:17:18.0 STARRSML                  
  73  825 DAVEY WOODS                       0:17:58.3 STARRSML                  
  81  826 JACOB MCBRIDE                     0:18:03.5 STARRSML                  
  84  827 KENTAVIOUS WILSON                 0:18:05.4 STARRSML                  
  88  828 SANKAR SRIDARAN                   0:18:08.2 STARRSML                  
*****   11 OCONEE Total Points:  325                                            
  17  580 ANDREW GRANT                      0:16:34.2 OCONEE                    
  22  581 JOHN KELLOUGH                     0:16:46.3 OCONEE                    
  77  583 CHRIS LEACH                       0:18:00.3 OCONEE                    
 102  582 ROY HOLMES                        0:18:30.4 OCONEE                    
 107  585 ANDY MILLER                       0:18:37.4 OCONEE                    
 108  596 ROBERT TAYLOR                     0:18:38.5 OCONEE                    
 121  584 ERIC KELLOUGH                     0:19:11.2 OCONEE                    
*****   12 ALEXANDR Total Points:  348                                          
  15    1 TIM GARDNER                       0:16:31.4 ALEXANDR                  
  68    6 JOSH MARTIN                       0:17:53.3 ALEXANDR                  
  76    5 RYAN CLAY                         0:18:00.0 ALEXANDR                  
  93    3 JUSTIN HAYNES                     0:18:20.9 ALEXANDR                  
  96    7 DANIEL FOGG                       0:18:24.0 ALEXANDR                  
 101    4 CHRIS RITCHIE                     0:18:29.3 ALEXANDR                  
 128    2 DUSTIN MOZLEY                     0:19:29.4 ALEXANDR                  
*****   13 LANDMARK Total Points:  358                                          
  13  369 BLAKE FERTITTA                    0:16:26.8 LANDMARK                  
  47  372 JAMES REGISTER                    0:17:28.5 LANDMARK                  
  55  373 ROBERT JONES                      0:17:39.3 LANDMARK                  
 118  370 JOSEPH REGISTER                   0:19:04.5 LANDMARK                  
 125  374 JUSTIN MCDONALD                   0:19:18.1 LANDMARK                  
*****   14 DECATUR Total Points:  374                                           
  16  980 SAM GILLESPIE                     0:16:33.9 DECATUR                   
  45  981 ERIC O'NEILL                      0:17:26.6 DECATUR                   
  72  982 BRANDON STEPHENS                  0:17:57.2 DECATUR                   
 111  984 MATT MCCANN                       0:18:46.5 DECATUR                   
 130  983 ALEX CORNELL                      0:19:31.9 DECATUR                   
 144  205 JEREMY ARNOLD                     0:20:05.0 DECATUR                   
 154  206 NICK CHOATE                       0:20:20.8 DECATUR                   
*****   15 N-ATLNTA Total Points:  383                                          
   2  502 ASHENAFI AREGA                    0:15:36.3 N-ATLNTA                  
   6  503 YIBETAI AREGA                     0:15:56.2 N-ATLNTA                  
 110  504 AYELE ESTIFANOS                   0:18:45.0 N-ATLNTA                   
 131  505 MATT DAWKINS                      0:19:34.6 N-ATLNTA                  
 134  506 JAKE WORD                         0:19:37.1 N-ATLNTA                  
 162  508 BESIM BERKOLLI                    0:20:40.7 N-ATLNTA                  
 165  507 WILLIAM HIGH                      0:20:58.1 N-ATLNTA                  

*****   16 ST. PIUS Total Points:  445                                          
  71  712 WARNER WOLF                       0:17:55.6 ST. PIUS                  
  86  714 KEEGAN MCDERMOTT                  0:18:06.3 ST. PIUS                  
  87  713 JOEY ABDOU                        0:18:06.8 ST. PIUS                  
  95  715 CHRIS COHEN                       0:18:23.5 ST. PIUS                  
 106  711 DANIEL SCANTLEBURY                0:18:37.2 ST. PIUS                  
 141  716 MICK RUBIO                        0:20:00.8 ST. PIUS                  
 149  717 MARK BRASS                        0:20:09.0 ST. PIUS                  
*****   17 PACE Total Points:  468                                              
   9  622 LAWSON YOW                        0:16:15.4 PACE                      
  83  624 SANDY ALEXANDER                   0:18:05.0 PACE                      
  89  623 TOM ALEXANDER                     0:18:16.2 PACE                      
 140  626 KEIFER PIRRUNG                    0:20:00.1 PACE                      
 147  627 ANDREW BECK                       0:20:07.0 PACE                      
 159  636 TAYLOR HANKS                      0:20:38.7 PACE                      
 170  625 JUSTIN CIEJEK                     0:21:23.5 PACE                      
*****   18 MARIETTA Total Points:  477                                          
  19  423 PETER ROBERTSON                   0:16:35.1 MARIETTA                  
  79  424 CRAWFORD ROBERTSON                0:18:02.6 MARIETTA                  
  91  425 TROY CLARK                        0:18:19.5 MARIETTA                  
 132  428 SHAWN RADE                        0:19:35.8 MARIETTA                  
 156  426 KEVIN ROSS                        0:20:25.2 MARIETTA                  
 161  427 BROCK PETERSON                    0:20:40.2 MARIETTA                  
 173  429 VANCE MORRIS                      0:21:51.5 MARIETTA                  
*****   19 FAYETTE Total Points:  481                                           
  70  252 BLAKE ALVERSON                    0:17:54.8 FAYETTE                   
  90  251 RYAN WOLFE                        0:18:17.5 FAYETTE                   
  94  253 DAVID DALTON                      0:18:22.6 FAYETTE                   
 100  256 NATHAN FOSTER                     0:18:27.6 FAYETTE                   
 127  257 ANDREW KOLLMEYER                  0:19:24.0 FAYETTE                   
 153  255 ANDREW COLLINS                    0:20:18.7 FAYETTE                   
 157  260 ERIC BIRDSONG                     0:20:29.7 FAYETTE                   
*****   20 S-GWNNTT Total Points:  511                                          
   8  808 RYLEY MILLER                      0:16:01.5 S-GWNNTT                  
  85  809 TAYLOR ENGLAND                    0:18:05.9 S-GWNNTT                  
 135  812 LONDON KENTON                     0:19:38.8 S-GWNNTT                  
 138  814 MATT MCCULLOUGH                   0:19:45.0 S-GWNNTT                  
 145  813 ALEX SANCHEZ                      0:20:05.0 S-GWNNTT                  
 148  810 GEOFF SOSEBEE                     0:20:08.0 S-GWNNTT                  
 152  811 JOHN PAUL BRASSELL                0:20:18.3 S-GWNNTT                  
*****   21 DALTON Total Points:  531                                            
  48  185 JOSH HUDGINS                      0:17:28.8 DALTON                    
  60  186 JOE KINSEY                        0:17:44.2 DALTON                    
 126  187 TE SARRAT                         0:19:21.8 DALTON                    
 129  190 BEN CALLAWAY                      0:19:29.8 DALTON                    
 168  188 KEN EICHBERG                      0:21:06.6 DALTON                    
*****   22 WOODWARD Total Points:  535                                          
  25  954 TUCKER REARDON                    0:16:54.0 WOODWARD                  
 117  956 JOSEPH NORT                       0:19:00.5 WOODWARD                  
 120  957 DAVID EHRLICH                     0:19:10.9 WOODWARD                  
 136  959 CHRIS JOHNSON                     0:19:39.8 WOODWARD                  
 137  961 JIM LONG                          0:19:42.6 WOODWARD                  
 139  958 PHINIZY SPALDING                  0:19:55.9 WOODWARD                   
 146  960 JOHN BENT                         0:20:06.0 WOODWARD                  
*****   23 UNIONGRV Total Points:  608                                          
  80  866 ADAM NEWTON                       0:18:03.1 UNIONGRV                  
 109  868 COLT VANLANKEN                    0:18:40.2 UNIONGRV                  
 113  867 ALBERT THOMAS                     0:18:53.1 UNIONGRV                  
 143  870 CORY PRATT                        0:20:03.8 UNIONGRV                  
 163  874 JASON STRONG                      0:20:45.2 UNIONGRV                  
 169  869 ROSS TILSON                       0:21:15.0 UNIONGRV                  
*****   24 WHEELER Total Points:  664                                           
 114  922 CHRIS KNAPIK                      0:18:55.5 WHEELER                   
 122  919 JEREMY MCCABE                     0:19:12.7 WHEELER                   
 124  921 SETH SNYDER                       0:19:16.4 WHEELER                   
 133  920 NEAL HEINECKE                     0:19:36.3 WHEELER                   
 171  923 GAVIN JOHNS                       0:21:45.4 WHEELER                   
*****   25 SANDYCRK Total Points:  715                                          
 104  739 ANDREW HENRY                      0:18:32.0 SANDYCRK                  
 142  740 JOHN FIELDS                       0:20:02.6 SANDYCRK                  
 151  741 JASON STEVENS                     0:20:18.1 SANDYCRK                  
 158  744 BEN ABLETT                        0:20:32.1 SANDYCRK                  
 160  745 TYLER CAMPBELL                    0:20:39.0 SANDYCRK                  
 164  743 BRANDON KNOWLES                   0:20:48.0 SANDYCRK                  
 166  742 MATT AUERS                        0:20:59.3 SANDYCRK                  
*****   26 NRTHGATE Total Points:  756                                          
 112  560 JOHN MINIX                        0:18:52.8 NRTHGATE                  
 150  562 JASON HENDRIX                     0:20:12.3 NRTHGATE                  
 155  565 BUCK ALFORD                       0:20:21.2 NRTHGATE                  
 167  561 CHRIS LAWRENCE                    0:21:06.0 NRTHGATE                  
 172  567 DAVID LAWSON                   

                                 Overall Results                                
~~~~~~~~~~~~~~~~~~~~~~~~~~~~~~~~~~~~~~~~~~~~~~~~~~~~~~~~~~~~~~~~~~~~~~~~~~~~~~~~
 PL   BIB NAME                              TIME      TEAM                      
   1  881 CRISTON DUVALL                    0:15:33.4 WESLEYAN                  
   2  502 ASHENAFI AREGA                    0:15:36.3 N-ATLNTA                  
   3   29 MATT ROBERSON                     0:15:47.2 BROOKWD                   
   4  159 BOBBY REYES                       0:15:53.3 DACULA                    
   5   30 KURT KIMMONS                      0:15:55.8 BROOKWD                   
   6  503 YIBETAI AREGA                     0:15:56.2 N-ATLNTA                  
   7  780 BRIAN DEAL                        0:15:59.4 S-FRSYTH                  
   8  808 RYLEY MILLER                      0:16:01.5 S-GWNNTT                  
   9  622 LAWSON YOW                        0:16:15.4 PACE                      
  10  532 BRIAN LANGMAN                     0:16:15.6 N-GWNNTT                  
  11  329 ERIC ALBRECHT                     0:16:21.7 LAKESIDE                  
  12  160 MATT GORDON                       0:16:22.8 DACULA                    
  13  369 BLAKE FERTITTA                    0:16:26.8 LANDMARK                  
  14  451 JAMES RAFETY                      0:16:30.0 MARIST                    
  15    1 TIM GARDNER                       0:16:31.4 ALEXANDR                  
  16  980 SAM GILLESPIE                     0:16:33.9 DECATUR                   
  17  580 ANDREW GRANT                      0:16:34.2 OCONEE                    
  18   31 SAM LEY                           0:16:34.7 BROOKWD                   
  19  423 PETER ROBERTSON                   0:16:35.1 MARIETTA                  
  20   35 NAZAR TRILISKY                    0:16:43.5 BROOKWD                   
  21  125 ZAVEN O'BRYANT                    0:16:45.6 CHAP-HIL                  
  22  581 JOHN KELLOUGH                     0:16:46.3 OCONEE                    
  23   36 TYSON MANALO                      0:16:48.9 BROOKWD                   
  24  162 KYLE EKMAN                        0:16:50.4 DACULA                    
  25  954 TUCKER REARDON                    0:16:54.0 WOODWARD                  
  26   32 BUCK PARDEE                       0:16:59.2 BROOKWD                   
  27   34 JACOB MELNICK                     0:16:59.6 BROOKWD                   
  28  126 MATT TOWNSEND                     0:17:00.0 CHAP-HIL                  
  29  822 DANIEL SHANKIE                    0:17:06.7 STARRSML                  
  30  533 BRIAN POSTMA                      0:17:07.8 N-GWNNTT                  
  31  781 BO BRAWNER                        0:17:08.4 S-FRSYTH                  
  32  127 ERIC WRIGHT                       0:17:08.7 CHAP-HIL                  
  33  385 JOSH HAMMEL                       0:17:09.6 LASSITER                  
  34  886 TAYLOR NILAN                      0:17:11.6 WESLEYAN                  
  35  884 HARRISON MEADOWS                  0:17:12.5 WESLEYAN                  
  36  453 DOUGIE COFFED                     0:17:13.1 MARIST                    
  37  824 BRADLEY MORRIS                    0:17:15.2 STARRSML                  
  38  384 STEPHEN DESVERNINE                0:17:15.8 LASSITER                  
  39  823 CRIAG HYATT                       0:17:18.0 STARRSML                  
  40  332 DANNY WILEY                       0:17:20.3 LAKESIDE                  
  41  455 JOHN WHITCOMB                     0:17:22.7 MARIST                    
  42  535 JOSH HAYCOCK                      0:17:23.2 N-GWNNTT                  
  43  161 RYAN MCCLAY                       0:17:24.5 DACULA                    
  44  400 DAVID KYLE                        0:17:25.0 LASSITER                  
  45  981 ERIC O'NEILL                      0:17:26.6 DECATUR                   
  46  454 KEITH RESETER                     0:17:27.1 MARIST                    
  47  372 JAMES REGISTER                    0:17:28.5 LANDMARK                  
  48  185 JOSH HUDGINS                      0:17:28.8 DALTON                    
  49  534 ADAM MONZIES                      0:17:29.0 N-GWNNTT                  
  50  885 JOHN BALL                         0:17:29.4 WESLEYAN                  
  51  452 IAIN TURNBULL                     0:17:31.7 MARIST                    
  52  399 BREN ISBELL                       0:17:34.3 LASSITER                  
  53  783 CHRIS BRUCE                       0:17:34.8 S-FRSYTH                  
  54  782 NATHAN CHURCHWELL                 0:17:35.7 S-FRSYTH                  
  55  373 ROBERT JONES                      0:17:39.3 LANDMARK                  
  56  882 JONATHAN BUCHNER                  0:17:40.2 WESLEYAN                  
  57  456 ROB HEROMAN                       0:17:41.2 MARIST                    
  58  386 CLINT JONES                       0:17:41.6 LASSITER                  
  59  128 SEAN ROGERS                       0:17:43.9 CHAP-HIL                  
  60  186 JOE KINSEY                        0:17:44.2 DALTON                    
  61  333 PATRICK HOYE                      0:17:45.2 LAKESIDE                  
  62  336 JOHN CHOL                         0:17:48.0 LAKESIDE                  
  63  457 PETE ZIMMERMANN                   0:17:48.4 MARIST                    
  64  543 KIEM HO                           0:17:48.9 N-GWNNTT                  
  65  402 DANIEL BERMAN                     0:17:49.5 LASSITER                  
  66  883 DREW PREHMUS                      0:17:50.2 WESLEYAN                  
  67  536 EVAN WIMPEY                       0:17:51.2 N-GWNNTT                  
  68    6 JOSH MARTIN                       0:17:53.3 ALEXANDR                  
  69  537 ADAM WILLIAMS                     0:17:54.3 N-GWNNTT                  
  70  252 BLAKE ALVERSON                    0:17:54.8 FAYETTE                   
  71  712 WARNER WOLF                       0:17:55.6 ST. PIUS                  
  72  982 BRANDON STEPHENS                  0:17:57.2 DECATUR                   
  73  825 DAVEY WOODS                       0:17:58.3 STARRSML                  
  74  887 BRANDON WHITE                     0:17:59.0 WESLEYAN                  
  75  331 NATHAN PRICE                      0:17:59.6 LAKESIDE                  
  76    5 RYAN CLAY                         0:18:00.0 ALEXANDR                  
  77  583 CHRIS LEACH                       0:18:00.3 OCONEE                    
  78  334 STEVE NAWROCKI                    0:18:02.1 LAKESIDE                  
  79  424 CRAWFORD ROBERTSON                0:18:02.6 MARIETTA                  
  80  866 ADAM NEWTON                       0:18:03.1 UNIONGRV                  
  81  826 JACOB MCBRIDE                     0:18:03.5 STARRSML                  
  82  330 ANDREW SWERLICK                   0:18:04.5 LAKESIDE                  
  83  624 SANDY ALEXANDER                   0:18:05.0 PACE                      
  84  827 KENTAVIOUS WILSON                 0:18:05.4 STARRSML                  
  85  809 TAYLOR ENGLAND                    0:18:05.9 S-GWNNTT                  
  86  714 KEEGAN MCDERMOTT                  0:18:06.3 ST. PIUS                  
  87  713 JOEY ABDOU                        0:18:06.8 ST. PIUS                  
  88  828 SANKAR SRIDARAN                   0:18:08.2 STARRSML                  
  89  623 TOM ALEXANDER                     0:18:16.2 PACE                      
  90  251 RYAN WOLFE                        0:18:17.5 FAYETTE                   
  91  425 TROY CLARK                        0:18:19.5 MARIETTA                  
  92  784 JAMES TAYLOR                      0:18:20.5 S-FRSYTH                  
  93    3 JUSTIN HAYNES                     0:18:20.9 ALEXANDR                  
  94  253 DAVID DALTON                      0:18:22.6 FAYETTE                   
  95  715 CHRIS COHEN                       0:18:23.5 ST. PIUS                  
  96    7 DANIEL FOGG                       0:18:24.0 ALEXANDR                  
  97  129 JASON BAKER                       0:18:25.5 CHAP-HIL                  
  98  383 CHRIS BENASSI                     0:18:25.8 LASSITER                  
  99  785 BEN TAYLOR                        0:18:27.0 S-FRSYTH                  
 100  256 NATHAN FOSTER                     0:18:27.6 FAYETTE                   
 101    4 CHRIS RITCHIE                     0:18:29.3 ALEXANDR                  
 102  582 ROY HOLMES                        0:18:30.4 OCONEE                    
 103  165 BENNY KOSTO                       0:18:30.8 DACULA                    
 104  739 ANDREW HENRY                      0:18:32.0 SANDYCRK                  
 105  130 ZACH WANSLEY                      0:18:33.7 CHAP-HIL                  
 106  711 DANIEL SCANTLEBURY                0:18:37.2 ST. PIUS                  
 107  585 ANDY MILLER                       0:18:37.4 OCONEE                    
 108  596 ROBERT TAYLOR                     0:18:38.5 OCONEE                    
 109  868 COLT VANLANKEN                    0:18:40.2 UNIONGRV                  
 110  504 AYELE ESTIFANOS                   0:18:45.0 N-ATLNTA                  
 111  984 MATT MCCANN                       0:18:46.5 DECATUR                   
 112  560 JOHN MINIX                        0:18:52.8 NRTHGATE                  
 113  867 ALBERT THOMAS                     0:18:53.1 UNIONGRV                  
 114  922 CHRIS KNAPIK                      0:18:55.5 WHEELER                   
 115  163 JEREMY CHILDERS                   0:18:59.4 DACULA                    
 116  786 BRIAN SCHENCK                     0:19:00.1 S-FRSYTH                  
 117  956 JOSEPH NORT                       0:19:00.5 WOODWARD                  
 118  370 JOSEPH REGISTER                   0:19:04.5 LANDMARK                  
 119  164 MIKE DEMAREST                     0:19:04.8 DACULA                    
 120  957 DAVID EHRLICH                     0:19:10.9 WOODWARD                  
 121  584 ERIC KELLOUGH                     0:19:11.2 OCONEE                    
 122  919 JEREMY MCCABE                     0:19:12.7 WHEELER                   
 123  131 JUSTIN TUCKER                     0:19:14.5 CHAP-HIL                  
 124  921 SETH SNYDER                       0:19:16.4 WHEELER                   
 125  374 JUSTIN MCDONALD                   0:19:18.1 LANDMARK                  
 126  187 TE SARRAT                         0:19:21.8 DALTON                    
 127  257 ANDREW KOLLMEYER                  0:19:24.0 FAYETTE                   
 128    2 DUSTIN MOZLEY                     0:19:29.4 ALEXANDR                  
 129  190 BEN CALLAWAY                      0:19:29.8 DALTON                    
 130  983 ALEX CORNELL                      0:19:31.9 DECATUR                   
 131  505 MATT DAWKINS                      0:19:34.6 N-ATLNTA                  
 132  428 SHAWN RADE                        0:19:35.8 MARIETTA                  
 133  920 NEAL HEINECKE                     0:19:36.3 WHEELER                   
 134  506 JAKE WORD                         0:19:37.1 N-ATLNTA                  
 135  812 LONDON KENTON                     0:19:38.8 S-GWNNTT                  
 136  959 CHRIS JOHNSON                     0:19:39.8 WOODWARD                  
 137  961 JIM LONG                          0:19:42.6 WOODWARD                  
 138  814 MATT MCCULLOUGH                   0:19:45.0 S-GWNNTT                  
 139  958 PHINIZY SPALDING                  0:19:55.9 WOODWARD                  
 140  626 KEIFER PIRRUNG                    0:20:00.1 PACE                      
 141  716 MICK RUBIO                        0:20:00.8 ST. PIUS                  
 142  740 JOHN FIELDS                       0:20:02.6 SANDYCRK                  
 143  870 CORY PRATT                        0:20:03.8 UNIONGRV                  
 144  813 ALEX SANCHEZ                      0:20:05.0 S-GWNNTT                  
 144  205 JEREMY ARNOLD                     0:20:05.0 DECATUR                   
 146  960 JOHN BENT                         0:20:06.0 WOODWARD                  
 147  627 ANDREW BECK                       0:20:07.0 PACE                      
 148  810 GEOFF SOSEBEE                     0:20:08.0 S-GWNNTT                  
 149  717 MARK BRASS                        0:20:09.0 ST. PIUS                  
 150  562 JASON HENDRIX                     0:20:12.3 NRTHGATE                  
 151  741 JASON STEVENS                     0:20:18.1 SANDYCRK                  
 152  811 JOHN PAUL BRASSELL                0:20:18.3 S-GWNNTT                  
 153  255 ANDREW COLLINS                    0:20:18.7 FAYETTE                   
 154  206 NICK CHOATE                       0:20:20.8 DECATUR                   
 155  565 BUCK ALFORD                       0:20:21.2 NRTHGATE                  
 156  426 KEVIN ROSS                        0:20:25.2 MARIETTA                  
 157  260 ERIC BIRDSONG                     0:20:29.7 FAYETTE                   
 158  744 BEN ABLETT                        0:20:32.1 SANDYCRK                  
 159  636 TAYLOR HANKS                      0:20:38.7 PACE                      
 160  745 TYLER CAMPBELL                    0:20:39.0 SANDYCRK                  
 161  427 BROCK PETERSON                    0:20:40.2 MARIETTA                  
 162  508 BESIM BERKOLLI                    0:20:40.7 N-ATLNTA                  
 163  874 JASON STRONG                      0:20:45.2 UNIONGRV                  
 164  743 BRANDON KNOWLES                   0:20:48.0 SANDYCRK                  
 165  507 WILLIAM HIGH                      0:20:58.1 N-ATLNTA                  
 166  742 MATT AUERS                        0:20:59.3 SANDYCRK                  
 167  561 CHRIS LAWRENCE                    0:21:06.0 NRTHGATE                  
 168  188 KEN EICHBERG                      0:21:06.6 DALTON                    
 169  869 ROSS TILSON                       0:21:15.0 UNIONGRV                  
 170  625 JUSTIN CIEJEK                     0:21:23.5 PACE                      
 171  923 GAVIN JOHNS                       0:21:45.4 WHEELER                   
 172  567 DAVID LAWSON                      0:21:50.3 NRTHGATE          
 
Girls
Alexander / Asics Invitational 
Girls Championship 
October 5, 2002 
McIntosh Nature Preserve 
                                  Team Results                                  
~~~~~~~~~~~~~~~~~~~~~~~~~~~~~~~~~~~~~~~~~~~~~~~~~~~~~~~~~~~~~~~~~~~~~~~~~~~~~~~~
 PL   BIB NAME                              TIME      TEAM                      
*****    1 MARIST Total Points:   83                                            
   1  458 CHRISTY BREWER                    0:18:42.8 MARIST                    
   4  460 ENA LEOFRAY                       0:19:28.5 MARIST                    
   9  459 KRISTEN JOHNSON                   0:20:05.7 MARIST                    
  18  461 LAUREN MCCREA                     0:20:34.1 MARIST                    
  51  463 MACKENZIE STEWART                 0:21:49.2 MARIST                    
  69  462 ERIN ZURBRICK                     0:22:06.4 MARIST                    
  90  464 CAITLIN O'NEILL                   0:22:31.2 MARIST                    
*****    2 LAKESIDE Total Points:   84                                          
   7  339 REBECCA MULLEN                    0:19:46.2 LAKESIDE                  
  10  344 ALLISON CHISLETT                  0:20:15.9 LAKESIDE                  
  11  340 ELICIA SKELTON                    0:20:18.1 LAKESIDE                  
  25  342 KIM DEMETRIOU                     0:20:53.8 LAKESIDE                  
  31  343 GUINN GARRETT                     0:21:03.7 LAKESIDE                  
  61  345 JULIA PLONOWSKI                   0:21:57.2 LAKESIDE                  
  81  341 KATIE WEBSTER                     0:22:20.2 LAKESIDE                  
*****    3 N-GWNNTT Total Points:  127                                          
   3  546 KATHLEEN TURENIN                  0:19:19.7 N-GWNNTT                  
  24  548 KIM GARNER                        0:20:47.3 N-GWNNTT                  
  26  549 BARBARA GARREN                    0:20:54.2 N-GWNNTT                  
  29  552 AMANDA BREHM                      0:21:00.6 N-GWNNTT                  
  45  547 DANIELLE SHAURETTE                0:21:34.1 N-GWNNTT                  
  47  553 KELLIE MCGINLEY                   0:21:38.0 N-GWNNTT                  
  64  550 MARCIE HARVIN                     0:21:58.5 N-GWNNTT                  
*****    4 WSTMNSTR Total Points:  152                                          
   8  891 CAROLINE HAGEDORN                 0:19:47.8 WSTMNSTR                  
  14  892 SARAH BROWN                       0:20:29.6 WSTMNSTR                  
  33  895 HILLARY WHITE                     0:21:07.6 WSTMNSTR                  
  39  894 LELIA WILLIAMSON                  0:21:23.9 WSTMNSTR                  
  58  896 MARION HUNT                       0:21:53.9 WSTMNSTR                  
  74  897 CAROLINE PRATT                    0:22:09.6 WSTMNSTR                  
  93  893 ANSLEY O'NEAL                     0:22:41.1 WSTMNSTR                  
*****    5 HARRISON Total Points:  184                                          
   6  299 JILLIAN LAMMERS                   0:19:41.1 HARRISON                  
  12  300 JESSICA SMITH                     0:20:19.5 HARRISON                  
  34  304 BRITTANY CRANFORD                 0:21:08.4 HARRISON                  
  46  302 AMY WELLS                         0:21:35.1 HARRISON                  
  86  303 CAITLAN BIRCKHEAD                 0:22:25.4 HARRISON                  
 125  305 LINDSEY HARTER                    0:24:08.3 HARRISON                  
 131  306 JENNINGS BENNER                   0:24:24.0 HARRISON                  
*****    6 OCONEE Total Points:  204                                            
  20  589 BROOKE POWELL                     0:20:36.4 OCONEE                    
  22  588 SARAH MILLER                      0:20:44.1 OCONEE                    
  23  587 KATHERINE HUDSON                  0:20:44.8 OCONEE                    
  42  590 LISA PIZAREK                      0:21:28.6 OCONEE                    
  97  602 JESSICA COLANGELO                 0:22:50.7 OCONEE                    
 102  601 CATHERINE REUTER                  0:23:06.4 OCONEE                    
 112  591 ANNA KYLE SHEALY                  0:23:33.7 OCONEE                    
*****    7 KENNESAW Total Points:  216                                          
  15  319 KATINA ZUGANELIS                  0:20:31.1 KENNESAW                  
  27  320 LINDSEY BROWN                     0:20:56.1 KENNESAW                  
  40  321 KAYCE CHRISTIANSON                0:21:26.4 KENNESAW                  
  62  322 RAE TRAINA                        0:21:57.7 KENNESAW                  
  72  323 MELANIE BATDORF                   0:22:07.9 KENNESAW                  
 101  325 JILL LIST                         0:23:04.4 KENNESAW                  
 118  324 ASHLEY CRIPPEN                    0:23:49.5 KENNESAW                  
*****    8 CHAP-HIL Total Points:  256                                          
  32  132 LEAH DERRINGER                    0:21:05.0 CHAP-HIL                  
  44  133 KASEY ELDREDGE                    0:21:33.0 CHAP-HIL                  
  54  134 DANIELLE HURLEY                   0:21:51.9 CHAP-HIL                  
  59  135 ASHLEY SCHWARZ                    0:21:55.9 CHAP-HIL                  
  67  137 BRIANNE LAPIERRE                  0:22:05.4 CHAP-HIL                  
 111  136 ALISON DERRINGER                  0:23:30.0 CHAP-HIL                  
 117  138 BRITTANY WOODALL                  0:23:42.7 CHAP-HIL                  
*****    9 LASSITER Total Points:  280                                          
   5  395 ELENA LINN                        0:19:36.5 LASSITER                  
  21  390 LINDSEY CARTER                    0:20:41.5 LASSITER                  
  70  391 JENI SCHWEER                      0:22:06.9 LASSITER                  
  88  406 SARA COBURN                       0:22:28.2 LASSITER                  
  96  394 AMANDA WESSELING                  0:22:47.5 LASSITER                  
 119  392 KRISTA SCHMIDT                    0:23:53.1 LASSITER                  
 128  405 ADRIENNE KINDER                   0:24:19.7 LASSITER                  
*****   10 RVERWOOD Total Points:  292                                          
  37  688 CAROLINE BINNION                  0:21:20.4 RVERWOOD                  
  38  689 RACHEL LECROY                     0:21:21.3 RVERWOOD                  
  56  690 KATHERINE EVANS                   0:21:52.8 RVERWOOD                  
  57  687 MARY LOTTMAN                      0:21:53.4 RVERWOOD                  
 104  692 MORGAN MATHIS                     0:23:07.6 RVERWOOD                  
 115  693 MALLORY MATHIS                    0:23:41.2 RVERWOOD                  
 124  691 CAROLINE PATILLO                  0:24:04.1 RVERWOOD                  
*****   11 S-FRSYTH Total Points:  293                                          
  16  794 ASHLEY WHITEMAN                   0:20:32.5 S-FRSYTH                  
  49  798 LEANNE WESTMORELAND               0:21:47.8 S-FRSYTH                  
  53  797 STEPHANIE OWENS                   0:21:51.4 S-FRSYTH                  
  80  795 SHARON PAMPARIN                   0:22:17.3 S-FRSYTH                  
  95  796 STEPHANIE DOUGLASS                0:22:44.1 S-FRSYTH                  
 108  799 ANNA PEARON                       0:23:23.8 S-FRSYTH                  
 109  800 ROUDABEH KISHI                    0:23:24.5 S-FRSYTH                  
*****   12 PACE Total Points:  303                                              
  19  629 GEORGIA KLOSS                     0:20:35.4 PACE                      
  28  631 ALLISON KESSLER                   0:20:58.5 PACE                      
  50  630 VANESSA PETROSKY                  0:21:48.4 PACE                      
  63  635 JENNI RIDALL                      0:21:58.1 PACE                      
 143  647 COURTNEY DELANEY                  0:25:06.2 PACE                      
 152  633 STEWART BARBOUR                   0:25:52.9 PACE                      
*****   13 BROOKWD Total Points:  355                                           
  60   48 SHELBEE ROBERTS                   0:21:56.6 BROOKWD                   
  66   43 JENNY POWERS                      0:22:03.4 BROOKWD                   
  75   49 KATIE DAVIS                       0:22:10.8 BROOKWD                   
  76   45 TAMIA THOMAS                      0:22:11.9 BROOKWD                   
  78   44 NATALIE NASON                     0:22:14.0 BROOKWD                   
  79   46 ALICE KOERNER                     0:22:16.8 BROOKWD                   
 105   47 EMELIE BALMES                     0:23:08.3 BROOKWD                   
*****   14 ST. PIUS Total Points:  360                                          
  13  725 LAUREN MARRIOTT                   0:20:27.2 ST. PIUS                  
  77  729 KATIE KULAVIC                     0:22:12.4 ST. PIUS                  
  87  733 KARRIE KULAVIC                    0:22:26.2 ST. PIUS                  
  89  726 LIZ LEIPOLD                       0:22:28.7 ST. PIUS                  
  94  727 KATIE GALLAGHER                   0:22:41.8 ST. PIUS                  
  98  731 LAUREN CHRISTIE                   0:22:54.3 ST. PIUS                  
 135  732 CAITLIN KELLY                     0:24:33.8 ST. PIUS                  
*****   15 STARRSML Total Points:  404                                          
  30  836 KRISTIN HORTON                    0:21:01.4 STARRSML                  
  55  838 JESSIE CORT                       0:21:52.3 STARRSML                   
  71  837 KATIE HUGHES                      0:22:07.5 STARRSML                  
 121  842 JEANNINE GUERTIN                  0:23:57.4 STARRSML                  
 127  839 KATY UNDERWOOD                    0:24:17.7 STARRSML                  
 133  840 ASHLEY HYATT                      0:24:26.8 STARRSML                  
 141  841 SARAH PHANCO                      0:25:00.0 STARRSML                  
*****   16 NRTHGATE Total Points:  415                                          
  35  571 RACHEL EVANS                      0:21:09.0 NRTHGATE                  
  41  572 T. JAYE HANSEN                    0:21:27.9 NRTHGATE                  
  85  570 KATHERINE BELL                    0:22:23.7 NRTHGATE                  
 110  575 LINDEY GOLAY                      0:23:29.1 NRTHGATE                  
 144  573 CRYSTAL MOSLEY                    0:25:14.5 NRTHGATE                  
 155  576 KRISTIN PERRY                     0:26:17.8 NRTHGATE                  

*****   17 SANDYCRK Total Points:  416                                          
  36  746 ASHLEY BLACKBURN                  0:21:10.1 SANDYCRK                  
  68  747 SARA HARPER                       0:22:05.9 SANDYCRK                  
  91  749 SAVANNAH BEEBE                    0:22:34.5 SANDYCRK                  
  99  748 STEPHANIE BOETTCHER               0:22:58.9 SANDYCRK                  
 122  750 BRIE HARRINGTON                   0:24:03.5 SANDYCRK                  
 139  761 KIM HAHN                          0:24:54.1 SANDYCRK                  
 148  751 ELISABETH LOVELACE                0:25:35.4 SANDYCRK                  
*****   18 ALEXANDR Total Points:  443                                          
  65   15 KERI KILGORE                      0:22:00.3 ALEXANDR                  
  73   18 GRACE MARLOW                      0:22:08.4 ALEXANDR                  
  92   20 LAUREN BLASTOW                    0:22:40.1 ALEXANDR                  
 106   16 BETH COUGHLIN                     0:23:16.7 ALEXANDR                  
 107   25 DAWN SIDDONS                      0:23:23.2 ALEXANDR                  
 114   19 KALIE HARPER                      0:23:38.7 ALEXANDR                  
 120   17 JESSICA GLASS                     0:23:53.8 ALEXANDR                  
*****   19 WOODWARD Total Points:  473                                          
  43  941 KATIE MCCUNE                      0:21:31.9 WOODWARD                  
  52  943 WHITNEY GRAY                      0:21:49.7 WOODWARD                  
 116  944 MARIA LIDY                        0:23:41.9 WOODWARD                  
 130  945 LILY WALTERS                      0:24:23.2 WOODWARD                  
 132  947 MOLLY SPRATT                      0:24:26.0 WOODWARD                  
 153  953 SARAH HOLMES                      0:25:55.7 WOODWARD                  
*****   20 WHEELER Total Points:  526                                           
  17  926 JESSICA DYKE                      0:20:32.9 WHEELER                   
 100  927 MICHELLE SIMPSON                  0:23:03.7 WHEELER                   
 113  928 MARIA BECKMANN                    0:23:37.8 WHEELER                   
 147  931 ASHLEY KRUYTHOFF                  0:25:31.5 WHEELER                   
 149  932 MALLORY PERKINS                   0:25:39.4 WHEELER                   
 154  930 JANET BAEK                        0:26:16.8 WHEELER                   
 156  929 CAROLINE KELLER                   0:26:32.5 WHEELER                   
*****   21 S-GWNNTT Total Points:  529                                          
   2  815 KATIE ALMAND                      0:19:16.2 S-GWNNTT                  
 123  821 JAMIE YONKERS                     0:24:04.0 S-GWNNTT                  
 129  817 CHRISTINE DAVIS                   0:24:21.3 S-GWNNTT                  
 137  819 KRISTY PENA                       0:24:38.9 S-GWNNTT                  
 138  818 AMANDA DUVALL                     0:24:46.6 S-GWNNTT                  
 160  820 MOLLY WINZURK                     0:28:31.1 S-GWNNTT                  
*****   22 DECATUR Total Points:  583                                           
  48  986 JESSICA ELKON                     0:21:45.4 DECATUR                   
 103  989 RACHEL SEDLACK                    0:23:07.1 DECATUR                   
 136  988 HEATHER BURGER                    0:24:34.4 DECATUR                   
 146  985 MYRA MILLER                       0:25:28.0 DECATUR                   
 150  991 HALEY HANSEN                      0:25:44.3 DECATUR                   
 151  990 JENNY SOLOMON                     0:25:50.6 DECATUR                    
*****   23 DALTON Total Points:  624                                            
  82  203 AMANDA SIMS                       0:22:20.8 DALTON                    
 126  198 MOLLY SMITH                       0:24:16.0 DALTON                    
 134  195 RACHEL HENNON                     0:24:27.6 DALTON                    
 140  199 MALLORY STARLING                  0:24:56.6 DALTON                    
 142  200 MEGAN BRUNER                      0:25:02.2 DALTON                    
 145  201 ELIZABETH CALLAWAY                0:25:23.9 DALTON                    
*****   24 DGLAS-CO Total Points:  641                                          
  83  231 BRITTNEY FEW                      0:22:22.1 DGLAS-CO                  
  84  229 STEPHANIE POORE                   0:22:23.1 DGLAS-CO                  
 157  235 KASEY THOMPSON                    0:26:42.7 DGLAS-CO                  
 158  230 RACHEL FINCHER                    0:28:22.7 DGLAS-CO                  
 159  232 ANASTASIA KLOTCHENKO              0:28:25.0 DGLAS-CO                  
*****   25 DACULA Total Points: DNF                                             
   0  173 ANN ARMSBY                        0:20:02.4 DACULA                    
   0  176 SARA FLOWERS                      0:21:50.4 DACULA                    
   0  174 RACHEL DYER                       0:2

                                 Overall Results                                
~~~~~~~~~~~~~~~~~~~~~~~~~~~~~~~~~~~~~~~~~~~~~~~~~~~~~~~~~~~~~~~~~~~~~~~~~~~~~~~~
 PL   BIB NAME                              TIME      TEAM                      
   1  458 CHRISTY BREWER                    0:18:42.8 MARIST                    
   2  815 KATIE ALMAND                      0:19:16.2 S-GWNNTT                  
   3  546 KATHLEEN TURENIN                  0:19:19.7 N-GWNNTT                  
   4  460 ENA LEOFRAY                       0:19:28.5 MARIST                    
   5  395 ELENA LINN                        0:19:36.5 LASSITER                  
   6  299 JILLIAN LAMMERS                   0:19:41.1 HARRISON                  
   7  339 REBECCA MULLEN                    0:19:46.2 LAKESIDE                  
   8  891 CAROLINE HAGEDORN                 0:19:47.8 WSTMNSTR                  
   9  173 ANN ARMSBY                        0:20:02.4 DACULA                    
  10  459 KRISTEN JOHNSON                   0:20:05.7 MARIST                    
  11  344 ALLISON CHISLETT                  0:20:15.9 LAKESIDE                  
  12  340 ELICIA SKELTON                    0:20:18.1 LAKESIDE                  
  13  300 JESSICA SMITH                     0:20:19.5 HARRISON                  
  14  725 LAUREN MARRIOTT                   0:20:27.2 ST. PIUS                  
  15  892 SARAH BROWN                       0:20:29.6 WSTMNSTR                  
  16  319 KATINA ZUGANELIS                  0:20:31.1 KENNESAW                  
  17  794 ASHLEY WHITEMAN                   0:20:32.5 S-FRSYTH                  
  18  926 JESSICA DYKE                      0:20:32.9 WHEELER                   
  19  461 LAUREN MCCREA                     0:20:34.1 MARIST                    
  20  629 GEORGIA KLOSS                     0:20:35.4 PACE                      
  21  589 BROOKE POWELL                     0:20:36.4 OCONEE                    
  22  390 LINDSEY CARTER                    0:20:41.5 LASSITER                  
  23  588 SARAH MILLER                      0:20:44.1 OCONEE                    
  24  587 KATHERINE HUDSON                  0:20:44.8 OCONEE                    
  25  548 KIM GARNER                        0:20:47.3 N-GWNNTT                  
  26  342 KIM DEMETRIOU                     0:20:53.8 LAKESIDE                  
  27  549 BARBARA GARREN                    0:20:54.2 N-GWNNTT                  
  28  320 LINDSEY BROWN                     0:20:56.1 KENNESAW                  
  29  631 ALLISON KESSLER                   0:20:58.5 PACE                      
  30  552 AMANDA BREHM                      0:21:00.6 N-GWNNTT                  
  31  836 KRISTIN HORTON                    0:21:01.4 STARRSML                  
  32  343 GUINN GARRETT                     0:21:03.7 LAKESIDE                  
  33  132 LEAH DERRINGER                    0:21:05.0 CHAP-HIL                  
  34  895 HILLARY WHITE                     0:21:07.6 WSTMNSTR                  
  35  304 BRITTANY CRANFORD                 0:21:08.4 HARRISON                  
  36  571 RACHEL EVANS                      0:21:09.0 NRTHGATE                  
  37  746 ASHLEY BLACKBURN                  0:21:10.1 SANDYCRK                  
  38  688 CAROLINE BINNION                  0:21:20.4 RVERWOOD                  
  39  689 RACHEL LECROY                     0:21:21.3 RVERWOOD                  
  40  894 LELIA WILLIAMSON                  0:21:23.9 WSTMNSTR                  
  41  321 KAYCE CHRISTIANSON                0:21:26.4 KENNESAW                  
  42  572 T. JAYE HANSEN                    0:21:27.9 NRTHGATE                  
  43  590 LISA PIZAREK                      0:21:28.6 OCONEE                    
  44  941 KATIE MCCUNE                      0:21:31.9 WOODWARD                  
  45  133 KASEY ELDREDGE                    0:21:33.0 CHAP-HIL                  
  46  547 DANIELLE SHAURETTE                0:21:34.1 N-GWNNTT                  
  47  302 AMY WELLS                         0:21:35.1 HARRISON                  
  48  553 KELLIE MCGINLEY                   0:21:38.0 N-GWNNTT                  
  49  986 JESSICA ELKON                     0:21:45.4 DECATUR                   
  50  798 LEANNE WESTMORELAND               0:21:47.8 S-FRSYTH                  
  51  630 VANESSA PETROSKY                  0:21:48.4 PACE                      
  52  463 MACKENZIE STEWART                 0:21:49.2 MARIST                    
  53  943 WHITNEY GRAY                      0:21:49.7 WOODWARD                  
  54  176 SARA FLOWERS                      0:21:50.4 DACULA                    
  55  174 RACHEL DYER                       0:21:50.9 DACULA                    
  56  797 STEPHANIE OWENS                   0:21:51.4 S-FRSYTH                  
  57  134 DANIELLE HURLEY                   0:21:51.9 CHAP-HIL                   
  58  838 JESSIE CORT                       0:21:52.3 STARRSML                  
  59  690 KATHERINE EVANS                   0:21:52.8 RVERWOOD                  
  60  687 MARY LOTTMAN                      0:21:53.4 RVERWOOD                  
  61  896 MARION HUNT                       0:21:53.9 WSTMNSTR                  
  62  135 ASHLEY SCHWARZ                    0:21:55.9 CHAP-HIL                  
  63   48 SHELBEE ROBERTS                   0:21:56.6 BROOKWD                   
  64  345 JULIA PLONOWSKI                   0:21:57.2 LAKESIDE                  
  65  322 RAE TRAINA                        0:21:57.7 KENNESAW                  
  66  635 JENNI RIDALL                      0:21:58.1 PACE                      
  67  550 MARCIE HARVIN                     0:21:58.5 N-GWNNTT                  
  68   15 KERI KILGORE                      0:22:00.3 ALEXANDR                  
  69   43 JENNY POWERS                      0:22:03.4 BROOKWD                   
  70  137 BRIANNE LAPIERRE                  0:22:05.4 CHAP-HIL                  
  71  747 SARA HARPER                       0:22:05.9 SANDYCRK                  
  72  462 ERIN ZURBRICK                     0:22:06.4 MARIST                    
  73  391 JENI SCHWEER                      0:22:06.9 LASSITER                  
  74  837 KATIE HUGHES                      0:22:07.5 STARRSML                  
  75  323 MELANIE BATDORF                   0:22:07.9 KENNESAW                  
  76   18 GRACE MARLOW                      0:22:08.4 ALEXANDR                  
  77  897 CAROLINE PRATT                    0:22:09.6 WSTMNSTR                  
  78   49 KATIE DAVIS                       0:22:10.8 BROOKWD                   
  79   45 TAMIA THOMAS                      0:22:11.9 BROOKWD                   
  80  729 KATIE KULAVIC                     0:22:12.4 ST. PIUS                  
  81   44 NATALIE NASON                     0:22:14.0 BROOKWD                   
  82   46 ALICE KOERNER                     0:22:16.8 BROOKWD                   
  83  795 SHARON PAMPARIN                   0:22:17.3 S-FRSYTH                  
  84  341 KATIE WEBSTER                     0:22:20.2 LAKESIDE                  
  85  203 AMANDA SIMS                       0:22:20.8 DALTON                    
  86  231 BRITTNEY FEW                      0:22:22.1 DGLAS-CO                  
  87  229 STEPHANIE POORE                   0:22:23.1 DGLAS-CO                  
  88  570 KATHERINE BELL                    0:22:23.7 NRTHGATE                  
  89  303 CAITLAN BIRCKHEAD                 0:22:25.4 HARRISON                  
  90  733 KARRIE KULAVIC                    0:22:26.2 ST. PIUS                  
  91  406 SARA COBURN                       0:22:28.2 LASSITER                  
  92  726 LIZ LEIPOLD                       0:22:28.7 ST. PIUS                  
  93  464 CAITLIN O'NEILL                   0:22:31.2 MARIST                    
  94  749 SAVANNAH BEEBE                    0:22:34.5 SANDYCRK                  
  95   20 LAUREN BLASTOW                    0:22:40.1 ALEXANDR                  
  96  893 ANSLEY O'NEAL                     0:22:41.1 WSTMNSTR                  
  97  727 KATIE GALLAGHER                   0:22:41.8 ST. PIUS                  
  98  796 STEPHANIE DOUGLASS                0:22:44.1 S-FRSYTH                  
  99  394 AMANDA WESSELING                  0:22:47.5 LASSITER                  
 100  602 JESSICA COLANGELO                 0:22:50.7 OCONEE                    
 101  731 LAUREN CHRISTIE                   0:22:54.3 ST. PIUS                  
 102  748 STEPHANIE BOETTCHER               0:22:58.9 SANDYCRK                  
 103  927 MICHELLE SIMPSON                  0:23:03.7 WHEELER                   
 104  325 JILL LIST                         0:23:04.4 KENNESAW                  
 105  601 CATHERINE REUTER                  0:23:06.4 OCONEE                    
 106  989 RACHEL SEDLACK                    0:23:07.1 DECATUR                   
 107  692 MORGAN MATHIS                     0:23:07.6 RVERWOOD                  
 108   47 EMELIE BALMES                     0:23:08.3 BROOKWD                   
 109   16 BETH COUGHLIN                     0:23:16.7 ALEXANDR                  
 110   25 DAWN SIDDONS                      0:23:23.2 ALEXANDR                  
 111  799 ANNA PEARON                       0:23:23.8 S-FRSYTH                  
 112  800 ROUDABEH KISHI                    0:23:24.5 S-FRSYTH                  
 113  575 LINDEY GOLAY                      0:23:29.1 NRTHGATE                  
 114  136 ALISON DERRINGER                  0:23:30.0 CHAP-HIL                   
 115  591 ANNA KYLE SHEALY                  0:23:33.7 OCONEE                    
 116  928 MARIA BECKMANN                    0:23:37.8 WHEELER                   
 117   19 KALIE HARPER                      0:23:38.7 ALEXANDR                  
 118  693 MALLORY MATHIS                    0:23:41.2 RVERWOOD                  
 119  944 MARIA LIDY                        0:23:41.9 WOODWARD                  
 120  138 BRITTANY WOODALL                  0:23:42.7 CHAP-HIL                  
 121  324 ASHLEY CRIPPEN                    0:23:49.5 KENNESAW                  
 122  392 KRISTA SCHMIDT                    0:23:53.1 LASSITER                  
 123   17 JESSICA GLASS                     0:23:53.8 ALEXANDR                  
 124  842 JEANNINE GUERTIN                  0:23:57.4 STARRSML                  
 125  750 BRIE HARRINGTON                   0:24:03.5 SANDYCRK                  
 126  821 JAMIE YONKERS                     0:24:04.0 S-GWNNTT                  
 127  691 CAROLINE PATILLO                  0:24:04.1 RVERWOOD                  
 128  305 LINDSEY HARTER                    0:24:08.3 HARRISON                  
 129  177 LINDSAY BALINT                    0:24:13.0 DACULA                    
 130  198 MOLLY SMITH                       0:24:16.0 DALTON                    
 131  839 KATY UNDERWOOD                    0:24:17.7 STARRSML                  
 132  405 ADRIENNE KINDER                   0:24:19.7 LASSITER                  
 133  817 CHRISTINE DAVIS                   0:24:21.3 S-GWNNTT                  
 134  945 LILY WALTERS                      0:24:23.2 WOODWARD                  
 135  306 JENNINGS BENNER                   0:24:24.0 HARRISON                  
 136  947 MOLLY SPRATT                      0:24:26.0 WOODWARD                  
 137  840 ASHLEY HYATT                      0:24:26.8 STARRSML                  
 138  195 RACHEL HENNON                     0:24:27.6 DALTON                    
 139  732 CAITLIN KELLY                     0:24:33.8 ST. PIUS                  
 140  988 HEATHER BURGER                    0:24:34.4 DECATUR                   
 141  819 KRISTY PENA                       0:24:38.9 S-GWNNTT                  
 142  818 AMANDA DUVALL                     0:24:46.6 S-GWNNTT                  
 143  761 KIM HAHN                          0:24:54.1 SANDYCRK                  
 144  199 MALLORY STARLING                  0:24:56.6 DALTON                    
 145  841 SARAH PHANCO                      0:25:00.0 STARRSML                  
 146  200 MEGAN BRUNER                      0:25:02.2 DALTON                    
 147  647 COURTNEY DELANEY                  0:25:06.2 PACE                      
 148  573 CRYSTAL MOSLEY                    0:25:14.5 NRTHGATE                  
 149  201 ELIZABETH CALLAWAY                0:25:23.9 DALTON                    
 150  985 MYRA MILLER                       0:25:28.0 DECATUR                   
 151  931 ASHLEY KRUYTHOFF                  0:25:31.5 WHEELER                   
 152  751 ELISABETH LOVELACE                0:25:35.4 SANDYCRK                  
 153  932 MALLORY PERKINS                   0:25:39.4 WHEELER                   
 154  991 HALEY HANSEN                      0:25:44.3 DECATUR                   
 155  990 JENNY SOLOMON                     0:25:50.6 DECATUR                   
 156  633 STEWART BARBOUR                   0:25:52.9 PACE                      
 157  953 SARAH HOLMES                      0:25:55.7 WOODWARD                  
 158  930 JANET BAEK                        0:26:16.8 WHEELER                   
 159  576 KRISTIN PERRY                     0:26:17.8 NRTHGATE                  
 160  929 CAROLINE KELLER                   0:26:32.5 WHEELER                   
 161  235 KASEY THOMPSON                    0:26:42.7 DGLAS-CO                  
 162  230 RACHEL FINCHER                    0:28:22.7 DGLAS-CO                  
 163  232 ANASTASIA KLOTCHENKO              0:28:25.0 DGLAS-CO