| Results |
Jenny Barringer 4:49.01 is US#3 mile -
Bryan Sharkey 4:16.14 mile
text by Ricky Quintana - photos by Mike Leary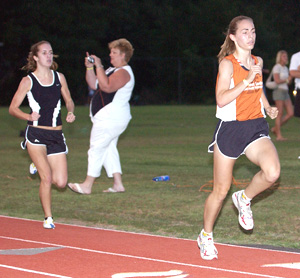 Jenny Barringer wins (left) with the #3 time in the nation 4:49.01(4:47.33c, 3rd
All-Florida Time 1600m).
Soph Jackie Areson Boca Raton Pope John Paul II takes 2nd place in a new
personal best of 4:49.53(#4 in the nation. #4 Florida All-Time 1600m
4:47.85c) Knocks off 6 seconds from her best set at the NIKE Indoor champs.
Barringer battles with Schappert early on and looks to be well on her way to
another sizable victory until final 200m. Even pace running Areson speeds
home in the final 200m on the inside as Barringer drifts out into lane 2.
It's closer than anyone expected as Barringer holds off super soph Areson.
Schappert's ailing foot and asthma like attack leaves her in a heap at the
finish.
"I didn't know she was that close, " Barringer says afterwards. " I finished
and then Jackie comes in right after me."
" My coach says I need to work on drifting out to the 2nd and 3rd lanes in
the final staright," she says with a laugh.
" I don't know where that came from," Areson says of her finish.
" I didn't go out with them because it was way too fast."
Gulliver Prep's Bryan Sharkey sets new personal best and Florida state
leader placing 3rd in 4:16.14 in the mile.
"Finally, I get a Dyestat elite mark!," Sharkey says afterwards.
Pacer, Frew Bowers set perfect pace of 2:05 over the first 800m. UF frosh
Andrew Martin takes over, but is caught by fast finishing University of West
Florida frosh Michael Padilla(who made a 5 hour trek from the panhandle in
the afternoon) who runs a new personal best of 4:14.33. Amrtin holds off
Sharkey who runs 2:10 over his last half to set new Florida state leader,
4:14.65c. Andy Bildeau held previous mark of 4:15.87.
Holy Trinity soph Austin Joiner wins two mile in new personal best of
9:24.64(9:21.36c) with an slightly negative paced 4:43/4:41.
from left, Barringer, Schappert, and Areson earlier in the race.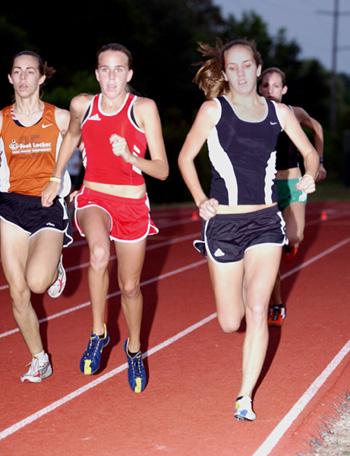 Results
Licensed to Half-Mile Timing & Data - Contractor License
                                       Hy-Tek's Meet Manager 5/22/2004 08:59 PM
           Florida MIlers Club-RunFLorida Open Track Mee - 5/22/2004           
                            Oak Hall Track Complex                             
                                    Results                                    
 
Girls 1 Mile Run PREP
================================================================================
    Name                     Age Team                    Seed     Finals  Points
================================================================================
  1 Barringer, Jenny          17 Unattached                      4:49.01  
  2 Areson, Jackie            16 Unattached                      4:49.53  
  3 Schappert, Nicole         17 Unattached                      5:03.13  
  4 Bowerman, Laura           17 Unattached                      5:10.32  
 
Mixed 1 Mile Run OPEN
================================================================================
    Name                     Age Team                    Seed     Finals  Points
================================================================================
  1 Padilla, Michael          19 Unattached                      4:14.33  
  2 Martin, Andrew            18 Unattached                      4:15.27  
  3 Sharkey, Bryan            16 Unattached                      4:16.14  
  4 Miletich, Alex            17 Unattached                      4:21.31  
  5 Roberts, John             17 Unattached                      4:25.11  
  6 Phipps, Alex              22 Unattached                      4:30.20  
  7 Boza, Andrew              17 Unattached                      4:30.49  
  8 Berry, Vance              17 Unattached                      4:36.01  
  9 Clements, Matt            18 Unattached                      4:36.16  
 10 Stephens, Lee             23 Unattached                      4:37.26  
 11 Harris, Miles             15 Unattached                      4:45.17  
 12 Harper, Joey              18 Unattached                      4:48.24  
 13 Fitz, Jimmy               16 Unattached                      4:48.65  
 14 Brew, Joe                 18 Unattached                      4:49.30  
 15 White, Paul               43 Unattached                      4:49.63  
 16 Obernier, Ryan            17 Unattached                      4:52.45  
 17 Bandyk, Peter             17 Unattached                      4:58.18  
 18 Jorgenson, Paul           15 Unattached                      5:00.80  
 19 David, Fred               19 Unattached                      5:01.39  
 20 Miletich, Daniel          13 Unattached                      5:09.24  
 21 Powell, Tim               32 Unattached                      5:25.55  
 22 Moss, Michelle            24 Unattached                      5:54.89  
 23 Bird, Stephanie           13 Unattached                      6:25.10  
 -- Stringer, Taylor          16 Unattached                          DNS  
 -- Meyers, Steven               Unattached                          DNS  
 -- Harris, Ryan              14 Unattached                          DNS  
 -- Butler, Doug              41 Unattached                          DNS  
 
Mixed 2 Mile Run OPEN
================================================================================
    Name                     Age Team                    Seed     Finals  Points
================================================================================
  1 Joinier, Austin           16 Unattached                      9:24.64  
  2 Sharkey, Bryan            16 Unattached                      9:47.89  
  3 Hensley, Mike             18 Unattached                      9:54.89  
  4 Hensley, Jeff             14 Unattached                     10:28.95  
  5 Rohr, Jonathan            18 Unattached                     10:34.29  
  6 Hensley, Bob              49 Unattached                     10:37.29  
  7 Cooke, Kyle               13 Unattached                     11:01.52  
  8 Butler, Kyle              15 Unattached                     11:04.24  
  9 Gallogly, Amy Beth        15 Unattached                     11:09.79  
 10 Hahn, Amanda              17 Unattached                     11:21.89  
 11 Hughes, Sara              17 Unattached                     11:27.24  
 12 Johnson, Max              16 Unattached                     11:30.49  
 13 White, Mallory            10 Unattached                     12:33.56  
 14 O'Brien, Kyla             16 Unattached                     12:51.87  
 -- Miletich, Alex            17 Unattached                          DNF  
 -- Payne, Caroline           18 Unattached                          DNF  
 -- Padilla, Michael          19 Unattached                          DNF  
 -- Bird, Stephanie           13 Unattached                          DNS  
 -- Jackson, Justin           17 Unattached                          DNS  
 -- Coleman, Marcus           17 Unattached                          DNS  
 -- Keppel, Morgan            12 Unattached                          DNS  
 
Mixed 800 Meter Run
================================================================================
    Name                     Age Team                    Seed     Finals  Points
================================================================================
  1 Stringer, Taylor          16 Unattached                      2:03.67  
  2 Lanahand, Brian           28 Unattached                      2:08.25  
  3 Butler, Doug              41 Unattached                      2:10.43  
  4 Uribe, Stevie             14 Unattached                      2:24.56  
  5 White, Mallory            10 Unattached                      2:46.96  
 -- Chidgey, Chris            16 Unattached                           NT  
 -- Clements, Matt            18 Unattached                           NT