| Preview | Schedule | Joey Warner's report |
Weather was overcast, 86 degrees, 95 percent humidity.
Course was soft from rainy summer in Mobile; a challenge but not hard; turns and some rises.
Chiles Tallahassee FL boys 31 and St. Paul's Episcopal Mobile AL girls 37 are easy winners. New Orleans sr Kariann Langley 11:44 2 miles beats St. Paul's jr Tara Lenn 11:46, with both beating Lenn's old meet record (11:49). Chiles' Alex Miletich 15:18 3 miles beats St. Paul's sr John Brigham 15:21, with both beating Ryan Deak's record (15:29).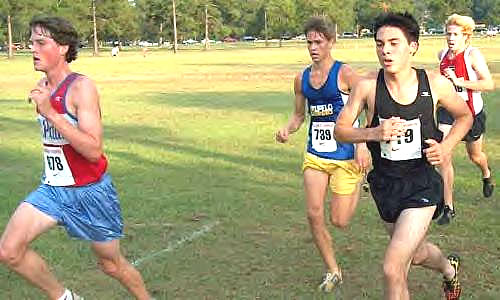 from left, John Brigham, Robert Scribner, Alex Miletich, Kyle Lewis.
Invitational Girls - 2 miles
The first two girls broke the course record:(old record Tara Lenn-2002-11:48.69) 2 miles -
1st - 12th grade-Kariann Langley-11:43.15 -Mt.Carmel-New Orleans,La./
2nd - 11th grade Tara Lenn-St.Paul's Episcopal-Mobile,Al.-11:45.86
3rd - 8th grade Mary Carlton Johnston-St. Paul's Episcopal- Mobile,Al-12:06.31.-
Team Score:
1st - St.Paul's Episcopal-Mobile,Al-37pts.-Team Avg.-12:27.57
2nd -Tupelo-Tupelo,Ms.-82 pts.
3rd - St. Thomas Aquinas-Hammond,La.-105 pts.
Invitational Boys - 3 miles
The first two boys broke the course:(old record Ryan Deak-15:28.70)
1st - 12th grade Alex Miletich-Chiles-Tallahassee,Fl.-15:17.99
2nd - 12th grade John Brigham-St.Paul' Episcopal-Mobile,Al.-15:20.98
3rd-12th grade Robert Scribner-Tupelo-Tupelo,Ms.-15:32.12-
Teams
1st - Chiles-Tallahassee,Fl-31 pts.-16:02.21 avg.
2nd - Pearl-Pearl,Ms.-90 pts.
3rd - McGill Toolen-Mobile,Al.-118 pts.
Open Girls
1st 12th Danielle Princiotta-Ocean Springs-Ocean Springs,Ms.-12:43.82
2nd 11th grade Farah Stewart-Jay-Jay,Fl.-13:01.11
3rd 12th grade Keside Ugoji-Fairhope-Fairhope,Al.-13:40.75
Team
1st Murphy,Mobile,Al.-87 pts.
2nd Fairhope-Fairhope,Al.-104 pts.
3rd Ocean- Ocean Springs,Ms.-107 pts.
Open Boys
1st 10th grade Hunter Strange-Murphy-Mobile,Al.-17:07.82
2nd Hunter Cook-Chiles-Tallahassee,Fl.17:09
3rd 12th grade Pablo Guth-Ben Franklin-New Orleans,La.-17:35.52
Teams
1st Chiles (B Team)-Tallhasseee,Fl.-29 pts.
2nd Murphy-Mobile,Al-119 pts.
3rd Fairhope-Fairhope,Al.-155 pts.

Joey Warner's report
St. Paul's of Mobile won the girls' invitational division and Chiles of Tallahassee, FL won the boys' invitational division at the Challenge of Champions cross country meet in Mobile, Alabama on Saturday. The St. Paul's girls are coached by Jim Tate, who holds a share of the National record with 16 consecutive state championships (1983 to 1998), showed results that should get the team National recognition. Chiles showed total dominance in the boys' division by placing five runners in the top ten, including senior Alex Miletich, who won the three-mile race with a course record of 15 minutes, 17 seconds.
More than 800 athletes and 35 teams from around the Southeast competed in the Challenge of Champions Cross Country Meet at Langan Park in Mobile. The High School open and invitational divisions attracted more than 2000 spectators that cheered on some remarkable runners. The three-day event started on Thursday with the Alabama Independent School Association competition. On Friday, the High School Freshman and Junior High runners competed in the two and three mile races. Also, on Saturday morning the Marine Corps held a special 3-mile run on the cross country course.
"We are trying to make the meet grow and get a little better each year and with the Lord's help we have been doing that," said meet director Steve Schoenewald. "I get a lot of help from my right-hand man Mike Cambre, but it is the athletes that make the meet and they did a great job today."
Several teams that won the State Championship in their classification last year participated in the meet. On the boys' side Brother Martin of New Orleans won the Louisiana 5A championship, Tupelo won the 5A championship in Mississippi while Chiles of Florida was the 2A runner-up and St. Stanislaus was the Louisiana 4A runner-up.
Among the girls' out-of-town teams Mt. Carmel of New Orleans won the Louisiana 5A state championship. St. Andrews was the Mississippi 2A state champ and Pearl of Mississippi was the 4A runner-up.
St. Paul's of Mobile had its 16 consecutive state championship streak broken in 1999 before winning another title in 2000. The last two seasons the Saints have finished runner-up. If Saturday's race is any indication of where the team can go then it is highly possible that the 5A state title can be reclaimed in November. All-American Tara Lenn leads the way for the young team. Tara set the meet record on this two-mile course last year with an 11:48 and ran faster this year only to finish just behind Keriann Langley of Mt. Carmel, whose winning time set the course record in 11:43. Tara finished second in 11:45 after enduring a fierce battle with Langley for the entire race. "We ran the whole way together but Keriann just outsprinted me at the end," Tara Lenn said after the race.
Eighth-grader Mary Carlton Johnston of St. Paul's ran a very strong race as she finished third in 12:06. Johnston is definitely one for serious observers to watch for the next five years as she will continue to progress. Rounding out the remainder of the Saints' 37 points was Sophomore Katelyn Simpson finishing tenth in 12:34, freshman Emily Collins was 15th in 12:55 followed closely by her next-door neighbor freshman Allison Kneip, who was 16th in 12:56.
Tupelo, MS was second in the girls'division with 82 points followed by St. Thomas Aquinas, LA with 105 and Chiles, FL with 106 and Mt. Carmel, LA had 122 points in the 12-team field.
The boys' division was a very exciting race with a pack of five runners for the first half of the three-mile race. John Brigham of St. Paul's, (who won last year in 15:55) stayed back in the early part of the race before taking the lead just before the two-mile mark. Alex Miletich of Chiles in Tallahassee was right there on Brigham's shoulder in a very good racing position. It came down to the last stretch with Miletich having just a little bit more to give as he broke the course-record with a 15:17. Brigham finished second in 15:20 and Robert Scribner of Tupelo, MS was third in 15:32. "It is all I can ask for from an early season meet is for some good competition to push me to a great time," runner-up John Brigham said after the race.
Chiles of Tallahassee, FL scored just 31 points and ran away with the boys' title by placing five runners in the top ten. Pearl, MS was second with 90 points followed by McGill-Toolen of Mobile with 118 points, Fort Walton Beach, FL and Brother Martin, LA. rounded out the top five in the 15-team field.
In the boys' open division Hunter Strange of Murphy in Mobile, AL was the winner in 17:07. Hunter Cook of Chiles, FL was second in 17:15 and Pablo Guth of Ben Franklin, LA was third in 17:35. Chiles, FL won the team competition with 29 points followed by Murphy of Mobile, AL with 119 points and Fairhope, AL with 155 points. 21 teams competed in the open division.
Danielle Princiotta of Ocean Springs, MS won the girls' open division race in 12:43. Farah Stewart of Jay, FL was second in 13:01 and Keside Ugoji of Fairhope, AL was third in 13:40.
Murphy won the team competition with 87 points followed by Fairhope with 104 points and Ocean Springs, MS was third with 107 points. 18 teams competed in the girls' division.
Schedule
5:30 pm - Invitational Girls
6:00 pm - Invitational Boys
Preview
Forty teams - 1,000 runners - 4 states. The invitational races will include more than 50 all-state runners. St. Paul's Mobile runners are top seeds. 2002 Foot Locker national finalist Tara Lenn headlines the Invitational Girls race. The Invitational Boys race features defending champion John Brigham, last year's Mobile Metro Cross Country Runner of the Year. Some top teams:
Boys
1-Biloxi-Biloxi,Ms.-3rd 5A State 2002-Travis Love 5A All State
2-Brother Martin-New Orleans,La.-5A State Champions
3-Chiles-Tallahassee,Fl.-2nd 2A State 2002-Alex Miletich/Stephan Smith/Ryan Obernier/Jonathan Blocker-2A All State
4-Daphne-Daphne,Al.-Open Division Champions 2002
5-Foley-Foley,Al.-Baldwin County Champions
6-Ft.Walton Beach-Fort Walton Beach,Fl.-6th 3A State 2002-Blake Hutchinson-3A All State
7-McGill Toolen-Mobile,Al.-2nd 6A State 2002
8-Pearl-Pearl,Ms.-4A State Champions-Brandon Cook 3rd 4A State
9-Resurrection Catholic-Pascagoula,Ms.-1A State Champions
10-St.Paul's Episcopal-Mobile,Al.-3rd 4A/5A State 2002-John Brigham Mobile Metro Runner of the Year 2002
11-St.Pauls High School -Covington,La.-4th 5A State 2002
12-St.Stanislaus-Bay St.Louis,Ms.-2nd 4A State 2002-Kyle Lewis 4A All State
13-St.Thomas Aquinas-Hammond,La.-2nd 2A State 2002-Kinsey Dinnel 2A State Champion
14-Tupelo-Tupelo,Ms.-5A State Champions-Robert Scribner 3rd 5A State
15-Vanderbilt Catholic-Houma,La.-Jake Simmons 4A State Champion
16-Walker-Walker,La.-2nd 4A State 2002-Corey Leleux-4A All State

Girls
1-Anacoco-Anacoco,La.-Clerc Koenck-Challenge of Champions Mile Champion
2-Chiles-Tallahassee,Fl.-6th 2A State 2002-Maria Hampton/Karla Savery 2A All State
3-Daphne-Daphne,Al.-Baldwin County Champions 2002-Kirby Patterson 6A State 800 Champion
4-Ft.Walton Beach-Ft.Walton Beach,Fl.-4th 3A State 2002-Brittany Hitpas 3A All State 5-McGill-Toolen-Mobile,Al.-5th 6A State 2002
6-Mercy Cross-Biloxi,Ms.-Nicole Rossetti 2A State Champion
7-Mt.Carmel-New Orleans,La.-5A State Champions-Kerianne Langley State 3200m Record Holder
8-Our Lady Academy-Bay St.Louis,Ms.-2nd 2A State 2002
9-Pearl-Pearl,Ms.-2nd 4A State 2002
10-Pecan Island-Kaplan,La.-Megan Broussard-Class C State Champion
11-Resurrection Catholic-Pascagoula,Ms.-Erin Sanford-1A State Champion
12-Robertsdale-Robertsdale,Al.-Ashley Ard 5A All State
13-St.Andrews-Ridgeland,Ms.-2A State Champions-Laura Mortimer 2nd 2A State
14-St.Paul's Episcopal-Mobile,Al.-2nd 4A/5A State 2002-Tara Lenn All American/Mary Carlton Johnston 3A All State
15-St.Thomas Aquinas-Hammond,La.-2A State Champions-Lindsey Day 2A State Champion
16-Tupelo-Tupelo,Ms.-5A State Champions-Emily Crowe 2nd 5A State
17-Walker-Walker,La.-3rd 4A State 2002-Kristy Carlin/Carllie Picou 4A All State