Complete results on CFPI Timing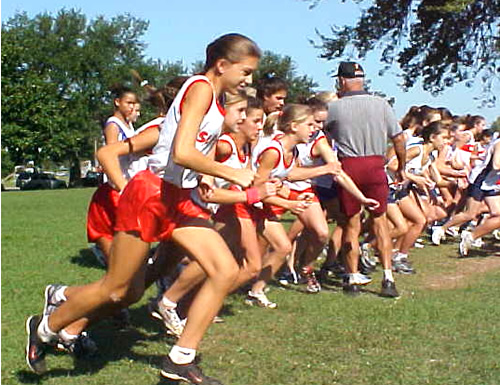 story and photo by Joey Warner
Tara Lenn runs the fastest 5K in the State of Alabama with a personal best
performance in the Gold Division at the Jesse Owens Classic in Oakville,
Alabama. Tara ran like a Champion with her fifth consecutive victory as the
St. Paul's Sophomore ran the second half of the race alone. Tara clocked in
with a winning time of 18:15 followed by Joy Griffith of Alabama Christian
Academy in 18:26 and Jennifer Thompson of Arab in 18:36.

The Meet featured 86 teams and 2200 runners competing in the Gold, Silver and
Bronze divisions. The 4th Annual Meet is one of the most prestigious in the
Southeast and is the sight of the 2002 Alabama State Championships.

In the Boys Gold Division Hoover ran away with the race when four of the
first eight finishers were Hoover team members. Phillip Moore of Hoover won
the race in 15:55 followed by Hoover runners Jaimie Oliver in 15:56 and
Robert Bedsole in 16:01. Sam Nuckols of Huntsville ran 16:06 edging John
Brigham of St. Paul's in Mobile who ran a personal best of 16:08. Scott
Novack of Hoover finished in 16:12 for eighth place.

Hoover won the Boys division with an incredible 16 points and Houston,
Tennessee won the girls divison followed by Mountain Brook, Scottsboro,
McGill-Toolen and St. Paul's.