2003 Leadville Trail 100
by Brian Manley
This year's race posed a daunting challenge to me because I had not had consistent training throughout the summer, as I had for last year's personal best (31 st overall finish in 23 hours and 54 minutes). I had, however, run up to five hours two weeks prior to the race on a Saturday in Grand Lake , CO , where we held our annual cross country camp for our high school athletes. Using this run as a gauge for my high-altitude fitness and mountain running strength, I was not pleased as I felt ragged after just five hours on the trail. But, although I'd had fractured training this summer, I had not taken a break since I finished last year's Leadville, which means I had a full year of semi-quality mileage under my belt.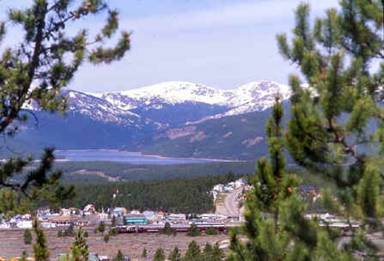 The day before the race began with the required medical check-in (weight, heart-rate), and the pre-race briefing. Although today was a sunny Colorado day, the medical director warned, rain was in the forecast, and we were reminded again about the dangers of hypothermia when the rain, hail, and snow hit the high mountain passes. Ken Chlouber, the race director, reminded us "to not linger too long on the forest trail in the middle of the night 'cause there are things out there that will eat you!" I ended the afternoon by stuffing my drop bags with gear for each aid station: Flashlights, running pants & shirts, extra gloves & hats, and Cytomax powder to mix in my Camelback for constant calorie and fluid replacement. These are packed with great care as a dead battery in the dark or no storm gear for a mountain pass crossing could end my race early. I drop these off at the Leadville Courthouse for transport to the aid stations.
Up at 2:30 am to get ready for the start of the race; I wish I had slept through the night, but laying down in a strange motel bed at 7 pm, full of anxiety, was not conducive to a good night's sleep. Time to prepare my body for things to come: I use Skin Lube on any body parts that will rub and possibly chafe such as between toes, the entire foot, under arms, nipples, shoulders and inner thighs. A race can become very painful, and even end prematurely, if a deep blister develops. Each item of clothing also has a purpose: I always wear half-tights through the entire race to prevent chafing between my thighs and to support my quadriceps muscles. I wear a wicking short-sleeved shirt to keep me cool in the midday sun, with a Boulder Running Company singlet on top to say 'Thanks" for providing so much of my running gear. On top, a long-sleeved shirt for the cold morning with gloves and a hat that I'll peel off after the sun warms the air. I have filled my Camelback with 70 ounces of Cytomax to begin hydrating for the day and get me to the first aid station ay Mayqueen campground. I scarf a Powerbar and a quart of water as I drive the two miles to the race start. My in-car thermometer reads 49 degrees; very warm for 10,000 feet at 3:15 am ! I park a few blocks from the starting line and register at the check-in table, so all of the aid stations know to expect me. The race director needs to know the whereabouts of all racers because if they believe you to be missing at any point in the race, search and rescue teams are dispatched to locate your carcass.
The race start is boiling with enthusiasm as I stretch and continue drinking. Almost 500 lunatics have come to measure themselves against this place – Leadville – where the awesome grandeur and beauty of the Rocky Mountains await. The smell of the Pine needles wafting on the cool, crisp night air and my memory of the glorious sunrise that await me two hours up the trail belie the inevitable pain that I will feel when I stand here tomorrow. I finish stretching and at 10 minutes before 4:00 am , I wiggle my way into the crowd at the starting line. I love being in the middle of all this human energy; the miles and the preparation for all of us come down, finally, to one minute. The race director, Ken Chlouber, a Colorado State Senator, former miner, and 14-time Leadville finisher, raises the barrel of his 12-gauge shotgun into the air and blasts us off into the enveloping darkness.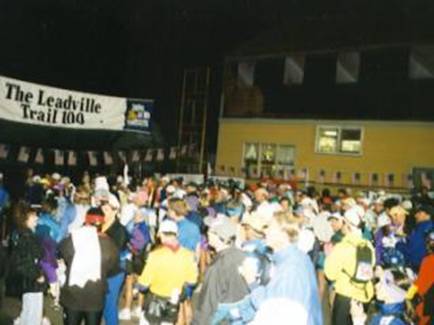 The crowd at the 4:00 am start.
As I roll along the early miles with 500 flashlights bouncing their beams amidst our galloping herd, I focus on my footing so I don't trip on a stray root or rock. This is a tactical portion of the race as the intelligent racer holds the reigns back for the first 20 miles and lets the adrenaline-laced newcomers go out too fast, possibly jeopardizing their chances of finishing. Running the miles along the Turquoise Lake trail feels easy, because most of us are hardened by many months of trail running at altitude, so it's imperative that the length of the race is kept in perspective. I spend the first two hours meeting runners, finding out where they're from, asking their strategy for the day, and generally soaking in the pleasant morning air. Being uncertain of my fitness from an inconsistent training base, I'm picking others brains so I can gauge my fitness level against their present level of exertion, and their planned finishing time.
I roll into Mayqueen aid station at 2 hours and 7 minutes, grab some potatoes and cantaloupe, and head out the door. Our times are recorded for "in" and "out" so race officials can keep track of where we are.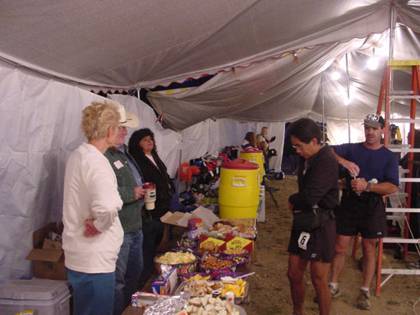 I walk the first mile out of the station because it is uphill, and it's the right time to cram down needed calories. I see another runner trying to jog and eat during this stretch, so I suggest that she finish eating first, then resume running. Somewhere in our conversation, she equates running the first part of this race with the pain of child-birth, but I'm still not sure how we ended up there.
We soon jump onto the first leg of the Colorado Trail, where rolling ascents take us over high-mountain streams and through dense forest. After a few more miles we are up onto Hagerman Pass road that takes us to the jeep trail, which leads to the first big climb of the race, Sugarloaf Pass at just under 12,000 feet. As we ascend the pass, the dawn unveils an awesome view of Turquoise Lake below. Once I crest the pass I scramble down the section of the course called the "Power line", so named because of the crackling voltage that is suspended overhead us and all the way down to the next aid station. I recall the return climb a few years ago when, while climbing this pass, a steady rain made those same power wires sizzle like eggs in a frying pan.

The view of Turquoise Lake at dawn on day one while climbing Sugarloaf Pass. 18 miles into the race.

Climbing Sugarloaf Pass at daybreak.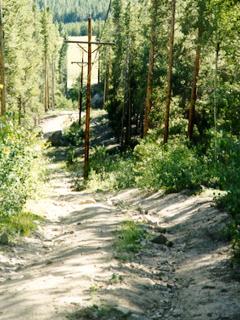 Once down the pass, I turn a corner and hear cheers as we approach the 2 nd aid station of the day, Fish Hatchery, so named for the trout that are raised here for release into lakes and streams. After re-loading my Camelback with 70 more ounces of Cytomax, and eating bananas, Cantaloupe and potatoes, I head out the door for the seven-mile trek to the Halfmoon aid station. This stretch, as seen in the photo, has a breath-taking view of Mount Massive and Mount Elbert in the background. After ten more miles, we'll all be crossing the face of Elbert on the next section of the Colorado Trail. I remember distinctly the feeling that my body felt very good at this point, and that this very fact worried me, because I can remember none of my other six years where I felt this good at this point in the race.
I pass through the Halfmoon aid station and head up toward the road leading to the next section of the Colorado Trail, which takes us to the Mount Massive and Mount Elbert trail heads. As I climb an especially tough section of single-track, I promise my Dad that no matter how much I'm going to hurt, I will never, ever quit this race today. My Dad, who recently passed away, seems to acknowledge my promise by filling my heart and legs with extra resolve.
Over this section, I make a decision to begin pushing the pace a bit, so I latch onto a small group of men ahead of me. One of these guys is Bill Finkbiner, who has finished 19 LT 100s, and is going for his 20 th . No runner has finished more Leadville 100s. As soon as I meet him, I pick his brain about all of his training and finishes, and gently gauge his progress regarding today's record attempt. He is full of hope, having trained very hard for this race, so I match his enthusiasm and we roll a good twelve mile section of trail at a good clip.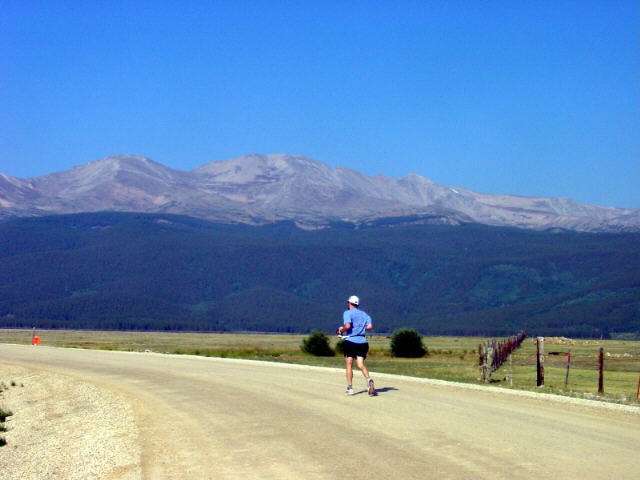 Mount Massive in the background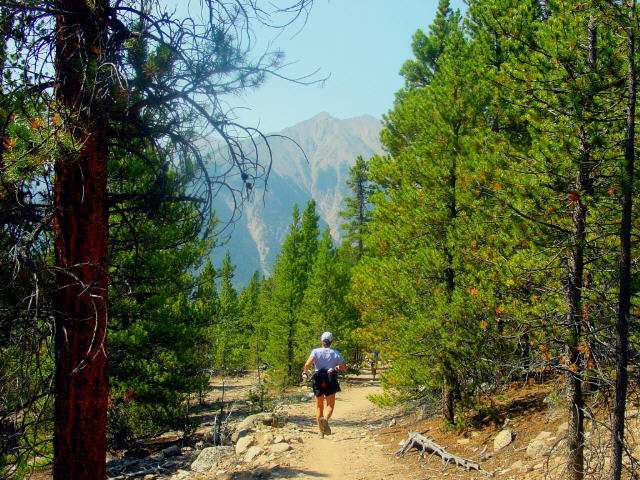 Preview of Heaven: The Colorado Trail approaching Twin Lakes at mile 40.
Once we run across the face of Mount Elbert , we drop down into the town of Twin Lakes, where the next aid station is set up in the town's fire-house. Here is where I re-fill my Camelback with more Cytomax powder in preparation for the almost 2 hour climb up Hope Pass to 12,600 feet. I meander through the meadow for a mile or so, then begin the climb up the pass. This is definitely a strategic part of the race; I'm at 41 miles, I have to come back over this pass again, so I don't attempt any running during the steep uphill. I also alternate between using my hamstrings and my calf muscles to give each major muscle group a "rest".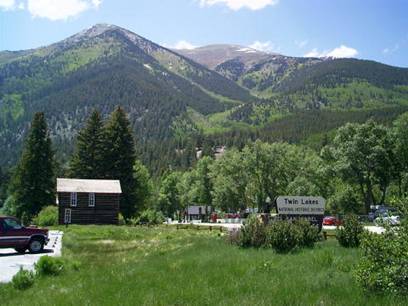 Just short of the apex of the Pass, there is a small aid station, stocked by volunteers who packed in the whole tent-city by Llama. The first year I ran this race I found this sight quite surreal, and it still is. I am told by the crew that we just missed a sizeable hail storm and some wicked lightning.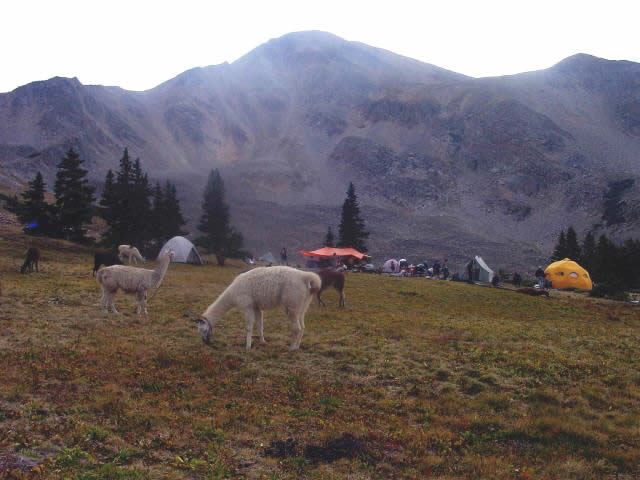 There is some light rain and a cold wind as I peek over the top of the pass and begin my controlled freefall of the west side of the mountain. I will "fall" 3000 feet in 2.5 miles. I also can't wait, because Greg Weich is meeting me at Winfield, the ghost town that serves as the 50 mile turn-around.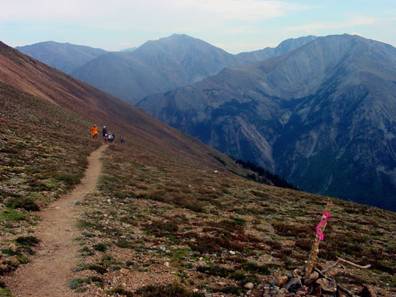 The back side of Hope Pass , at eye-level with other "13ers".
At the bottom, I see some other friends, but no Greg, so I jog down the road 2 miles to the town. As I approach Winfield, it begins to rain, then turns into a torrential downpour. Most every one is tucked under the tent to ride the storm out, but after confirming that Greg isn't around and loading up on calories, I slip on my rain poncho and head out into the rain. I never forget that the clock is running, and anything can happen in the second 50 miles, so I am pleased that I had the foresight to pack a water-proof poncho in my drop-bag.
As I depart the ghost town, I fondly recall last year when two of our cross-country runners, Brianna and Kyle, were waiting here with my pacer, Skip, Brianna's Dad. Skip helped me for 10 miles as I went back over Hope Pass to Twin Lakes .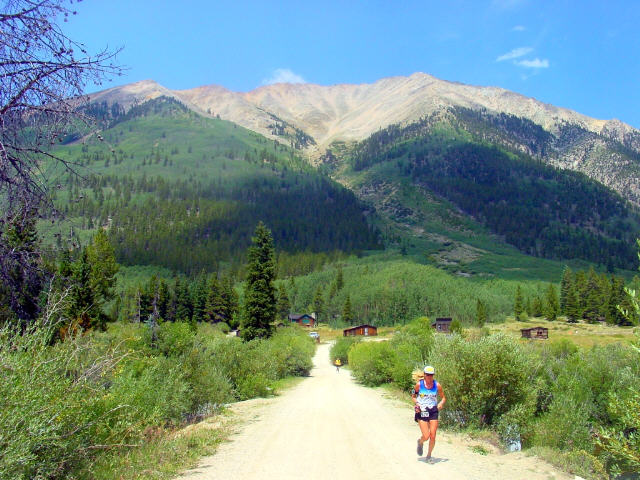 Colorado paradise - the ghost town of Winfield, on a sunny August afternoon.
At mile 52, as I turn off the dirt Winfield road, I'm pleased to see Greg and one of our runners, Ryan Deak. I'm thrilled to find that Ryan will pace me back to Twin Lakes . Greg hands over some foul weather gear to Ryan, and we head off to ascend 3,000 feet up the pass through thick aspen groves and over granite boulder fields. I explain some of the details of this race to Ryan, who had not heard of 100 mile races before moving to Colorado from Florida , just 3 months prior. I talk of pacing, proper hydration and calorie consumption, the dangers of hypothermia, and appreciating the joy of the magnificent Rocky Mountains in summer. We have to yield the right-of-way to runners who are coming down the pass on the way to Winfield, and this occurs with great frequency all of the way up and over the top. Many of these runners seem soaked to the skin, a result of poor preparation before crossing the pass. That kind of exposure can lead to a DNF (did not finish). As we near the top, Ryan is quite cold, mostly due to the fact that he just came from FLA, but also because he is around 5% body fat – no kidding.
As we descend toward the Hope Pass aid station a few of us runners pick up some litter – soup cups and banana peels – that runners dropped on the opposite ascent. Ryan sees this and begins to pick up all of the trash. He drops and armload of litter into a hefty bag at the aid station, and I believe he got 95% of the trash! What a neat kid! I'm not sure what he thought of all the Llamas layin' around.
The path down Hope Pass , looking at the aid station and back down into Twin Lakes .
Ryan and I then begin a nice controlled run - a controlled freefall - down the trail to the base of the mountain, passing a few more runners that were ahead of us. At this point, I marvel at how easy Ryan can run at a fast pace, and begin to see that he's truly enjoying this pacing excursion. Most of the trail descends along a rushing creek that flows and crashes through boulders, adding to the magnificence of the experience. We make our way through the meadow past cheering crowds and into the aid station. We're searching for Greg, as he's the next pacer for the next section, but he's not in sight. Ryan heads out to find him while I reload with 70 more ounces of Cytomax, and pile in more calories. I also stretch some very tight muscles and drink extra water to keep my weight up. We're all weighed by medics from this point on to monitor our weight-loss, and they have the authority to pull any runner who is too "light" or disoriented. I am holding weight, just two pounds lighter than the 168 on my medical wrist-band.

Without Greg, I begin to climb up the fire road heading to Halfmoon aid station, 9 miles away. After 20 minutes, I hear Greg calling from behind. He'd been eating with Ryan's Dad and sprinted to catch me. I was thrilled to have my friend with me. He began assessing me about eating, drinking, mental status, urinating habits (he's weird), and overall state-of-health.

We make our way through some spectacular aspen groves and pine forests, rolling along this amazing stretch of the Colorado Trail. At this point in the race, I'm tiring a little from the miles and the time-on-feet, so I'm running the downs and much of the flat, but walking all uphills. I have come to accept this as part of the race; energy attrition and muscle fatigue are hard to combat, but must be held at bay for as long as possible. As we turn off of the Colorado Trail and onto Halfmoon Road , two miles from the Halfmoon aid station, I fondly remember last year when Greg and Megan Kaltenbach were waiting at Halfmoon, anticipating my arrival. It was great to have Megan, Chris Bliven, Brianna, Katelyn, and many other Smoky Hill athletes, join me last year for that stretch between Halfmoon and the Hatchery.
A grim thought creeps into my mind. I remember two years ago when my hamstring muscles were cramping badly throughout the race, and at Halfmoon on the return trip, my pacer, Chris Bliven, desperately tried to revive the muscles with a long massage, but I'd ultimately drop out of the race at mile 76, too cramped to finish.
We're in and out of Halfmoon aid station just shy of 16 hours ( 8:00 pm ). We grab a few flashlights from my drop bag as dusk descends across the Rockies , and a brilliant star field emerges. I recall during my first Leadville 100 6 years ago, Greg and I stopped as this very spot to marvel at the awesome Milky Way that began on one horizon, and touched the opposite one.
Part of this stretch is along a paved road that leads to the Fish Hatchery, at mile 76, so we begin to use phone poles as goals – we "run one, walk one". Greg is a great motivation along this stretch, because my mind and body fatigue even further. Last year at this point, I recall Brianna asking me, "So Manley, are you going to do this race again next year?" The other kids promptly hushed her query. I had to admit that I hadn't thought about that all day!
As we near the Hatchery, we see Wes Berkshire, a former Smoky Hill and University of Colorado runner, who came out to pace his Dad, who had dropped at Twin Lakes , 45 miles into the race. I am pleased to find that he's rarin' to pace someone, and since we know each other fairly well, we'll have a lot to talk about.
We arrive at the Fish Hatchery aid station at 9:30 , and I spend a good amount of time re-fueling, and for the first time, I sit for ten minutes. This is a dangerous step for the novice 100 miler; the siren song of sitting is quite powerful, and many never resume running after lounging at this point in the race. Unfortunately for me, I've already told myself that I'll get up-n-go after a finite time – a skill developed over years of "being here before".
Wes' Dad moseys in with his wife and, while I'm psyching up to get back into the race, he casually announces that "We're going to go back to our hotel and climb into a nice warm bed". I wanted to slap him silly.
Frankly, this final marathon distance over Sugarloaf Pass, around Turquoise Lake , and finally up a long dirt road into town, is largely mental. I have come to understand that at this point in the race, everyone feels "bad" to differing degrees. In this respect, I am not unique. I begin addressing basics such as what muscles have begun to cramp (requiring extra stretching), which foods are palatable (Cytomax is beginning to make me gag), is my clothing dry & adequate for a possible cold midnight shower at 12,000 feet, and finally, desperately searching for reasons why I felt compelled to enter this race again. With all basics addressed, Wes and I are out the door, recorded by the race timer at 9:57 pm , and up the road. We were "down" for 20 minutes, but it was a well-utilized and tactical pit stop.
As we make our way up the road, I know we were talking, but I was feeling so bad that I just don't recall the conversation. My state-of-mind continued as we turned off of the road and began climbing up the pass with our flashlights providing the only light on this moonless night. I knew that I was in for at least 90 minutes of sustained climbing, so I focused on drinking and eating; calories that would get me up the pass and later, to the finish line. Half-way up the pass, I fondly remember my first LT100, when Jeff Bliven paced me through this stretch. We had faithfully been following glow sticks – glowing plastic tubes that had been hung by volunteers on tree branches along the trail – when at one point in our ascent, it occurred to both of us that we hadn't seen one for awhile. We decided to turn around and re-trace our steps, and sure enough, we had gone off trail, taking the wrong route around an old abandoned mine site. We figured that we lost around 10-15 minutes, adding an extra mile or so to the race – yippee!
Finally to the top of the pass, I recall to Wes last year's race, when I felt so bad at this point that I sat down for a few minutes. Brent Vaughn, my pacer, told me to try a banana, which he pulled out, peeled, and proceeded to drop on the ground. I had some Powerbar and Cytomax instead, which did boost my brain and muscle function enough to run down the back of the pass and laugh about the banana ordeal. This episode fueled a few humorous moments between me and Brent during, and after, the race, such as "sure you guys can get me a drink, but don't let Brent handle it!"
After running down the pass on the fire road, we both spot a gaggle of glow sticks indicating the drop-off onto another stretch of the Colorado Trail, leading to the Mayqueen aid station. This is a more technical section as the trail rolls through trees, over roots, and around & over boulders for several miles.
I love the sound of a rushing stream under our feet as we cross over a bridge just past midnight .
Mayqueen is just ahead now, a brightly lit oasis amidst the black backdrop of mountain and forest. The noise from the gas-powered generator is audible as we enter the tent. Greg meets Wes and me inside, and they both help get my fuel for the final stretch home. Exhausted, I sit briefly while Greg and Wes ask me who I'd like to have pace me for the final leg of the race. As I finish stuffing in some needed calories, I tell them that I'd like to run the last stretch alone. Greg, wary of my mental state, as a good pacer and friend should, asks me several times if I'm sure. For some reason, running the final stretch sounded like the perfect end to an awesome team effort.
At 12:47 I left the station, alone.
This section is interesting; seven miles of seemingly never-ending trail around Turquoise Lake . After a long stretch on this trail, I remember years ago when Jeff Bliven yelled something at the lake like, "Don't you ever end!"
And I thought I was losing grip on reality at that point in the race. Instead, my pacer checked out.
With 90 miles under my belt, I begin running all of the down hills and most of the flat stretched along the meandering, rolling trail. I also bathe myself in the moment – running solo along a beautiful mountain trail in the middle of the night, knowing that with each step, the finish line draws nearer – this must be the epitome of bliss for an ultra-runner. I know it is for me. The solitary exertion is cleansing in a spiritual sense, and I embrace the experience, for I never emerge from these mountains after this race, quite the same.
The prior year I had rolled along this stretch on a "search-and-destroy" mission with my pacer, Mark Shin. We would look for flashlights ahead of us, assess their relative pace, and if they were close, we'd throw in a little surge, overtake them with a "Nice job!," then we'd put a couple minutes of good running in to destroy any desire they may have to pursue us. We did this to several runners and their pacers.
This year, I have the same desire to find flashlights ahead of me, but there are none. In fact, when I look back, the only lights I see are at least two miles back on the trail. I find myself in a strange place, not catching anyone and not being caught. This is one of those times when I look down at my race number to remind me that I am indeed, in a race. I finally finish three sides of the lake and then make my way along a dirt road to the final four miles of the race, where I see Wes and Greg waiting for my arrival. I as psyched to have Greg join me for the final death march to the finish line. By design or by accident, most of the final four miles is all uphill. I am unwilling, or unable, to begin any pace resembling a run, so I walk as fast as I can with Greg at my side. I have found that a fast walk can often overcome the pace of those who jog up a steep incline, and if exaggerated, can stretch extremely tight hamstring muscles at the back of the leg. After moving at a good pace we spy a light ahead of us, about two miles from the finish. The light is moving back-and-forth across the road, and it often fumbles off into the woods and stops. As we draw nearer, we can see that the runner is in extreme distress, bent forward and sideways at the waist, a victim of extreme muscle cramping. Greg and I ask him if he's alright, and I think Greg almost stayed back to help him in, as we were just a mile from the finish. He said he'd be fine, and told us to go on.
Cresting the final hill of the race, we saw the finish line sprawled out across the only stoplight in town, 800 meters away. I am so happy to reach this point that I actually force myself to run the final two blocks to, and across, the finish line in 24 hours and 13 minutes, in 24 th place overall.
THANK YOU
Many of you reading this have been a part of my Leadville experience, and this is why I've shared this story with you. I want all of you to know that I appreciate your pacing, your friendship, your motivation, and your support.
In fact, I derive the greatest joy from my Leadville experience when I've shared it with all of you.
Here's to training and racing hard in 2004.
Happy New Year
-Brian