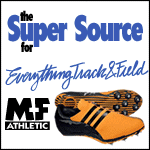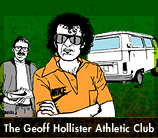 HIGH SCHOOL TRACK 2006
48th edition of Jack Shepard's all-time stats - the indispensable HS T&F reference book. John Dye says, "I never leave home without it."

Click
for California news
Impressive DMRs
Craig Forys (left) of Colts Neck NJ couldn't get his team the DMR win, but left a huge impression with a 4:05 1600 anchor. At right, Jenn Ennis's 4:53 led Roxbury NJ to a US#2 clocking. Photos by Open Photo
Tuesday, Feb 28, The New Balance Track and Field Center
at The Armory, NY NY

Boys Results - Girls Results - 205 DyeStat Elite Marks
Girls 55m: New Rochelle NY's Lynne Layne 6.91
Girls 55mH: Pleasantville NJ's Nia Ali US#2 7.89
Boys DMR: Ridgewood NJ US#2 10:18.57 (Colts Neck's Craig Forys 4:05 anchor);
Girls DMR: Roxbury NJ US#2 11:56.75 (Jenn Ennis 4:53);
Boys 4x800: Warwick Valley NY 7:53.71
Boys 4x 200: Irvington NJ US#2 1:28.95
Girls 4x200: Uniondale NY 1:40.92
Boys 2M: St. Benedict NJ's Brandon Jarrett 9:16.02
Boys 200: Sheepshead Bay NY's Andre Pinnock 22.01
Girls 200: East Orange NJ's Racquel Vassell 24.38
Boys 800: Wallkill Valley NJ's Michael Pachella US#4 1:53.80
Girls 800: Bay Shore NY's Sarah McCurdy US#6 2:13.15 (North Shore NY 8th-grader Brianna Welch 4th-2:14.19)
Boys 400: Central Regional NJ's Paul Fay 48.66 (out of 2nd to fastest heat!)
Girls 400: Notre Dame NJ's Kristen Mahon 55.49
Girls 4x400: Woodrow Wilson NJ 3:52.55
THIS WEEK
news posted through March 3
AR -- State Meet - Tyson Track Ctr., U. of Arkansas, Fayetteville. Feb. 24 (A-2A-3A) - Ashdown boys and Lafayette Co. girls take titles. Feb 25 (4A-5A, corrected) - Bryant jr. Spencer McCorkel 16-8 PV, Sylvan Hills jr. Jeff Henderson 23-5 LJ; Bentonville sr. Sam James 1:56.27 800, 3 wins, a 2nd for Camden-Fairview sr. Karen ThomasTitles to Forrest City boys, Russellville girls.
IL -- Proviso West Invitational - Feb. 25, Hillside - Rolling Meadows sr. Christian Escareno 9:15.5 3200 (York sr. Eric Dettman 9:21.3 2nd, also won mile in 4:19.6).
MA -- New England Interscholastic Champs - Mar. 3, Reggie Lewis Ctr., Roxbury - Performance Lists posted.
MA -- MIAA All-State Champs - Feb. 24, Reggie Lewis Ctr., Roxbury - 92 DyeStat Elite Marks - Marshfield sr. Haley Catarius US#1 1:33.30 600m; Xaverian jr. Mark Amirault 4:11.94 mile, Dennis-Yarmouth jr. Colleen Weatherbee 4:54.88 mile, Medford jr. Arantxa King 19-5.5 LJ/7.14 60m, Marblehead sr. Teddi Curtis 5-8 HJ, Northhampton sr. Sarah Wernick 39.30 300m.
MA -- USATF New England Champs - Feb. 19, Harvard U., Cambridge - Cushing Acad. sr. Ayalew Taye 8:29.56 3000m (soph. brother Sintayehu 8:44.85), Nashua North NH sr. John Schroeder 4:15.62 mile, Manchester Central NH soph. Matt Paulson 1:56.28 800 (sr. teammate Alex Hall 1:56.60).
MD -- MPSSAA State Meet - Feb. 20-21, Prince George's Sportsplex - 66 DyeStat Elite Marks - State 3A-4A sweep for Eleanor Roosevelt boys and girls; other state titles to Linganore and Central-PG girls, and Atholton and Forestville boys.
ME -- State Meet - Feb. 20 - Class A @ U. of Southern Maine - Scarborough girls, Bonny Eagle boys win titles.
Class B @ Bates College - Falmouth boys, Greely girls.
NC -- UNC Last Chance - Mar. 1, Chapel Hill - West Charlotte jr. Trenton Guy Jr. 6.89 60m (hip pointer); Fork Union M.A. VA jr. Axel Mostrag 4:20.44 mile; Fork Union's Brandon Caleb 46-5.75 TJ.
NE -- Mid America Winter Classic - Feb. 26, Devaney Fieldhouse, U. of Nebraska, Lincoln - 20 DyeStat Elite Marks - Luke Pinkelman NE US#2 61-0.25 SP, Randal Carter NE US#2 6-10 HJ, Krista Eckert SD 2:14.75 (Allie Abdouch CO 2:14.92), Allison Eckert SD 4:57.55 1600.
NY -- NYSPHSAA State Championships - Mar. 4, Cornell U. - Entries now posted.
NY -- PSAL Championships - Feb. 25, New York Armory - 35 DyeStat Elite Marks - Team titles to Transit Tech boys (US#2 1:29.08 4x2 and 3:20.54 4x4) and Boy & Girls (US#4 3:52.48 4x4). Hillcrest sr. Makalia Griffith US#1 1:30.81 600m, Transit Tech sr. Clemore Henry 1:20.62 600m, South Shore's Rodney Campbell 34.52 300m,
NY -- Section Meets - Various dates, locations - Bellport jr. Brittany Sheffey 2:50.26 1000m Section 11 (Feb. 14). Saratoga Springs Steve Murdock 9:11.54 and Greg Kelsey 9:12.48 3200s in Section 2 (Feb. 18 on 173-yard "square" track).
NY -- Section 3 Select - Feb. 21, Manley - Fayetteville-Manlius jr. Tommy Gruenewald US#1 9:06.27 3200m.
OH -- State Performance Lists, March 1.
OH -- Marietta Open #3 - Feb. 25, Marietta - Cle. Hts. Beaumont so. Emily Infeld 2:17.68 800m. Titles to Cleveland Hts. boys and St. Peter's Chanel girls.
OK -- Jenks Indoor #2 - Feb. 24, Norman - Ardmore soph. Geoffrey Tabor 57-4 SP.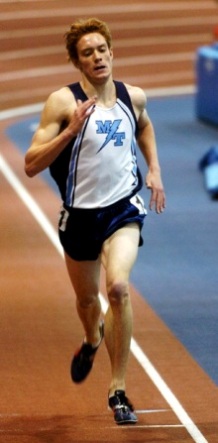 PA -- PTFCA State Meet - Feb. 25, Penn St. U., State College. Results Boys: North Penn tops Simon Gratz for title. Manheim Twp. sr. Craig Miller US#1 8:22.65 3k (Jake Walker 8:30.35), Chichester's Carington Queen US#2 7.89 60H, North Penn 7:53.73 4x800.
Girls: West Catholic dominates. WC's LaTavia Thomas US#1 2:09.70 800 (Chantelle Price 2:10.57) and Kneshia Sheard 54.88 400, Center's Allyn Laughlin 47-9.5 (two others above 45).187 DyeStat Elite Marks
Feature: A Shot at the Top: PA's Girls SP Power Surge
Manheim Twp. PA's Craig Miller en route to 8:22.65 in his state meet. Photo by Don Rich, Penntrackxc.com/Milesplit.
OUTDOOR MEETS
GA -- Oconee Co. 5-Way - Feb. 28, Watkinsville GA - Oconee Co. sr. Jordan Scott 17-0.
TX -- The Woodlands Invitational - Feb. 25, The Woodlands HS - The Woodlands sr. Daniel Gerber 9:12.98 3200, A&M Consolidated boys 17:57.17 4x1600/10:32.03 DMR, Kingwood girls 12:08.41 DMR (Klein Collins 12:15.02).
Stats by Sully Top 10 HS Milers Progression - Boys
John Sullivan is a track nut who can't get enough track stats. He cranks out lists for his own amusement -- and now he can amuse you as well. He's back this week with Top 10 HS Milers PR Progression - Boys.
College Choices 2006 - We have updated our lists with the early signing period and other individual announced choices. Lists by STATE and COLLEGE now have 427 names. Some noteworthy additions to our lists since the last update in December:
Lindsey Ferguson NY, distance, to Notre Dame. "What really put Notre Dame over the top for me was that it fulfilled my academic needs as much as my running needs," she told The Saratogian. "I also really liked the campus size and the team."
Aislinn Ryan NY, distance, to Colorado. The 2004 Foot Locker cross country champion said, "I felt that was the best place to go to really reach for my running dreams.''
Brock Hagerman IN, distance; going to Notre Dame
Dan McManamon NY, distance; the 2006 Millrose Games Boys Invite Mile Champion commits to Duke University
Keith Capecci PA, distance; 2005 Foot Locker Finalist (21st overall) agrees to attend the University of Arizona next fall.
Alex Hall NH, John Schroeder NH , distance. Hall (4:15.74yi) and Schroeder (US#1 3:58.63 1500) stay in-state with Dartmouth.

ShopDyeStat


unique items
for the HS athlete
--Parents Guide

--Training G
uide
--Training Profiles
--Pace Calculator
--the Harrier
--HS Track 2005

DyeStat uses Hy-Tek
for meet results