HIGH SCHOOL TRACK 2006
48th edition of Jack Shepard's all-time stats - the indispensable HS T&F reference book. John Dye says, "I never leave home without it."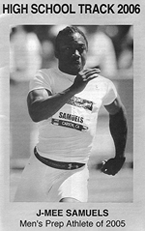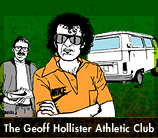 Click
for California news
College Choices 2006 - We have updated our lists with the early signing period and other individual announced choices. Lists by STATE and COLLEGE now have 427 names. Some noteworthy additions to our lists since the last update in December:
Aislinn Ryan NY, distance, to Colorado. The 2004 Foot Locker cross country champion said, "I felt that was the best place to go to really reach for my running dreams.''
Brandi Cross TX, sprints, to South Carolina
Queen Harrison VA, sprints/jumps, to Virginia Tech
Owen Kimple NY, distance, to Cornell
Ben Sitler CA, distance, to Princeton
Brittany Washington TX, sprints, to Rice
Valerie Flournoy FL, hurdles, to Florida State .
Millrose Games HS mile fields announced
The top six boys milers in the country are in the field for the Millrose Games miles Feb 3 in Madison Square Garden, headed by US#1 Dan McManamon 4:13.17 and US#2 Brian Rhodes-Devey 4:13. Foreign flavor is added by John Coghlan of Dublin Ireland, son of eight-time Wanamaker Mile champion Eamon Coghlan and the 2005 all-Ireland intermediate boys 1500m champion (4:03 best). Top ranked girls entry is US#4 Lindsey Ferguson 4:53.80 of Saratoga Springs NY. Saratoga has three runners entered, as Greg Kiley and Greg Kelsey of the Nike Team National boys cross country champions join Ferguson at Madison Square Garden. More . . . .
Indoor National Rankings Update
DyeStat Elite indoor lists now have 1,260 performances, up from 895 a week ago. DyeStat Elite #5 - the Nike List of national leaders.
Honor Roll Jan 25 - 500 DyeStat Elite performances in past week.
Jim Spier's Top 5 updated Jan 22 lists the top five performers in each event, with separate lists for flat and banked tracks. Spier's List #3
Tragic Accident Involves Goodrich MI HS Runners
Thursday, Jan. 26 - Goodrich, Michigan HS student-athletes Kaitlin O'Mara and Danielle Bila reportedly remain in critical, but stable condition this morning after a Tuesday, Jan. 24 auto accident that killed Kaitlin's twin sister, Kayla. All three girls were juniors on the Goodrich cross-country team that won its third straight D-3 state title last fall. New story from the Flint MI Journal at mlive.com - Another story - Original Story
McManamon and Costello win Millrose mile bids
Shenendehowa NY sr Dan McManamon 4:13.17 (Charles White NY 4:15.67) posts US#1 time. Conestoga PA sr Liz Costello wins in 4:56.09 (Katie Doswell VA 4:57.68).
Suffern NY girls win the 4x800 in 9:11.74, their second US#1 time in two nights (11:45.73 DMR at Yale Friday night)

Warwick Valley NY

boys double 3:32.28 SMR US#1 and 7:57.20 4x800

Hempstead NY girls double 1:40.49 4x200 and 3:59.87 4x400.
Cardozo NY girls win sprint medley in 4:08.34 US#1
THIS WEEK
news posted through Jan. 26
AL -- Hoover Indoor Classic - The Barn, Priceville.
CO -- Joe Davis Open - Colo. School of Mines - Littleton sr. J.T. Scheuerman US#1 6.78 60m at altitude (6.82 prelim), 2nd to Nike's John Woods (6.63). Also, Eaglecrest jr. Ashley Cruder wins with US#2 7.38 60m.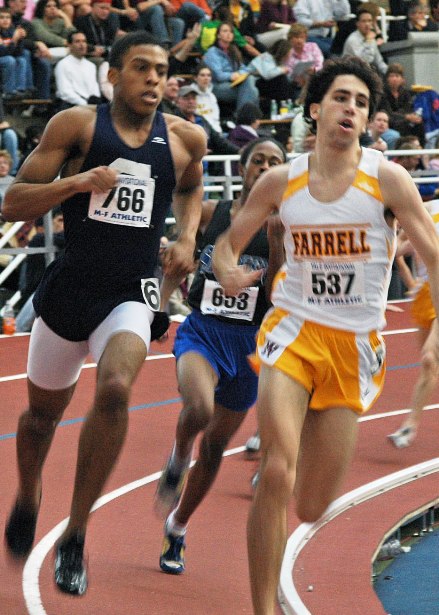 In his US#1 1:54.42 800 at Yale, Staples CT sr. Remi Ray (left, #766) defeated a tough field that saw four runners break 1:57. He also won the 300 in 35.34. Photo by Mary Sachs Hanrahan/staplesrunning.com.
CT -- Yale Classic - New Haven - 90 DyeStat Elite Marks
Day Two: Two more US#1s: Brian Rhodes-Devey NY 8:31.41 3k (Jay Koloseus CT 8:31.71), Remi Ray CT 1:54.42 800m. Also, Saratoga NY boys come back with three under 4:18 in mile sweep. Siobhan Breagy RI 2:13.72 girls 800m.
Day One: Great DMR's - Suffern NY girls 11:45.73 US#3 all time, with 1-2 punch of fr. Shelby Greany 3:35.5 1200m and sr Kara McKenna 4:55.5 1600m. Saratoga NY boys 10:09.37 US#5 all time.
FL -- Gator Invitational - Jan. 21, U. of Florida, Gainesville - Special HS miles during college meet won by Ocala Vanguard FL sr. Kelly Parrish 5:00.92 and Godby FL so. Joseph Franklin 4:25.03.
KY -- Wildcat Classic - Jan. 21, U. of Kentucky, Lexington - FL Finalist and Greenwood KY sr. Michael Eaton US#1 9:11.10 2-mile.
MA -- Reebok Boston Indoor - Jan. 28, Reggie Lewis Center, Boston - Four New Yorkers added to junior mile field: Lindsay Ferguson, Hannah Davidson, Greg Kelsey, Dan McManamon. Original announcement.
MA -- Greater Boston TC Invite - Jan. 22, Harvard U., Cambridge - Nicole Blood NY US#1 4:49.05 mile, 2nd only to Jen Toomey, Nike (4:32.28). Also, Ayalew Taye MA 4:17.01 and Sintayehu Taye MA 4:18.50, and Chelsea Borbolla 2:15.96 800m.
MA -- MSTCA Indoor Relays - Jan. 21, Reggie Lewis Center, Boston - Class A: Xaverian Bros. boys (10:26.00 DMR), Newton North girls; Class B: Mansfield girls, Woburn and Whitman-Hanson (tie) boys. Class C: Hingham boys, Wellesley girls. Class D: Seekonk boys, Dedham girls.
NC -- Eastern HS Challenge - Jan. 21 UNC Chapel Hill - Double wins from Gabby Mayo and Ebony Cunningham lead SE Raleigh girls. Southern Durham NC jr. Patience Coleman US#1 5-8 HJ. Clayton NC jr. Johnny Dutch US#1 7.22 55H, Garner NC sr. Brandon Banks 60/LJ double.
NJ -- New Jersey Roundup by Ed Grant.
NJ -- NJSIAA/Star Ledger Group Relays - Jan. 21-22, Princeton U. - Boys Winners: Shore Regional(1), Morris Hills(2), Franklin(3), Christian Bros.(4); Girls: Haddon Heights(1), Hopewell Valley(2), Woodrow Wilson(3), Pistcataway(4) (US#2 4:10.80 in SMR). Colts Neck girls 12:08.01 DMR. Delsea sr. Josh Butler US#2 6-10 HJ.
OH -- Kent State Open - Jan. 21, Kent St. Fieldhouse, Kent - Bradford PA sr. Erin Hannon US#1 5-8 HJ.
PA -- Pennsylvania Roundup - Jan. 24 by Don Rich - Ellwood City's Jake Walker 8:42.8 3000m, Center's Allyn Laughin 45-7 girls shot put, much more.
TN -- Niswonger Invitational - Jan. 20-21, ETSU, Johnson City - Knoxville West so. Jacquelyn Coward #2 US 8.67 60H prelim vs. college/open hurdlers (3rd in final - 8.72).
| | |
| --- | --- |
| | |
US#1s at Carl Lewis: 13-4 PV'er Britany Parker (left) and 8.43 60 hurdler April Williams. Photos by John Sullivan.
TX -- Carl Lewis Invitational - Jan. 21, Yeoman Field House, U. of Houston - Eight U.S. #1s in a showcase of stars from Texas and beyond: Bianca Knight MS 7.26 60m (=3 all-time), Britany Parker 13-4 PV; Julius Walker 7-0 HJ, Trey Harts LA 21.75 200, Brittany Carter 5-8 HJ, April Williams 8.43 60H, Rynell Parson 6.85 60m, Cordera Jenkins 7.91 60H. Ron Jones Meet Report.
VA -- East Coast Invitational - Richmond.
VA -- Keydet Invitational - Virginia Military Institute, Lexington.
WA - Dempsey Indoor Series - U. Washington, Seattle - Some top performances already in so far this season. Coming up is the Gerry Lindgren 5000 meter Invitational.
Two post-Katrina meets will affirm the spirit of Gulf Coast
Hurricane Katrina has come and gone, and much of the Gulf Coast has not returned. But the Nokia Sugar Bowl Classic in New Orleans and the Mobile Challenge of Champions in Mobile will run as scheduled. In these meets, high school athletes will affirm the revival of the cities of New Orleans and Mobile. DyeStat will be on-site for both meets. Perspectives on the hurricane aftermath from the DyeStat community.
NB Collegiate Invitational
ShopDyeStat


unique items
for the HS athlete
--Parents Guide

--Training G
uide
--Training Profiles
--Pace Calculator
--the Harrier
--HS Track 2005