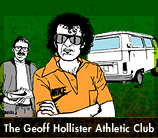 HIGH SCHOOL TRACK 2006
48th edition of Jack Shepard's all-time stats - the indispensable HS T&F reference book. John Dye says, "I never leave home without it."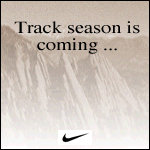 Click
for California news
Donna on the Side at Simplot - 183 sideline photos
Simplot Action Albums - 72 more photos by John Dye.
Boys Finals - Girls Finals - Boys Pole Vault, a high wire battle with three boys alive at 17-3 and two near misses at a national record 17-7.
Feb 16-18 Pocatello ID - INDEX

Saturday - WINNERS TABLE - COMPLETE RESULTS
The Year of Bianca Knight continues with "the greatest high school indoor sprint double of all time" - Karjuan Williams attacks all time list again - Teekay (Wilson Long Beach CA) runs US#7 all time 4x200 - Spencer McCorkel wins high wire PV battle - Trenton Guy doubles
DyeStat Elite - 114 performances qualifying for DyeStat Elite national ranking.
Michael Eaton qualifies for Team USA
Foot Locker finalist Michael Eaton, a senior from Greenwood KY who is the national high school leader at 2 miles indoors this year, finished sixth in the junior men race Sunday morning to grab the last qualifying spot for the US team at the World XC Championships in Japan. Eaton ran 24:09 for the 8k course.

Greenwood KY sr. Michael Eaton en route to 6th at USATF
The first five finishers are all college freshmen who were prominent preps on DyeStat last year.
1. Kiel Uhl, Iowa State 23:50 (Roosevelt DesMoines IA HS)
2. Scott MacPherson, Arkansas (Plano TX) 23:57
3. Chris Barnicle, Arkansas (Newton North MA) 24:03
4. Andrew Bumbalough, Georgetown (Brentwood TN) 24:06
5. Jordan McDougal, Liberty (home schooled) 24:09
Other high school finishers:
7. Landon Peacock MI 24:19
8. Isaac Stoutenburgh OR 24:22
9. A.J. Acosta CA 24:22
15. Kenny Klotz OR 24:45
It's Nicole! She Leads 3 Preps on Team USA!
Nicole Blood, in her last New York race before moving to California, has just won the USATF Jr.'s in 20:44 for 6k. DyeStat's Kirsten O'Hara reports that it was cold with heavy snow beginning to fall during the race, and that Nicole outkicked a large pack for the win. Team USA (results unofficial):
1. Nicole Blood (soon to be) Royal CA 20:45
2. McKayla Plank Iona Coll. fr. (from CA) 20:46
3. Kauren Tarver Serrano CA soph 20:47
4. Marie Lawrence Reno NV jr. 20:47
5. Erin Bedell Baylor U. fr. (from TX) 20:48
6. Maddie McKeever Duke U. fr. (from CO) 20:48
Also: Bria Wetsch MN 8th, Lauren Saylor CA 14th, Bri Jackucewicz NJ 16th
Nicole Blood wins US Junior XC Nationals at Van Cortlandt Park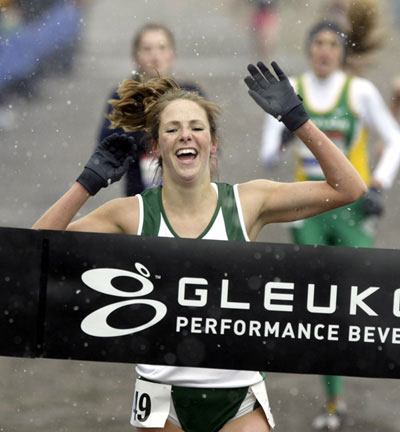 photo by PhotoRun
Ft. Wayne (Homestead HS) vaulter Hunter Hall clears 16-0.75.
Jacquelyn Coward TN US#1 8.41 60H -Soph. Class Record
Freshman Amelia Bannister MI US#1 2:10.18 800m
Evander Wells GA US#1 21.51 200 plus US#2 6.77 60m (Justin Christian GA 6.79).
Joanna Atkins GA US#2 54.41 400m
Shayla Mahan MI US#2 7.36 60m
Mayan over Atkins in 200 match of champs, 23.96-24.43
Chad Balyo OH 9:13.76 2M
Hunter Hall IN 16-0.75 (4.90M)
Surprise mile winners Adam Green IN 4:16.76, Cory McGee (8th-grade) 5:02.06.
Indoor national rankings update
Jim Spier's Top 5 updated Feb 13 lists the top five performers in each event, with separate lists for flat and banked tracks. Spier's List #6 Feb 13 - Gourley's Weight Throw Lists Feb. 14
THIS WEEK
news posted through Feb. 23
CT -- CIAC State Open - Feb. 18, New Haven - Stamford's Tynisha McMillan 46-11.75 SP, ties US#2. Gulliford's Jay Koloseus 9:11.34 3200m - both state and meet records. Team titles to Weaver-Hartford girls and Amity Regional boys.
DE -- DIAA State Champs - Feb. 18, U. of Delaware - Titles to Padua Acad. girls, Salesianum boys. Dover sr. Gary Sumpter 7.46 55H, Glasgow sr. Jernail Hayes 8.06 55H, 7.24 55m, 25.01 200m.
IN -- Midwest Club Meet - Anderson U
LA -- Louisiana State Meet - Feb. 18, Baton Rouge - Will Coppage US#1 24-7.75 LJ, Bellaire jr. Ronnie Alexander 48.43 400m, Dominican sr. Katelyn Rodrigue 12-4 PV..
MA -- MIAA Div. Champs - Feb. 17-19, Reggie Lewis Ctr., Roxbury - Xaverian jr. Mark Amirault 4:13.56 mile, Medford jr. Arantxa King 19-0 LJ
D-1 Lexington boys, Acton-Boxboro girls Results
D-3 Hingham boys and girls Results
D-2 Central Catholic girls, Mansfield boys Results
D-4 Seekonk boys, Bromfield girls Results.
MD -- Maryland regionals
ME -- State Meet - Feb. 20 - Class A @ U. of Southern Maine - Scarborough girls, Bonny Eagle boys win titles.
Class B @ Bates College - Falmouth boys, Greely girls
MO -- Just Vault President's Day Invite - Brian Hancock MO 16-4 PV.
NJ -- New Jersey Meet of Champions - Feb. 19, Jadwin Gym, Princeton - Colts Neck jr. Craig Forys 4:17.11/ 9:15.11 1600/3200 double (Roxbury fr. Doug Smith 9:26.34), Notre Dame jr. Kristen Mahon 56.08 400m, Jackson jr. Amanda Marino 4:55.21 1600, Princeton sr. Natalie Gengel 12-3 PV, Old Bridge sr. Bryant McCombs 49.18 400m.
Ed Grant: Meet gives an "indication of what could be if the state ever gets around to providing a setting that matches the talents of its track and field athletes."
NM -- First to Finish Invite - Feb. 18, U. of New Mexico, Albuquerque - Coverage on DyeStatCal
NY -- Coca-Cola Hall of Fame Classic - Feb. 18, New York Armory. 91 DyeStat Elite Marks - Ocean City NJ sr. Brittany Sedberry US#1 10:19.30 2M, NJ State Record, and #8 all-time. Pleasantville NJ boys 4x800 US#2 7:52.77
NY -- Section Meets - Various dates, locations - Bellport jr. Brittany Sheffey 2:50.26 1000m Section 11 (Feb. 14). Saratoga Springs Steve Murdock 9:11.54 and Greg Kelsey 9:12.48 3200s in Section 2 (Feb. 18 on 173-yard "square" track).
Ocean City NJ sr. Brittany Sedberry on her way to 10:19.
NY -- Rockland Co. meet - Feb. 15 - Suffern's Kara McKenna US#1 4:35.0 1500, plus 9:56.4 3k.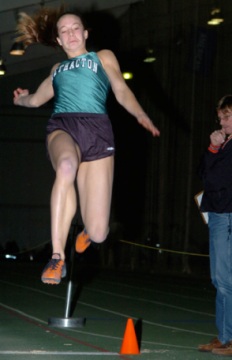 PA -- DVGTCA Meet of Champions - Feb. 17, Lehigh U., Bethlehem - Methacton so. Ryann Krais great triple 19-02.50 LJ, 8.74 60H, 24.6 split in 2nd place 4x200.
PA -- Penn State Invitational - Feb. 18, State College PA - Suffern NY girls 4x800 9:03.65 (they already own US#1 9:03.36), Manheim Twp. sr. Craig Miller 8:38.65 3k in comeback race, Harding OH sr. Jay Provitt 21.91 200m, Suffern sr. Kara McKenna 2:14.34 800m.
PA -- Don Rich's Penn Roundup: Center's Allyn Laughlin 47-6.5 and much more.
Methacton so. Ryann Krais 19-02.50 LJ
RI -- RIIL State Champs - Feb. 19, Mackel Fieldhouse, URI, Kingston - Girls champ Westerly led by sr. Samantha "Good Sam" Garwych 26.1 200m relay split, 1:37.83 600, then US#1 2:47.66 1000m (#5 all-time) at state meet (2;09.8 at 800). Bishop Hendricken boys win. North Kingston jr. Brandon Burns US#4 4:01.24 1500m (Tom Webb 4:01.76).
SC -- Gamecock Indoor Open - Harding NC jr Kamorean Hayes 49-1 SP US#1.
TX -- Wes Kittley Invite - Feb. 18, Texas Tech U.
VA -- VHSL Eastern Regional - Feb. 18, Christopher Newport University - Bethel sr Francena McCorory has a big triple that includes 6.86 55m, 38.06 300m and US#1 1:11.97 500m US#4 all time.
VT -- Vermont State Meet
OUTDOOR MEETS
TX -- Charger Relays - Feb. 16, Keller Central HS - McKinney senior Brittany Parker reportedly cleared a US outdoor record 14-0.5, but texastrack.com reports that "a mistake in measuring the mark leaves the exact height unknown. The pits were moved to the opposite end of the runway when the south wind began to roar in from the north, but the standards were not recalibrated to adjust for the lack of an underlying platform."
The Road to Nike Indoor Nationals
In the second of a series of features leading up to Nike Indoor Nationals March 12-13, Pete Cava of the NSSF finds out how New Bern NC sr. Karjuan Williams has continued his development as a magnificent combo long-sprinter/middle-distance runner in the face of being displaced by last fall's hurricanes. Earlier, he investigated the new middle and long distance success of Eleanor Roosevelt School MD.
Stats by Sully Top 10 HS Milers Progression - Boys
John Sullivan is a track nut who can't get enough track stats. He cranks out lists for his own amusement -- and now he can amuse you as well. He's back this week with Top 10 HS Milers PR Progression - Boys.
College Choices 2006 - We have updated our lists with the early signing period and other individual announced choices. Lists by STATE and COLLEGE now have 427 names. Some noteworthy additions to our lists since the last update in December:
Aislinn Ryan NY, distance, to Colorado. The 2004 Foot Locker cross country champion said, "I felt that was the best place to go to really reach for my running dreams.''
Brandi Cross TX, sprints, to South Carolina
Queen Harrison VA, sprints/jumps, to Virginia Tech
Owen Kimple NY, distance, to Cornell
Ben Sitler CA, distance, to Princeton
Brittany Washington TX, sprints, to Rice
Valerie Flournoy FL, hurdles, to Florida State
Foot Locker Statistical Analysis - High school students Richard Randall and Andrew Jervis of Pennsyslvania analyze trends at the Foot Locker Cross Country National High School Championships from 1979 through the recent 2005 champs.
ShopDyeStat


unique items
for the HS athlete
--Parents Guide

--Training G
uide
--Training Profiles
--Pace Calculator
--the Harrier
--HS Track 2005

DyeStat uses Hy-Tek
for meet results