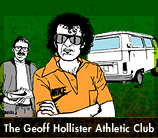 HIGH SCHOOL TRACK 2006
48th edition of Jack Shepard's all-time stats - the indispensable HS T&F reference book. John Dye says, "I never leave home without it."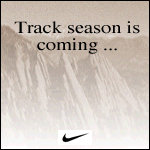 Click
for California news
Indoor national rankings update
Jim Spier's Top 5 updated Feb 13 lists the top five performers in each event, with separate lists for flat and banked tracks. Spier's List #6 Feb 13 - Gourley's Weight Throw Lists Feb. 14
Look Who's Going to Idaho!
Doug Speck's Boys Preview at DyeStatCal.com
Athletes heading for Pocatello include the stars of Long Beach Wilson CA; Bianca Knight MS, Ebony Collins CA, and Ashley Cruder CO in the girls 60m (Knight and Collins in 200 also); boys sprinters JT Scheuerman CO and Ahmad Rashad MI in the boys 60 and 200; vaulters Spencer McCorkel AR and Scott Roth CA long sprinters Karjuan Williams NC and Clemore Henry NY, jumpers Eric Quick CA and Ke'Nyia Richardson CA, and much more.
THIS WEEK
news posted through Feb. 16
CO -- Colo. School of Mines All-Comers - Feb. 11, CSM, Golden - Eaglecrest jr. Ashley Cruder 7.30A 60m (=#6 all-time). Washington sr. Darius Reed 7.96A 60H (42").
CT -- Connecticut Class Championships, New Haven.
Class L - Feb. 9 - Titles to Hillhouse girls, Staples boys. East Lyme jr. Jordan Thull 15-7 PV, Middletown sr. Nora Miller 18-3.75 LJ/8.51 55H/7.27 55m, Staples sr. Remi Ray 1:21.68 600m/35.16 300m
Class M - Feb. 10 - Titles to Weaver girls, Darien boys. Gulliford sr. Jay Koloseus 4:17.64 1600m, 9:20.73 3200m. Class S - Feb. 11 - Bloomfield girls (sr. Ashley Cabray 19-3.25, Stacey-Ann Smith double), Griswold boys (distance domination) take titles.
Class LL - Feb. 11 - Glastonbury girls, Amity boys win titles. Stamford sr. Tynisha McMillan 45-1 SP.
DC -- DCIAA Championships - Feb. 7, Prince George Sportsplex, Landover MD - Team titles to Ballou girls, Woodson boys. Banneker sr. Emani Lee-Odai 6.43 55m/7.69 55H. Dunbar so. Deanna Brown 40.69 300m.
LA -- LSU Last Chance - Feb. 7-8, Carl Maddox Fieldhouse, Baton Rouge - Barbe boys 1:30.96 4x200 (best in nation on flat track).
MA -- Tri-County League Champs - Feb. 9, Reggie Lewis Ctr., Boston - Xaverian jr. Mark Amirault US#1 2:29.80 1000m.
MA -- BU St. Valentine's Invite - Feb. 10-11, Boston U. - Men's Results:Ayalew Taye MA US#1 2:27.26 and brother Sintayehu US soph. class record 2:29.60 1000m, Alex Hall NH 4:15.74 mile, Matt Paulson NH 1:56.90 (soph). Women: Cassie Hintz ME 16:51.67 5k, Katie Peterson 2:16.06,
NC -- NCHSAA Champs - Feb. 11, UNC-Chapel Hill - Huge quadruple for New Bern sr. Karjuan Williams: 34.77 300m, 1:04.92 500m, anchors 2 state meet record relays. SE Raleigh sr. Gabby Mayo leads team to title with triple 6.87 55m, 38.94 300m, 7.92 55H. Clayton's Johnny Dutch US#1 7.13 55H. New Bern and W-S RJ Reynolds boys tie for title.
NJ -- New Jersey Meet of Champions - Rescheduled for Sun., Feb. 19, 8 a.m. - Jadwin Gym, Princeton - Ed Grant's Preview - Performance lists Boys - Girls
NM -- Green Chili All-Comers - Feb. 12, Albuquerque Conv. Ctr. - JT Scheuerman CO US#1 21.70 200m, plus 6.94 60m (fell out of blocks).
NY -- CHSAA Championships - New York Armory. Mount St. Michael boys, Kellenburg girls take home titles. St. Peter's Lionel Williams =US#1 1:20.04 600m/34.88 300m. Msgr. Farrell's Dan Lewis 9:16.60 3200. St. John's Prep's Century Williams 2:57.56 1000m. St. Anthony's Walter Henning 58-9.5 SP. Msgr. Farrell 7:57.22 4x800. This Week at the Armory.
NY -- Section 3 Meet - Fayetteville-Manlius' Tommy Gruenewald 9:19.25/4:20.99 1600/3200 double.
OK -- Jenks Indoor - Feb. 11, U. of Okla., Norman - Blanchard sr. Daniel Morrell 6.88 60m.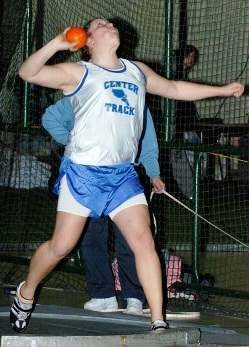 PA -- PTFCA Track Carnival - Lehigh U. - Full Report with more photos now posted.
Center's Allyn Laughlin US#1 46-11.75 SP (Penncrest's Karen Shump 46-5.25). Easton's Chanelle Price US#2 2:11.78 800 (also 56.7 relay/2:13.8 relay).
PA -- Penn Roundup by Don Rich - Feb. 7.
Center PA's Allyn Laughlin (left) took over the national lead in the shot put Saturday at 46-11.75, throwing at the PTFCA Carnival.
RI -- RIIL Class Champs - CCRI, Lincoln - Middle (Feb. 9): Westerly's Samantha Garwych US#1 4:37.3 1500m/2:58.3 1000m (176y gym floor track) - Large (Feb. 10): North Kingstown's Siobhan Breagy 1:37.3 600m.
TN -- Volunteer Classic - Feb. 11, Stokely Athletic Center, U. of Tennessee, Knoxville - Oconee GA's Jordan Scott 16-6 PV. Collins Hill GA's Jackie Drouin 2:18.83 800m, Knoxville West TN's Jacquelyn Coward US#2 7.92 55H/7.09 55m, Stone Mtn. GA's Evander Wells 6.35 55m.
TX -- U. of Houston/RunSport AC - Feb. 11, Houston - Friendswood so. Erica Alexander 7.51 60m/25.09 200m
UT -- UHSTCA State Meet - Feb. 3, Olympic Oval, Kearns - Davis sweeps team titles. Judge's Colin Boevers 57-8.75 SP, Timpanogo's Steve Hart 49.70 400m, Fremont's Ryan Jones 1:56.8, Spanish Fork's Stewart sisters dominate dashes.
UT -- Box Elder Invite - Feb. 11, Utah St. U., Logan - Judge Memorial's Colin Boevers 57-1 SP, Blackfoot's Sarah Cardinal 42-1.5 SP.
VA -- Virginia AA districts
WA -- Dempsey Indoor Series - U. Washington, Seattle - Prosser WA jr. Nectaly Barbosa US#1 1:53.25 (2nd place) and 48.8 relay leg at U-W Open (collegians/open), Feb. 12 (day after Husky Classic).
Megan O'Reilly 16:26.37 5k!
Fastest prep girls indoor time ever!
Danny Mercado 14:47.72 5k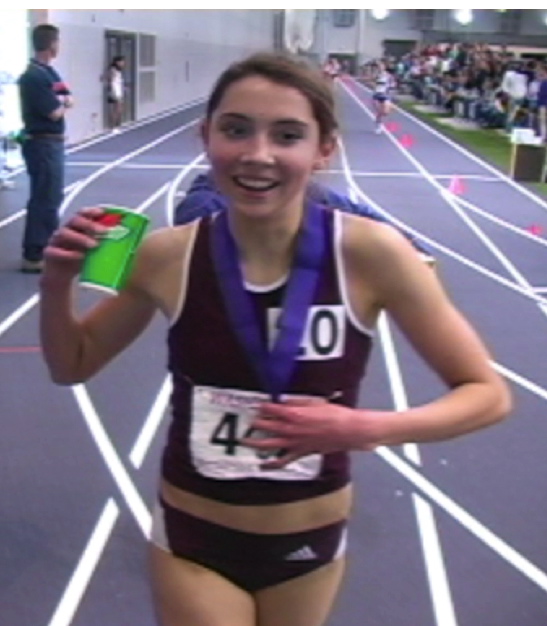 Megan O'Reilly right after her record setting race.
- photo by Marc Davis
In the Husky Classic, Mt. Spokane WA sr. Megan O'Reilly, running against collegiate and open runners, clocked a 16:26.37 5000m, the fastest prep girls time ever (the track is an oversized 307 meters, requiring notation for records or all-time lists). She finished 11th of 34 competitors. Bri Jackucewicz NJ ran 16:43.02 as an 8th-grader in 2004 and Cassie Hintz ME went 16:45.82 in 2005.
The Gerry Lindgren Invitational, held within the college/open meet, featured a boys 5000 meter race to honor distance legend and recent Hall of Fame inductee Gerry Lindgren. Daniel Mercado CA took the lead from the gun, and never released it, winning in 14:47.72. Isaac Stoutenburgh OR gave a late charge for 2nd in 14:53.87, with Robert Cosby WA winning the battle for 3rd (15:02.64). Julian Blake-Cowan WA, with Diego Mercado kindly providing pacing, ran a freshman class best of 15:53.16.
Also, running against college/open runners in the 3000m, Kenny Klotz OR sped to a US#1 8:23.33.
AJ Nation headed to Track Town, USA
AJ Acosta, the 2005 Foot Locker National Cross Country Champion, officially gave his verbal commitment to attend the University of Oregon Ducks next fall. "On my recruiting trip, I ran a couple of laps around Hayward field after a long run. I looked into the stands and just knew....these were going to be my people". CLICK HERE for the audio file of the press conference (some reporter questions were omitted due to lack of enough audio). DyestatCal Report
The Road to Nike Indoor Nationals
In the second of a series of features leading up to Nike Indoor Nationals March 12-13, Pete Cava of the NSSF finds out how New Bern NC sr. Karjuan Williams has continued his development as a magnificent combo long-sprinter/middle-distance runner in the face of being displaced by last fall's hurricanes. Earlier, he investigated the new middle and long distance success of Eleanor Roosevelt School MD.
Stats by Sully Top 10 HS Milers Progression - Boys
John Sullivan is a track nut who can't get enough track stats. He cranks out lists for his own amusement -- and now he can amuse you as well. He's back this week with Top 10 HS Milers PR Progression - Boys.
Smoky Hill CO X-C Coach Greg Weich Resigns
Feb. 6 - Coach Weich tells DyeStat.com why he's stepping down, some of his philosophies on coaching (he's coached five FL finalists and his girls were runner-up at the 2004 NTN), and what his long-term plans are after he gets used to fatherhood in this feature story.
College Choices 2006 - We have updated our lists with the early signing period and other individual announced choices. Lists by STATE and COLLEGE now have 427 names. Some noteworthy additions to our lists since the last update in December:
Aislinn Ryan NY, distance, to Colorado. The 2004 Foot Locker cross country champion said, "I felt that was the best place to go to really reach for my running dreams.''
Brandi Cross TX, sprints, to South Carolina
Queen Harrison VA, sprints/jumps, to Virginia Tech
Owen Kimple NY, distance, to Cornell
Ben Sitler CA, distance, to Princeton
Brittany Washington TX, sprints, to Rice
Valerie Flournoy FL, hurdles, to Florida State
Foot Locker Statistical Analysis - High school students Richard Randall and Andrew Jervis of Pennsyslvania analyze trends at the Foot Locker Cross Country National High School Championships from 1979 through the recent 2005 champs.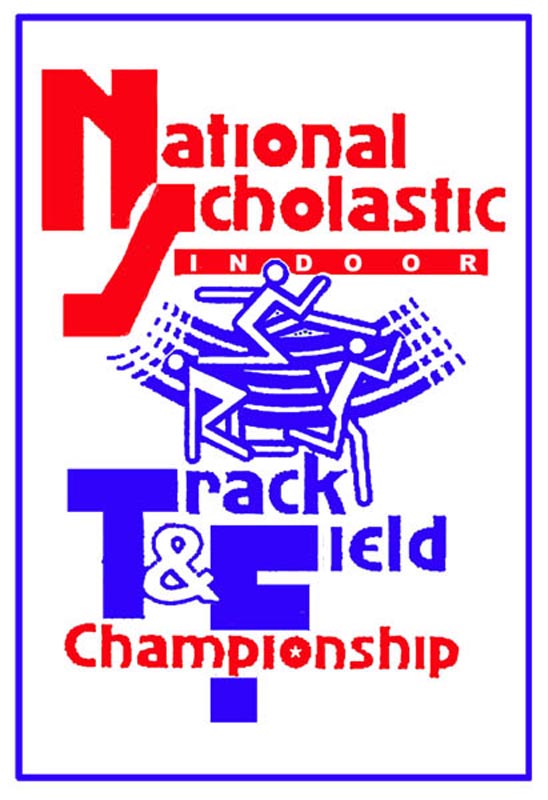 NATIONAL SCHOLASTIC INDOOR CHAMPS
March 10 - 12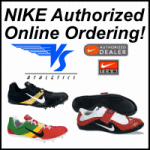 ShopDyeStat


unique items
for the HS athlete
--Parents Guide

--Training G
uide
--Training Profiles
--Pace Calculator
--the Harrier
--HS Track 2005

DyeStat uses Hy-Tek
for meet results