Click
for California news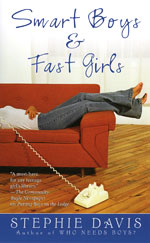 In Stephie Davis' new teen fiction book, sophomore Natalie Page is fast enough to make the varsity cross country team. Now all she needs is a smart boyfriend. Check out the fun, cute and romantic book to see how Natalie manages to get more than what she expected.
DyeStat Elite XC
We are now accepting performances for national ranking in cross country for the 2005 season. See How to Get Ranked for the procedures to follow. First lists will be posted next week.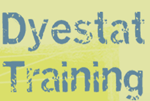 NEW
-- training logs of Bob Kennedy's US record year, Ari Lambie's 4:37 mile, and Portland Central Catholic's 2005 XC preparation.
7th Great Am
Sep 24 at SAS Park, Cary NC
DyeStat on-site with John & Donna Dye, Derek Dye, Marc Davis, Rich Gonzalez and Ben Ackerly
INDEX - complete coverage with stories, photos and video
DyeStat Elite - 56 performances qualifying for national ranking

John Dye's photo albums
- 89 action shots
Other races
Duke crushed the field in the University Women's Race of Champions with 20 points and 7 of the top 10 finishers.
top matchups loom in Manhattan
The 33rd Manhattan Invitational in New York City Oct. 8 will have record entries of 11,000 athletes from 365 schools in 18 states and Canada. Some highly anticipated matchups will occur, but there are also some missed opportunities to have top boys teams meet face to face. [John Dye]
Manhattan Girls - As always, the Girls Eastern States race will feature the best teams in one race. This year is one of the best concentrations in recent years. Perennial US#1 Saratoga Springs NY, US#1 this year in the Harrier Super 25 and NE#1 in the Nike Team National rankings, will try to win its 6th straight Manhattan. They may get more serious competition than usual from NE#2 US#11 Hilton NY, NE#3 US#15 Bronxville NY, NE#4 Jackson NJ, NE#7 Suffern NY, NE#10 Bay Shore NY, SE#2 Brentsville VA, SE#6 Eleanor Roosevelt MD, SE#7 Tatnall DE, and SE#9 Midlothian VA. Unranked Warwick Valley NY and Colts Neck NJ bring individual stars Aislinn Ryan, defending Foot Locker national champion and 2-time Great American champion, and Brianna Jackucewicz, now a freshman after several years of national age group competition.
Manhattan Boys - The Manhattan deviated last year from its historic practice of spreading the top teams across seven flights when it paired Fayetteville-Manlius NY and Christian Brothers NJ in the same flight. This will happen again this year as NE#1 US#2 F-M and NE#3 US#5 CBA are matched in flight C and are joined by NE#5 US#9 Morris Hills NJ. But new NE#2 Saratoga Springs NY, winner of the Great American Race of Champions in North Carolina last week, is alone in flight E. Warwick Valley NY, which rose to NE#4 after finishing second at Great American, is in flight F along with SE#8 Brentsville VA. NE#6 Bishop Hendricken RI is alone in flight D
32nd Sunfair Invitational
Oct 1 Yakima WA - DyeStat on-site with John & Donna Dye
More than 3,000 runners from WA, OR, ID, MT and Canada will run in the 32nd edition of this meet in the spectator friendly setting of tree-shaded Franklin Park in Yakima. Thousand Oaks CA, making its first visit to Sunfair, will travel the longest distance. Top team present will be undefeated Gig Harbor WA girls, ranked #1 in the NTN Northwest region and #7 in the US in the Harrier Super 25.
flrunners.com Invitational
Every ranked team in Florida will be among 400 teams and 5,100 runners competing in Jason Byrne's flrunners.com Invitational Saturday at Little Everglades Ranch, Dade City FL, the new home of the Florida State Meet. In addition, out of state teams include Warwick Valley NY, Smiths Station AL, St. Pius NM, Pearl River NY, and Syosset NY.
THIS WEEK
news posted through Sep. 29 - by region
1 NORTHEAST -

CT, MA, ME, NH, NJ, NY, PA, RI, VT
Northeast Week #3 -- A roundup of ranked teams and important action through Sept. 24 by Regional Editor Don Rich.
CT - Bethel Invitational
CT -- Canterbury Invitational - Another 1-2 by Ayalew and Sintayehu Taye of Cushing Academy, 15:43 and 15:56.
NY -- Manhattan Invitational - Entry List updated as of 9/26/05
NH -- Manchester Invitational - Results now Posted - An easy, solid win for NE#8 Champlain Valley VT girls.
NJ -- Cougar Invitational - Results now Posted. Bucks Mill Park, Colts Neck NJ. Craig Forys 15:56 is fastest boy. Briana Jackucewicz and Ashley Higginson tie in girls large school race in 18:42. Colts Neck girls and East Brunswick boys dominate teamwise.
NJ -- South Jersey Shoutout - Gloucester County College, Sewell NJ.
NJ -- Randolph Invitational - NE#3/US#9 Morris Hills NJ boys put 5 in the top 8 to win with 24 points in tuneup for Manhattan.
NY -- East Aurora Invitational
NY -- Queensbury Invitational- Queensbury NY. Results now Posted. Site of NYSPHSSA state meet. NE#2 Hilton NY girls get decisive win against NE#6 Suffern NY and NE#5 Shenendehowa NY. Hilton sr Amanda Griggs runs 17:48 to top Suffern fr Shelby Greany's 17:58.
PA -- Carlisle Invitational - Results now Posted. "The Millers were the Millers," said Northeast editor Don Rich, as Craig Miller 15:23 5k won and brother Brad Miller 15:26 was second, but their NE#4 Manheim Twp PA team was beaten by unranked Coatesville PA 61 (5-8-11-17-20) to 75 (1-2-23-24-25). Jr Sarah Morrison 18:31 led Chambersburg PA 81 to victory in the girls race.
Redheaded Miller brothers on left led the pack at Carlisle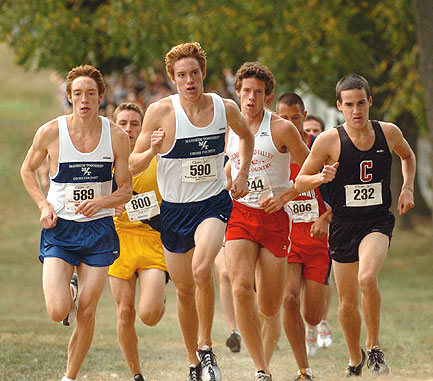 photo by Don Rich, PennTrackXC / Milesplit network
PA -- Spiked Shoe Inv - Penn State University. Results now Posted.Out of state teams claim team honors. Morgantown WV girls 63 (Governor Mifflin 73). Strongsville OH boys 69 (State College PA 81). Noel Bateman of Aquinas Institute 15:43 and Katherine Ward of State College 18:35 (Lindsey Scheller 18:37) were the individual winners.
PA -- 3rd Lion Invitational - Penn State, Altoona.
There is something different about Fayetteville-Manlius NY this year. New York squad regroups after loss to York at 2004 Nike Team Nationals - will look for faster top 4 and wider spread. story by Don Rich on the NE#1 US#2 team.

2 SOUTHEAST -

AL, DE, FL, GA, MD, NC, SC, KY, TN, VA, WV, DC, PR
WV -- Mountaintop Combo Invitational

- Preston HS, Kingwood WV -

Results now posted.

Berkeley Springs soph

Rachel Buser

19:08 (

left

) won again, but

SE#7 Eleanor Roosevelt MD

30 poured in 5 of the next 11 runners.

Mikias Gelagle

16:14 (

right

) led the

Eleanor Roosevelt

boys 50 as the Maryland school swept the team titles. Both Buser and Gelagle set course records. Results and photos from

Western Maryland Running

.
3 SOUTH -

AR, LA, MS, OK, TX
South Roundup V - By Regional Editor John Sullivan.
AR -- Arkansas Little Rock Inv - Murray Park, Little Rock.
LA -- Jeff Davis Bank Iowa Invitational - Iowa High School
MS -- Mississippi State Invitational - SO#8 Tupelo girls win
4 MIDWEST -

IL, IN, MI, OH, WI
IL -- Palatine Invitational -
Boys - MW#1/US#1 York Elmhurst IL 57 won easily a 14:45 average over a 2.96 mile course. Ryan Craven 14:07 (right) led unranked Prospect IL 118 to a close third behind Palatine IL 110.
Girls - MW#3 Palatine IL 48 (3-7-8-9-21) was a convincing winner on their home course, with sr Amy Laskowske 17:28 in third place leading the way. Crystal Lake Central took the top two places with its freshman pair of Haley Staples 17:06 and Stephanie Peisker 17:22.
5 HEARTLAND -

IA, KS, MN, MO, NE, ND, SD
6 SOUTHWEST -

AZ, CO, NV, NM, UT, WY
Southwest Report IV - By Regional Editor Steve Lurie
AZ -- Los Mesquites Invitational - Kennedy Park, Tucson
AZ -- Lake Powell Invitational - SW#3 Page boys win.
CO - Conifer Invitational - Conifer HS.
CO -- Sterling Invite - Sterling HS
CO -- Runners Roost Invite - Also known as the John Martin Invite. SW#1 Ft Collins boys still undefeated, and SW#7 Cherry Creek girls over SW#8 Ft Collins.
CO -- Brush Invitational - Brush HS.
NM -- Albuquerque Academy Invitational - SW#5/US#18 Albuquerque Academy boys 39 were easy winners of their own invitational. Individual winner was Eldorado's Matt Tebo 15:37. SW#2/US#8 Eldorado Albuquerque NM thoroughly dominated the girls race, placing five of the top seven for 20 points to beat Gallup and Los Alamos by 53 points. Julie Brasher 19:56 and Erin Madden 20:07 finished 1-2 for Eldorado.
NM -- New Mexico Coaches Poll - Week #4
NV -- Laughlin Invitational - Mountain View Park, Laughlin

7 NORTHWEST -

AK, HI, ID, MT, OR, WA
8 CALIFORNIA -

CA
Stanford Invitational
-
Results - Showdowns of national powers went to CA#1 US#3 Royal Simi Valley boys and CA#1 US#10 Buchanan Clovis girls.

Girls - It couldn't have been closer as new CA#1 Buchanan beat prior CA#1 Corona del Mar by 1 point, 82 to 83, with Lauren Saylor's 17:38 5k individual win setting the pace. Unranked Torrey Pines CA 151 was third, SW#4 South Tahoe 164 fourth and Judge Memorial UT 166 fifth. In Div 2, Marie Lawrence 17:26 had the fastest time of the day, but her SW#5 Reno NV team 171 finished third behind CA#9 Edison Huntington Beach 106 and Aptos CA 144.
Boys - Michael Cybulski's 5th place finish led Royal 86 (5-10-20-25-26) over NW#1 US#4 Mead WA. 107 (13-16-22-27-29). Royal averaged 15:58, while Mead had an 18-second spread in its five scorers. Next were CA#3 Upland CA 172, CA#5 US#19 Jesuit Carmichael CA 177, CA#10 El Toro 179, and CA#8 El Camino 217. El Camino's A.J. Acosta 15:13 won individual honors as the fastest boy of the day.
. entgries and a look back by Doug Speck -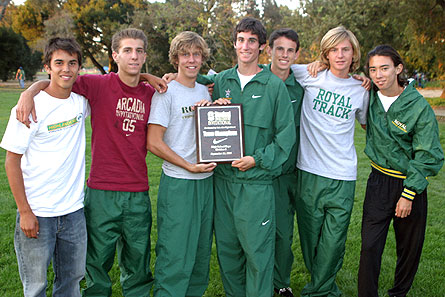 Royal boys

- photo by Erik Pederson
MANHATTAN INVITATIONAL
presented by
new balance
October 8
Van Cortlandt Park New York City
INDEX

DyeStat uses Hy-Tek
for meet results
ShopDyeStat


unique items
for the HS athlete
--Parents Guide

--Training G
uide
--Training Profiles
--Pace Calculator
--the Harrier
--HS Track 2005

Marc Bloom's distance running magazine is now in its 30th year