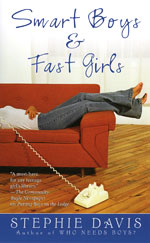 In Stephie Davis' new teen fiction book, sophomore Natalie Page is fast enough to make the varsity cross country team. Now all she needs is a smart boyfriend. Check out the fun, cute and romantic book to see how Natalie manages to get more than what she expected.
Tell us about it
Don't forget to give us the distance of XC races so we can rank the top runners.
DyeStat Elite XC
We are now accepting performances for national ranking in cross country for the 2005 season. See How to Get Ranked for the procedures to follow. First lists will be posted next week.

Click
for California news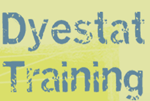 NEW
-- training logs of Bob Kennedy's US record year, Ari Lambie's 4:37 mile, and Portland Central Catholic's 2005 XC preparation.
THIS WEEK
news posted through Sep. 22 - by region
1 NORTHEAST -

CT, MA, ME, NH, NJ, NY, PA, RI, VT
Northeast Week #2 -- A roundup of important action through Sept. 17 by Regional Editor Don Rich.
CT -- Wilton Invitational - Ridgefield girls dominate, winning their division with 17 points.
MA -- Battle of the Border - Tyngsborough HS. Course straddles NH-MA border.
MA - Pingree Invitational, South Hamilton - Taye brothers (sr Ayalew and soph Sintaheyu) open season with a romp, finishing 1-2 in 15:31 and 15:32 3.1m with next runner coming along 92 seconds later. They have moved from Portland ME to the Cushing Academy in Massachusetts this year.
MA -- Amherst Invitational - Host school wins both boys and girls divisions. A 2:13 800-runner as a soph, jr. Colleen Wetherbee of Dennis Yarmouth shows impressive endurance to win.
NJ -- 10th Cherokee Challenge - Marlton NJ.
NY -- 35th Guilderland Invitational - Brian Rhodes-Devey sets record of 13:58 on 2.7-mile course.

NY -

Manhattan Invitational - Entry list and schedule is up for big meet Oct 8.
NY -- Suffern Invitational - NE#3 Bronxville girls and NE#7 Suffern girls win separate races, with Bronxville clocking the best times. Aislinn Ryan's 17:34 is tops. #5 Warwick Valley boys also win, but unranked St. Anthony's has the top set of marks in another race.
PA -- Briarwood Invitational

Cardinal O'Hara's Greg Thomas (left) wins in 15:57, second fastest Philadelphia Catholic League time ever at the tough Belmont Plateau course in Philadelphia. (15:42 by Steve Hallinan is PCL record).

Cardinal O'Hara boys and girls sweep the team championship flights, with NE#9 Ridgewood NJ boys a casualty.

photo by Don Rich, PennTrackXC/Milesplit
VT -- Essex Invitational - NE#8 Champlain Valley girls win with 17 points, despite missing their No. 3.
There is something different
about Fayetteville-Manlius NY this year.
New York squad regroups after loss to York at 2004 Nike Team Nationals - will look for faster top 4 and wider spread. story by Don Rich on the NE#1 US#2 team.

2 SOUTHEAST -

AL, DE, FL, GA, MD, NC, SC, KY, TN, VA, WV, DC, PR
Southeast Week #2 - A review of action through Sept. 17 by Regional Editor Ben Ackerly.
AL Scottsboro Invitational
AL Crimson Classic - Tuscaloosa.
DE -- Lake Forest Invitational - Felton.
FL -- FSU Invitational - SE#8 Lawton Chiles boys win battle of ranked FL teams, including SE#4 Holy Trinity Episcopal and SE#6 Tampa-Jesuit. James Osbourne and Justin Harbor shine in college 8k. SE#3 J'ville Episcopal girls roll with 39 pts with SE#10 Our Lady of Lourdes 3rd.
GA -- 3rd Flight Invitational - Marietta GA
KY -- Trinity Invitational - Michael Eaton blazes 15:15 5k to win 50th Annual Event; MW#9 Cincinnati LaSalle boys roll.
KY -- Valkyrie Invitational -
KY -- Covington Catholic Invitational - Erlanger
TN -- 30th Tennessee Classic - Steeplechase course, Percy Warner Park, Nashville. GA standout Ben Hubers outruns TN stars Todd Smalling and Rob Sorrell.
VA -- Brentsville Under the Lights Relays - Nokesville VA. Host SE#3 Brentsville VA boys and unranked Eleanor Roosevelt MD girls(ahead of SE#5 Midlothian VA and SE#6 Brentsville) set meet records in unique format. By Southeast Regional Editor Ben Ackerly.
WV -- Forest Festival - Elkins WV.
WV -- Chick-Fil-A Invitational - Berkeley Springs soph Rachel Buser 18:22 5k, the defending state 1A-2A champ, had the fastest time of the day and now awaits a Maryland invasion at the Mountaintop Combo this weekend. SE ranked Eleanor Roosevelt and the Sinclair sisters of Montgomery Blair MD will be on hand. Observors are expecting "the greatest girls race ever in West Virginia."
Bull Run MD - On brutally hot day that made the hills of Hereford even more hellacious, Georgetown Prep MD sr Steven Duplinski 16:03 3 miles (just 3 seconds off the course record) over Brad Siragusa VA 16:44 and Matt Centrowitz MD 16:48. Christy Johnson MD 19:38 is only girl under 20 minutes. Northwest MD girls 174 top SE#9 Dulaney MD 190 and previously ranked Morgantown WV 193 in overall all-division scoring. Loyola Blakefield 206 is boys overall best over Broadneck MD 247.

left, Steven Duplinski .
- photo by John Roemer
3 SOUTH -

AR, LA, MS, OK, TX
4 MIDWEST -

IL, IN, MI, OH, WI
Midwest Week #2 -- Review of action through Sept. 17 by Regional Editor Scott Bush.
IL - - Peoria Notre Dame Invitational - State meet course. Upsets on both sides, with Glenbard South boys (over MW#4 Naperville North and MW#7 Palatine) and Palatine girls (over MW#3 Naperville North) getting wins. Jonathan Popejoy (14:31) and Caitlin Comfort (17:04) fastest on legendary Detweiller.
IN -- New Prairie Invitational - MW#5 Warren Central boys and De'Sean Turner 15:41 5k over big field including MW#6 Carmel. Previously ranked Valparaiso girls nip #4 Carmel , MW#7 Cathedral (Katy Achtien's 14:54 4k). Also, in 'A' race, Kelsey Nielsen of Bremen 14:50.
MI -- Spartan Invitational at Michigan State U. Jenny Morgan 18:13 leads MW#1 Clarkston MI girls 93 (1-4-9-27-52) over Saline MI 126 and MW#5 Rockford MI 143. Story by Steve Underwood.
MI -- 38th Nike-Holly Invitational -Davisburg MI. Addis Habtewold, St. Clair's new standout by way of Ethiopia, and Dexter's boys make a case for state and regional recognition. Story by Steve Underwood.
Michigan's newest star

Addis Habtewold, a transplant from Ethiopia and soccer, is in his first cross country season and won the 38th Nike-Holly Invitational by 25 seconds in 15:54 on a rugged layout at Davisburg MI. Habtewold is a sophomore at St. Clair MI. -- photo by Davey / RunMichigan.
OH -- Gailon Festival - Christy Titus 18:16, leading MW#9 Bowling Green girls to victory, and Sarah Foster 18:17 in separate races.
OH -- Spartan Invitational at Youngstown Boardman. Bridget Franek gets a big win over Emily Infeld. MW#8 Massillon Jackson girls with solid victory.
OH -- 3rd Toledo Invitational - Ottawa Park Golf Course, Toledo.
OH -- 35th Eaton Invitational - Fort St. Clair Park, Eaton OH.

5 HEARTLAND -

IA, KS, MN, MO, NE, ND, SD
6 SOUTHWEST -

AZ, CO, NV, NM, UT, WY
Southwest Report III - By new Regional Editor Adam Kedge.
AZ -- Chinle Invitational - NW#3/US#25 Page boys win easily.
AZ -- Monument Valley Invitational - Tuba City sweeps both team races.
CO -- Liberty Bell Invitational - Big meeting of NTN ranked teams sees SW#1/US#12 Albuquerque Academy boys fall to SW#4 Fort Collins and SW#5 Rock Springs WY. The girls race had unranked Rocky Mountain girls (3-4-8-12-39) a decisive winner over Cherry Creek. Then came SW#7 Fairview, SW#5 Fort Collins, and SW#8 Campbell County WY. SW#9 Smoky Hill CO was back in 8th.

NOW WITH PHOTOS!!!

CO -- Ramble at the Reservoir - Ouray HS.
CO -- Florence Husky Invitational -

7 NORTHWEST -

AK, HI, ID, MT, OR, WA
8 CALIFORNIA -

CA
See all the news of the Golden State on DyeStatCal, by Rich Gonzalez and Doug Spec
Ojai Invitational - Ken Reeve's story about Fr-

Jordan Hasay

of Mission Prep destroying the old course record at Lake Casitas set back in 1995 by former Foot Locker Champ and National Record holder Kim Mortensen. She runs 17:04 for the 3m course (old record - 17:35). Photos below by Dave Holland

25th Woodbridge Invitational - The

Mercado brothers

(14:13 & 14:26 - 3miles) from West Covina win over Central Catholic's (OR) Kenny Klotz and Big Bear's

Chad Hall

. CA#1/US#3 Royal (CA) boys victorious! CA#2/US#11 Murietta Valley (CA) girls beaten. Photo courtesy of Bill Leung

| | |
| --- | --- |
| West Covina Mercado twins, Diego & Danny, leading Kenny Klotz of Central Catholic (OR) in the Sweepstakes Race at Woodbridge Invitational | |




Woodbridge Invite Team Champions -
Royal High School

Pictured from left to right are:
Coach Ryan Luce, Hudson Andrews, Dustin Patterson, Kevin Sullivan, Danny Benson, Michael Cybulski, Jason Pedersen,
& Jun Reichl



California Boys Top 10 Report - By DyeStatCal's Rich Gonzalez
43rd Nevada Union Invitational - Nevada Union HS, Grass Valley
Stanford Invitational - entries for big meet Sept. 24. Doug Speck recalls earlier Stanford meets.

NTN regional rankings -
how the process works.
Three criteria -- head-to-head competition, timing and meet format -- are most important to the NTN Ranking Committee, which produces weekly rankings of teams in 8 regions. The NTN Regional Rankings are the basis of the selection process for the Nike Team Nationals in Portland Dec. 3. The top two teams in each region at the end of the season will be invited to compete. The third and fourth place teams in each region are considered for the four national at-large selections. Here's how the rankings process works. Story by Rich Gonzalez
NTN regional rankings
First update based on actual results (through Sept. 10). Rankings will be updated each Friday from now through November.
NTN home page - Northeast | Southeast | South | Midwest | Heartland | Southwest | Northwest | California |
Top two teams in each region are shown below. If the season ended today, these teams would be invited to run at Nike Team Nationals in Portland Dec. 3. Four at large teams are also invited, making fields of 20 boys teams and 20 girls.
BOYS

GIRLS

NE 1 Fayetteville-Manlius Manlius NY
NE 2 Christian Brothers Lincroft NJ
NE 1 Saratoga Springs NY
NE 2 Roxbury NJ
SE 1 Jefferson Alexandria VA
SE 2 Oakton Vienna VA
SE 1 Scottsboro AL
SE 2 Mountain Brook AL
SO 1 Flower Mound TX
SO 2 King Corpus Christi TX
SO 1 Carroll Southlake TX
SO 2 Kingwood TX
MW 1 York Elmhurst IL
MW 2 Columbus North IN
MW 1 Clarkston MI
MW 2 Waukesha West WI
HL 1 Liberty MO
HL 2 Shawnee Mission Northwest KS
HL 1 Yankton SD
HL 2 Roosevelt Sioux Falls SD
SW 1 Albuquerque Academy NM
SW 2 Mountain View Orem UT
SW 1 Fremont Plain City UT
SW 2 Eldorado Albuquerque NM
NW 1 Mead Spokane WA
NW 2 Central Catholic Portland OR
NW 1 Gig Harbor WA
NW 2 Jesuit Portland OR
CA 1 Royal Simi Valley
CA 2 Murrieta Valley
CA 1 Corona del Mar
CA 2 Murrieta Valley

DyeStat uses Hy-Tek
for meet results
ShopDyeStat


unique items
for the HS athlete
--Parents Guide

--Training G
uide
--Training Profiles
--Pace Calculator
--the Harrier
--HS Track 2005

Marc Bloom's distance running magazine is now in its 30th year