DyeStat Elite XC
National individual lists meeting cutoffs. See
How to Get Ranked
. First lists soon.
NTN XC
Top 10 regional team rankings updated weekly. Rankings support selection to Nike Team Nationals in Portland Dec. 3.
SUPER 25
Marc Bloom's Harrier Super 25 national cross country team rankings
2006 US Juniors
Top 10 performers born 1987 or later (eligible for World Juniors at Beijing in 2006) - by Jim Spier and John Blackburn

Click
for California news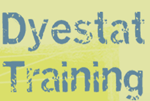 NEW
-- training logs of Bob Kennedy's US record year, Ari Lambie's 4:37 mile, Portland Central Catholic's 2005 XC preparation, and a blogger from Tyson's Army (Mead HS) jr-Taylor Nepon.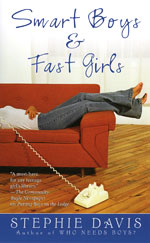 In Stephie Davis' new teen fiction book, sophomore Natalie Page is fast enough to make the varsity cross country team. Now all she needs is a smart boyfriend. Check out the fun, cute and romantic book to see how Natalie manages to get more than what she expected.
33rd Manhattan
Oct 8 Van Cortlandt Park, New York City

DyeStat on-site with John & Donna Dye,
Marc Davis and Don Rich
Forget Yankee Stadium, let's go to Vanny


NEW YORK 10/6/05 -- For high school cross country fans, the big venue in the Big Apple this weekend isn't Yankee Stadium. It's that other venerable park in the Bronx, Van Cortlandt Park, at 242nd and Broadway -- "Vanny" to the legions of elite runners who have performed there over the years. Take the #1 subway to the end of the line and you're there.The 33rd Manhattan Invitational -- billed as the "biggest and best" one-day high school distance event in the country -- will attract 18 teams ranked in the Nike Team Nationals regional rankings -- eight in six boys flights and 10 in the Girls Eastern States championship race.
Don Rich's preview - It's all talk. Let's race. Then we can argue.
Bizarre incident in New Jersey sidelines CBA's #4 runner, puts shadow over race within a race at Manhattan Invitational (Boys C) between New Jersey's top two boys teams -- NE#3 Morris Hills and NE#5 Christian Brothers Academy. Public-private school issues also highlighted. Ed Grant's NJ report



photo by

Davey, RunMichigan.com
Clarkston
The Clarkston Michigan girls cross country team was nearly torn apart last year by state association denial of a trip to Nike Team Nationals when they were ranked Midwest #1 and US#7. Now, they are regrouping and concentrating on what they can control -- a state championship for the team and a Foot Locker national finals berth for #1 runner Jenny Morgan. Clarkston is again ranked Midwest #1 by NTN this year and US#2 in Marc Bloom's Harrier Super 25. DyeStat's Steve Underwood, a Michigan native himself, spent 4 days with the Clarkston team recently. Read Steve Underwood's report
DONNA ON THE SIDE

208 pix of sideline scenes at Sunfair
1
NORTHEAST
- CT, MA, ME, NH, NJ, NY, PA, RI, VT
Northeast Report Week #4 - From Regional Editor Don Rich
New Jersey Roundup - With Ed Grant
CT -- Bethel Invitational - CT schools only
MA -- McIntyre-Bay State Invitational - Franklin Park, Boston Meet Web Site
NJ -- Shore Coaches Invitational - Holmdel Park - NE#5 Morris Hills and NE#3 CBA win separate boys races, but Morris Hills has best times of day. NE#4 Jackson girls win Varsity A with best average, and NE#8 Morris Knolls over NE#9 Roxbury in Varsity B.

Ben Massam

of Chatham and

Danielle Tauro

notch best times of day.
NY -- 41st McQuaid Invitational - Genesee Valley Park -

Amanda Griggs

16:53 sets second girls course record of day to lead NE#2/US#11 Hilton to victory, while

Owen Kimple

14:52 leads NE#1/US#2 Fayetteville-Manlius boys winners.
NY -- 34th St. Anthony's Invitational - King's Park
PA -- Steel City Invitational - Coatesville HS - NE#7 Coatesville boys beat NE#10 Cardinal O'Hara by 44. Impressive win on girls side for State College's

Katherine Ward

19:19.
PA -- Paul Short Run - Defending FL Champ

Aislinn Ryan

keeps rolling with a 17:03 to beat Colts Neck NJ

Briana Jackucewicz

(17:45). NE#10 Bay Shore NY tops Colts Neck, 118-126. NE#9 West Chester East PA boys fall to Cumberland Valley, 131-133. Craig Forys of Colts Neck wins in 15:14. Also,

Nicole Blood

2nd in college/open 6k 21:22.
VT -- Woods Trail Run - Thetford Academy
2
SOUTHEAST
- AL, DE, FL, GA, MD, NC, SC, KY, TN, VA, WV, DC, PR
Southeast Report Week #4 - From Regional Editor Ben Ackerly
AL -- Jesse Owens Classic - Oakville Indian Mounds Park, Moulton, AL -

Laurel Pritchard

Vestavia Hills AL 18:04 and

Ben Huber

McEachern GA 15:19 set course records. Formerly ranked Scottsboro AL girls avenge loss to SE#10 Hoover AL.
DE -- Salesianum Invitational - Brandywine Creek State Park - SE#7 Tatnall dominates the 'C' race, but is outclocked by unranked Padua's 'A' race times.
FL -- 6th FLrunners.com Invitational - Little Everglades Ranch, Dade City, FL, new home of Florida state meet. Freshman

Ashley Brasovan

, who won impressively in Great American seeded invitational last week, showed she is for real by beating veteran

Kelly Parrish

, 17:08 5k to 17:14.

Justin Harbour

15:27 collapsed at the finish and was carried off after winning the boys race by 8 seconds over James Osbourne. SE#1 Episcopal FL girls 90 and NE#4 Warwick Valley NY boys 103 (SE#4 Holy Trinity FL 185) win races of champions.
Justin Harbour photos by Rick Andrews

Ashley Brasovan

(R) and

Kelly Parrish
FL -- 36th John I. Leonard Invitational - Okeeheelee Park, Lake Worth, FL
KY -- Franklin County Invitational - SE#3 St. Xavier KY boys avenge loss at Great American to MW#4 Cincy Lasalle OH.
MD -- Harford Invitational - Tollgate Park, Bel Air, MD - SE#6 Eleanor Roosevelt girls roll by 46, with three under old CR.

Mikias Gelagle

leads 1-2 ERS finish for boys, but Blakefield Loyola wins.
MD -- 10th Mervo Mustang Invitational - Herring Run Park, Baltimore, MD
NC -- Hagan Stone Park Classic - Hagan Stone Park, Greensboro, NC
NC -- Wendy's Invitational - Charlotte, NC. Both boys and girls meet records broken. Great American winner

Sandy Roberts

of Broughton Raleigh NC 15:03 (15:08.7 in 2000 by Matt Maline) and

Kate Niehaus

of Spring Valley SC 17:32 (17:38.1 in 2000 by Julia Lucas). SE#1 Chapel Hill boys take team title, as does Chapel Hill girls.
SC -- Electric City Festival - Anderson Sports and Entertainment Complex
TN -- Volunteer Invite - Victor Ashe Park, Knoxville, TN - Brentwood Academy's

Clay Adams

,

Alyssa Mankin

, and Angela Fister shine individually, but depth wins for Trinity boys and Morristown West girls.
VA -- William and Mary Invitational - Williamsburg, VA - Steven Duplinsky of Georgetown Prep MD takes down Matt Keally's course record, blazes a 14:30 for 3.05M.
VA -- Octoberfest - Great Meadows, The Plains, VA
3 SOUTH - AR, LA, MS, OK, TX
Midwest Report Week #4 - From Regional Editor Scott Bush
IL -- 33rd Loyola Lakefront Invitational - Montrose Beach, Chicago, IL
IL -- Savage Invitational - Skokie, IL
IL -- Peoria Central Invitational - Detweiller Park - 1-2 finish from Matt and

Eric

Dettman

led MW#1/US#1 York to easy win.
IL -- Crete-Monee Invitational
Boise girls surprise


NW#10 Boise ID girls 129 surprise NW#2 Jesuit Portland OR 134, with NW#3 Snohomish WA 187 third and other ranked teams trailing. Mt. Spokane's Megan O'Reilly 17:12 wins by a minute. NW#7 Central Catholic Portland OR boys 114 over NW#6 Boise ID 134, with HL#1 Liberty MO 143 third. . Crater's Isaac Stoutenburgh (right) wins photo finish over Central Catholic's Kenny Klotz. (

below, photo by Carl Laney

) See the video by Marc Davis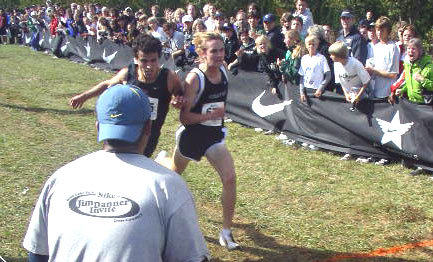 Megan O'Reilly and Isaac Stoutenburgh are crowned queen and king of the day at Danner.
photo by Colleen Collins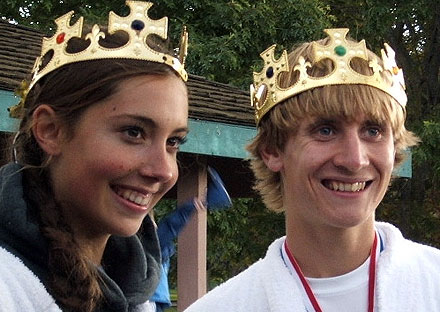 INDEX
- complete results and photos
Thousand Oaks girls, Flathead boys win


Girls - CA#6 Thousand Oaks CA 36, NW#7 Flathead MT 40, NW#1 Gig Harbor WA 48.
Boys - Flathead MT staked a big early lead in the 6th and 7th man races, hung in against Ferris WA's wins in the #4, #3, and #2 man races, and won on #1 Elliott Welder's strong finish in the closing #1 man race. NW#2 Flathead 20, NW#9 Tahoma 23, NW#4 Ferris 28.
[Note: All seven flights are scored. Teams with less than five runners are eliminated.]
Sunfair photo albums - #1 Boys - #1 Girls - the course
The course is tough on runners, but a delight for spectators.
Curtis Williams Invitational, Gallup NM - runners exit the infamous arroyo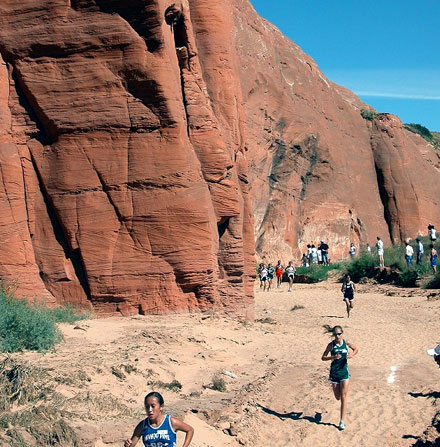 photo by Blake Wood

DyeStat uses Hy-Tek
for meet results
ShopDyeStat


unique items
for the HS athlete
--Parents Guide

--Training G
uide
--Training Profiles
--Pace Calculator
--the Harrier
--HS Track 2005

Marc Bloom's distance running magazine is now in its 30th year