Click
for California news
got video?
We want it!
If you like the video reports, and have some of your own, send them to


[email protected]
Tell us about it
Don't forget to give us the distance of XC races so we can rank the top runners.
DyeStat Elite XC
National individual lists meeting cutoffs. See
How to Get Ranked
. First lists soon.
NTN XC
Top 10 regional team rankings updated weekly. Rankings support selection to Nike Team Nationals in Portland Dec. 3.
SUPER 25
Marc Bloom's Harrier Super 25 national cross country team rankings
2006 US Juniors
Top 10 performers born 1987 or later (eligible for World Juniors at Beijing in 2006) - by Jim Spier and John Blackburn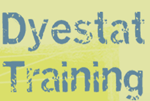 Training logs of Bob Kennedy's US record year, and Ari Lambie's 4:37 mile. Plus Central Catholic OR 2005 XC preparation, Daniel Gerber of SO#6 The Woodlands, and from Tyson's Army (Mead WA), Taylor Nepon.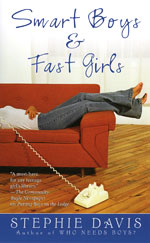 In Stephie Davis' new teen fiction book, sophomore Natalie Page is fast enough to make the varsity cross country team. Now all she needs is a smart boyfriend. Check out the fun, cute and romantic book to see how Natalie manages to get more than what she expected.
Katherine Ward
Happy Valley PA's other fall success story
In the past six years, only four high school girls have covered the Penn State Blue Course 5k faster than State College PA junior Katherine Ward did this year. Three of those names are: Nicole Blood, Laura Cummings, and Frances Koons. This year's Spiked Shoe was the 2nd of her four wins so far this season, which included the Steel City Invitational. She prepped for PA's hilly courses by running the 13.3 mile Pike's Peak Ascent in August. It is obviously paying off, as Don Rich's story tells..
27th running of national cross country individual championship
Dec 10 - Balboa Park - San Diego

Schedules, returning runners, prior years.

steveu's Foot locker - analysis of the top contenders in the regionals and national finals by senior editor Steve Underwood.

BOYS
GIRLS
A.J. Acosta CA, Sandy Roberts NC and Craig Miller PA top the favorites list
Mohamud Ige CO stands out
Craig Miller PA and Taye brothers of ME
Sandy Roberts NC, Justin Harbor FL and Jack Bolas NC
Florida freshman Ashley Brasovan upstages returning FL finalists Aurora Scott VA and Kate Niehaus SC
A. J. Acosta CA, Diego Mercado CA, Isaac Stoutenburg OR, Kenny Klotz OR
Defending regional champion Marie Lawrence NV leads four returning finalists, but new faces are also crowding in.
58th running of the biggest high school cross country meet in the nation
Oct 21-22 - Walnut CA

Entries - 91 races 7 minutes apart - 23 NTN ranked teams

Weather forecast is nearly perfect -- sunny with high 50s in the morning rising to high 70s in the afternoon.
1
NORTHEAST
- CT, MA, ME, NH, NJ, NY, PA, RI, VT
Northeast Report #6 - By Regional Editor Don Rich
NJ -- New Jersey Roundup - By Ed Grant
NJ -- Ridgewood Invitational - Both NE#5, the Warwick Valley NY boys and girls teams win easily, the girls resting Aislinn Ryan and the boys running their 'B' team.
NY -- Eastern States Boys Championship - Van Cortlandt Park, NYC - Formerly SE-ranked Oakton VA boys topped a field that included SE#3 Jefferson VA and NE#9 Cardinal O'Hara PA , while Georgetown Prep's Steve Duplinsky had an impressive win. Unranked Pope John NJ won the Fordham Eastern States girls A race over SE#2 Oakton, 59-82.
RI -- Brown University Invitational -

E#2/US#5 Christian Brothers NJ boys (70) over NE#5 Saratoga Springs NY (132). NE#1/US#2 Saratoga Springs NY girls (43) win over NE#9 Bay Shore NY (119). Near dead heat between Steve Murdock, Saratoga 15:53.4 and Kevin Gill, Brockton MA 15:54. Lindsey Ferguson 18:14 and Hannah Davidson 18:41 lead Saratoga to 1-2-6-12-22 finish.

Murdock and Gill battle through the puddles and mud as the East endures a week long deluge.
photo by Garrett Meade / TrakShots
2
SOUTHEAST
- AL, DE, FL, GA, MD, NC, SC, KY, TN, VA, WV, DC, PR
Southeast Report #6 - By Regional Editor Ben Ackerly
AL -- Husky Challenge - Three ranked Alabama girls teams clashed with SE#8 Mountain Brook (34) taking SE#6 Scottsboro (51) and SE#7 Hoover (61). Scottsboro's Lacey Wright (18:13) is first overall. SE#8 Hoover AL boys nip formerly ranked Smiths Station AL 44-46 with Bill Matthews of Mountain Brook the fastest at 15:41.
FL -- Holy Trinity Classic - Decisive wins for SE#1 Episcopal FL girls and the SE#5 host Trinity boys. Freshman phenom Ashley Brasovan continues to dominate in 17:37..
GA -- Coach Wood Invitational - Gainesville, GA - Big winners are formerly ranked Parkview GA boys and Abby Self of Grayson in the girls race despite a fall.
SC -- Tri-County Classic - Anderson
3 SOUTH - AR, LA, MS, OK, TX
South Roundup #8 - by Regional Editor John Sullivan.
AR -- Chili Pepper Festival - HL#5 Potosi MO boys (76) over SO#6 The Woodlands TX (111). Daniel Gerber 15:21 (5k) of The Woodlands beats Josh Mathis, Potosi and

Dan Roberts

, Crested Butte by 9 seconds. Cheryl Spring 18:15 (5k) leads SO#3 The Woodlands TX girls (52) over SO#9 Tupelo MS (90). Recap by John Sullivan - FULL RESULTS


| | |
| --- | --- |
| The Woodlands' Daniel Gerber | The Woodlands' Cheryl Spring |
| | |

Photos Courtesy of John Sullivan

Read Daniel Gerber's latest blogger entry,
with highlights from his victory - CLICK HERE
Midwest Report #6 - By Regional Editor Scott Bush

MI --

Richard Invitational - MW#8 Dexter boys top formerly ranked Pinckney, 40-69.
IL -- Peoria Heights -- Detweiller -

Katelyn Bastert

, Carthage IL, blasts course record (3.0M) 16:32, beating Pauline Garcia's 16:48. See story here.
IL -- Illinois Conferences
NTN regional rankings - Week 5
Fifth in-season update, based on results through Oct 8. Rankings are updated weekly. Only five changes this week in the top two teams in each region. Teams are shown as clubs because the runners at NTN will compete as clubs rather than schools.
Northeast | Southeast | South | Midwest |
Heartland | Southwest | Northwest | California |
How the rankings process works. - NTN home page
Top two teams in each region are shown below. If the season ended today, these teams would be invited to run at Nike Team Nationals in Portland Dec. 3. Four at large teams are also invited, making fields of 20 boys teams and 20 girls.
BOYS

GIRLS

NE 1 Manlius XC Club Manlius NY
NE 2 Brothers XC Club Lincroft NJ *

NE 1 Saratoga XC Club Saratoga Springs
NE 2 Hilton XC Club Hilton NY

SE 1 Chapel Hill XC Club Chapel Hill NC
SE 2 St. X XC Club Louisville KY

SE 1 Episcopal XC Club Jacksonville FL
SE 2 Vienna XC Club Vienna VA *

SO 1 King XC Club Corpus Christi TX
SO 2 Flower Mound XC Club TX


SO 1 Carroll XC Club Southlake TX
SO 2 Kingwood XC Club Kingwood TX

MW 1 Elmhurst XC Club Elmhurst IL
MW 2 Warren XC Club Indianapolis IN

MW 1 Clarkston XC Club Clarkston MI
MW 2 Waukesha XC Club Waukesha WI

HL 1 Liberty XC Club Liberty MO
HL 2 Yankton XC Club Yankton SD

HL 1 Yankton XC Club Yankton SD
HL 2 Lakeville XC Club Lakeville MN

SW 1 Fort Collins XC Club Fort Collins CO
SW 2 Mountain View XC Club Orem UT

SW 1 Plain City XC Club Plain City UT
SW 2 Rocky Mountain XC Club Fort Collins

NW 1 Mead XC Club Spokane WA
NW 2 Catholic XC Club Portland OR

NW 1 Harbor XC Club Gig Harbor WA
NW 2 Boise XC Club Boise ID

CA 1 Simi Valley XC Club
CA 2 Carmichael XC Club

CA 1 Newport XC Club Newport Beach *
CA 2 Clovis XC Club Clovis *

* = new ranking this week
Harrier Super 25 #2
Fayetteville-Manlius, Corona del Mar take over #1 ranking
Smashing victories at the Manhattan Invitational and the Clovis Invitational propelled Fayetteville-Manlius NY boys and Corona del Mar CA girls to US#1 ranking over York Elmhurst IL and Saratoga Springs NY in Super 25 #2 of the 2005 season. Seventeen new teams are ranked. The rankings are produced by Marc Bloom, now in his 30th year publishing The Harrier. Rankings are based on results through Oct. 8.
US#1 - Corona Del Mar


- Courtesy of Bill Leung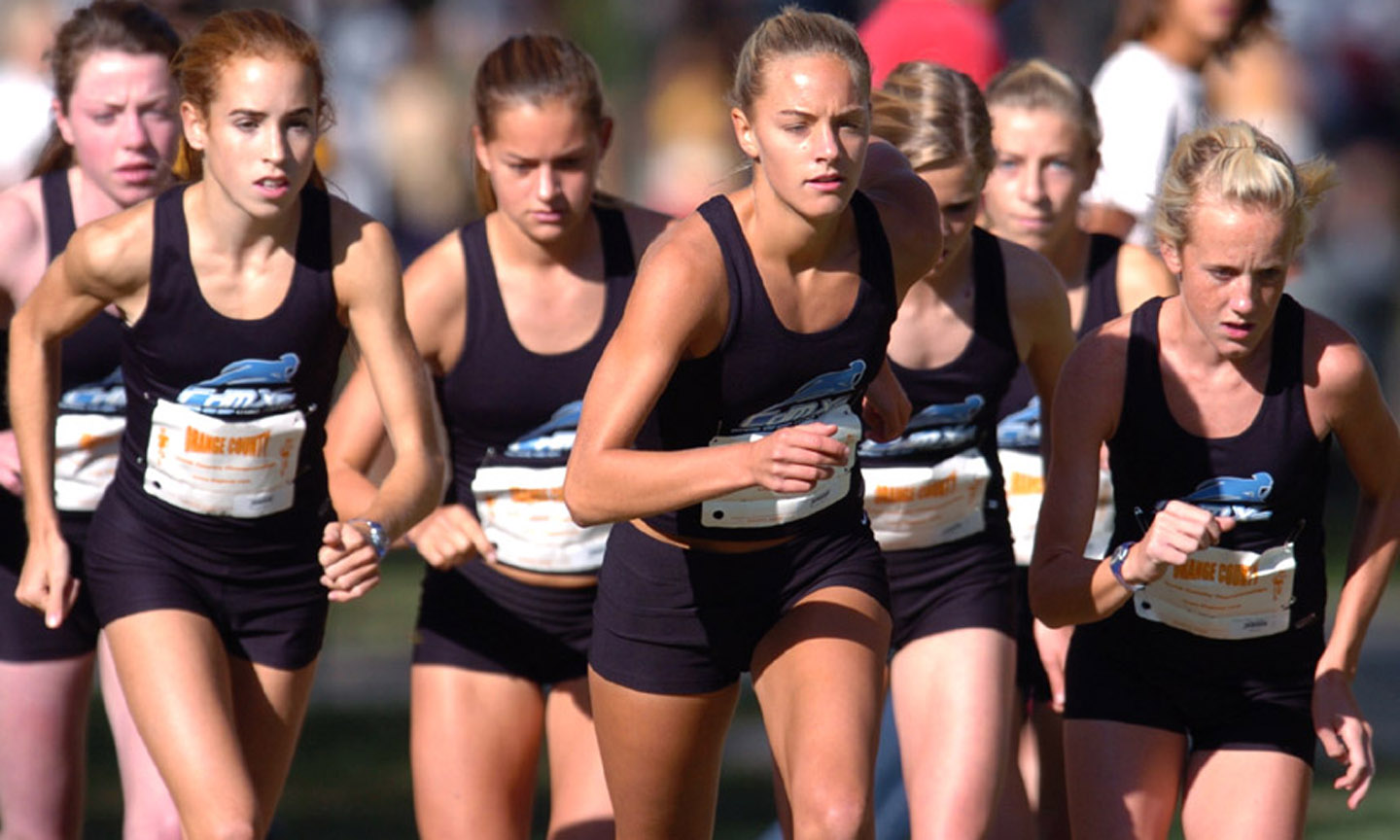 BOYS

GIRLS

1 Fayetteville Manlius NY
2 York Elmhurst IL
3 Royal Simi Valley CA
4 Mead Spokane WA
5 Christian Brothers Lincroft NJ
6 Fort Collins Fort Collins CO
7 Mountain View Orem UT
8 Morris Hills Rockaway NJ
9 Central Catholic Portland OR
10 Albuquerque Academy NM
1 Corona del Mar Newport Beach CA
2 Saratoga Springs NY
3 Fremont Plain City UT
4 Clarkston Clarkston MI
5 Rocky Mountain Fort Collins CO
6 Buchanan Clovis CA
7 Yankton Yankton SD
8 Hilton Hilton NY
9 Carroll Southlake TX
10 Eldorado Albuquerque NM
the road to Portland - first in a series
Teams all over the US are striving for an invitation to the 2nd Nike Team Nationals in Portland OR December 3, 2005. DyeStat looks in on some of these teams to describe the quest. First, Oakton High School, Vienna VA.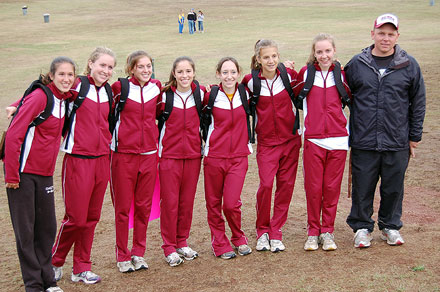 Oakton VA girls have unfinished business - atoning for last year's "disaster" at state meet that cost them a trip to NTN. They have an Olympic training partner (Alan Webb) because Oakton coach Scott Raczko still coaches his former high school star. Raczko juggles world travel for Webb with responsibilities to the Oakton girls because he still loves coaching high school. Raczko doesn't like the girls to think about NTN yet because "It's still early," but he thinks the team will be very strong by the end of the season. Story by Ben Ackerly, SE regional editor.
Foot Locker - NTN qualifying issue is up in the air
Last year, with the Nike Team Nationals and the Foot Locker West regional running on the same day, a procedure was worked out whereby the top two individuals at NTN from each Foot Locker region would qualify for the Foot Locker national finals the following week. This increased the Foot Locker fields from eight per region to 10. Whether this procedure will be in place again this year is unknown. DyeStat talked to both Foot Locker and Nike and confirmed that the issue is being discussed, but neither company would disclose the options that are on the table.

DyeStat uses Hy-Tek
for meet results
ShopDyeStat


unique items
for the HS athlete
--Parents Guide

--Training G
uide
--Training Profiles
--Pace Calculator
--the Harrier
--HS Track 2005

Marc Bloom's distance running magazine is now in its 30th year