Click
for California news
Tell us about it
Don't forget to give us the distance of XC races so we can rank the top runners.
DyeStat Elite XC
National individual lists meeting cutoffs. See
How to Get Ranked
. First lists soon.
NTN XC
Top 10 regional team rankings updated weekly. Rankings support selection to Nike Team Nationals in Portland Dec. 3.
SUPER 25
Marc Bloom's Harrier Super 25 national cross country team rankings
2006 US Juniors
Top 10 performers born 1987 or later (eligible for World Juniors at Beijing in 2006) - by Jim Spier and John Blackburn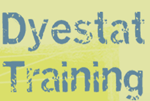 NEW
-- training logs of Bob Kennedy's US record year, Ari Lambie's 4:37 mile, Portland Central Catholic's 2005 XC preparation, and a blogger from Tyson's Army (Mead HS) jr-Taylor Nepon.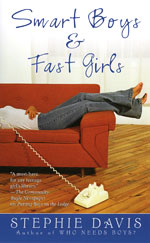 In Stephie Davis' new teen fiction book, sophomore Natalie Page is fast enough to make the varsity cross country team. Now all she needs is a smart boyfriend. Check out the fun, cute and romantic book to see how Natalie manages to get more than what she expected.
all about Manhattan -- Marc Davis Video, John Dye action photos, Don Rich story and pix, Donna on the Side, and more..
Donna on the Side
there were smiles on the sidelines despite the mud, wind and rain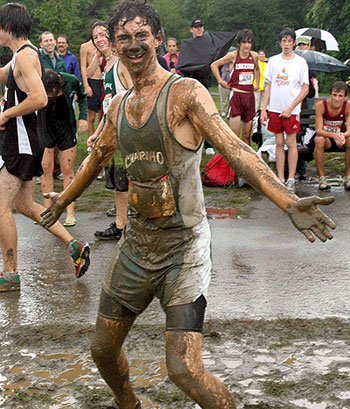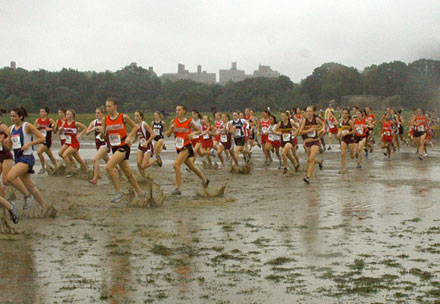 John Dye action photo albums
Boys - Fayetteville-Manlius repeated with another powerful performance, getting the best of Christian Brothers Academy in several matchups.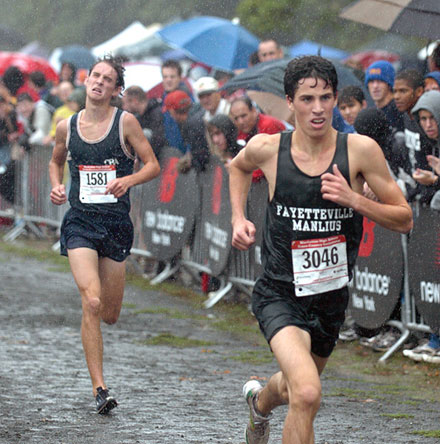 Girls - Saratoga got a scare from Hilton, but prevailed as their top end duo of Hannah Davidson and Lindsey Ferguson (below), 2nd and 3rd to Aislinn Ryan, offset distant finishes by their 4th and 5th runners.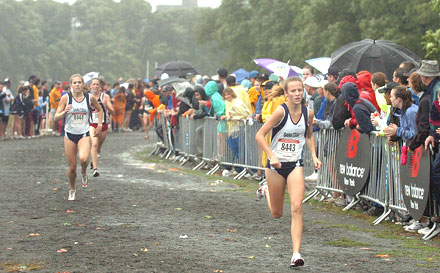 Manhattan HS XC Invitational

presented by
new balance


33rd Manhattan
Oct 8 Van Cortlandt Park, New York City

DyeStat on-site with John & Donna Dye,
Marc Davis and Don Rich
Marc Davis Videos - see the victories by Aislinn Ryan, Fayetteville-Manlius, Saratoga, Justin Barbour, and Ben Massam
Don Rich story - NOT THE SAME FAYETTEVILLE-MANLIUS. MAYBE EVEN BETTER.
Donna on the Side - scenes from the sidelines on a muddy, wet, windy day
Saratoga girls win a close one.
Fayetteville-Manlius boys win decisively.
Aislinn Ryan dominates.
Justin Harbour is fastest boy.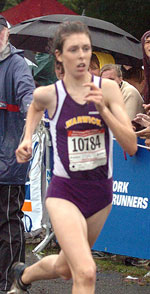 Girls Eastern States - Defending Foot Locker national champion Aislinn Ryan (left, photo by John Dye ) crushes the Girls Eastern States field in 14:04, third fastest girls time ever on Van Cortlandt Park's 2.5-mile course (13:57 Nicole Blood in 2004, Erin Keough 14:02 in 1986). Ryan finished 39 seconds in front of Saratoga's first two -- Hannah Davidson 14:43 and Lindsey Ferguson 14:46. Considering the driving rain conditions, it may have been the greatest girls performance ever at Van Cortlandt Park.
Before the race, there was speculation that US#1 NE#1 Saratoga, winner of this meet 5 straight years, might be vulnerable. The results proved this is true, but the mighty Toga squad prevailed over NE#2 Hilton NY 133-147, with six more teams scoring within 100 points (Suffern NY 193, Warwick Valley NY 205, Eleanor Roosevelt MD 205,, Colts Neck NJ 212, Bronxville NY 213, and Fayetteville-Manlius NY 232.). Saratoga's spread of 1:38 (2-3-26-48-54) was the widest in years and Hilton's fifth girl finished ahead of Saratoga's fourth, but Saratoga's top end duo was enough to carry the day for the defending champs. Hilton (4-17-38-41-47) was led by Amanda Griggs 14:47 in fourth place.
Boys
Race C - NE#1 US#2 Fayetteville Manlius didn't duplicate last year's amazing 1-5 finish, but they still dominated with 36 points (3-5-6-9-14) over NE#5 Christian Brothers Academy NJ 67 and NE#3 Morris Hills NJ 74. Individual winner was Justin Harbour , of Flagler Palm Beach FL, in 12:35, fastest time of the day.
Race B - Matt Leeder, Thousand Islands Canada, 12:41. Liverpool NY 57, Queensbury NY 85.
Race D - Tom Webb 12:53 and NE#7 Bishop Hendricken RI 56 (Shenendehowa 58).
Race E - NE#2 Saratoga Springs NY 36, with Steve Murdock 13:01 and Greg Kelsey 13:05 finishing 1-2.
Race F - NE#4 Warwick Valley NY 58. Ben Massam, Chatham NJ 12:48.
Best average team times -- Fayetteville-Manlius NY 12:57, CBA NJ 13:12, Morris Hills NJ 13:13, Liverpool NY 13:23, Warwick Valley NY 13:23, Saratoga Springs NY 13:25, and Bishop Hendricken RI 13:31.
1
NORTHEAST
- CT, MA, ME, NH, NJ, NY, PA, RI, VT
2
SOUTHEAST
- AL, DE, FL, GA, MD, NC, SC, KY, TN, VA, WV, DC, PR
3 SOUTH - AR, LA, MS, OK, TX
South Roundup #7 - by Regional Editor John Sullivan.
AR -- Lake Hamilton Invite - Russellville boys and Bryant girls both win.
MS -- Watson Quality Ford Invitational - Tupelo boys (HL#9) and Tupelo girls (HL#9) both dominate.
LA -- Catholic High Invitational - Highland Park, Baton Rouge
TX -- Humble Invitational - Duncan Phillips runs 15:13 for 5k, but SO#5 A&M Consolidated boys lose to SO#4 Cinco Ranch.

Danielle Selner

leads SO#2/US#9 Kingwood girls over SO#6 Clear Lake.
Southwest Report #6 - by Steve Lurie
AZ -- George Young Invitational - Mesa Mountain View won the boys and girls divisions.
AZ -- Sandra Day O'Connor/Ken Denson Invitational - O'Connor packs all 7 runners into the first 15 places to win
CO -- Centerra Invitational - SW#1/US#7 Fort Collins boys and SW#2/US#16 Rocky Mountain girls prove their worth. Mohamud Ige (Denver South) runs a new course record, while Danielle Parry (Rocky Mountain) holds off Keara Sammons (Smoky Hill). Full Results In.



Girls Team Champions - Rocky Mountain High School


- photo by Kevin Follett

CO -- Chris Severy Invitational - Dakota Ridge HS was a runaway winner in both the girls and the boys races.
CO -- Windjammer - Englewood HS.
NM -- Coaches Rankings - Week #6 Rankings
See all the news of the Golden State on DyeStatCal, by Rich Gonzalez and Doug Speck.
Clovis Invitational - CA#2 Corona del Mar 36 routs CA#1 Buchanan 66 with 18:16 5k average, best ever at Woodward Park, Fresno, home of the California state meet. King and queen of the meet below were individual winners Marie Lawrence 17:18 and Michael Cybulski 15:20. CA#2 Jesuit boys edge shorthanded CA#1 Royal 94-99. Results - DyeStatCal coverage
Girls Champion - Mel Lawrence with Boys Champion - Michael Cybulski
- photo by Rich Gonzalez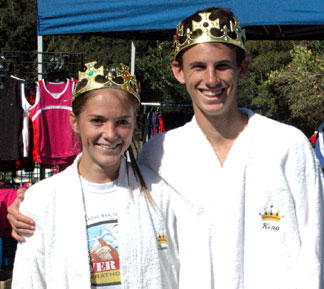 Foot Locker - NTN qualifying issue is up in the air
Last year, with the Nike Team Nationals and the Foot Locker West regional running on the same day, a procedure was worked out whereby the top two individuals at NTN from each Foot Locker region would qualify for the Foot Locker national finals the following week. This increased the Foot Locker fields from eight per region to 10. Whether this procedure will be in place again this year is unknown. DyeStat talked to both Foot Locker and Nike and confirmed that the issue is being discussed, but neither company would disclose the options that are on the table.

DyeStat uses Hy-Tek
for meet results
ShopDyeStat


unique items
for the HS athlete
--Parents Guide

--Training G
uide
--Training Profiles
--Pace Calculator
--the Harrier
--HS Track 2005

Marc Bloom's distance running magazine is now in its 30th year