Click
for California news
Tell us about it
Don't forget to give us the distance of XC races so we can rank the top runners.
DyeStat Elite XC
National individual lists meeting cutoffs. See
How to Get Ranked
. First lists soon.
NTN XC
Top 10 regional team rankings updated weekly. Rankings support selection to Nike Team Nationals in Portland Dec. 3.
SUPER 25
Marc Bloom's Harrier Super 25 national cross country team rankings
2006 US Juniors
Top 10 performers born 1987 or later (eligible for World Juniors at Beijing in 2006) - by Jim Spier and John Blackburn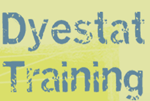 Training logs of Bob Kennedy's US record year, and Ari Lambie's 4:37 mile. Plus Central Catholic OR 2005 XC preparation, Daniel Gerber of SO#6 The Woodlands, and from Tyson's Army (Mead WA), Taylor Nepon.
Jeff Arbogast's
Championship Cross Country
3 tapes covering the 4-season approach, strength training, and race form and tactics.
"Best I've seen," says Tony Bozarth
"Wait A Minute, Did You Say Alaska?"
6 weeks after winning their 2nd straight State meet title, West Valley Fairbanks AK girls are hoping they get one of the elusive at-large bids to the NTN Champs. So you think you're tough? Try training in sub-freezing temperatures in October!
DyeStat Elite - 3,181 performances now
Cross Country list #4 has 3,181 national ranking performances, an increase of 747 since last week. Nov 9 lists.- Boys - Girls
Carroll Southlake TX pole vaulter Kirsten Keith proudly wears her Oklahoma shirt after signing to head north for college. The early signing period is Nov 9-16. Send choices information to

[email protected]

. Provide the name of the athlete, school, state, event, college of choice, and relationship to the athlete (athlete himself, coach, media, family, etc).
21 state meets! DyeStat on-site at Michigan State Meet with SteveU sees MW#1 Clarkston girls hold off MW#9 Okemos. Central Catholic boys set new State meet record low score of 23 points, while Jesuit girls move into NW#1 with their victory at the Oregon State Meet (with video!). Craig Miller wins in 15:30 in PA; his team falls by a point. MN girls record broken twice in same day by Liz Yetzer 14:00 4k and Bria Wetsch 13:55. Jack Bolas 15:33 5k beats Sandy Roberts 15:39 and that point gives

SE#1 Chapel Hill

the NC 4A title. MW#6 LaSalle Cincinnati boys romp by 66 points and Bridget Franek runs 17:34 in OH.

MW#1 York

boys roll by 83 in IL. In South Dakota,

Betsy Bies

, SD State Champ, rips a 16:59 for her first 5k cross race of the season (full results).
Record setting runs in state meets

Minnesota

- Liz Yetzer and Bria Wetsch
U. Minnesota recruit Liz Yetzer (below left) won her second straight AA title in 14:00 4k, breaking Carrie Tollefson's state record by 9 seconds, only to have Oregon recruit Bria Wetsch (below right) take the record down moments later in the class A race with a time of 13:55. photos by Louis Leblanc

Pennsylvania

- Liz Costello and Craig Miller


Liz Costello 18:18 (18:37 by Frances Koons in 2003)

photos by Don Rich / PennTrackXC/Milesplit


Craig Miller 15:30, breaking his own course record set last week in 20 degrees cooler weather.
1
NORTHEAST
- CT, MA, ME, NH, NJ, NY, PA, RI, VT
Northeast Report #9 - By Regional Editor Don Rich
New Jersey Roundup 11/2 by Ed Grant
CT -- Connecticut Open Championships - Results Posted
Boys - Newton 109 (Amity 119). Guilford sr Jay Koloseus 15:33 5k, winning by 16 seconds.
Girls - Ridgefield 108. Lyman jr Kelly Sorrell 15:13 4k; while Kristin Mitchell runs 15:15 for second place.
MA -- MSTCA Coaches Invitational - Results Posted Fastest of day at Wrentham Park are Triton soph Keely Maguire 18:37 5k and Hopedale sr Thompson Ogilvie 15:46.
NH -- New Hampshire Meet of Champions - Mine Falls, Nashua - Ashley Morgenstern (18:26) over Georgia Griffin (18:34), but Griffin's Hanover girls win with 66. Ditto with boys: John Schroeder over Alex Hall, 15:27-15:41, but Hall's Manchester Central wins boys race.
NJ -- New Jersey sectionals - PREVIEW by Ed Grant
NY -- NYSPHSAA (public school) Sections
PA -- Pennsylvania State Meet - Hershey - RESULTS by Regional Editor Don Rich. Craig Miller wins AAA boys in 15:30, but his Manheim Township falls by a point to West Chester East. NE#7 Coatesville 4th. AAA victories to Liz Costello CR 18:18 and Greater Latrobe; NE#10 Chambersburg 3rd.
RI -- Rhode Island State Meet - Ponaganset Park - Coventry prevails in tight girls race, Samatha Garwych takes indiv. title (19:11). Tom Webb (15:34) and Bishop Hendricken boys roll to huge victories.
2
SOUTHEAST
- AL, DE, FL, GA, MD, NC, SC, KY, TN, VA, WV, DC, PR
Southeast Report #9 - By Regional Editor Ben Ackerly
DC -- DCIAA Championships - Woodrow Wilson sweeps both boys and girls titles. Individual champs: Ballou's Andria Smallwood and H.D. Woodson's Camron Thomas.
DE -- New Castle County Championships - SE#3 Tatnall girls 39 (Padua Academy 66) put 4 in top 8. Brandywine sr Anna Broussell 18:12 and Tatnall jr Brian Sklodowski 15:33 are individual winners, with Sklodowski leading Tatnall 71 over Salesianum 75.
GA -- Georgia State Meet - Carrollton HS - Emily Reese wins 4A girls when Emily Borsare collapses; Jackie Drouin (18:30) fastest of the day in 5A, leading SE#7 Collins Hill girls to romp. Parkview tops SE#7 Walton boys in 5A.
NC -- North Carolina State Meet - Results Posted

Jack Bolas

15:33 5k beats Sandy Roberts 15:39 again and that point gives SE#1 Chapel Hill the 4A title over Pinecrest, 69-70.
SC -- South Carolina State Meet - Results Posted Spring Valley sr Kate Niehaus 18:21 5k repeats. Fastest boy is J.L. Mann jr Chris Scanlon 15:51. 4A Northwestern boys and Mauldin girls post top sets of times.
TN -- Tennessee State Meet - Percy Warner Park, Nashville - Best of the day: McCallie boys in D2, Morristown West girls in AAA. Bolton sr. Rob Sorrell (15:23), Independence fr. Kathy Kroeger (course record 17:32)
VA -- Virginia regional
3 SOUTH - AR, LA, MS, OK, TX
South Roundup #11 - by Regional Editor John Sullivan
AR -- Arkansas State Meet - Rogers over Fayetteville in both boys and girls in the 5A Division.
MS -- Mississippi State Meet - SO#10 Tupelo boys captured their 5th straight title. SO#7 Tupelo girls also struck gold for the 5th straight year.
TX -- Texas Regionals - All the powerhouse Texas teams make the state finals, with the exception of SO#9 Marcus and SO#8 Lake Highlands boys. SO#7 Del Rio boys upset SO#1/US#18 Corpus Christi King. Top time by Duncan Phillips (A&M Consolidated) 15:28 (5k). In the girls races, all the big teams made it through to states. Top times include: Britney Green and

Nicole Jones

(both of Westfield) at 11:01 & 11:04,

Carlene Mayfield

(Keller) and Danielle Selner (Humble) both running 11:08 respectively (2 miles).
Midwest Report #9 - By Regional Editor Scott Bush
IL -- Illinois State Meet - Peoria - MW#1 York boys 49 roll over Palatine 132 in AA. MW#6 Glenbard South just 6th, MW#9 St. Charles North 3rd. Naperville North surprises in girls AA over MW#3 Palatine (3rd). Fastest of the day (3M): Jeremy Stevens 14:18,

Lauren Haberkorn

16:51.
OH -- Ohio State Meet - MW#6 LaSalle Cincinnati boys 74 romp by 66 points. MW#8 Bowling Green girls 78 (MW#7 Jackson Massillon 102). Fastest of day are Mantua Crestwood sr Bridget Franek 17:34 5k and Springboro sr Chad Balyo 15:32.
MN -- Minnesota State Meet - Bria Wetsch wins Class A title. Girls record broken twice in same day by Liz Yetzer 13:59 4k and Bria Wetsch 13:54. Yetzer leads HL#2 Lakeville North to AA title; HL#5 Apple Valley finishes 3rd behind Roseville. HL#3 Willmar boys win over HL#10 Stillwater, while HL#8 Eden Prairie finishes 5th in the AA title.
MO -- Missouri State Meet - Blue Springs girls over Eureka in the 4A Division, while HL#9 Jefferson and HL#10 Lee's Summit North manage only 4th and 5th place. HL#6 Fort Zumalt South boys upset win over HL#1 Liberty, Blue Springs, and SLUH in the Class 4 Division. HL#5 Potosi boys win Class 3 title.
AZ -- Arizona State Meet - SW#5 Page boys win 4A Division II, and Desert Vista boys win 5A Division I. Craig Curley (St. Michael's) is the upset winner over Tolan Thornton (Northland Prep) and pre-race favorite Weston Jones (Red Mesa). Kari Hardt (Queen Creek) has fastest time of the day (18:42) in the girls 4A Division II, while Tara Erdmann (Flowing Wells HS) runs 2nd fastest (19:11) in 5A Division II.
NM -- New Mexico State Meet - Gallup boys win 5A, while SW#4 ABQ Academy boys hold off the 1-2 punch of Ryan McNiff and Simon Gilna (Los Alamos) to win the 4A. Vanessa Ortiz (Cibola High School) runs 18:29 (fastest time of the day) to win the 5A crown. ABQ Academy girls dominate the 4A title with 20 points. Irena Ossola (St. Michael's High School) and her teammate Tess Amer run the exact time (18:42) placing 1-2 in the 3A division. SW#9 St Michael's girls win the 3A Division. Gallup girls upset SW#4 Eldorado in the 5A Division.
NV -- Nevada State Meet - Marie "Mel" Lawrence of SW#7 Reno HS rules the day in the 4A Division. In fact out of the 162 boys who ran in all 3 divisions, only 31 of them ran faster than her!
Northwest Report #8 - by Regional Editor John Gillespie
OR -- Oregon State Meet - Dyestat On-Site Video with Marc Davis from the Video Vault. NW#2 Central Catholic boys and NW#4 Jesuit girls dominate the team titles, while Kenny Klotz (CC) wins second straight state title over rival (and future teammate at the University of Oregon) Isaac Stoutenburgh (Crater). VIDEO IS UP!!!!
WA -- Washington State Meet - NW#5 Ferris boys upset NW#1 Mead, while NW#6 Tahoma ends up 3rd in the 4A Division. NW#1 Gig Harbor girls win over Mt Spokane in the 4A. NW#7 Jefferson finishes 3rd overall, while NW#8 Snohomish ends up in 4th. NW#8 Sehome boys win 3A title. Jeff Helmer (Henry Jackson) wins the 4A Division in 15:40. (SEE THE VIDEO OF HELMER'S RACE)
First 16 NTN bids made
Nov 6 - The first 16 cross country teams were selected today for the Nike Team Nationals to be held December 3rd in Portland OR. Invitations went to the top two boys and girls teams in the Midwest, Heartland, Southwest and Northwest regions as shown below. Remaining teams will be selected over the next 3 weeks, with two automatic bids per region and four national at large selections.
NTN Invitations

1. Elmhurst XC Club IL *
2. Warren XC Club IN *
1. Clarkston XC Club MI ***
2. Westfield XC Club IN *
3. Naperville XC Club IL *
1. Yankton XC Club SD *
2. Willmar XC Club MN *
1. Yankton XC Club SD *
2. Lakeville XC Club MN *
1. Fort Collins XC Club CO *
2. Mountain View XC Club UT *
1. Plain City XC Club UT *
2. Boulder Area XC Club CO *
1. Catholic XC Club OR *
2. Ferris XC Club WA *
1. Jesuit XC Club OR *
2. Harbor XC Club WA *

* = accepted --- *** = declined due to state restrictions

steveu's Foot Locker update Nov 4
Steve Underwood updates his analysis of Foot Locker contenders.
National - Craig Miller (PA) and Diego Mercado (CA) crowd A.J. Acosta (CA). Super girls competition makes it a crap shoot after the first four -- Ryan, Lawrence, Yetzer and Sammons.
Midwest - Brock Hagerman (IN) moves into #2 behind Mohamud Ige (CO) after winning state title but this is a mysterious region. Betsy Bies (SD) moves up behind Elizabeth Yetzer MN and Keara Sammons (CO), while awaiting state meets to sort out other contenders.
Northeast - Ben Massam (NJ) moves up to #2. Girls competition is "terrifying" with sub-18:00 girls on the outside looking in.
South - Roberts, Bolas, Eaton and Harbor still the big four boys. Can young girls Brasovan and Scott top savvy seniors Niehaus, Borsare, Upshaw and Parrish?
West - Mt. SAC results govern boys list so far, with state meets coming up elsewhere. Megan O'Reilly, Jordan Hasay, and Kari Hardt move up in girls list.
NTN regional rankings - Week 8
4 regions will get automatic bids Sunday Nov 6
Eighth edition of the in-season lists. Based on results through Oct 29
Northeast | Southeast | South | Midwest |
Heartland | Southwest | Northwest | California |
How the rankings process works. - NTN home page

First SELECTION SUNDAY is Nov 6 - After evaluation of Saturday's state meets, the top two teams in the Midwest, Heartland, Southwest, and Northwest regions will be invited to run at Nike Team Nationals in Portland Dec. 3. Other regions will be picked after their state meets end later in November, and four national at large teams will also be invited, making fields of 20 boys teams and 20 girls.

Teams are shown as clubs because the runners at NTN will compete as clubs rather than schools. There are two new teams ranked top 2 in their region this week -- Westfield XC Club IN and Boulder Area XC Club CO (students from Fairview HS). Top two teams in each region this week are:
BOYS

GIRLS

NE 1 Manlius XC Club Manlius NY
NE 2 Brothers XC Club Lincroft NJ

NE 1 Saratoga XC Club Saratoga Springs
NE 2 Hilton XC Club Hilton NY

SE 1 Chapel Hill XC Club Chapel Hill NC
SE 2 St. X XC Club Louisville KY

SE 1 Episcopal XC Club Jacksonville FL
SE 2 Greenbelt XC Club Greenbelt MD

SO 1 King XC Club Corpus Christi TX
SO 2 Flower Mound XC Club TX


SO 1 Carroll XC Club Southlake TX
SO 2 Kingwood XC Club Kingwood TX

MW 1 Elmhurst XC Club Elmhurst IL
MW 2 Warren XC Club Indianapolis IN

MW 1 Clarkston XC Club Clarkston MI
MW 2 Westfield XC Club Westfield IN *

HL 1 Liberty XC Club Liberty MO
HL 2 Yankton XC Club Yankton SD

HL 1 Yankton XC Club Yankton SD
HL 2 Lakeville XC Club Lakeville MN

SW 1 Fort Collins XC Club Fort Collins CO
SW 2 Mountain View XC Club Orem UT

SW 1 Plain City XC Club Plain City UT
SW 2 Boulder Area XC Club CO *

NW 1 Mead XC Club Spokane WA
NW 2 Catholic XC Club Portland OR

NW 1 Harbor XC Club Gig Harbor WA
NW 2 Boise XC Club Boise ID

CA 1 Simi Valley XC Club
CA 2 Carmichael XC Club

CA 1 Newport XC Club Newport Beach
CA 2 Central Valley XC Club Clovis

* = new ranking this week
Harrier Super 25 #3


Fayetteville-Manlius boys

&

Corona del Mar girls still #1


Stability at the Top

- The top five boys teams, led by Fayetteville-Manlius NY, and top three girls teams, led by Corona del Mar CA, remain the same. Three new boys teams and seven girls teams crack the Super 25; which

are produced by Marc Bloom, now in his 30th year publishing The Harrier.
Rankings are based on results received through Oct. 30
27th running of National Cross Country Individual Championships
Dec 10 - Balboa Park - San Diego

Schedules, returning runners, & prior years

steveu's Foot locker - rankings and analysis of the top contenders in the regionals and national finals by senior editor Stephen (steveu) Underwood - Warning: strictly for DyeStataholics and Distance Nuts
Oct 27 update - Stellar showings by Marie Lawrence (NV), Jordan Hasay (CA), New Jersey girls, Diego Mercado (CA), Ben Sitler (CA), Michael Eaton (KY), Brock Hagerman (IN)

New Foot Locker Qualifying Procedure
Top 2 West region runners at NTN qualify for San Diego.
Other 3 regions expanded to 10 qualifiers.
Announcements by Foot Locker and Nike resolve schedule conflict between Foot Locker West region and Nike Team Nationals. Announcements

DyeStat uses Hy-Tek
for meet results
ShopDyeStat


unique items
for the HS athlete
--Parents Guide

--Training G
uide
--Training Profiles
--Pace Calculator
--the Harrier
--HS Track 2005

Marc Bloom's distance running magazine is now in its 30th year