Click
for California news
Tell us about it
Don't forget to give us the distance of XC races so we can rank the top runners.
DyeStat Elite XC
National individual lists meeting cutoffs. See
How to Get Ranked
. First lists soon.
NTN XC
Top 10 regional team rankings updated weekly. Rankings support selection to Nike Team Nationals in Portland Dec. 3.
SUPER 25
Marc Bloom's Harrier Super 25 national cross country team rankings
2006 US Juniors
Top 10 performers born 1987 or later (eligible for World Juniors at Beijing in 2006) - by Jim Spier and John Blackburn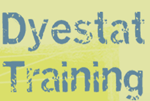 Training logs of Bob Kennedy's US record year, and Ari Lambie's 4:37 mile. Plus Central Catholic OR 2005 XC preparation,
Daniel Gerber of
SO#6 The Woodlands,
and from Tyson's Army
(Mead WA), Taylor Nepon.
Jeff Arbogast's
Championship Cross Country
3 tapes covering the 4-season approach, strength training, and race form and tactics.
"Best I've seen," says Tony Bozarth
1
NORTHEAST
- CT, MA, ME, NH, NJ, NY, PA, RI, VT
Northeast Report #11 - By Regional Editor Don Rich

MA -- Massachusetts State Meet - NE#9 Brockton

boys 58 over

Brookline

93 in D1; D2

Bromfield

fastest for girls. Freshman

Kirsten Kasper 18:29 in D1 girls; Keely Maguire 18:56 over 7th-grader Cate Costly 18:57 in D2. Mark Amirault 15:59 over Brockton's Kevin Gill 16:02 in D2 boys.
NJ -- New Jersey Meet of Champions - COMPLETE RESULTS: NE#3 Christian Brothers Academy boys rout NE#4 Morris Hills 48-100. NE#3 Roxbury girls cruise past NE#4 Colts Neck 64-100. Both winners break course records for team time at Holmdel Park. Individual races won by Craig Forys 15:34 (Ben Massam 15:46, Jeff Perrella 15:50, Owen Boyle 15:51, Kevin Rogers 15:52, Chris Horel 15:53) and Danielle Tauro 18:03 (Amanda Marino 18:13, Briana Jackucewicz 18:20, Vanessa Wright 18:24, Kristen Stevens 18:25, Lara Heigis 18:25, Ashley Higginson 18:26)


Craig Forys

Danielle Tauro

photos by Ron Crocker
NY -- New York State Federation Championships - Boys Results - Fayetteville-Manlius beats Saratoga 66-83 to avenge last week's public school state championship. NE#6 Liverpool was a distant third with 176 points followed by Queensbury 212. Individual honors went to Brian Rhodes-Devey (see photo below) 15:57. Steve Murdock 16:09, and Colin Heenan 16:15 were 2nd and 3rd respectively. Girls Results - NE#1/US#1 Saratoga 53 (Bronxville 138, Suffern 141). Defending Foot Locker National Champion Aislinn Ryan (see photo below) 18:02 is 32-sec winner over Saratoga's Lindsey Ferguson.


Brian Rhodes-Devey


Aislinn Ryan

photos by MYERSPHOTO Inc.
2
SOUTHEAST
- AL, DE, FL, GA, MD, NC, SC, KY, TN, VA, WV, DC, PR
NC -- Raleigh TC 3200m Invitational - Chapel Hill's Jack Bolas 9:12 edges Broughton Raleigh's Sandy Roberts 9:15. Chapel Hill jr Becky Johnson 11:25 wins girls race. All races are 3200 meters, run under lights on a track -- prep race for Foot Locker South Regional.
3
SOUTH
- AR, LA, MS, OK, TX
LA -- Louisiana State Meet - FULL RESULTS have Jesuit boys and Barbe girls both winning 5A titles. SO#10 Ruston girls finish 2nd in 5A. Top times include: Brett Guidry (Jesuit) 15:15 and Michaela Guidry (South Lafourche) 17:53 (3 miles).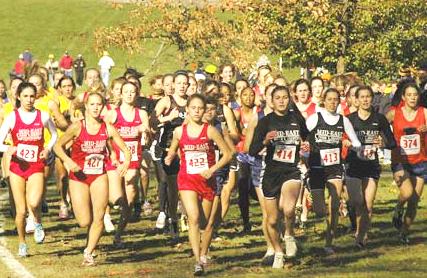 The start of the Mid-East girls race, won by Ohio and Bridget Franek (414)
Photo by Kent Graham
Mideast Championships - Results and Flash Report. Ohio rules home turf over highly motivated Illinois teams and four other states, scoring 47 boys (IL 55, PA 64) and 51 girls (IL 52, MI 67). Bridget Franek OH 18:09 pulls away at mile to beat Kellee Lemcke MI 18:24, Liz Costello PA 18:30, Sarah Foster OH 18:35. Landon Peacock MI 15:23 does the same over Brock Hagerman IN 15:34, Chad Balyo OH 15:40, Ryan Craven IL 15:44.
| | |
| --- | --- |
| | NM - AZ/NM Border War III - Results have both Vanessa Ortiz of Cibola and Matt Tebo of Eldorado setting course records. New Mexico sweeps both races. |
BorderClash

OR -- Washington-Oregon BorderClash - Kenny Klotz (OR) becomes the first repeat champion, after holding off Jerhoemee Murray (OR). Klotz fell down in the opening strides of the race, but still came back for the 13:58 victory (4450m). In the girls event, Megan O'Reilly (WA) dominated the race from start to finish; winning by 40 seconds over Jessica Pixler (15:47 to 16:26). WA sweeps both team titles.

Video Vault Footage: Boys - Girls

All the California News is on DyeStatCal
89:42 !!!
Corona del Mar girls crush Mt. SAC course
record at the CIF Southern Sectional Finals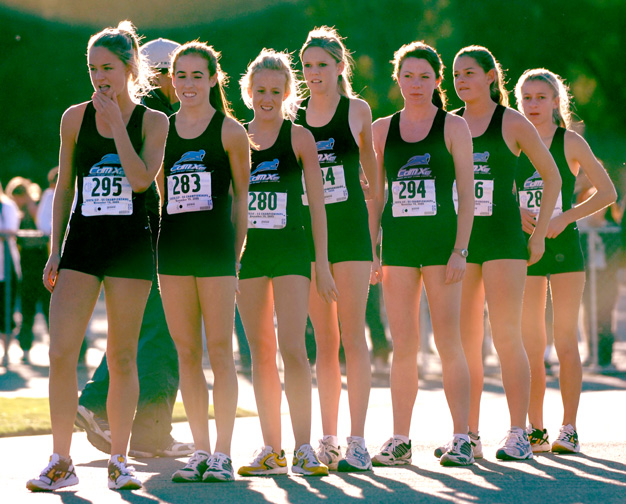 Photo by Bill Leung
DyeStat Elite - 3,683 performances now
Cross Country list #6 has 3,683 national ranking performances, as the season winds down. List #6 Nov 22 - Boys - Girls
College Choices 2006 - The 1-week NLI early signing period for the high school class of 2006 has ended. We have 336 choices by STATE and COLLEGE, plus PHOTOS. Send information on choices and photos to [email protected]. Provide the name of the athlete, school, state, event, college of choice, and relationship to the athlete (athlete himself, coach, media, family, etc).
WA-OR BorderClash VII
Complete Results - Video Vault Footage: Boys - Girls
Washington sweeps. Kenny Klotz 13:59 repeats;
Megan O'Reilly 15:48 breaks course record
Donna on the Side at BorderClash -
119 photos by Donna Dye from the sidelines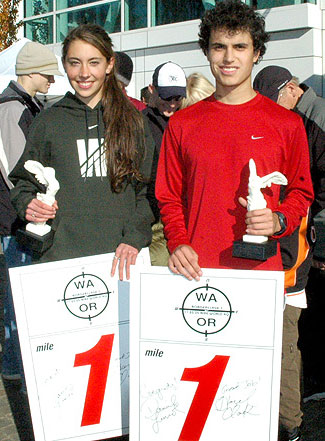 #1 placards go to individual winners Megan O'Reilly of Washington and Kenny Klotz of Oregon.
Stanford Women, Wisconsin Men
Take NCAA Titles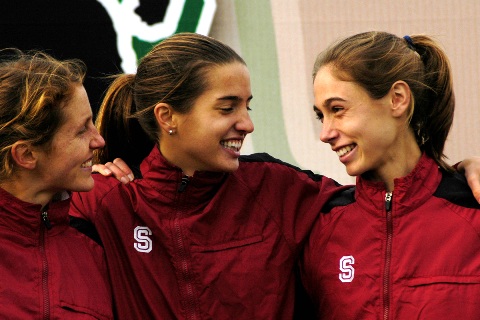 Former prep stars ("DyeStat alums") Teresa McWalters, Katie Harrington, Ari Lambie on the awards stand Monday in Terre Haute for the victorious Cardinal. Photo by Kent Graham.
27th running of National Cross Country Individual Championships
Dec 10 - Balboa Park - San Diego

Schedules, returning runners, & prior years

SteveU's Foot Locker - Nov 18 Update
The countdown begins. Steve Underwood analyzes impact of last week's meets on Foot Locker favorites as regionals loom.

Craig Miller sidelined – Pennsylvania's best chance in years for a first-ever Foot Locker National Champion will not be racing in the Northeast Regional after suffering a collapsed lung during a workout on Saturday, November 12th at Van Cortlandt Park in New York City. More from Don Rich
New Foot Locker Qualifying Procedure
Top 2 West region runners at NTN qualify for San Diego.
Other 3 regions expanded to 10 qualifiers.
Announcements by Foot Locker and Nike resolve schedule conflict between Foot Locker West region and Nike Team Nationals. Announcements
NTN Selection Sunday 3 - Northeast region automatic bids:
Boys: 1. Fayetteville-Manlius NY, 2. Christian Brothers Academy NJ
Girls: 1. Saratoga NY, 2. Hilton NY.
Thirty two teams have now accepted invitations, with eight slots remaining to be filled. Week 11 rankings come out Friday, and the California automatic bids and last two at large selections will be announced next Sunday. More
NTN Invitations

1. Manlius XC Club NY *
2. Brothers XC Club NJ *

1. Saratoga XC Club *
2. Hilton XC Club *

1. Chapel Hill XC Club NC *
2. St. X XC Club KY *

1. Greenbelt XC Club MD *
2. Episcopal XC Club FL *

1. King XC Club TX *
2. Flower Mound XC Club TX *

1. Carroll XC Club TX *
2. Kingwood XC Club TX *

1. Elmhurst XC Club IL *
2. Warren XC Club IN *

1. Clarkston XC Club MI ***
2. Westfield XC Club IN *
3. Naperville XC Club IL *

1. Yankton XC Club SD *
2. Willmar XC Club MN *

1. Yankton XC Club SD *
2. Lakeville XC Club MN *

1. Fort Collins XC Club CO *
2. Mountain View XC Club UT *

1. Plain City XC Club UT *
2. Boulder Area XC Club CO *

1. Catholic XC Club OR *
2. Ferris XC Club WA *

1. Jesuit XC Club OR *
2. Harbor XC Club WA *

Mead XC Club WA *
Rock Springs XC Club WY *

Boise XC Club ID *
Rocky Mountain XC Club CO *

* = accepted --- *** = declined due to state restrictions
NTN regional rankings - Week 10
Tenth edition of the in-season lists. Based on results through Nov 12
Northeast | Southeast | South | Midwest |
Heartland | Southwest | Northwest | California |
How the rankings process works - NTN home page
Teams are shown as clubs because the runners at NTN will compete as clubs rather than schools. The only change at the top this week was in the Northeast boys, where Saratoga was rewarded with #1 ranking after upsetting prior #1 Fayetteville-Manlius in the New York public schools state championship. The two teams face each other again tomorrow in the New York Federation championships at Bowdoin State Park with automatic bids on the line to the top two teams in the region; New Jersey will also have a say in this as NE#3 Christian Brothers Academy and NE#4 Morris Hills tangle in the New Jersey all-group Meet of Champions at Holmdel Park. Top two teams in each region this week are:
BOYS

GIRLS

NE 1 Saratoga XC Club NY *
NE 2 Manlius XC Club NY *

NE 1 Saratoga XC Club NY
NE 2 Hilton XC Club Hilton NY

SE 1 Chapel Hill XC Club Chapel Hill NC
SE 2 St. X XC Club Louisville KY

SE 1 Greenbelt XC Club Greenbelt MD
SE 2 Episcopal XC Club Jacksonville FL

SO 1 King XC Club Corpus Christi TX
SO 2 Flower Mound XC Club TX


SO 1 Carroll XC Club Southlake TX
SO 2 Kingwood XC Club Kingwood TX

MW 1 Elmhurst XC Club Elmhurst IL
MW 2 Warren XC Club Indianapolis IN

MW 1 Clarkston XC Club Clarkston MI
MW 2 Westfield XC Club Westfield IN

HL 1 Yankton XC Club Yankton SD
HL 2 Willmar XC Club Willmar MN

HL 1 Yankton XC Club Yankton SD
HL 2 Lakeville XC Club Lakeville MN

SW 1 Fort Collins XC Club Fort Collins CO
SW 2 Mountain View XC Club Orem UT

SW 1 Plain City XC Club Plain City UT
SW 2 Boulder Area XC Club CO *

NW 1 Catholic XC Club Portland OR
NW 2 Mead XC Club Spokane WA

NW 1 Jesuit XC Club Portland OR
NW 2 Harbor XC Club Gig Harbor WA

CA 1 Simi Valley XC Club
CA 2 Carmichael XC Club

CA 1 Newport XC Club Newport Beach
CA 2 Central Valley XC Club Clovis

* = new ranking this week
12 more teams invited
on Selection Sunday II
Boys - Chapel Hill (NC), St. Xavier (KY),
King (TX), Flower Mound (TX), Mead (WA),
& Rock Springs (WY)
Girls - Greenbelt (MD), Episcopal (FL),
Carroll (TX), Kingwood (TX), Boise (ID),
& Rocky Mountain (CO)

Nov 13 - These selections are based on results through Nov. 12th. California and Northeast Automatic Bids, plus the remaining 2 at-large bids will be made after California and Northeast regions finish their seasons.
NTN Selection Sunday I - Nov 6 - The first 16 cross country teams were selected from the Midwest, Heartland, Southwest and Northwest.
Sugar Bowl meet is on.......
Despite Hurricane Katrina damage to Tad Gormley Stadium in New Orleans, the Nokia Sugar Bowl Classic will still run March 24-25 as scheduled. Meet manager Mike Corn said stadium officials have assured him repairs can be completed in time for the meet.
Contact Mike Corn for information.

DyeStat uses Hy-Tek
for meet results
ShopDyeStat


unique items
for the HS athlete
--Parents Guide

--Training G
uide
--Training Profiles
--Pace Calculator
--the Harrier
--HS Track 2005
Marc Bloom's distance running magazine is now in its 30th year