the hottest meet in HS track -- virtually.
DETAILS
now on sale ...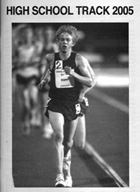 Want to know who has the all time record in the 4xMile relay? Or the freshman record in high jump? You need Jack Shepard's HIGH SCHOOL TRACK 2005. "I never leave home without it," says John Dye.
ShopDyeStat


unique items
for the HS athlete
--Parents Guide

--Training G
uide
--Training Profiles
--Pace Calculator
--the Harrier
--HS Track 2005
Stat of the Week - John Sullivan is a track nut who can't get enough track stats. He cranks out lists for his own amusement -- and now he can amuse you as well. This week, a double feature:
Boys sub-9:00 3200m by state - Girls sub-4:50 1600m by state
Don't read these if you are anti-California. The Golden State claims one third of both lists.
THIS WEEK
News items posted to DyeStat in the week ending May 26
Alphabetical by state.
AK -- Alaska State Meet - West Valley HS
CA DyeStatCal

-

all the news of the Golden State as the road to the State Meet starts.
CA San Ramon jr David Klech 36.0h 300H. Klech also also goes 14.3 in HH, 6-6 in HJ and 22-6 in LJ in NCS Tri-Valley finals. photo by Chuck Woolridge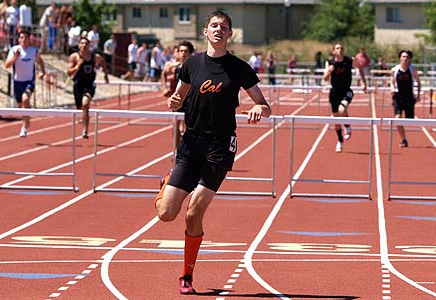 CA Los Angeles City prelims - Taft Woodland Hills jr Jamere Holland doubles 10.38 +2.0 100m, improving on his US#1 ranking, and 21.11 +1.2 200m, US#2 by 0.01, and then his team suffers double DQ in 4x100 (out of lane) and 4x400 (mismatched uniforms. Dorsey sr David Gettis, coming back from hamstring problems, won the 400m in 47.88.
CA - Sac-Joaquin Section Div 3 - Mesa Verde sr Aiona Key 7-1 HJ, California #1.
California 8th graders
are already in the DyeStat Elite

Turquoise Thompson, of Long Beach -

ran 54.51 400m (US#12 in DyeStat Elite national rankings) from lane 1 in adidas Classic against world class runners.

photo by Kirby Lee

Jordan Hasay, of San Luis Obispo -

ran 4:29.70 1500m (US#3 in DyeStat Elite national rankings) in Southern California USATF meet.

photo by Doug Speck - More California news is on DyeStatCal
CO - Colorado State Meet - 83 DyeStat Elite performances. Chelsea Taylor wins four -- 11.68 100m, 23.64 200m, 6-0.5 HJ and 21-0.75 LJ US#1. Triples by Jeremy Dodson 10.43 100m, 20.70 200m US#2, and 47.44 400m and Sarah Griffen Matthews 11.56 100m US#1, 24.00 200m and 20-3 LJ. Doubles by Alexandra Gove (hurdles), Maddie McKeever (1600/3200), Sarah Griffen Matthews (100/200), and Patrick Berg (throws). Smoky Hill boys win third straight 5A title. Kira Robinson 13.66 100H US#1 Meet is held in 90-degrees at 5,000 feet altitude.
DE -- Delaware State Meet - COMPLETE RESULTS. Glasgow girls, Cape Henlopen girls, Salesianum boys, and Milford boys win team titles.
IA-- Iowa State meet
ID -- Idaho State Meet - COMPLETE RESULTS - Borah sweeps 5A team titles. Emmett sr Matt Lamb doubles 62-1.25 SP and 187-11 DT, both 4A records. Borah sr Kevin Pabst 37.74p 300H SR. Mountain View sr Jerad Larson 15-0 PV. Lake City sr Breanna Sande doubles 2:14.66 800m and 5:06.4 1600m. Twin Falls 1:42.61 4x200 SR. Borah jr Annelise Bertleson 12-6 PV. Twin Falls jr Brittany Ward 18-6 LJ. Blackfoot jr Sarah Cardinal doubles 41-9.25 SP and 143-3 DT.
IL -- Illinois Girls State Meet - COMPLETE RESULTS
67 DyeStat Elite performances


Wow! What a pair!

Morgan Park Chicago sr Alexandria Anderson wins the 100/200 battles, but Evanston jr Shalina Clarke wins the team war after she doubles in hurdles. Anderson 11.38p 100m, 23.32 200m US#1, 52.63 400m US#2, and 20-9 LJ US#2. Clarke 11.75p 100m, 23.90p 200m, 13.80p 100H US#2, 40.61 300H US#1
Jackie Joyner's 26-year-old long jump record was the one Alex the Great wanted the most, and she got it (20-9). Morgan Park Chicago sr Alexandria Anderson repeated a 100-200-400-LJ quad in the Illinois Girls State Meet. Tony Jones recaps every 2A event.

Shalina Clarke is all alone by the 5th hurdle in state record US#1 300H.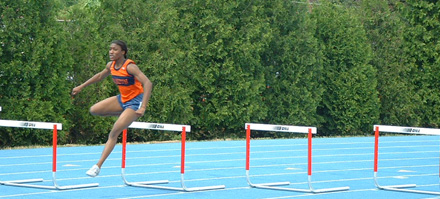 photos by Patrick Sullivan / Illinois Prep Top Times
Smith Valley sr Jordan Savidge wins four events in Nevada class 1A, including state record 16-0 pole vault, plus 11.45 -3.7 100m, 22.82 -3.4 200m and 22-0.75 LJ. - photo by Doyle Jensen, Nevada Track Stats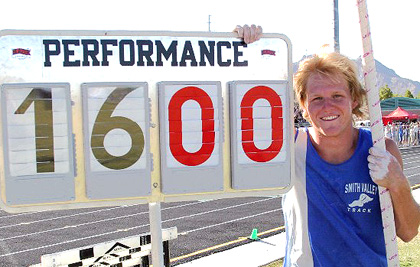 NY - Sections

Warwick Valley jr Aislinn Ryan claims US#1 in 3000 meters with a time of 9:39.5.

NY Warwick Fast Times meet lives up to its name in girls 4x800 as Suffern NY 9:00.2 (Warwick Valley 9:11.0) ran the fastest time the US this season and pulled eight more teams under 9:30, including the Suffern and Warwick Valley B teams. In an open mile, Nicole Blood ran 4:48.8 and Caitlin Lane 4:58.8. The two former Saratoga NY runners are training on their own this season.
OH - Districts - Hoover North Canton sr Ashley Muffet became the second 50 foot shot putter of the season with a 50-10 throw, winning by 14 feet and setting an Ohio state record.
OR -- Oregon State Meet - Benson sr Zuber Ahmed 8:20.50 3000m edges Central Catholic jr Kenny Klotz 8:21.54 in the US#1 and US#2 times of the season, with four more under 8:40. The next day Ahmed and Klotz were battling again in the 1500m, with Ahmed the winner again, 3:53.03 to 3:54.36.
PA - PA Week by Don Rich - District meets and Philadelphia Catholic League - Easton Pa jr Lindsay Regan 13-6 ties national junior class record with US#2 mark for 2005. Central Dauphin sr Ryan Whiting 69-11.5 SP, improving his US#1 ranking by 44.5 inches. Selinsgrove jr Josh Hostetler 205-11 JT. Manheim Twp jr Craig Miller doubles 4:10.73 1600m US#8 and 9:10.78 3200m. Conestoga Valley boys 7:45.26 4x800 US#4. South Park's Chad Radgowski 211-6 JT US#6. Baldwin sr Ron Walter 16-3 PV US#8t. Baldwin sr Jordan Veney 152-9 DT US#8. McDowell sr Nicole Smith wins four -- 5-10 HJ, 19-10.5 LJ, 39-10 TJ, and 14.71 100H. Easton freshman Chanelle Price 2:12.12 800m.
PCL - Nicole Leach wins four - 12.05 100m, 24.37 200m, 54.13 400m, 59.85 400H.
RI - LaSalle Academy sr Megan Maloney takes national lead in hammer with a throw of 163-5 in the RIIL Class B championships.
SD - Yankton sr Ramsay Kavan 10:23.8 3200m improves on her own state record with US#2 time for 2005. Roosevelt Sioux Falls sophomores, the Eckert sisters, also had a good meet -- Allison 4:54.98 1600m and Krista 2:11.21 800m.
VA-- Virginia districts -

Sarah Bowman gets 2-day triple with 10:16.03 3200m US#1 on Wednesday and 4:41.17 1600m and 2:08.62 800m in a 90-minute span on Thursday.
Landstown jr William Harvin doubles 10.43 100m and 21.19 200m.
Peninsula - Bethel girls, Denbigh boys. Bethel jr Francena McCorory doubles 11.75 100m and 24.20 200m. Heritage jr Octavia James 14.37 100H. Woodside fresh Dominique Jordan 56.00 400m. Hampton soph Tierra Brown 43.77 300H. Hampton girls 3:53.31 4x400.
Great Bridge jr Mike Morrison looks to be getting ready for a decathlon campaign. He scored 61 points in the Southeastern District: won 37.96 300H, 22-4 LJ, 44-4 TJ, 6-3 HJ, and 14.82p 110H. Also 2nd in PV at 13-0 (one jump for points -- he is a 16-foot vaulter) and 6th in 200m at 22.83p. NOTE: Virginia allows an athlete to enter three running events and unlimited field events.

WV -- West Virginia State Meet - COMPLETE RESULTS
Cable Midland boys and Preston girls win 3A titles. Preston sr Eric Ryan 4:14.03 1600m SR. Capital sr Jennifer Hansen 11-6 PV. Berkeley Springs sr Tony Belt doubles 6-8 HJ and 23-5.5 LJ.
Eric Ryan sets West Virginia state record

Preston WV sr Eric Ryan won the 1600m in the West Virginia 3A state meet in 4:14.03 for a new state record, winning by 15 seconds. The Cornell-bound Ryan also won the 800m in 1:56.36.

photo by Tad Davis
WY -- Wyoming State Meet - Campbell County jr Bob Hewitt-Gaffney doubled 48.54 400m and 1:52.48 800m Cody jr Stacy Slight doubled 57.48 400m and 2:12.97 800m. Slight also anchored Cody's winning 4x400 and 4x800 relays. Cody jr Ben Peterson 15-0 PV. Sheridan sr Anna Wechsler 11-7 PV. Campbell County jr Jake Chick 170-2.
Midwest Distance Gala
A new post-season meet will be held June 11 at Vernon Hills IL high school with four races under lights -- a boys 800, mile and 2-mile and a girls mile. Meet director Scott Bush said the purpose is to provide high level competition after state meets and before national meets for runners from the Midwest and beyond. There will be rabbits to insure a fast pace. Details are on the meet's web site.
Aislinn Ryan Profile
by Ken McMillan in the Times Herald-Record, Middletown NY
"Running helps define who you are."
"Running is my boyfriend."
"I want to run for the rest of my life. When I see people 90 years old finishing a 5K, I think that's the coolest thing. I can't wait until I do that."

NIKE GHAC RELAYS


the hottest meet in high school track and field -- virtually
by John DyeNike and DyeStat announce the NIKE GHAC RELAYS, a new way for high school track and field teams to compete with other schools from across the country -- without leaving home. In the "postal relays" of old, coaches would have their team run a time trial, drop the results in the mail, and—a few weeks later—find out how they ranked. Now, Nike and DyeStat are using online technology to create a modern version of that idea. And instead of just one event, the GHAC Relays consists of 10 events across all track and field disciplines. The best teams will have balance. You can't win the GHAC Relays with just a couple of studs in a couple of events. Each team's best performance in each event will be scored decathlon style with a formula that gives 1000 points for a national record level performance and 700 points for the DyeStat Elite top 100 cutoff standard. The team score is the sum of the 10 event scores. An online scoreboard will let you slice and dice the scores any way you like. Prizes and surprises await the best teams.
DETAILS -- find out how to enter today
What's with the name GHAC (gee-hack)?
It's Virtual - It's Free - It's Open to All
661 College Choices
The National Letter of Intent signing period for the high school class of 2005 runs from April 13 to August 1. We have updated our College Choices 2005 lists and now have 661 choices as of May 1. Send information on choices to John Dye, giving name, high school, event, college, and a way to verify. Some email is on a computer that had to go to the shop, so send your choice again if we are missing you.
30th GREAT SOUTHWEST
CLASSIC
Challenges
the USA
Once a regional post-season meet, GSW is now inviting top USA athletes to go against the best of 7 SW states, including those jackrabbits from Texas.
Albuquerque June 2-4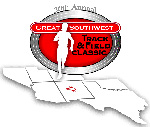 a DyeStat featured meet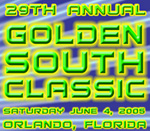 30 future Olympians competed here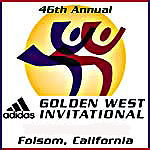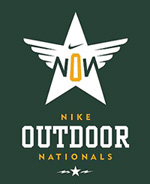 June 17-18 Greensboro Registration now open
a DyeStat featured meet
VISIT

TRACK-TECH.COM
for


USA Open T&F Camp, FL,
USA Open XC Camps, CO,
USATF Jr Elite Camps CA
T&F TRAINING software
USATF Development Videotapes

DyeStat uses Hy-Tek
for meet results
The Harrier
by Marc Bloom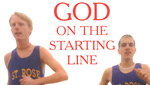 Steve (steveu) Underwood says: "God On The Starting Line is a wonderful gift to the world of prep distance running. It's kind of like eating, oh, a premium triple chocolate fudge brownie ice cream sundae. You might feel stuffed and a little woozy, but like you've never devoured anything so delicious."