the hottest meet in HS track -- virtually.
DETAILS
now on sale ...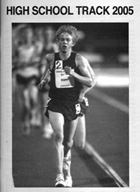 Want to know who has the all time record in the 4xMile relay? Or the freshman record in high jump? You need Jack Shepard's HIGH SCHOOL TRACK 2005. "I never leave home without it," says John Dye.
ShopDyeStat


unique items
for the HS athlete
--Parents Guide

--Training G
uide
--Training Profiles
--Pace Calculator
--the Harrier
--HS Track 2005
Sarah Bowman 10:16.03
Fauquier Warrenton VA sr Sarah Bowman ran a 10:16.03 3200m Wednesday in a Virginia district meet, fastest in the US this year. Bowman won by 66 seconds. She was also entered in the 800 and 1600 in that meet Thursday.
Midwest Distance Gala
A new post-season meet will be held June 11 at Vernon Hills IL high school with four races under lights -- a boys 800, mile and 2-mile and a girls mile. Meet director Scott Bush said the purpose is to provide high level competition after state meets and before national meets for runners from the Midwest and beyond. There will be rabbits to insure a fast pace. Details are on the meet's web site.
Bert Richardson's Texas State Meet photo album
5A boys - 5A girls
5A girls featured Erin Bedell, who doubled 800-1600 two hours apart; Brandi Cross, who was startled by her time in the 400 meters (52.46, a Texas state meet record and 2005 US#1), and Skyline Dallas, which doubled in the 4x100 and 4x200 relays en route to the team championship.
Erin Bedell


Brandi Cross

photos by Bert Richardson

Skyline Dallas 4x100 winners

Cinco Ranch Katy defends its Texas 5A boys title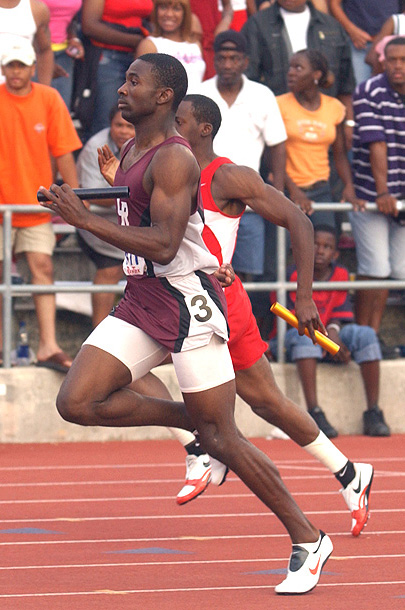 Cinco Ranch Katy anchor Queito Teasley catches Eisenhower Houston in the home stretch to win the 4x200 relay for 20 of the points needed for Cinco Ranch to repeat as Texas 5A champion. This was a showdown of the three fastest 4x200 squads in the US. Cinco Ranch won in 1:25.19, a couple ticks off their US#1 time in the Texas Relays, Eisenhower Houston was second in 1:25.31 US#2 and Carter Dallas was third in 1:25.41 US#3. Cinco Ranch was without its usual #2 runner, multi event star Scott Sellers, who pulled a hamstring in the triple jump and had to retire for the evening without competing in the high jump, where he is US#1 for the last 2 years, and in two relays.
Aislinn Ryan Profile
by Ken McMillan in the Times Herald-Record, Middletown NY
"Running helps define who you are."
"Running is my boyfriend."
"I want to run for the rest of my life. When I see people 90 years old finishing a 5K, I think that's the coolest thing. I can't wait until I do that."
THIS WEEK
News items posted to DyeStat in the week ending May 19
Alphabetical by state.
AZ -- Arizona State Meet -

Ken Cormier triples

.
Florida transplant Tim McLeod led the 3200m for 6 laps, but Douglas sr Ken Cormier rallied in the last 800 meters to win, 9:03.34 to 9:03.62, in meet record time. Cormier had an easier time in the 1600 on Saturday, beating McLeod 4:15.01 to 4:20.82. Cormier complete a distance triple by winning the 800 in 1:53.92. Foot Locker and Nike Indoor champ Cormier will run next in the Great Southwest, Golden West and Nike Outdoor Nationals.
CA DyeStatCal

-

all the news of the Golden State as the road to the State Meet starts. Southern Section prelim results.
Merrill West HS jumpers Brittany Daniels (20-05.50) and Shevell Quinley (20-01.50) become what appear to be the first same-meet 20-foot teammates in prep lomg jumping history at Thursday's Sac Joaquin Section Division I Trials.
Down in Central California, West High of Bakersfield's Brandon Smith edged Edison of Fresno's Joe Turner by .003 seconds (both timed in wind legal 10.61) in a hot 100-meter dash that highlighted the Central Section Finals, where 23 DyeStatElite marks were achieved as the first berths to the 2005 California State Meet (June 3-4 in Sacramento) were awarded.
Stockdale of Bakersfield's Desirae Gonder reverted back to 2004 form with a fine seasonal-best 5-10.00 clearance in the high jump to lead the girls' highlights at this meet, with Porterville's Leanne Taylor hurling the disc 150-09 to win that competition. More details, stats, photos, video (and much more to come) now posted at www.DyeStatCal.com
CO -- Colorado regionals - Chaparral Parker jr J.T. Scheuerman 47.50 400m.
34th Hartford Public Open
Coverage by Ron Knapp, MySportsResults.com
Perfect day for track and field yields meet records. Matthew Maloney 231-05 JT US#1 this year and US#3 all time on the current implements. Boys 800 has US#6 and US#7 times by New Jersey runners Bryan Scotland 1:51.66 and Rob Novak 1:51.72. Myles Bradley CT is boys MVP for his triple -- 14.22 110H, 24-1 LJ and 48-9.75 TJ. Samantha Gawrych RI is girls MVP -- 56.39 400m and anchor leg of Westerly's winning 4x800 and 4x400 relays. Chris Barnicle MA misses Jonathan Riley's meet record mile, but wins close one over Ben White NY, 4:11.10 to 4:11.50. Complete Results
Gawrych


Bradley


photos by Ron Knapp, MySportsResults
DE New Castle County championships - Salesianum boys, who were fifth at Penn Relays, broke the Delaware state record for the 4x800 with a time of 7:49.10 US#7. They were running alone after the first lap, finishing with a 1:53.7 anchor by Mike Kowal. Christiana won the team title by two points, however, 89-87. In the girls 1600m, Tatnall freshman Katie Kershner outkicked Brandywine jr Anna Brousell to win in 4:56.07 to 4:57.19
GA -- Georgia Boys State Meet - Redan sr Justin Oliver won four events - 21.38 200m, 46.50 400m (regaining US#1 ranking), 4x100 and 4x400 -- leading Redan to its second straight 5A championship. Hurdle doubles by Bainbridge sr Tavaris Washington 13.96 and 36.74 in 4A and Carrollton sr Trey Fletcher 14.01 and 37.25 in 3A.
GA Georgia Tech Invitational - Cullman AL sr E.C. Gibbs tried out his future track and liked it, running 3:54.79 in the 1500 meters for a PR and US#2 time. In the women's 1500, Pope John Paul FL sr Nicole Schappert also posted a US#2 time -- 4:29.23. She will attend ACC rival Wake Forest next year.
HI -- Hawaii State Meet - Mililani HS, Oahu
IL -- Illinois districts - Morgan Park Chicago sr Alexandria Anderson wins four events: 11.3h 100m, 24.1h 200m, 53.0 400m, and 19-7 LJ. Evanston jr Shalina Clarke doubles 24.1h 200m and 40.1h 300H. Naperville North girls 9:21.2 4x800 (Nequa Valley 9:21.7, Benet Academy 9:25.9).
MA - Massachusetts Coaches Invitational
MO -- Missouri districts
NC -- North Carolina Independent Schools State Meet
NC -- North Carolina 1A-3A State Meet
NM -- New Mexico 3A/3A/5A State Meet
NY - Somers Invitational - Former Saratoga NY runners Nicole Blood and Caitlin Lane, who are training on their own this spring, ran 9:45.9 and 9:49.1 in an open women's 3000 meters, US#1 and US#5 for high school runners this season.
NY - 38th Loucks Games -
John Hickey - Bay Shore girls - Ogrodnick sisters
Charles White, Garden City NY, 4:17.64 1600m is New York state freshman record. (was 4:19.7 by Mike Hedgecock, Wantagh HS, 1984)
Boys - Phillipsburg 60. Tappan Zee sr John Hickey doubles 64-11.75 SP, improving his US#3 ranking, and 172-1 DT. Nyack sr Dan Wallace-Periac 1:53.72. Phillipsburg sr Justin Gaymon doubles 14.30p -0.1 110H and 53.89p 400H. Phillipsburg 10:23.24 DMR.
Girls - New Rochelle 75. Ward Melville sr Michelle Seibert 2:12.76 800m. Bay Shore NY sr Mary Liz McCurdy 4:54.31 1600m. Canadians Avril Ogrodnick 10:38.83 and Lise Ogrodnick 10:45.66 were 1-2 in a stellar 3200m, with five more girls under 11 minutes, including Bay Shore sr Laura Cummings 10:46.80 and Old Town ME jr Cassie Hintz 10:46.98. The Ogrodnick sisters will run for Georgetown next year. Cardozo NY freshman Dalilah Muhammed 1:02.15 400H (Shameka Gordon 1:02.90). Bay Shore NY doubled 9:20.72 4x800 and 11:56.37 DMR US#4. New Rochelle jr Carin Knight 5-8 HJ.
Mary Saxer 13-9 PV
gets outdoor record too
Lancaster NY sr Mary Saxer, who raised the indoor national record several times this year, ending at 14-2, added the outdoor record in the Lancaster Invitational Saturday (5/14). It was Notre Dame-bound Saxer's first outdoor meet of the season, as poor weather interfered with earlier meets.
OH Greater Miami Conference - Middletown sr Jeff See triples in same session -- 1:52.68 800m, 4:16.20 1600m, and sub-49 split on winning 4x400 (3:18.10).
OH - Lake Erie Conference - Euclid OH sophomore Jessica Beard blazed a 53.97 400m US#6, winning by almost 4 seconds.
OH - Federal League - big double by North Canton Hoover sr Ashley Muffet -- 49-11 SP and 160-9 DT, both season bests.
OK -- Oklahoma 5A/6A State Meet
PA - Krista Simkins has big conference meet. (below)
Krista Simkins

Wissahickon PA sr Krista Simkins, headed for U. of Miami FL in the fall, had a brilliant triple at the Suburban One league American Conference meet:

11.86 100m
23.62 200m US#2
53.23 400m US#2

Simkins's 400 was US#1 until Brandi Cross ran 52.46 Saturday night in the Texas State Meet. That makes three new national leaders in girls sprints this weekend, with freshman Victoria Jordan running 11.57 in the Texas State Meet and Bethel VA jr Francena McCorory running 23.53 at the Southern Track Classic.

photo by PennTrackXC / Milesplit network
Texas State Meet
DyeStat On-Site with John (Stats) Sullivan.
Complete Results 5A - 4A - 3A - 2A - 1A - DyeStat Elite performances
9 new US#1 performances
339 DyeStat Elite top 100 national performances
SATURDAY REPORT - 5A athletes revamp US#1 lists with 8 new national leaders. Marshall Fort Bend is US#1 in both boys and girls 4x400 (3:10.51 and 3:38.52). Jamaal Charles gets US#1 hurdle double. Brandi Cross 52.46 US#1. Skyline Dallas girls roll with two US#1 relay wins (45.11 and 1:36.04) and April Williams' hurdle double. Sabrina Taylor 20-8.25 US#1. Scott Sellers hurt, but Cinco Ranch Katy boys repeat. LaJerald Betters doubles 400/TJ. Luke Hansen 4:08.84. Erin Bedell wins two meet records (2:08.16 and 4:43.58). Houston Chronicle story on how Cinco Ranch won without Sellers.
FRIDAY REPORT - 4A girls shine. Big double for Dunbar Fort Worth freshman Victoria Jordan 11:57 +1.1 100m US#1 and 23.84 200m US#2. Lancaster girls sweep three relays (46.36 US#4, 1:36.87 US#3, and 3:42.77 US#4). McKinney jr Britany Parker 13-3 PV US#2. Red Oak sr D'Andra Carter repeats throws double with 44-3.25 SP and 163-6 DT.
Southern Track Classic
DyeStat On-Site with Brandon Miles / MileStat and the Milesplit network
INDEX - Results
Francena McCorory 23.53 -0.3 is fastest 200m in the country. Michael Morrison 16-8.75 PV US#3. Doubles by Kai Roper and Rachel Lewis. Sarah Bowman 2:07.38 800m.
WA - Bellarmine sr Brie Felnagle 4:40.9 1600m, fastest in the US this year, at a tri-meet.
WI -- Fort River Valley Conference - Preble Green Bay sr Steve Marcelle, a Georgia Tech signee, improved to US#3 in shot put at 65-5.25. He also got a season best of 184-9 in discus.
Allison Stokke
breaks leg
Newport Harbor CA sophomore Allison Stokke, one of the emerging talents in pole vault, broke her right tibia Monday (5/9) and is out for the year. She was trying a new pole in practice and fell into the concrete box. Stokke won the California state championships as a freshman last year and this year was US#1 outdoors with a mark of 13-5.75, which is a national sophomore class record. [more in local news story.]

Stokke at Nike Indoor Nationals in March.
photo by John Dye
NIKE GHAC RELAYS


the hottest meet in high school track and field -- virtually
by John DyeNike and DyeStat announce the NIKE GHAC RELAYS, a new way for high school track and field teams to compete with other schools from across the country -- without leaving home. In the "postal relays" of old, coaches would have their team run a time trial, drop the results in the mail, and—a few weeks later—find out how they ranked. Now, Nike and DyeStat are using online technology to create a modern version of that idea. And instead of just one event, the GHAC Relays consists of 10 events across all track and field disciplines. The best teams will have balance. You can't win the GHAC Relays with just a couple of studs in a couple of events. Each team's best performance in each event will be scored decathlon style with a formula that gives 1000 points for a national record level performance and 700 points for the DyeStat Elite top 100 cutoff standard. The team score is the sum of the 10 event scores. An online scoreboard will let you slice and dice the scores any way you like. Prizes and surprises await the best teams.
DETAILS -- find out how to enter today
What's with the name GHAC (gee-hack)?
It's Virtual - It's Free - It's Open to All
661 College Choices
The National Letter of Intent signing period for the high school class of 2005 runs from April 13 to August 1. We have updated our College Choices 2005 lists and now have 661 choices as of May 1. Send information on choices to John Dye, giving name, high school, event, college, and a way to verify. Some email is on a computer that had to go to the shop, so send your choice again if we are missing you. Some significant choices we haven't reported previously:
Rokesha Williams MD hurdles - Arkansas
Stat of the Week - John Sullivan is a track nut who can't get enough track stats. He cranks out lists for his own amusement -- and now he can amuse you as well. Boys 2-Mile Record Progression - In 1964, Gerry Lindgren was the first to break 9 minutes. Then, Jeff Nelson in 1979 was the first (and still the only one) to go under 8:40.
30th GREAT SOUTHWEST
CLASSIC
Challenges
the USA
Once a regional post-season meet, GSW is now inviting top USA athletes to go against the best of 7 SW states, including those jackrabbits from Texas.
Albuquerque June 2-4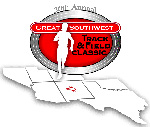 a DyeStat featured meet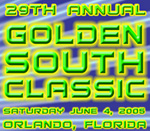 30 future Olympians competed here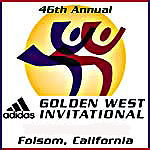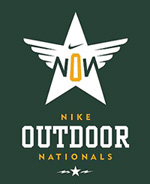 June 17-18 Greensboro Registration now open
a DyeStat featured meet
VISIT

TRACK-TECH.COM
for


USA Open T&F Camp, FL,
USA Open XC Camps, CO,
USATF Jr Elite Camps CA
T&F TRAINING software
USATF Development Videotapes

DyeStat uses Hy-Tek
for meet results
The Harrier
by Marc Bloom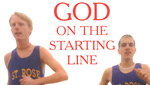 Steve (steveu) Underwood says: "God On The Starting Line is a wonderful gift to the world of prep distance running. It's kind of like eating, oh, a premium triple chocolate fudge brownie ice cream sundae. You might feel stuffed and a little woozy, but like you've never devoured anything so delicious."