now on sale ...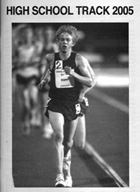 Want to know who has the all time record in the 4xMile relay? Or the freshman record in high jump? You need Jack Shepard's HIGH SCHOOL TRACK 2005. "I never leave home without it," says John Dye.
ShopDyeStat


unique items
for the HS athlete
--Parents Guide

--Training G
uide
--Training Profiles
--Pace Calculator
--the Harrier
--HS Track 2005
Texas State Meet


DyeStat On-Site with John (Stats) Sullivan

. -
Sullivan's preview - Texas boys are fast -- they hold the national record in the 100, 200, 4x100 and 4x200. South Garland's Matthew Harding is this year's favorite. Foot Locker finalist Scott MacPherson will battle The Woodlands stars in the 1600 (Luke Hansen) and 3200 (Dan Gerber). Erin Bedell looks to repeat in the 1600 and double in the 800. Nichole Jones faces Miranda Walker, Danielle Selner, and Jocelyn Gardner in the 3200. Two of nation's best hurdlers are in 5A 110H, with US#1 Trevor Gerland hoping to turn tables on regional victor Jamaal Charles. Defending 5A boys champ Cinco Ranch Katy is led by Scott Sellers, the national HJ leader for the last 2 years, who will also run relays and triple jump. Cinco Ranch has two more super stars in hurdler/sprinter Trevor Gerland and LJ/sprinter Queito Teasley. Skyline Dallas girls are hurting with 2004 sprint doubler Krystin Lacy questionable due to injuries. Inika McPherson is US#1 in high jump (6-2), but she has formidable competition in Destinee Hooker and Epley Bullock, both also 6-footers. D'Andra Carter hopes to match her older sister Michelle's throws double, but faces the national leader in discus, Maria Matos.
Regional Elite - 332 performances in regions qualifying for DyeStat Elite top 100 national ranking. Look at 3rd place finishers and see how good you can be and still not qualify for the state finals.


Allison Stokke
breaks leg
Newport Harbor CA sophomore Allison Stokke, one of the emerging talents in pole vault, broke her right tibia Monday (5/9) and is out for the year. She was trying a new pole in practice and fell into the concrete box. Stokke won the California state championships as a freshman last year and this year was US#1 outdoors with a mark of 13-5.75, which is a national sophomore class record. [more in local news story.]

Stokke at Nike Indoor Nationals in March.
photo by John Dye
THIS WEEK
News items posted to DyeStat in the week ending May 12
AL -- Alabama 1A-3A-5A State Meet - Paul Bryant HS, Tuscaloosa
AL -- Alabama 2A-4A-6A State Meet - Oak Mountain HS, Birmingham. Day 1 results.
AZ -- Arizona regionals
CA DyeStatCal

-

all the news of the Golden State. 57 league finals posted this weekend.
CA El Camino Oceanside jr A.J. Acosta runs 4:10.08 mile at USATF Distance Carnival.
FL -- Florida 3A State Meet - 42 DyeStat Elite performances. St. Thomas Aquinas girls win 8th straight title - Justin Terry 46.59 is US#1 400m - Kelly Parrish breaks Jenny Barringer's 3200m record - Jenna Utecht 4-peats in 100H - Tiara Swanagan 42-8.75 TJ SR
FL -- Florida 4A State Meet -

62 DyeStat Elite performances.

Northwestern Miami girls beat Oak Ridge Orlando. Evans Orlando boys win first state title. Doubles by Wondy Pierre-Louis, Ricky Jean-Francois, Brittany Jones, Jennifer Barringer, Oak Ridge girls, Lizzie Harris, and Zarina Suluki.
GA -- Georgia Girls State Meet - Redan wins 5A title. Complete Results.
LA -- Louisiana State Meet - complete results - Twol US#1 marks: Frankie Gatson goes wind legal 25-2.25 (US#1) on his fifth jump. His sixth jump was a monster, but slightly fouled. It appeared deep in 26 foot country. Crowd loved it!!
Karjuan Williams skipped the 1600 and gave his all in the 800. He opened in 51.0 and hit 600 in 1:19, he came out flying and hit a brick wall. The clocked stopped at a State Record 1:50.33 (US#1). Had he gone out in a more reasonable pace (53-54) he could have gone in 1:48-49 territory. Crowd went nuts again!
MD-- Howard County Spring Track Classic -
MS -- Mississippi State Meet - complete results. Ridgeland soph Bianca Knight tripled 11.70 100m; 24.13 200m and 55.77 400m. Clarksdale sr Cornelius McGee, a football signee with Southern Mississippi, won four events -- 14.77 110H, 38.60 300H, 23-1.5 LJ and 48-2 TJ.
NM -- New Mexico 1A/2A State Meet
NM -- New Mexico 3A/3A/5A districts
OH Don Mitchell Dayton Roosevelt Memorial Invitational - Jeff See 4:08.27 mile US#1. See ran negative splits and closed with a 59-second last quarter mile. See's splits (by A.J. Holzherr): 61.5, 2:05.2, 3:09.2, and 4:08.27. Other good marks at Dayton -- Collinwood Cleveland girls 1:38.80 4x200 and 9:19.81 4x800. Mumford MI boys 3:31.57 SMR. Milford MI boys 7:54+ 4x800 and 18:04 4xMile. Clarkston MI jr Jenny Morgan 10:40+ 3200m.
NY - Monsignor Farrell HS, Staten Island, will dedicate its new stadium and track Monday May 9 at 12:30 pm. The track is Action Track, the field is Field Turf, and the stadium seats 2,950. School officials, community officials and the entire student body of 1,200 will be present for the ceremonies.
OK -- Oklahoma 2A/3A/4A State Meet
OK-- Oklahoma 5A/6A regionals
SC -- South Carolina State Meet - complete results all classes. Ridge View boys and Spring Valley girls win 4A titles.
TX

Texas State Meet

- entries and lane assignments.
VA -- 5th Gar-Field Invitational -
VA -- T. C. Williams Invitational - T.C. Williams HS, Alexandria.
WA Lake Washington Inv - Super 800 - Rogers Spokane sr Becca Noble did to Bellarmine sr Brie Felnagle what Felnagle usually does to others -- blow by her in the stretch -- to win a brilliant 800m in 2:06.75 US#2 to 2:08.99. Everett jr Cori Moore was third in 2:12.84. "I'm just kind of upset that I didn't give her a race, that she just blew right by me," Felnagle told the Seattle Times. "That's never really happened before."
WI Sean Pruitt WI DT 215-7 -- state record, US#1 this year, and US#6 all time. Valders sr Sean Pruitt set a state record DT with a throw of 215-7 in an Olympian Conference tri at Hilbers WI Thursday (5/5). Pruitt's discus sailed over a fence 190 feet from the throwing circle. It was for the second 200-footer ever in Wisconsin, US#1 this season and US#6 all time. Pruitt will throw for the U. of Michigan next year. Newspaper story
Both US junior 10K records fall on same day!

Galen Rupp

photo by Louis LeBlanc

Lindsey Scherf

photo by Mike Boucher

In Eugene OR, U. of Oregon freshman

Galen Rupp

ran 28:15.51 at the

Oregon Twilight

meet to break Rudy Chapa's 29-year-old record of 28:32.7. Rupp ran last year for Central Catholic Portland OR high school.

Story and photos

In New York City, Harvard freshman Lindsay Scherf ran 32:51.20 at the Heptagonal Championships at Columbia to break Mary Shea's 26-year-old record of 32:52.5. Scherf is from Scarsdale NY.
DyeStat Live at Oregon Twilight
Galen Rupp destroys 10K record with 28:15.51 at Oregon Twilight meet -- 17 seconds better than Rudy Chapa's US Junior record set in 1976.
After running on the heels of rabbits for 15 laps, Rupp took the lead on lap 16 with a 65.5 tour and gapped Mike Donnelly by 100 meters as the Hayward Field crowd "went nuts," Marc Davis reported. Rupp looked strong throughout and was running fastest at the end, with a 64-second last lap and a big negative split of 5k's -- 14:17 and 13:58. "He's running all alone, except for the crowd, which is on its feet screaming," Davis said.
Marc Davis story - Marc Davis live lap by lap
"Two weeks ago, if Galen Rupp gave the Oregon track fans a little appetizer, then tonight he stuffed Track Town USA with a three course meal." And the chef may be merely wetting Duck fans appetites.
Rupp gave himself a birthday present: "It was awesome. To win a race here wearing an Oregon uniform; there's nothing like it. It feels so good to run here in front of these fans. I really can't describe it."
NIKE GHAC RELAYS


the hottest meet in high school track and field -- virtually
by John Dye
Nike and DyeStat announce the NIKE GHAC RELAYS, a new way for high school track and field teams to compete with other schools from across the country -- without leaving home.
In the "postal relays" of old, coaches would have their team run a time trial, drop the results in the mail, and—a few weeks later—find out how they ranked. Now, Nike and DyeStat are using online technology to create a modern version of that idea. And instead of just one event, the GHAC Relays consists of 10 events across all track and field disciplines.
The best teams will have balance. You can't win the GHAC Relays with just a couple of studs in a couple of events. Each team's best performance in each event will be scored decathlon style with a formula that gives 1000 points for a national record level performance and 700 points for the DyeStat Elite top 100 cutoff standard. The team score is the sum of the 10 event scores. An online scoreboard will let you slice and dice the scores any way you like. Prizes and surprises await the best teams.
DETAILS -- find out how to enter today
What's with the name GHAC (gee-hack)?
It's Virtual - It's Free - It's Open to All
661 College Choices
The National Letter of Intent signing period for the high school class of 2005 runs from April 13 to August 1. We have updated our College Choices 2005 lists and now have 661 choices as of May 1. Send information on choices to John Dye, giving name, high school, event, college, and a way to verify. Some email is on a computer that had to go to the shop, so send your choice again if we are missing you. Some significant choices we haven't reported previously:
Casey Herndon GA pole vault - LSU
Sean Pruitt WI throws - Michigan
Brian Duggan NY pole vault - Rutgers
Osayi Osunde throws - Villanova
Moreno Zapata WA jumps - Washington State
Sarah Balfour WY distance - Texas A&M
Stat of the Week - John Sullivan is a track nut who can't get enough track stats. He cranks out lists for his own amusement -- and now he can amuse you as well. Boys 2-Mile Record Progression - In 1964, Gerry Lindgren was the first to break 9 minutes. Then, Jeff Nelson in 1979 was the first (and still the only one) to go under 8:40.
30th GREAT SOUTHWEST
CLASSIC
Challenges
the USA
Once a regional post-season meet, GSW is now inviting top USA athletes to go against the best of 7 SW states, including those jackrabbits from Texas.
Albuquerque June 2-4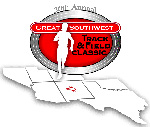 a DyeStat featured meet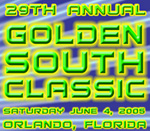 30 future Olympians competed here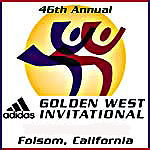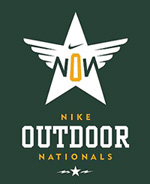 June 17-18 Greensboro Registration now open
a DyeStat featured meet
VISIT

TRACK-TECH.COM
for


USA Open T&F Camp, FL,
USA Open XC Camps, CO,
USATF Jr Elite Camps CA
T&F TRAINING software
USATF Development Videotapes

DyeStat uses Hy-Tek
for meet results
The Harrier
by Marc Bloom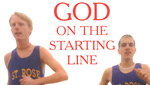 Steve (steveu) Underwood says: "God On The Starting Line is a wonderful gift to the world of prep distance running. It's kind of like eating, oh, a premium triple chocolate fudge brownie ice cream sundae. You might feel stuffed and a little woozy, but like you've never devoured anything so delicious."