now on sale ...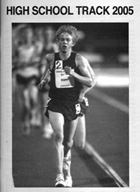 Want to know who has the all time record in the 4xMile relay? Or the freshman record in high jump? You need Jack Shepard's HIGH SCHOOL TRACK 2005. "I never leave home without it," says John Dye.
ShopDyeStat


unique items
for the HS athlete
--Parents Guide

--Training G
uide
--Training Profiles
--Pace Calculator
--the Harrier
--HS Track 2005

NIKE GHAC RELAYS


the hottest meet in high school track and field -- virtually
by John Dye
Nike and DyeStat announce the NIKE GHAC RELAYS, a new way for high school track and field teams to compete with other schools from across the country -- without leaving home.
In the "postal relays" of old, coaches would have their team run a time trial, drop the results in the mail, and—a few weeks later—find out how they ranked. Now, Nike and DyeStat are using online technology to create a modern version of that idea. And instead of just one event, the GHAC Relays consists of 10 events across all track and field disciplines.
The best teams will have balance. You can't win the GHAC Relays with just a couple of studs in a couple of events. Each team's best performance in each event will be scored decathlon style with a formula that gives 1000 points for a national record level performance and 700 points for the DyeStat Elite top 100 cutoff standard. The team score is the sum of the 10 event scores. An online scoreboard will let you slice and dice the scores any way you like. Prizes and surprises await the best teams.
DETAILS -- find out how to enter today
What's with the name GHAC (gee-hac)?
It's Virtual - It's Free - It's Open to All
THIS WEEK
News items posted to DyeStat in the week ending May 4
AL Sectionals - UMS-Wright sr Donell Hill 16-0 PV.
AR Bryant AR soph Spencer McCorkel cleared 17-0 Thursday at the Magnet Cove Invitational, a new Arkansas state record and best in the US this season. Lake Hamilton sr Jeremy Willis cleared 16-0.25 at the 5A South Conference championships in El Dorado.
CA DyeStatCal

-

all the news of the Golden State.
CA -- Sacramento Meet of Champions - Granite Bay jr Scott Roth 17-1 PV US#1 (right) , breaking Tye Harvey's meet record of 16-9.5. Kevin Craddock opens season with 13.89 +1.3 110H US#2. Video of both on DyeStatCal.

photo by Rich Gonzalez
Penn Relays
Apr 28-30, 2005 Franklin Field, Philadelphia PA
DyeStat on-site coverage with John & Donna Dye
WINNERS TABLE - event by event coverage with text and photos
Athletes of the Meet - Nicole Leach (400H record) and Carlos Mattis (TJ winner for fourth straight year)
Saturday - Syosset edges Shaker for 4x800 championship. Holmwood Tech wins 4x100. Wolmer's Boys hold off Poly Long Beach and Dematha in 4x400.
Friday - Holmwood Tech girls double 4x400 and 4x800, but St. Jago nips them in 4x100. Newton North, Andrew Jesien, Bobby Papazian win. Syosset leads boys 4x800 qualifiers, Holmwood Tech 4x100.
Thursday - Nicole Leach and Sarah Bowman repeat. Aislinn Ryan brings home DMR title for Warwick Valley. Saratoga Springs is 1-2 in 3000m with Lindsay Ferguson and Hannah Davidson. Jamaicans dominate 4x100 qualifiers. Gwynedd Mercy PA leads 4x800 qualifiers.
Photo albums with dozens more action photos are coming.
DONNA ON THE SIDE
AT THE PENN RELAYS

Donna sees the roots of our nation in downtown Philadelphia. The Liberty Bell, the Declaration of Independence, the Constitution, Ben Franklin . . . . they're all here.

also: AT THE MEET
661 College Choices
The National Letter of Intent signing period for the high school class of 2005 runs from April 13 to August 1. We have updated our College Choices 2005 lists and now have 661 choices as of May 1. Send information on choices to John Dye, giving name, high school, event, college, and a way to verify. Some email is on a computer that had to go to the shop, so send your choice again if we are missing you. Some significant choices we haven't reported previously:
Osayi Osunde throws - Villanova
Moreno Zapata WA jumps - Washington State
Sarah Balfour WY distance - Texas A&M
Evelyn Wing CA mid-distance - Texas A&M
Rolanda Bell NY distance - Tennessee
Derrick Robbins VA distance - Virginia Tech
Amy Backel PA multi - Oklahoma
Stat of the Week - John Sullivan is a track nut who can't get enough track stats. He cranks out lists for his own amusement -- and now he can amuse you as well. Boys 2-Mile Record Progression - In 1964, Gerry Lindgren was the first to break 9 minutes. Then, Jeff Nelson in 1979 was the first (and still the only one) to go under 8:40.
Midwest Meet of Champions IS ON next September 17 at Hilliard OH, contrary to a published report. Interested parties should contact Pat Schlecht 419-946-3518
30th GREAT SOUTHWEST
CLASSIC
Challenges
the USA
Once a regional post-season meet, GSW is now inviting top USA athletes to go against the best of 7 SW states, including those jackrabbits from Texas.
Albuquerque June 2-4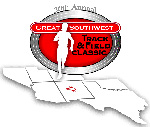 a DyeStat featured meet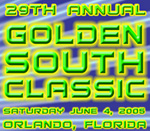 30 future Olympians competed here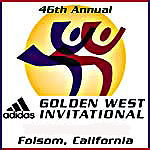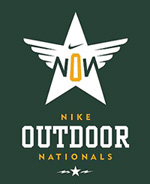 June 17-18 Greensboro Registration now open
a DyeStat featured meet
VISIT

TRACK-TECH.COM
for


USA Open T&F Camp, FL,
USA Open XC Camps, CO,
USATF Jr Elite Camps CA
T&F TRAINING software
USATF Development Videotapes

DyeStat uses Hy-Tek
for meet results
The Harrier
by Marc Bloom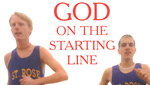 Steve (steveu) Underwood says: "God On The Starting Line is a wonderful gift to the world of prep distance running. It's kind of like eating, oh, a premium triple chocolate fudge brownie ice cream sundae. You might feel stuffed and a little woozy, but like you've never devoured anything so delicious."