now on sale ...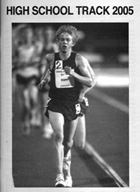 Want to know who has the all time record in the 4xMile relay? Or the freshman record in high jump? You need Jack Shepard's HIGH SCHOOL TRACK 2005. "I never leave home without it," says John Dye.
ShopDyeStat


unique items
for the HS athlete
--Parents Guide

--Training G
uide
--Training Profiles
--Pace Calculator
--the Harrier
--HS Track 2005
Lashawn Merritt
signs with Nike
On the eve of the NCAA championships, East Carolina University freshman Lashawn Merritt has signed a professional contract with Nike. In his short college career, Merritt had already run a 44.93 400 meters, third fastest ever indoors, and coach Bill Carson was predicting Merritt would run under 44 seconds this year. At Wilson Portsmouth VA high school last year, Merritt was World Junior champion and was also undefeated at Nike Indoor, USA Junior Nationals, Loucks Games, Virginia state meet, and AOC Raleigh. ECU release
photo by John Dye at 2004 Nike Indoor
Weekend: NY and VA meets close regular season
The last regular season weekend of the indoor season features two of the best state meets -- the Virginia AAA meet at George Mason University on Saturday and the New York state meet at Syracuse University on Sunday. Virginia features speed, led by the Bethel girls, who are #2 in the country in the 4x200 with Fracena McCorory, US#1 in the 300m. New York features distance stars, with the girls 3000 meters featuring another showdown between Foot Locker and Millrose Games champion Aislinn Ryan and defending state champion Nicole Blood of Saratoga.. Also this weekend are the New England Championships in Boston and the Mason Dixon Games in Louisville. And then come the nationals the following weekend -- the Nike Indoor Nationals in Maryland and the National Scholastic Indoor Championships in New York, with DyeStat on-site coverage of both meets.
Nike Indoor will be televised
The 7th Nike Indoor Nationals at Landover MD March 12-13 will be televised on Comcast CN8 Sports in a 2-hour show March 20 at 9 pm and repeated March 26 at 3 pm. People outside the Mid-Atlantic and Northeast regions can see the show on the Internet at www.cn8.tv.
THIS WEEK
News items posted to DyeStat in the week ending March 3
Eastern States Championships
US#1 marks by Colts Neck NJ boys 10:15.08 DMR, with 12 teams posting season best marks at DyeStat Elite levels, and St. Benedict's NJ sr Brian Scotland 1:52.47 800m, with next two taking US#2 and #3 -- Sean Tully 1:52.65 and Mike Pachella 1:53.44. Suffern NY girls win DMR (11:57.92 US#2) and 4x800 (9:24.13) with eight different runners. Complete Results. with 189 DyeStat Elite performances - Ed Grant's Report
Boys - JFK NJ jr Shaquan Brown 47.75 US#2 400m leads three more under 50 seconds. Seton Hall NJ 3:19.36 4x400 is second team under 3:20 this year.. 55H produces 3 of top 7 times in US this season, led by Union NJ sr Chris Haley 7.43 55H US#3 (Danny Oquendo 7.46, Tyrell Ross 7.48). South Shore NY sr Tristan Walker 21.67 US#3. Mount St. Michael's NY 1:29.25 4x200 US#4. Ridgewood NJ 7:56.87 US#5.
Girls - Suffern NY girls win DMR (11:57.92 US#2) and 4x800 (9:24.13) with eight different runners. The 800 produced the US#3 and #4 times of the season -- Queen of Peace sr Janine Davis 2:09.27 and Bellport NY soph Brittany Sheffey 2:09.94. Hempstead NY doubles 1:40.51 4x200 US#4 and 3:53.94 US#6. Franklin NJ jr Toneisha Friday 24.34 200m US#8. Mount Vernon sr Kirsten Fields 39-9.25 TJ US#5. Shoreham Wading River sr Lauren Biscardi 5-8 HJ.
DE - Delaware State Meet - Two indoor state records set: Tower Hill sr Sara Casscells 2:16.23 800m and Tatnall sr Lisa Klein 11:07.60 3200m - Glasgow girls - Salesianum boys win team titles - Alexandra Coppadge, Wilmington 8.37 55H - 5-04 HJ - 16-09.75 LJ - 35-10.75 TJ - Kevin Muhammad, Newark 22-07.50 LJ-44-08.50 TJ
MA- Massachusetts all-state championships - 100 DyeStat Elite performances. Newton North sweeps. Chris Barnicle's 9:01.45 2-Mile, fastest in the country this season, leads Newton North. Barnicle wins by 36 seconds. Lowell sr Brian Gagnon 2:30.06 1000m US#4 (Lexington jr Willie Ballenthin 2:31.45 US#8). Wellesley sr Alexandra Krieg 10:53.61 2-mile US#7. Newton North sr Lizzie Fulton 1:35.68 600m US#10. Amherst-Pelham sr Mandela Graves-Fulgham doubles 19-0.5 LJ US#11 and 7.22 55m. Oxford sr Douglas Caves 1:21.39 600m (Jed Carpenter 1:21.42), US#9 and 10.
MA -- Mar 4 New England Championships - Boston - Performance List (updated 3/2)
ME - KVAC Championships - Brunswick ME sr Steve Slovenski pole vaulted 14-7 to break his father's meet record and set a new Maine state record.
NE - Mid-America Winter Classic - Devaney Fieldhouse, U. of Nebraska, Lincoln - Jared Huske, Topeka, triple 7.88 60H, 7.01, (7.00p) 60, 22.10 200 tUS#10 - Chris Clymer 1:55.22 US#9
NJ -- Groups I & IV State Championships - 1/26 - Janine Davis Queen of Peace, 7.36p 55-25.88-58.44-2:20.10, Shardea Anderson Paulsboro 7.30-25.80 | Jennifer Clausen Jackson 11:05.29 3200 - Chris Haley 12 Union 7.66 55H
NJ -- New Jersey Meet of Champions - Ed Grant's Report - 106 Dyestat Elite Performances: Trier Young Neptune 8.04 55H US#3 - Janine Davis Queen of Peace 2:13.72 800 US#6 - Ashley Higginson Colts Neck 10:52.72 3200 US#9 - Danielle Tauro SO Southern 4:57.90 1600
NY -- PSAL City Championship - New York Armory - Transit Tech boys roll 1:30.99-3:20.22 US#3 relay double - James Blocker, August Martin 7-00.00 MR HJ US#3 - Boys & Girls by 4 over Middle College girls - Nene Kamate Townsend Harris 38.97 300 US#3
NY -- Section I State Qualifier - West Point - Amanda Hudson 11 Bronxville 4:35.20 1500 US#2 - Kara McKennna Suffern 4:39.77 US#8 - Kristin Reese Carmel 2:53.42 1000 US#7 - John Hickey, Tappan Zee 62-04.25 SP, 56-01.00 WT
NY -- CNYITA Select - Syracuse U. - LIverpool boys, Cicero North Syracuse girls win team titles. Liverpool jr Ben White 4:14.40 1600m US#7.
NY - Section 2 at SUNY-Albany - Saratoga NY fr Caitlin Lane 4:33.4 1500m, taking the national lead in this event. Five other girls were under 4:50, including Saratoga's Lindsey Ferguson 4:37.0 and Hannah Davidson 4:47.4. Saratoga jr Nicole Blood doubled 1:38.14 600m and 2:58.43 1000m. Saratoga dominance continued in the 3000 with a 1-2-3 sweep by Hannah Davidson 10:13.48, LIndsey Ferguson 10:22.48 and Karyn Delay 10:42.30. Shenendehowa swept team honors.
NY -- Eastern States Championships - New York Armory - Monday 2/28 - Postponed until Wednesday 3/2 because of snow -
NY -- Mar 5 New York State Meet - Syracuse - Preview by Tim Fulton
OH - Yellow Jacket Tune-Up - Cedarville College - Vincent Corner, 7.53 55H tUS#9
OH - Image One Open #3 - Marietta College - Ashley Muffet, 45-00.50 SP, 45-02.25 WT
Pennsylvania State Meet
192 DyeStat Elite marks !

A monster day in the Shot Put as Ryan Whiting (left) ups US#1 to 68-11.25, Frosh Karen Shump 45-04.75 US#3-Nicole Leach 24.17 US#3-53.82-West Catholic 1:40.23 4x200 US#3, 3:49.82 4x400-Clarenchell Tate, Krista Simkins 24.23-24.26 US#'s 4&5-Nicole Smith triple winner, 5-10 HJ, 39-07.50 TJ US#5, 19-01 LJ-Jacob Walker 8:36.8 3000 US#3-Simon Gratz 1:29.52 - 3:24.89. Meet reports by Don Rich - Sprints - Distance - Field

Lindsey Regan thought she had cleared 13-00 in the Pole Vault - then she hadn't - and now, she has. And it's a state record! The story from Don Rich.
SC - Clemson Classic - Clemson SC.
VA -- AAA Regions - Eastern region has 55 DyeStat Elite performances - Bethel VA jr Fracena McCorory 6.99p 55m US#4 and doubled 39.81 300m - Landstown jr William Harvin doubled 23-2 LJ and 48-0.5 TJ US#6. Northern region -- Lake Braddock girls, Hayfield boys win.
VA-- Virginia AA State Meet - Blacksburg VA -
Sarah Bowman 2:43.40 1000m USR -

Fauquier County senior runs 2:43.40, two seconds

better

than old record (2::45.46 by Ari Lambie of Massachusetts in 2003)

.

Bowman won by

2

6 seconds, and she ran 10 seconds faster than her previous season best.

Western Albemarle girls and Lafayette boys win team titles.

Senior

Dakari Taylor-Watson

led Lafayette

with 38 points, including a huge triple (7.74 55H, 47-3.75 TJ US#12 and 6-6 HJ) and a second in LJ at 22-8.5. Tabb sr Jordan Wynder 1:06.05 US#9. 43 DyeStat Elite performances.
Myles Bradley

dazzled the Connecticut State Open championships with his versatile triple. The Norwich Free Academy senior won the 55m hurdles in 7.26, best in the country this season; the long jump in 24-2.25 US#2 and the high jump at 6-4, good enough to make the DyeStat Elite national rankings.
Elan Hilaire (2852) and Nicole Leach waged an epic battle in the 400, with national leader Leach winning by 0.01 and Hilaire setting a national freshman class record (54.06). Doug Speck interviews Hilaire and finds that she also plays violin and speaks French fluently.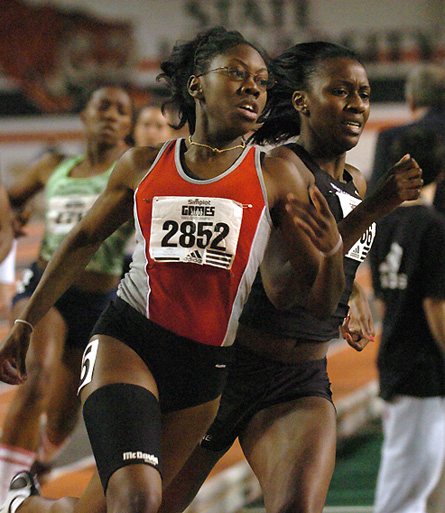 J-Mee Samuels (L) and Justin Oliver shake hands
after Samuels wins the 200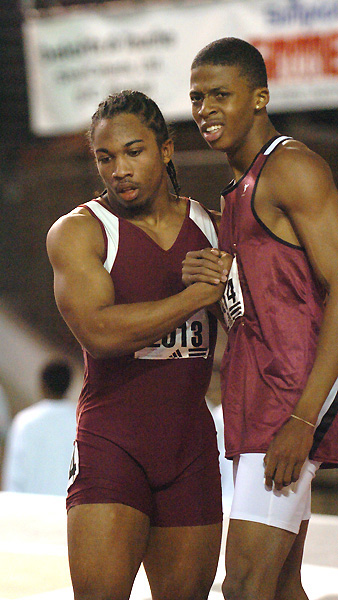 Katie Doswell gets some experience - story and pix.
Brittany Daniels flies again - photo sequence by John Dye
Vic's Pix - great shots by Vic Sailer of PhotoRun - DyeStat grads Tommy Skipper and Bershawn Jackson, plus current starts Brittany Daniels and Katie Doswell, plus $25,000 winners John Godina and Angela Daigle.
John Dye photo album - DyeStat grads Lacy Janson, Tommy Skipper, Yvette Lewis, Maria Michta and more.
Daniels and Doswell go against elites
High school stars Brittany Daniels and Katie Doswell, who have posted US#2 all time prep performances this season, test themselves against grown-ups at the USA Indoor Championships.
Merrill West Tracy CA sr Daniels was sixth in the long jump at 20-1.5 on Saturday and 5th in the triple jump Sunday at 42-11.75, just 0.75 inch behind 2004 Olympic Trials champion Tiombe Hurd.
Doswell, a junior at St. Catherine's School in Richmond VA, ran 2:08.86 in the 800 meter prelims Saturday, missing the finals.
Tommy Skipper at USA Indoor Championships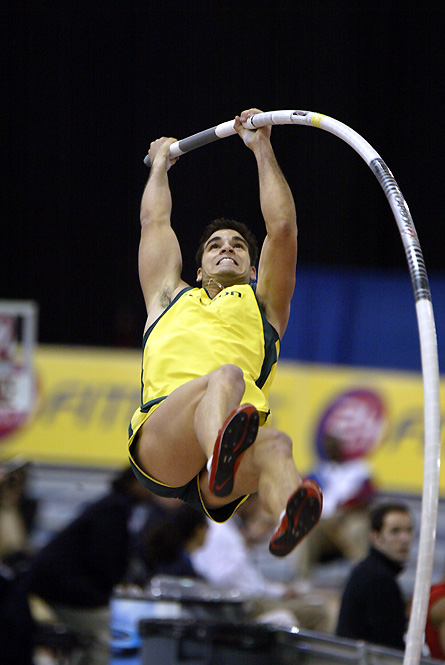 photo by Vic Sailer / PhotoRun
Sanctioning Crisis
Problems end for non-member PA schools competing against NY teams in state - and there's progress on other fronts, too.
According to PIAA Assistant Executive Director Jodi Good, the state associations of Pennsylvania and New York have reached an agreement to enable non-member schools from any state to compete against NY athletes in any event in any sport in PA. The breakthrough agreement, worked out in a telephone conference Tuesday, involved PIAA Executive Director Bradley Cashman and NYSPHSAA Executive Director Nina Van Erk, along with NY Assistant Executive Director Lloyd Mott. The agreement does not include out-of-state meets, such as those at the New York Armory in New York. But it is major progress. 7th in a series on the Sanctioning crisis by Don Rich
In high school track, not all rules are created equally. Why the rules of competition and the rules of eligibility are managed differently.
At the heart of the current sanctioning discussions - and sometimes arguments that threaten to disrupt major meets for many seasons to come - are the rules of eligibility. 8th in the series on the Sanctioning crisis by Don Rich | Sanctioning Crisis series index

VISIT

TRACK-TECH.COM
for


USA Open T&F Camp, FL,
USA Open XC Camps, CO,
USATF Jr Elite Camps CA
T&F TRAINING software
USATF Development Videotapes

DyeStat uses Hy-Tek
for meet results
The Harrier
by Marc Bloom