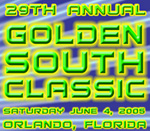 30 future Olympians competed here
now on sale ...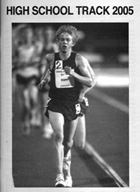 Want to know who has the all time record in the 4xMile relay? Or the freshman record in high jump? You need Jack Shepard's HIGH SCHOOL TRACK 2005. "I never leave home without it," says John Dye.
ShopDyeStat


unique items
for the HS athlete
--Parents Guide

--Training G
uide
--Training Profiles
--Pace Calculator
--the Harrier
--HS Track 2005
Mobile entries
Southeastern sprinters will be joined by Bethel VA from the north and Skyline Dallas TX from the west in a high energy collision at the Mobile Challenge of Champions this weekend. Entries also include Nike Indoor Nationals 800m champion Karjuan Williams and 2-miler Robert Bedsole of Hoover AL.
Stat of the Week - a new feature by John Sullivan
Sully is a track nut who can't get enough track stats. He cranks out lists for his own amusement -- and now he can amuse you as well.
HS Boys 800m/880y record progression - this list is fairly short because the record tends to last a while. Ted Meredith's 1912 record (1:51.9m) lasted for 42 years, and the present national record dates from 1996 (Michael Granville 1:46.45).
Gerry Lindgren Invitational
SALT LAKE CITY UT 3/29/05 -- A special 2-mile race will be held in Salt Lake City April 22 with 20 top runners from 10 states on hand, meet directors David and Aron Taylor announced. Entries include four Foot Locker finalists -- Cory Thorne NH, Chris Rombough WI, Mohamed Ige CO and Justin Switzer MI. The Taylors said the legendary Lindgren, who set HS records in 1964 that still stand, will be present for the race which honors his name, along with Jeff Nelson, who holds the national 2-mile record of 8:36.3 in 1979.
THIS WEEK
News items posted to DyeStat in the week ending March 31
Battle of Long Beach: Poly 68, Wilson 67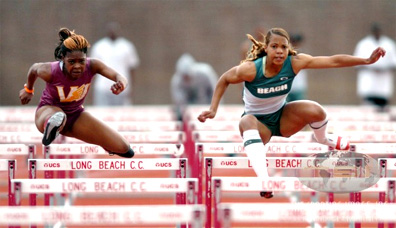 Controversial call by official made Wilson's Ebony Collins (left) start 100m hurdles from standing start. She lost to Poly's Shana Woods by 0.1 second. Details on DyeStatCal. photo by Kirby Lee / The Sporting Image
Texas Week by John Sullivan
Boys - Reagan San Antonio TX sr Will Schroeder 1:53.14 800m. Cinco Ranch TX sr Queito Teasley doubles 21.46 200m and 24-6.75 LJ. Cinco Ranch TX sr Trevor Gerland 13.85 110H.
Girls - Judson Converse triples 47.24 4x100, 1:41.72 4x200 and 3:55.28 4x400. Westfield Houston TX soph Nichole Jones doubles 4:27.76 1500m and 9:47.79 3000m. Red Oak TX sr D'Andra Carter doubles 44-3 SP and 161-10 DT

Quentin Summers

- Madison San Antonio senior wins 400m in 47.96 and anchors Madison's winning 4x400 (3:17.58) in UTSA Whataburger.


Will Schroeder - Reagan San Antonio runner wins 1500m in 4:03.19 at UTSA and 800m in 1:53.14 at Alamo Relays.
photos by Bert Richardson
VA 25th Conn-Madden Relays - Deep Creek sweeps Div A team titles. Bethel girls triple 47.72 4x100, 3:59.69 4x400 and 4:08.09 4x400.
WA South Kitsap Jamboree - Bellarmine WA sr Brie Felnagle opened her outdoor season in fine form with a 10:27.32 3200m. Felnagle was 6th in the Foot Locker Cross Country finals in December.
WA Cascade League - Michael Davis 206-2 JT
WI Wisconsin HS Track and Field has results from the late indoor season in the Badger state. Waukesha West girls and Green Bay Preble boys win the Oshkosh Invitational as New London sr Chris Rombough wins 3200m in 9:11.62 US#4.
Pasadena Games 400m winners
Rancho Cucamonga CA sr Sade Williams 53.30 and Dorsey Los Angeles sr Courtney Williams 47.77. Results - photos by Bill Leung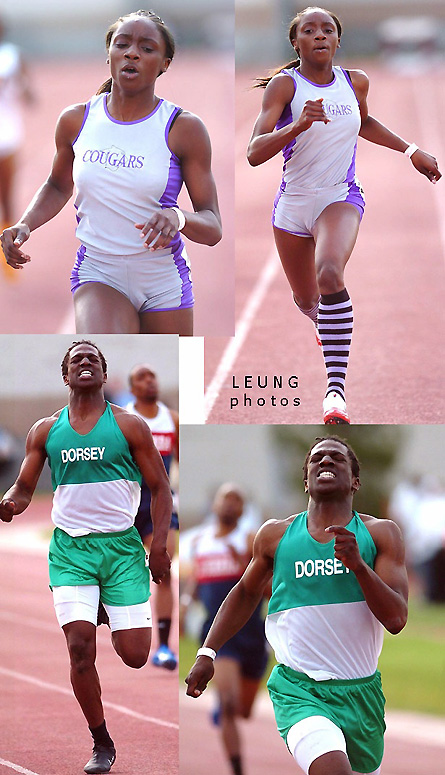 Chris Lear book signing


Author of "Running with the Buffaloes" and "Sub 4:00" signs his books in New York City and talks about college distance running. Tim Fulton was there and writes about
Chris Lear and His Impeccable Timing
NIN v. NSIC winners
Nike Indoor boys winners beat NSIC winning marks 12-10. But NSIC girls won 14-8 over the Maryland meet. NIN-NSIC Winners Table
Armory Collegiate Series 2006
NEW YORK, NY 3/24/2005 -- Dr. Norbert Sander, president of the The Armory Foundation, announced a new Armory Collegiate Track Series for the 2006 indoor season at the New York Armory. The series will consist of eight Friday night sessions with leading college teams. MORE
New York Armory 1978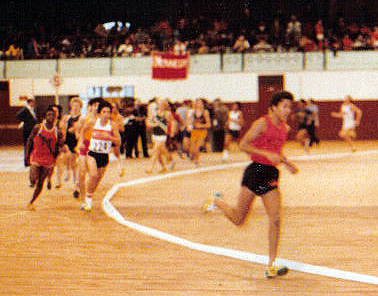 The current generation of runners at the New York Armory can hardly appreciate the miracle that has been wrought in transforming the old building to a state of the art facility that lays claim to be the fastest indoor track in the world. This is a photo of Michael Potter in 1978 when he was a sophomore at White Plains NY high school running his first race at the Armory. "Man that was one rough track. You did not want to fall on that floor. Splinters galore," Potter says. "This was the first time I wore my brand new pair of the original Oregon Waffles by the new company called Nike." Potter, who is now a Wall Street broker, later won the Loucks Games mile. The photo was taken by his coach Fred Singleton, now the director of the Loucks Games at White Plains High School every May.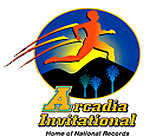 a DyeStat featured meet
30th GREAT SOUTHWEST
CLASSIC
Challenges
the USA
Once a regional post-season meet, GSW is now inviting top USA athletes to go against the best of 7 SW states, including those jackrabbits from Texas.
Albuquerque June 2-4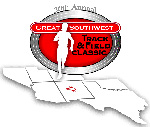 a DyeStat featured meet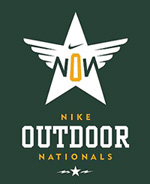 June 17-18 Greensboro
a DyeStat featured meet
VISIT

TRACK-TECH.COM
for


USA Open T&F Camp, FL,
USA Open XC Camps, CO,
USATF Jr Elite Camps CA
T&F TRAINING software
USATF Development Videotapes

DyeStat uses Hy-Tek
for meet results
The Harrier
by Marc Bloom