now on sale ...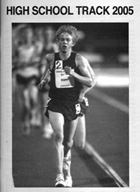 Want to know who has the all time record in the 4xMile relay? Or the freshman record in high jump? You need Jack Shepard's HIGH SCHOOL TRACK 2005. "I never leave home without it," says John Dye.
ShopDyeStat


unique items
for the HS athlete
--Parents Guide

--Training G
uide
--Training Profiles
--Pace Calculator
--the Harrier
--HS Track 2005
Distance - Boys - Race sequence & notes - Bumby takes charge in mile (below), Cormier closes in on Murdock on last turn of 2-mile (right)


Distance - Girls - Race sequence & notes - 2-Mile (below left), seesaw duel between Krista Anderson ND and Katie Niehaus SC. Sarah Bowman VA (below right) went wire to wire in Mile and almost did it again 90 minutes later in the 800.
New York Armory 1978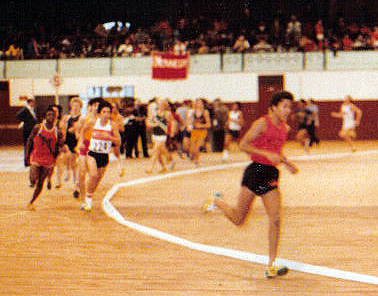 The current generation of runners at the New York Armory can hardly appreciate the miracle that has been wrought in transforming the old building to a state of the art facility that lays claim to be the fastest indoor track in the world. This is a photo of Michael Potter in 1978 when he was a sophomore at White Plains NY high school running his first race at the Armory. "Man that was one rough track. You did not want to fall on that floor. Splinters galore," Potter says. "This was the first time I wore my brand new pair of the original Oregon Waffles by the new company called Nike." Potter, who is now a Wall Street broker, later won the Loucks Games mile. The photo was taken by his coach Fred Singleton, now the director of the Loucks Games at White Plains High School every May.
Stat of the Week - a new feature by John Sullivan
Sully is a track nut who can't get enough track stats. He cranks out lists for his own amusement -- and now he can amuse you as well. In Sully's first installment, he scores the NCAA Indoor championships by HS state of the athletes. Texas wins in both men and women. That has nothing to do with the fact Sully is from Texas, but it could explain his motivation for producing this stat.
Stat of the Week index - NCAA Men - NCAA Women
Nicole Blood Injured, Has Left Team
Saratoga NY distance star says she may not run at all in outdoor season. Story by Steve (steveu) Underwood.
True Confessions of a TV Rookie
David Mitchell of Pinckney MI was a coach at the first Nike Indoor Nationals in 1999 when he received a "battlefield commission" as an announcer. He is an experienced announcer now, but he never did TV before this year's NIN in Maryland. Read about his experience.
THIS WEEK
News items posted to DyeStat in the week ending March 24
Lauren Fleshman


Galen Rupp


Dathan Ritzenhein


photos by Vic Sailer / PhotoRun

Matt Withrow

Sunday - Galen Rupp 20th in Junior Men - Dathan Ritzenhein fades in men's long race - Lauren Fleshman's 11th is highest US finish of the meet
Men's Long Race - Best Americans were 2003 Foot Locker champion Matt Withrow 38:41 60th, Ian Dobson 38:45 61st, and Dathan Ritzenhein 38:46 62nd. A day that began with such optimism for Ritzenhein (see below) quickly turned to defeat, far behind the African runners he was trying to contend with. After one lap at the horse track course, the former 2-time Foot Locker Cross Country champion was 22nd in a big pack only 1 second behind the leader. The next four laps went like this: 26th, 0:13 behind - 35th, 0:47 - 42nd, 1:30 - 55th, 2:32. Olympic 10k gold medalist Kenenisa Bekele took the lead from Eliud Kipchoge on lap 5 and went on to win for a double (he won the short race Saturday).
Junior Men - Galen Rupp is 20th, first US finisher, as Kenya and Ethiopia continue to dominate.
Women's Short Race - Lauren Fleshman 13:44 11th is highest US finish of the meet, followed by Shalane Flanagan 14:05 20th and Shayne Culpepper 14:06 21st.
USATF Release: Ritz feels the best he ever has.
Sports Illustrated article: Ritz' fortune cookie said, "THE TIME IS RIGHT FOR YOU TO REACH YOUR GOALS." SI headline: "Ready to take on the world -- finally living up to his vast potential, tough-as-nails Dathan Ritzenhein could be the first American in 23 years to win a medal at the world cross country meet." Alberto Salazar won silver in 1982.
Saturday - Kenya and Ethiopia dominate
Junior Women - Best American is Lindsay Scherf, 18th in 22:12
Men's Short - Best American is Jorge Torres, 13th in 11:58.
Women's Long - Best American is Colleen DeReuck, 13th in 27:51.
USA's Lindsay Scherf (762), who finished 18th in the Jr Women Saturday, trails Japan's Yurika Nakamura here.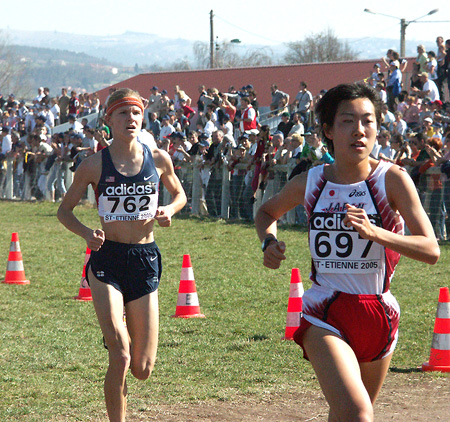 photo by John Nepolitan
World Cross Schedule
Saturday, March 19 , 2005
2:30 p.m.
Junior Women's 6 km
3:20
Senior (Open) Men's 4 km
4:00
Senior (Open) Women's 8 km
Sunday, March 20, 2005
2:25 p.m.
Junior Men's 8 km
3:15
Senior (Open) Men's 12 km
4:15
Senior (Open) Women's 4 km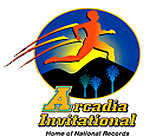 a DyeStat featured meet
30th GREAT SOUTHWEST
CLASSIC
Challenges
the USA
Once a regional post-season meet, GSW is now inviting top USA athletes to go against the best of 7 SW states, including those jackrabbits from Texas.
Albuquerque June 2-4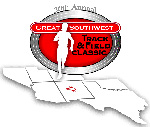 a DyeStat featured meet
VISIT

TRACK-TECH.COM
for


USA Open T&F Camp, FL,
USA Open XC Camps, CO,
USATF Jr Elite Camps CA
T&F TRAINING software
USATF Development Videotapes

DyeStat uses Hy-Tek
for meet results
The Harrier
by Marc Bloom