now on sale ...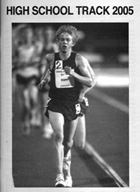 Want to know who has the all time record in the 4xMile relay? Or the freshman record in high jump? You need Jack Shepard's HIGH SCHOOL TRACK 2005. "I never leave home without it," says John Dye.
ShopDyeStat


unique items
for the HS athlete
--Parents Guide

--Training G
uide
--Training Profiles
--Pace Calculator
--the Harrier
--HS Track 2005
| | |
| --- | --- |
| | The brainstorm of Scott Bush, editor of Illinois Runner and the NTN Midwest Region editor last fall, will have its inaugural Saturday June 11 at Vernon Hills HS in the northwest suburb of Chicago. Four races will draw runners from seven states, including Sarah Wickman IA, Michigan 1600m champ Jenny Morgan and her fast rising 8th grade sister Stephanie, Foot Locker finalist Levi Fox OH, national freshman class indoor mile record holder Andrew Perkins WI, Roosevelt DesMoines IA stalwarts Jon Thomas and Kiel Uhl, and Eric Dettman IL, a member of York Elmhurst's national champion cross country team. There will be rabbits in each race to assure a good pace. MORE on MDG Index Page |
Stat of the Week
Andrew Bumbalough joins select group.
John Sullivan is a track nut who can't get enough track stats. He cranks out lists for his own amusement -- and now he can amuse you as well. This week, Boys in top 100 all-time in both mile and 2-mile. Andrew Bumbalough ran a 4:06.53 mile last Saturday to join 29 others for a total of 30 boys who are in the top 100 all-time for both the mile and 2-mile. Gerry Lindgren leads the list, and Alan Webb is second. The decade of the 2000s is second best (9 runners), but is closing on the 1970s (10.5) with 4 years to go.
New Balance and the Armory Foundation
team up on Manhattan Invitational
NEW YORK June 7, 2005 -- The New York Armory Foundation has entered into a 3-year agreement to help manage the venerable Manhattan Invitational, one of the oldest and biggest high school cross country meets. Armory Foundation president Dr. Norbert Sander announced that New Balance will be the title sponsor of the meet, with the US Marine Corps a supporting sponsor. The Armory Foundation, which runs 100 indoor meets a year at the New York Armory and also manages outdoor meets at the new Icahn Stadium on Randalls Island, plans improvements in start/finish areas, award staging, clock management, course decoration, and concessions. Ed Bowes will continue as director of the meet. The 33rd Manhattan Invitational will be held at Van Cortlandt Park NYC in October. The 2005 meet saw records set by Saratoga girls, Fayetteville-Manlius boys and Nicole Blood.
THIS WEEK
News items posted to DyeStat in the week ending June 9
Alphabetical by state.
CALIFORNIA STATE MEET
June 3-4 Sacramento City College
on-site coverage with Doug Speck and Rich Gonzalez
Scott Roth 17-1 PV, breaking the oldest record on California State Meet books. Team champions are Dorsey LA boys 38.5 (Loyola LA 30) and Merrill West Tracy girls 48 (Wilson Long Beach 43). Six US#1 and 193 DyeStat Elite performances. Both 400m races were US#1 marks - David Gettis 45.84, first 3-time 400m champ ever in California, and Sade Williams 52.35 400m. Wilson Long Beach girls 44.84 4x100 US#1 and 3:39.27 4x400. Ebony Collins US#1 double -- 11.50 100m and 40.10 300H. Bryson Stately 13-4 PV.
CT - Connecticut Open Championships - COMPLETE RESULTS
Hyde School boys, Simsbury girls win team titles. Natasha Harvey triples 14.49 -3.2 100H, 44.43 300H and 19-5.75 LJ. Ridgefield girls 9:17.93 4x800. Myles Bradley triples 14.19 -5.0 110H, 23-1 LJ, and 46-4.5 TJ. Shelton boys 7:53.30
FL Golden South Classic
29th
Golden South
Classic


June 4 at The First Academy, Orlando FL

Jordan Scott 17-0 US#2 PV. Deandra Doyley 1:00.77 400H US#3. Doubles by Andre Black, Brittany Jones and Dennis Martin. Jackie Areson 4:50.07 edges Kelly Parrish 4:51.64 in thrilling mile.

Jordan Scott photo by Milesplit Network
IN -- Indiana State Meet - COMPLETE RESULTS - Lawrence Central boys, Northrop Fort Wayne girls win team titles. Harrison soph Bryce Brown doubles 13.83 +0.9 110H and 36.34 300H (state record).
KY - Kentucky State Meet -
MA - Massachusetts State Meet - COMPLETE RESULTS
Chris Barnicle 9:10.64 2-mile, "running just to win," observors say, and Jed Carpenter 48-6 TJ lead Newton North boys to title. Andover 37 wins girls title. Medford soph Arantxa King 19-11.75 LJ breaks old meet record by 6 inches.
MA - Boston High Performance Series - Unattached runners Nicole Blood and Caitlin Lane ran well. Blood won the women's elite 3000 meters in 9:29.44, a New York state junior class record, and Lane was third in the 1500 in 4:27.84.
ME - New England Championships - June 11, Saco ME - PERFORMANCE LISTS
ME - Maine State Meet - In "Maine's Greatest Race," three runners broke the state record for 1600m with freshman Sintayehu Taye 4:09.69 outkicking his brother Ayalew 4:10.00 and Eric Giddings 4:10.98. The Taye brothers will run for Cushing Academy in Ashburnham MA next year.
MI - Michigan State Meet - COMPLETE RESULTS and highlights. Mumford Detroit girls and Carmen-Ainsworth Flint boys win Div 1 team titles. Fast 1600m by Dan Roberts 4:09.45 and Jenny Morgan 4:48.07 (Geena Gall 4:51.44, Liz Mengyen 4:52.94). Geena Gall 2:09.60 800m. Tiffany Ofili triple 18-9.25 LJ, 14.19 100H, 42.82 300H for singlehanded second place in Div 2. Ahmad Rashad 10.56 and 21.51.
NM Great Southwest Classic
Donna on the Side at the Great Southwest Classic
Touring Albuquerque - the gate to Old Town
6 US#1 performances
J-Mee Samuels NC and Sarah Matthews CO claim MVP awards with all-time ranking performances - Samuels 10.07w 100m and 20.32 200m US#5 all time - Matthews 21-2 US#7 all time in greatest HS girls LJ competition ever with 3 girls 20-8 or better, 4 more girls 19-5 or better

left, J-Mee Samuels

Sarah Matthews
photos by John Dye
NY - New York State Meet - COMPLETE RESULTS

Saratoga jr Lindsey Ferguson 6:39.54 2000m steeplechase is a new national record.
Brittany Sheffey 4:26.13 US#1.
Rome Free Academy boys and New Rochelle girls win team titles.

NY - Girls Eastern States - Suffern NY 11:51.04 DMR US#2
OH - Ohio State Meet - Heroics all around. Glenville Cleveland boys and Collinwood Cleveland girls win D1 team championships. Jeff See doubles 50 minutes apart in 4:11.20 1600m (his 3rd straight state title) and 1:51.18 800m. Crestwood Mantua jr Bridget Franek 4:45.68 1600m SR and 2:11.70 800m and Beaumont Cleveland Heights freshman Emily Infeld 4:58.18 and 2:11.31 trade 1-2 finishes 50 minutes apart. Euclid soph Jessica Beard 53.47 and Libbey Toledo jr Danyelle McGary 53.64 both break state record for 400m in the morning, only to see Eastmoor Academy sr Ayrizanna Favours 53.19 do them better in the afternoon. . Ashley Muffet 50-6.5 SP repeats with state record. Glenville Cleveland boys sweep relays 1:25.09 4x200 SR US#2.
OR Prefontaine Classic
Alan Webb 8:11.48 breaks American record for 2 miles, finishing 2nd to Eliud Kipchoge of Kenya 8:07.68 More

photo by Louis LeBlanc
Marc Davis' race notes - An Amazing Day for track and field in Track Town USA. Alan Webb heard the announcer say he needed a 60-second last lap to break the record, and that's exactly what he did.
TV: NBC Sunday June 5, 2-3 pm Eastern
RI - Rhode Island State Meet - Good Sam (Samantha Gawrych) triple includes 2:10.38 800m MR. Maloney twins win four golds. Freshman Leigh Petranoff 144-7 JT is state record and national freshman class record.
TN - Music City Distance Carnival - Vanderbilt U., Nashville - Andrew Bumbalough ran the fastest mile in the US this year at

4:06.53

, finishing seventh in an elite race won by Anthony Famiglietti 3:58.23.
VA - Virginia State Meet - COMPLETE RESULTS - 51 DyeStat Elite performances.

AAA -An amazing tie between Great Bridge ( with Michael Morrison scoring 40 points including 16-6 PV state record) and Landstown (with William Harvin winning an unprecedented 5 events to score 50 of Landstown's 52 points). Bethel girls win again with double by Francena McCorory. Freshman Aurora Scott gets distance double.
AA - Sarah Bowman finished her high school career with a rush by leading Fauqier to its first state championship. Bowman tripled in the the 800 (2:09.32), 1600 (4:41.81) and 3200 (10:21.15), all meet records, and was third in the high jump.
A - Nelson County boys, Buffalo Gap girls win team titles.
Michael Morrison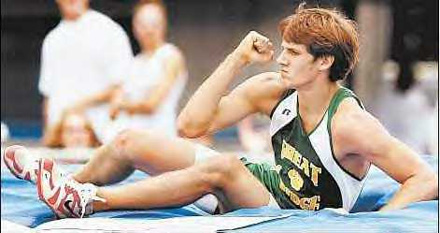 photo by Genevieve Ross /The Virginian-Pilot
VT -

Vermont State Meet

-

WA - Washington State Meet - 81 DyeStat Elite performances.
Brie Felnagle double leads Bellarmine Prep to girls title. Jake Hanson triples. Other doubles by Princess Joy Griffey, Becca Noble, Christina Tupper, Nectaly Barbosa, Whitney Hooks, Rashad Toussaint, Kevin Hatch and Korey Morris.. Soph Tony Henderson 24-3 LJ leads Gig Harbor boys to 4A title.
WI - Wisconsin State Meet - A record setting meet with record setting attendance. State meet records by Steve Marcelle 67-6 SP, Chris Rombough 8:57.73, and Victor Reynolds 48-11 TJ.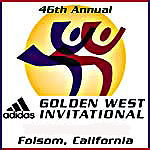 VISIT

TRACK-TECH.COM
for


USA Open T&F Camp, FL,
USA Open XC Camps, CO,
USATF Jr Elite Camps CA
T&F TRAINING software
USATF Development Videotapes

DyeStat uses Hy-Tek
for meet results
The Harrier
by Marc Bloom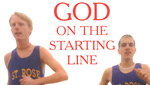 Steve (steveu) Underwood says: "God On The Starting Line is a wonderful gift to the world of prep distance running. It's kind of like eating, oh, a premium triple chocolate fudge brownie ice cream sundae. You might feel stuffed and a little woozy, but like you've never devoured anything so delicious."