now on sale ...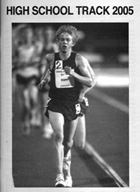 Want to know who has the all time record in the 4xMile relay? Or the freshman record in high jump? You need Jack Shepard's HIGH SCHOOL TRACK 2005. "I never leave home without it," says John Dye.
Closing Day - Sunday
Ken Hall LA 53-9.25 wins TJ with two more preps over 51 feet - Brittany Daniels CA 4th in senior TJ - Michael Morrison VA 3rd in decathlon.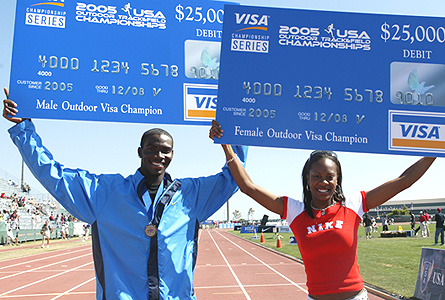 Recent preps Kerron Clement TX (U. Florida) and Sanya Richards FL (U. Texas) won $25,000 checks as 2005 VISA Champions. Clement won the 400m hurdles in 47.24, fastest in this event in 7 years, and Richards won the 400 meters in 49.28, fastest in the world this year. Lashinda Demus, who set a PR in 400H at 53.35, was just one point behind Richards in the VISA point standings. photo by Vic Sailer / PhotoRun
Reno NV soph Marie Lawrence
chews gum when she runs. Here, she even blew a bubble while going over a barrier in the steeple chase. DyeStatCal's Doug Speck noticed Marie's gum chewing at last year's JO Outdoors Track and reported:


I asked Marie if she always chews gum when she runs and she replied that she did. She can be zooming by at sub 5:00 mile pace and casually chewing her gum - I was taking pictures right next to the track and she looked so relaxed zooming along in the race and calmly chewing at the same relaxed pace the entire way. Okay, so my next question afterwards was whether she had ever swallowed it while in a race or while running. She simply replied, "No."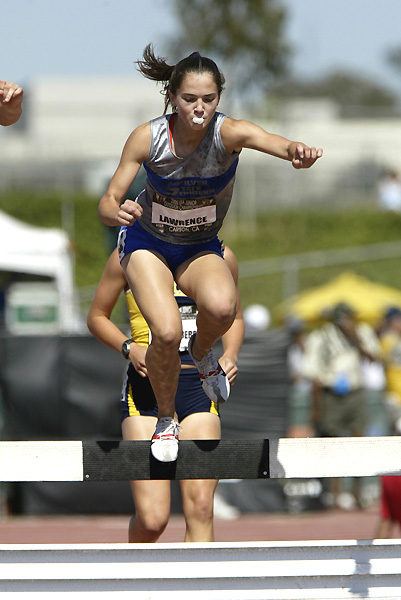 photo by Lisa Coniglio / PhotoRun
Video

by Marc Davis, 1996 steeplechase Olympic finalist
1500 men - Mark Matusak - 1500 women - Sarah Bowman -
5000m women - Nicole Blood - 400H Men - 800m Men -
Men 100m - Women 100m - Women 3k - Men 10k - Marie Lawrence - 200 final Men - 200 final Women - s
Texas Sweeps GHAC Relays
Cinco Ranch Katy boys, A&M Consolidated girls
win first online high school track meet
Cinco Ranch added the GHAC crown to their second straight Texas 5A championship. They were led by the stellar trio of Scott Sellers (HJ), Queito Teasley (LJ) and Trevor Gerland (110H). A&M Consolidated's strength is in distance (Jocelyn Gardner) and throws (Candis Kelley). Those events are undervalued in the sprint-centric Texas state meet scoring system, but they played well in the GHAC Relays, which test the spectrum of skills in track and field. MORE
Stat of the Week
NCAA championships scored by HS state
Texas men, California women win
John Sullivan is a track nut who can't get enough track stats. He cranks out lists for his own amusement -- and now he can amuse you as well. This week, 2005 NCAA championships scored by state of high school attended. Texas men and California women are best.
VISIT

TRACK-TECH.COM
for


USA Open T&F Camp, FL,
USA Open XC Camps, CO,
USATF Jr Elite Camps CA
T&F TRAINING software
USATF Development Videotapes

DyeStat uses Hy-Tek
for meet results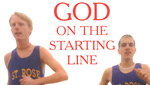 Steve (steveu) Underwood says: "God On The Starting Line is a wonderful gift to the world of prep distance running. It's kind of like eating, oh, a premium triple chocolate fudge brownie ice cream sundae. You might feel stuffed and a little woozy, but like you've never devoured anything so delicious."
ShopDyeStat


unique items
for the HS athlete
--Parents Guide

--Training G
uide
--Training Profiles
--Pace Calculator
--the Harrier
--HS Track 2005