Picked a camp yet? Check out the DyeStat Camp Directory
now on sale ...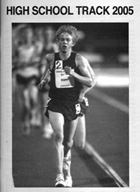 Want to know who has the all time record in the 4xMile relay? Or the freshman record in high jump? You need Jack Shepard's HIGH SCHOOL TRACK 2005. "I never leave home without it," says John Dye.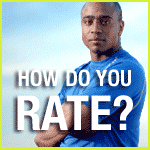 Day 2 Friday - Juniors
J-Mee Samuels tries for sprint double in 200 - Mark Matusak and Galen Rupp are in 1500 heats - Khrystal Cantey and Nicole Leach in rematch of NON 400H final - Justin Oliver and Brittany Jones look to repeat NON wins in 400m. Nicole Blood and Cassie Hintz in 5000. Friday Preview
Day 1 Thursday - Juniors
Preps star - J-Mee Samuels (100), Kira Robinson (100H), Ryan Whiting (SP), Marie Lawrence (3000), and Michael Morrison (PV) all win. Sarah Bowman (800) advances
new
uploads

photo by John Dye
Texas Sweeps GHAC Relays
Cinco Ranch Katy boys, A&M Consolidated girls
win first online high school track meet
Cinco Ranch added the GHAC crown to their second straight Texas 5A championship. They were led by the stellar trio of Scott Sellers (HJ), Queito Teasley (LJ) and Trevor Gerland (110H). A&M Consolidated's strength is in distance (Jocelyn Gardner) and throws (Candis Kelley). Those events are undervalued in the sprint-centric Texas state meet scoring system, but they played well in the GHAC Relays, which test the spectrum of skills in track and field. MORE

Photo sequence of Nike Outdoor distance races
relays hit top 10 charts
-
4x800 relays end with Syosset NY boys US#6 all time, Shaker NY boys US#15t, and Bay Shore NY girls US#8.

those magnificent miles
-
Bowman-Felnagle is one for the ages; Jeff See climbs the all-time charts. photo sequence of mile runs
double your pleasure
-
Mark Matusak and Elizabeth Yetzer outkick favorites in 2-mile races.
Plus new action photos uploaded today: 200m -
Syosset NY

anchor Sean Tully (

left

) and Shaker's Joe Belokopitsky waged the most torrid duel of the entire meet, with Syosset ending season undefeated and US#1 indoors and out.

Bay Shore NY's McCurdy sisters hand off to each other for the last time as senior Mary Liz goes to Stanford next year while Sarah returns for her sophomore year.

4x800 relay photo sequences
video and more . Video of 100, 200, 400, 800, mile, 2-mile and steeple chase. Video interviews by Marc Davis with Ken Cormier, Brie Felnagle, Sarah Bowman, Alexandria Anderson, and Nicole Blood. Pre-race blogs by Cormier, Blood and Anderson. (Works best with high speed internet connection.)
SATURDAY - Magnificent miles by Sarah Bowman VA and Mark Matusak CA. Clarkston MI girls (4-mile relay) and Lindsey Ferguson NY (steeple chase) beat national records. Justin Oliver GA (400), Kamorean Hayes NC (SP), Dennis Boone VA (LJ) and Geena Gall MI (800) get indoor-outdoor national championship doubles. Arantxa King MA doubles LJ/TJ.
FRIDAY - thrilling 2-miles - Surprise finishes in each race as Mark Matusak CA and Elizabeth Yetzer MN outkick favorites. Syosset NY boys make it five for five over Shaker NY in pulsating 4x800 relay. Bay Shore NY wins girls 4x800.
Stat of the Week
NCAA championships scored by HS state
Texas men, California women win
John Sullivan is a track nut who can't get enough track stats. He cranks out lists for his own amusement -- and now he can amuse you as well. This week, 2005 NCAA championships scored by state of high school attended. Texas men and California women are best.
VISIT

TRACK-TECH.COM
for


USA Open T&F Camp, FL,
USA Open XC Camps, CO,
USATF Jr Elite Camps CA
T&F TRAINING software
USATF Development Videotapes

DyeStat uses Hy-Tek
for meet results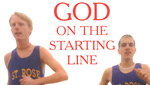 Steve (steveu) Underwood says: "God On The Starting Line is a wonderful gift to the world of prep distance running. It's kind of like eating, oh, a premium triple chocolate fudge brownie ice cream sundae. You might feel stuffed and a little woozy, but like you've never devoured anything so delicious."
ShopDyeStat


unique items
for the HS athlete
--Parents Guide

--Training G
uide
--Training Profiles
--Pace Calculator
--the Harrier
--HS Track 2005