now on sale ...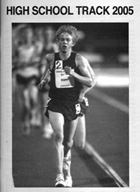 Want to know who has the all time record in the 4xMile relay? Or the freshman record in high jump? You need Jack Shepard's HIGH SCHOOL TRACK 2005. "I never leave home without it," says John Dye.
ShopDyeStat


unique items
for the HS athlete
--Parents Guide

--Training G
uide
--Training Profiles
--Pace Calculator
--the Harrier
--HS Track 2005
the weekend
We are on-site at two big meets - the Great Southwest Classic in Albuquerque and the California State Meet in Sacramento. We will also have reports on the Golden South Classic, plus state meets in IN, KY, MA, ME, MI, NH, NY, OH, RI, VA, VT, WA, and WI.
Thursday

-

first day of decathlon and heptathlon. Starts 3 pm Mountain.
The Southwest challenges the USA
. . . and the challenge gets bigger this year as some super elite athletes from around the country journey to Albuquerque. 11 US#1 performers are entered.. MORE
THIS WEEK
News items posted to DyeStat in the week ending June 2
Alphabetical by state.
CA DyeStatCal

-

State meet fields are set. California boys and girls rankings updated.
CA California State Meet - June 3-4 at Sacramento City College
Big coverage on DyeStatCal. Performance Lists

CA Sectionals - Rich Gonzalez compiles top performers in each event from all 10 sectionals. Some sensational marks - Brittany Daniels 45-7.5w TJ, Scott Roth 17-2 PV, David Gettis 46.08 400m
Historic performances in California

David Gettis 46.08 400m


US#1 2005 and fastest in CA since Obea Moore 10 years ago

photo by Kirby Lee

Scott Roth 17-2 PV
US#1 2005 and US age-16 national record

photo by Rich Gonzalez

Granite Bay HS junior Scott Roth cleared 17-02 at the Sac Joaquin Section Finals to become the world U-18 leader in the boys pole vault, improving his national age-16 record and achieving the best vault mark by a Californian in 14 years!
On the track, Dorsey HS senior David Gettis (signed with Baylor) torched the oval with a nation-leading 46.08 to win the L.A. City Section Finals. Gettis' time was the fastest one-lap clocking by a Golden Stater since the famed Obea Moore clocked 45.14 in a Pan-Am Juniors competition in Chile 10 years ago.
Over in the sandbox, the Merrill West HS duo of Brittany Daniels and Shevell Quinley continued to dazzle. Daniels matched her seasonal best with a 20-05.50 leap into the wind to win the SJS Finals, with teammate Quinley recording a lifetime-best 20-03.75 into the wind to claim second. They are believed to be the only same-year 20-foot teammates in U.S. prep history.
Controversies continued as well, with Lincoln of Stockton's boys 4x400 relay team reportedly being disqualified for non-matching uniforms. Lincoln had clocked 3:18.60 in the long relay late last month as was the Northern California leader in the event. Long Beach Poly's boys 4x400, which placed second at the Penn Relays in 3:12.35, was DQ'ed in the CIF-Southern Section Divisional Finals last weekend. Tonight (Friday), the powerhouse CIF-Southern Section Masters meet highlights the docket.
by Rich Gonzalez, editor, DyeStatCal
CT - Connecticut class championships
DC - DCIAA Championships - Woodson boys, Ballou girls win team titles. Andria Smallwood 55.67 400m.
FL -- 14th BAYTAF Classic - U. of South Florida, Tampa
GA -- DeKalb International Prep Classic
IL -- Illinois Boys State Meet - COMPLETE RESULTS
IN -- Indiana State Meet - SEEDS
KS -- Kansas State Meet - Anthony Bozarth reports on one of the big ones -- 3,500 participants, 30,000 spectators. Olathe North boys, Leavenworth girls win 6A team titles. WINNERS AND DETAILED HIGHLIGHTS ALL CLASSES.
MA - Massachusetts State Meet - SEEDS
MA - Massachusett Divisions - COMPLETE RESULTS
MA - Boston High Performance Series - Douglas AZ sr Ken Cormier made another trip to Boston (he ran the reebok Boston Indoor there earlier this year) pay off. Cormier won the 1500m in 3:48.97, fastest high school time in the US this year. It was a nail biting duel with Dartmouth freshman Harry Norton, who ran the 500 yards side by side, and it took the Finish Lynx cameras to find 0.01 difference between the two. Cormier splits -- 59.6, 2:00.6 (2:47.5), 3:02.6 and the 3:48.97 to Norton's 3:48.98. Ken's coach Steve Lurie said that Cormier will run the 800m at Great Southwest, 2 miles at Golden West, and the mile at Nike Outdoor Nationals in Greensboro NC.
Erstwhile Saratoga High School runners Nicole Blood and Caitlin Lane, who are training on their own this season, also ran well. Blood was second in the women's elite 800m in 2:11.76, and Lane was third in the women's elite 1500m in 4:31.58.
MD -- Maryland State Meet - COMPLETE RESULTS.
Eleanor Roosevelt sweeps 4A titles. Boys win 4x400 to pass Oxon Hill. Girls romp by 64 points. Theresa Lewis 13.64 100H state record.
MD Towson Catholic soph Devon Williams ran 2:08.49 800m US#8 at the Tuppeny Twilight meet at Villanova.
MI - Michigan State Meet - SEEDS
MO -- Missouri State Meet - COMPLETE RESULTS
Coming out party for Berkeley freshman Alishea Usery and Eureka jr Meredith Snow. Oak Park boys 7:49.37 4x800 (Neosho 7:49.57). Lee Summit North boys and Jefferson City girls win 4A team titles.
Alishea Usery


photos by Tracy Rollins

Meredith Snow

Day 2 Saturday - Two US#1 marks set: Ryan Whiting 70-0 SP and Conestoga Valley boys 7:40.06 4x800 (North Penn 7:41.04 US#2). Nicole Smith triples, 39-03.50 TJ in the rain; 8th in 100H 15.04 (14.99 prelims) for 31 points alone. McDowell wins AAA girls by six over Wissahickon. In AA, Milton Hershey beats Gwynedd by six. Don Rich story is coming. Lindsey Regan, US#2 in pole vault at 13-6, no heighted, coming in at 11-6 in the rain as 11-9 became the winner.


Two encore team titles - surprise wins for retiring coach - upsets and records
Whiting says he can improve as his team repeats.
Smith outscores 2nd place by herself for a team encore.
Simkins gets a gold and silver.
Quips and Milton Hershey sharp in AA teams titles.
Philly Public League gets first-ever gold and state meet record.
Miller tests his "Nike" speed in 1600.
Best-ever PA pole-vaulter a no-height.
Williams and Scott give their retiring coach two individual state titles.
Conestoga Valley and North Penn finish the 4x800 in US#1 and US#2 times. Conestoga Valley anchor Kip Horbal split 1:53.2 to catch North Penn anchor Cody Edling 1:53.7.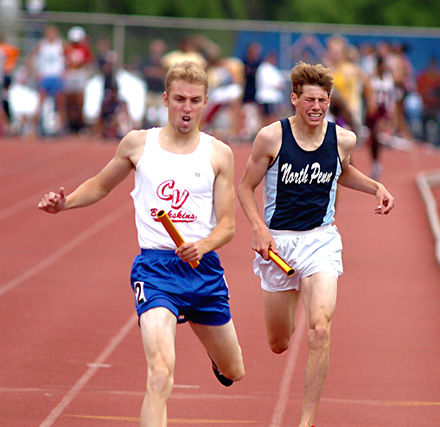 Central Dauphin sr Ryan Whiting completes a throws double with his first 70 foot throw -- right on the money at 70-0 -- improving on his US#1 ranking and breaking the PIAA state record by 3.5 feet.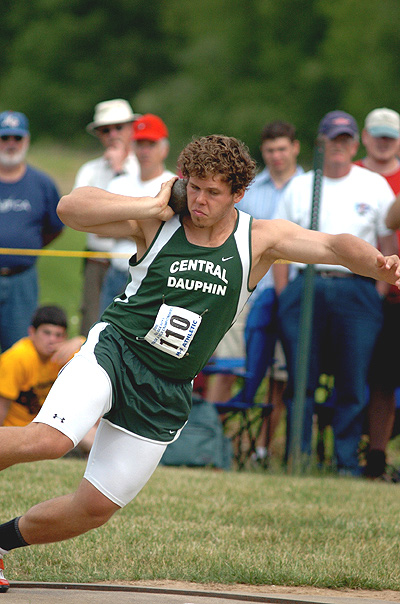 photos by Don Rich, Penn TrackXC / Milesplit network
Day 1 Friday - Three meet records broken -- Osaya Osunde207-10 JT, Ryan Whiting 201-9 DT, and Eric Sparks 15-10. Nicole Smith doubles 20-3 and 5-8.
SD -- South Dakota State Meet
TN -- Tennessee State Meet - Brentwood Academy sr Andrew Bumbalough's same day triple includes 4:05.75 1600m, fastest in the US this season. He wrapped a 9:32.59 3200m and a 1:53.99 800m around his big 1600m race. Houston boys, Brentwood girls win 3A team titles.
In the 1600 and 800, Bumbalough had to keep an eye on Baylor School sr Oliver Townsend, who finished second in each race.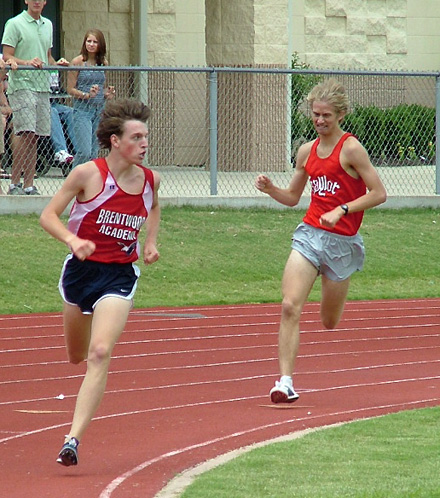 WI -- Wisconsin regionals - Badger state athletes hit all time lists.Preble Green Bay sr Steve Marcelle 66-8 SP, second best all time in Wisconsin. Bradley Tech 1:28.08 4x200 (Vincent Milwaukee 1:28.18 and Menomonee Falls 1:28.50) -- Wisconsin #1, #4 and #7 all time. Preble Green Bay sr Steve Marcelle 66-8 SP, Wisconsin #2 all time. Germantown sr Adam Schleis 14.25 110H. Waukesha North sr Alicia Pabich 4:59.35 1600.
WI - Wisconsin State Meet - HEATS posted
in memory of Pre

Steve Prefontaine




January 25, 1951 - May 30, 1975

To give anything less than your best is to sacrifice the gift.


Thirty years after his death in a car accident, Pre still lives in people's memories. MORE
Pre Classic
Ritz v. Webb at 2-miles - the race we wanted to see in 2001 will take place Saturday June 4 at Pre's home track, Hayward Field, Eugene OR with an international elite field.
DyeStat will be reporting live with Marc Davis.
Stat of the Week - John Sullivan is a track nut who can't get enough track stats. He cranks out lists for his own amusement -- and now he can amuse you as well. This week, a double feature:
Boys sub-9:00 3200m by state - Girls sub-4:50 1600m by state
Don't read these if you are anti-California. The Golden State claims one third of both lists.
Midwest Distance Gala
A new post-season meet will be held June 11 at Vernon Hills IL high school with four races under lights -- a boys 800, mile and 2-mile and a girls mile. Meet director Scott Bush said the purpose is to provide high level competition after state meets and before national meets for runners from the Midwest and beyond. There will be rabbits to insure a fast pace. Details are on the meet's web site.
NIKE GHAC RELAYS


the hottest meet in high school track and field -- virtually
by John DyeNike and DyeStat announce the NIKE GHAC RELAYS, a new way for high school track and field teams to compete with other schools from across the country -- without leaving home. In the "postal relays" of old, coaches would have their team run a time trial, drop the results in the mail, and—a few weeks later—find out how they ranked. Now, Nike and DyeStat are using online technology to create a modern version of that idea. And instead of just one event, the GHAC Relays consists of 10 events across all track and field disciplines. The best teams will have balance. You can't win the GHAC Relays with just a couple of studs in a couple of events. Each team's best performance in each event will be scored decathlon style with a formula that gives 1000 points for a national record level performance and 700 points for the DyeStat Elite top 100 cutoff standard. The team score is the sum of the 10 event scores. An online scoreboard will let you slice and dice the scores any way you like. Prizes and surprises await the best teams.
DETAILS -- find out how to enter today
What's with the name GHAC (gee-hack)?
It's Virtual - It's Free - It's Open to All
661 College Choices
The National Letter of Intent signing period for the high school class of 2005 runs from April 13 to August 1. We have updated our College Choices 2005 lists and now have 661 choices as of May 1. Send information on choices to John Dye, giving name, high school, event, college, and a way to verify. Some email is on a computer that had to go to the shop, so send your choice again if we are missing you.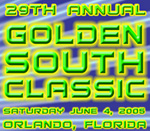 30 future Olympians competed here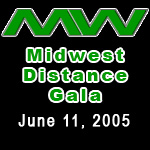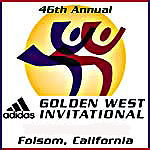 VISIT

TRACK-TECH.COM
for


USA Open T&F Camp, FL,
USA Open XC Camps, CO,
USATF Jr Elite Camps CA
T&F TRAINING software
USATF Development Videotapes

DyeStat uses Hy-Tek
for meet results
The Harrier
by Marc Bloom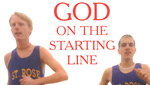 Steve (steveu) Underwood says: "God On The Starting Line is a wonderful gift to the world of prep distance running. It's kind of like eating, oh, a premium triple chocolate fudge brownie ice cream sundae. You might feel stuffed and a little woozy, but like you've never devoured anything so delicious."