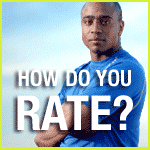 SPARQ will be at NON
Picked a camp yet? Check out the DyeStat Camp Directory
now on sale ...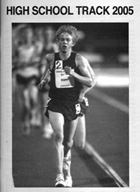 Want to know who has the all time record in the 4xMile relay? Or the freshman record in high jump? You need Jack Shepard's HIGH SCHOOL TRACK 2005. "I never leave home without it," says John Dye.
ShopDyeStat


unique items
for the HS athlete
--Parents Guide

--Training G
uide
--Training Profiles
--Pace Calculator
--the Harrier
--HS Track 2005
Junior women 's PV standard lowered - The qualifying standard for the women's pole vault at the USA Junior Championships has been lowered to 3.85/12-7.5. More on USATF site.
Stat of the Week
NCAA championships scored by HS state
Texas men, California women win
John Sullivan is a track nut who can't get enough track stats. He cranks out lists for his own amusement -- and now he can amuse you as well. This week, 2005 NCAA championships scored by state of high school attended. Texas men and California women are best.
Erin Bedell TX 4:44.17 mile US#1.- Krystal Cantey NJ 41.19 300H US#3 - Ramsey Kavan SD 10:20.30 3200m US#3 - soph Cherrelle Garrett CA 11.44w 100m shocker -Brysun Stately CA 13-02 PV - Stephanie Horton OR 50-00 SP - Ryan Whiting PA doubles 68-8.5 SP and 191-10 DT - Justin Oliver GA doubles 21.13 200m and 46.97 400m - David Klech CA doubles 13.90w 110H and 36.63 300H - Scott Roth CA 16-10 PV - Nkosinza Balumbu CA 51-05w TJ - Ken Cormier AZ 8:59.63 3200m (Scott MacPherson 9:00.23).
Shaker NY 7:38.97, Colts Neck NJ 7:39.54 -
US#1 and US#2 4x800 times this year

reebok Grand Prix
at Icahn Stadium, NYC

Shaker anchor Joe Belokopitsky and Colts Neck anchor Craig Forys got the baton a half step apart and were still that way at the finish. Colts Neck tied a New Jersey record held by the famous 1978 Trenton team. Add Syosset NY's national indoor record holder and Pennsylvania's pair (Conestoga Valley and North Penn), and the Nike Outdoor National 4x800 Friday night in Greensboro NC could be a historic showdown.

photo by Don Rich / PennTrackXC, Milesplit network
THIS WEEK
News items posted to DyeStat in the week ending June 16
Alphabetical by state.
CA DyeStatCal

-

All the news of the Golden State
GA Georgia Hammer Games - Marietta GA - Lovett Marietta GA freshman Allison Horner 159-9 is new national freshman class hammer throw record, breaking the record of 155-10 set on May 27 by Arianna LUgo of Los Altos Hacienda Heights CA.
IA - Midwest Senior Spotlight - COMPLETE RESULTS - 28 DyeStat Elite performances. Doubles by Jeff Farnell IL (sprints) and Ryann Hendricks IL (jumps). Steve Marcelle WI 66-1.5 SP. A.J. Curtis WI 191-9 DT.
KY - Kentucky State Meet -
MA - Boston High Performance June 11 - Three preps ran well in the elite 1500 meter races. Newton North MA sr Chris Barnicle 3:50.08 and Northport NY sr Kevin Tschirhart 3:50.53 were 2nd and 3rd and moved into 2nd and 3rd in the HS national rankings (Ken Cormier ran 3:48.97 in the May 28 Boston races). Homeschooled Chantelle Dron NH won the women's elite race in 4:34.01 US#10.
ME - New England Championships - COMPLETE RESULTS - 33 DyeStat Elite performances. Eric Giddings 9:00.70 3200m MR (Sintayehu Taye 9:01.68), both breaking 1979 meet record on hot, humid day. Observors called it the best race ever in the New England Championships. Myles Bradley doubles 110H and TJ. Xaverian MA boys 7:52.08 4x800. Ridgefield CT girls 9:13.10 4x800. Sarah Wernik 19-0 LJ (Natasha Harvey 18-11.25). Tynisha McMillan doubles in throws.
MN - Minnesota State Meet - COMPLETE RESULTS - 41 DyeStat Elite marks. Roseville boys, Lakeville girls win AA state titles.
Minnetonka girls 9:03.80 4x800 is state record and US#2 this year. Elizabeth Yetzer's distance double (4:47.12 and 10:16.59 SR) leads Lakeville to AA title. Two freshman doubles -- Rob Finnerty 4:16.95 1600m and 9:06.80 3200m and Sade Pollard 25.04 -4.6 200m and 55.06 400m. Alicia Rue 12-9 PV is state record. Nikki Swenson doubles 400-800. Brianna Polus 5-9 HJ is 1A meet record.
Rob Finnerty

Elizabeth Yetzer


photos by Louis Leblanc
NJ - New Jersey Meet of Champions - COMPLETE RESULTS - fast 800s by Janine Davis and Rob Novak and 1600s by super sophs Danielle Tauro and Craig Forys.- Danielle Tauro 4:47.55 Janine Davis 2:07.93 Shaquan Brown 21.23 Bryant McCombs 46.94 Rob Novak 1:50.36 Craig Forys 4:11.27 Robert Papazian 8:59.78 Justin Gaymon 14.09, 51.55 Camden 3:13.50
NJ - Ed Grant report on the Meet of Champions - "Finally given a break by the weatherman, New Jersey athletes responded with a series of stunning performances."
NJ - New Jersey International - Colts Neck HS - Former Saratoga NY ace Nicole Blood, running unattached this season, won the women's 1500m invitational in 4:26.34, second fastest by a HS girl this year. Running mate Caitlin Lane was fourth in 4:40.57. Another HS runner, soph Devon Williams of MD, ran a fine 2:08.96 800m.

photo by Ron Crocker
OH Midwest Meet of Champions - seniors from Ohio, Michigan and Indiana - 42 DyeStat Elite performances - Lex Williams 8:57.16 3200m US#3. Geena Gall 2:07.45 800m US#4. Throws double by Ashley Muffett.
VT -

Vermont State Meet

-
Jenny Morgan

Midwest Distance Gala
Jon Thomas IA 9:07.53, Jenny Morgan MI 4:52.94 (8th grade sister Stephanie 2nd in 5:01.45), Matt Dettman IL 4:14.29 mile (Andrew Perkins WI 4:15.07), Stephen Williams IL 1:52.87.

photos by Ross Dettman

Matt Dettman

Cody and Lyndsay Harper

of New Mexico won the 800 meters

Jaci and Dutch Perryman

of Arizona won the pole vault

photos by Donna Dye
New Balance and the Armory Foundation
team up on Manhattan Invitational
NEW YORK June 7, 2005 -- The New York Armory Foundation has entered into a 3-year agreement to help manage the venerable Manhattan Invitational, one of the oldest and biggest high school cross country meets. Armory Foundation president Dr. Norbert Sander announced that New Balance will be the title sponsor of the meet, with the US Marine Corps a supporting sponsor. The Armory Foundation, which runs 100 indoor meets a year at the New York Armory and also manages outdoor meets at the new Icahn Stadium on Randalls Island, plans improvements in start/finish areas, award staging, clock management, course decoration, and concessions. Ed Bowes will continue as director of the meet. The 33rd Manhattan Invitational will be held at Van Cortlandt Park NYC in October. The 2005 meet saw records set by Saratoga girls, Fayetteville-Manlius boys and Nicole Blood.
VISIT

TRACK-TECH.COM
for


USA Open T&F Camp, FL,
USA Open XC Camps, CO,
USATF Jr Elite Camps CA
T&F TRAINING software
USATF Development Videotapes

DyeStat uses Hy-Tek
for meet results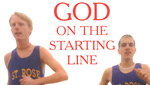 Steve (steveu) Underwood says: "God On The Starting Line is a wonderful gift to the world of prep distance running. It's kind of like eating, oh, a premium triple chocolate fudge brownie ice cream sundae. You might feel stuffed and a little woozy, but like you've never devoured anything so delicious."