ShopDyeStat


unique items
for the HS athlete
--Parents Guide

--Training G
uide
--Training Profiles
--Pace Calculator
--the Harrier
--HS Track 2004
Sanctioning Crisis
one thing is consistent - the inconsistencies.
NY blocks competition; PA finds a way to allow it.
From New York to South Carolina, and in many states in between, there is growing evidence that the reasons and reasoning for enforcing sanctioning rules are not only inconsistent from state to state, but flexible - sometimes for the benefit of athletes and other times to their detriment. New York prohibits competition against non-association members; Pennsylvania has found a way to admit the non-members. The issue is affecting entries of elite athletes from private schools at the big indoor meets in New York -- Bishop Loughlin Games, Hispanic Games, New Balance Games, Millrose Games -- as well as outdoor and cross country meets such as the Penn Relays and the Great American. Don Rich's Part 3 of a series
New junior mile at Boston Indoor
An elite junior mile, with international entries, is scheduled for the 10th Boston Indoor Games Jan 29 at Reggie Lewis Center in Boston. The race is by invitation only, with 10-12 entries planned in the boys and girls races. Meet managers said they are trying to attract top preps from the US, Canada and Europe. For more informaiton, contact Global Athletics & Marketing at 617-536-7030 or email [email protected] Web Site.
Notes and Quotes from the NY Armory

Despite winning national cross country title, Aislinn Ryan's goal is still the same -- win a NY state title.

Kevin Tschirhart has grown as a runner -- he patiently bided his time on the DMR anchor leg
11th Hispanic Games - Saturday Jan 8 at the NY Armory
Boys and girls mile winners will be automatic qualifiers for the Millrose miles at Madison Square Garden Feb 4. Foot Locker cross country national champion Aislinn Ryan guns for a meet record in the 3000 meters. Ryan is also entered in the mile against meet record holder Devon Williams, while Williams is doubling in the 400 against Nicole Leach and Janine Davis. Kevin Tschirhart, anchor of two big relay wins by Northport NY at the Marine Corps Holiday Classic, is in the 3200. Officials are hoping that state sanctioning issues don't dilute some of the matchups. Preview - Schedule - Teams Entered -
Montgomery Invitational
Top athletes from Maryland, Virginia, Pennsylvania and DC are entered in the meet at the PG Sportsplex, Landover MD, Saturday (1/8). Montgomery Invitational is a qualifying race for the Millrose Games boys and girls miles to be run Feb 4 at Madison Square Garden in New York City. The top 12 boys and girls entered here will be placed in the invitational mile, with the winners gaining consideration for Millrose.
DyeStat Featured Meets
Here are the 2005 indoor and outdoor meets featured on DyeStat with on-site coverage. Other meets may be added.
Marine Corps Holiday Classic - Dec 28 NY Armory
Hispanic Games - Jan 8 NY Armory
New Balance Games - Jan 22 NY Armory
Millrose Games - Feb 4 Madison Square Garden NY City
Armory Collegiate Games - Feb 4-5 NY Armory
Simplot Games - Feb 17-19 Pocatello ID
Nike Indoor Championships - Mar 12-13 Landover MD
Mobile Challenge of Champions - Apr 1-2 Mobile AL
Arcadia Invitational - Apr 8-9 Arcadia CA
Mayor's Cup - Apr 15-16 Icahn Stadium, Randalls Island NY
New York Relays - Apr 22-23 Icahn Stadium, Randalls Island NY
Penn Relays - Apr 28-30 Franklin Field, Philadelphia PA
Loucks Games - May 12-14 White Plains NY
Great Southwest Classic - June 2-4 Albuquerque NM
Nike Outdoor Championships - June 17-18 Greensboro NC
USA Junior Nationals - June 24-25 Carson CA
PA runner tells how it feels
to run at the New York Armory
"There is no feeling in the world that could compare with the feeling I got standing on the starting line for each race I ran at the Armory. People screaming and cheering, lights flashing, people running out of their minds . . . . the feeling I got was indescribable, but I'll try," Mike Carpenter's story as told to Don Rich
Ritz runs great in Italy
Former 2-time Foot Locker cross country champ Dathan Ritzenhein finished a close third in 28:24 in the Silvesterlauf 10km road race Dec 31 at Bolzano Italy. Ritzenhein pressed the pace in the late stages but was outkicked at the very end by Sergiy Lebid 28:23 and Olympic marathon champ Stefano Baldini 28:23. It was the first road race in years without an African on the medal stand. Ritzenhein told the IAAF reporter afterward, "I ran 27:38.50 in Stanford last April but I think that my future is road racing. I would like to tackle the marathon in the years to come. This winter I hope to make the US team at the World Cross Country Championships." IAAF story and photo on the Bolzano 10K
THIS WEEK
News items posted to DyeStat in the week ending Jan 6
Listed by states alphabetically
PA Burdette Classic - Thrilling boys 400 produced one of five US#1 marks at this meet 12/30. Wm Tennent sr Andre Burton 50.42 edges Simon Gratz fr Khaliff Featherstone 50.49, with Lower Merion sr Max Westman 50.72 third. - photo by Don Rich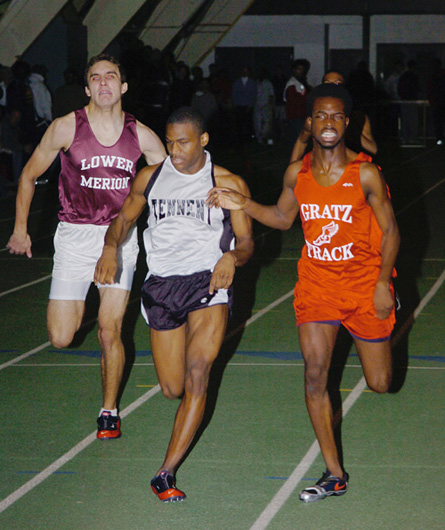 Yikes! 2 national indoor records already and it isn't even January yet
Devon Williams 1:11.44 500m - Towson Catholic MD soph, national indoor athlete of the year last year, broke her own national record (1:11. 53 at Virginia Tech 1/30/04) at the MAC Holiday Festival in the New York Armory Sunday 12/26. Williams was second in an open race to former A.P. Randolph star Natasha Hastings 1:10.05, who is now a freshman at the U. of South Carolina. Hempstead NY sr Jeavon Benjamin was third in 1:13.90, 3rd fastest HS mark in the US this season. There were two more US#1 high school marks in the meet -- Rokesha Williams, Devon's sister, was third in the open 60H in 8.86 60H and Brooklyn NY sr Edino Steele won the 300m in 33.74.
Mary Saxer 13-7 PV - Lancaster NY senior, the latest addition to Rick Suhr's Buffalo NY vaulting stable, broke her new national indoor record (13-5.25 at the International Youth Meet of Champions in Toronto 12/3) two more times Dec 26 at the USATF Holiday Classic at RIT, going 13-5.5 and then 13-7. This is the fourth straight year the US girls indoor record has been broken. Saxer joined Suhrsports to train with Tiffany Maskulinski and Jenn O'Neil, who finished first and second at AOC Raleigh last June.



Rick Suhr and Mary Saxer
Sanctioning issues creating turmoil in big invitational meets
National stars such as Towson MD Catholic's Devon Williams, the US prep indoor athlete of the year last year, and West Catholic PA's Nicole Leach and Latavia Thomas are being barred from running against New York athletes at the New York Armory, the mecca of indoor track in the US. Why? Because of more rigid enforcement of meet sanctioning rules by the New York State Public High School Athletic Association.
Find out why in A Race with No Winners, first of a series by Don Rich
Meet calendar updates -- We have updated our meet calendar for 2005 indoor and outdoor seasons. ATTN meet directors: If we missed your meet, send email to John Dye.
.
VISIT

TRACK-TECH.COM


for


USA Open T&F Camp, FL,
USA Open XC Camps, CO,
USATF Jr Elite Camps CA
T&F TRAINING software
USATF Development Videotapes


.

Tucson Elite
Throwing Camp
Jan 15-17 at Tucson AZ
Build a base for a successful season in shotput, discus, hammer and javelin. Staffed by current & former U. of Arizona athletes.
Web Site - email








DyeStat uses Hy-Tek
for meet results
The Harrier
by Marc Bloom