ShopDyeStat


unique items
for the HS athlete
--Parents Guide

--Training G
uide
--Training Profiles
--Pace Calculator
--the Harrier
--HS Track 2004
DONNA ON THE SIDE
at the New Balance Games in the NY Armory

The weather outside was frightful, but . . . . well, you know the story. The Games and Donna went on as usual.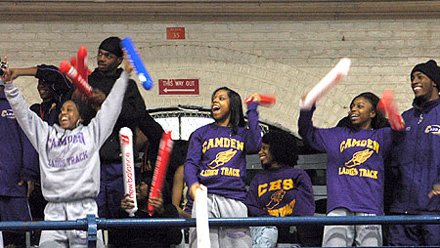 Woodrow Wilson HS of Camden NJ won the Marty Glickman award, with a check for $10,000 from New Balance.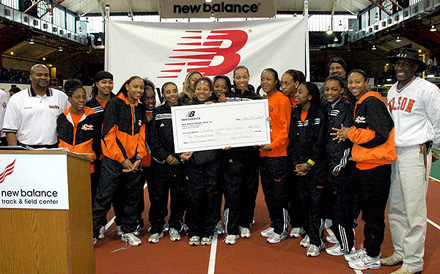 Sanctioning Crisis
a battle with many fronts -- and it's growing.
Chris Barnicle is Banned in Boston.
Penn Relays is considering its options.
5th in a series - If you're having trouble keeping up with the many fronts, and faces, of the sanctioning crises in high school sports, then you're not alone. The bottom line is, real kids are being hurt by the disagreements of adults. Don Rich reports
THIS WEEK
News items posted to DyeStat in the week ending Jan 27
CT - Yale Track Classic


Saratoga NY girls

11:47.29 DMR is US#3 all time on Day One, then follow that up with five ranked individual runs on Day Two.
Jim Spier reports:
Saratoga's DMR record attempt fell short, but they still managed the third fastest time ever run for that race. The team of Lindsay Ferguson, Alysha Mc Roy, Caitlin Lane and Nicole Blood clocked a meet record 11:47.29. Scotia-Glenville, NY was second in 12:04.64 (#2 US), Westerly (RI) got a state record time of 12:13.28 (with a 4:55.2 anchor by Samantha Gawrych) as the first 8 teams broke 12:30. Saratoga's splits: Lindsay Ferguson 3:36.0 (30.3, 63.5, 1:39.6, 2:17.3, 2:56.5) Alysha Mc Elroy 62.5 Caitlin Lane 2:16.9 Nicole Blood 4:51.9 (2:17.0, 2:56.9) The boys race was not as fast, comparatively, but was highly competitive. Syosset (10:27.57), anchored by Sean Tully, edged Burnt Hills (10:27.96), Seton Hall Prep (NJ) (10:27.97) and Niskayuna (10:28.19), as less that .7 seconds separated the first four. Day Two: Saratoga plows through 800, mile and 3000 with US ranked times. Nicole Blood 2:16.08 US#4, Caitlin Lane 4:59.64 US#7, Hannah Davidson 5:05.98, Lindsey Ferguson 9:53.31 US#2 and Alysha McElroy 10:21.18 US#8.
AL - Hoover Indoor Classic - Priceville - Elisabeth Molen, 10:57.91 3200 US#5, E.C. Gibbs, 1:56.37 800, 4:20.1 1600.
KS Kansas State U. HS Invitational - HIghland Park Topeka KS sr Jared Huske won four events, including a US#1 55H in 7.45. Also 6.50 55m, 22.70 200m and 3:31.72 4x400 (KC Sprinters Elite). Also: Millard North NE jr Cassie Styers 5-7 HJ, Darcie Schmitz 18-3 LJ, Kayla Smith 41-2.25..
MA - After a fast mile (4:15.30) at Albuquerque last week, Foot Locker national champ Ken Cormier travels east to Boston for the first of two straight weekends -- Greater Boston Track Club Invitational at Harvard this weekend and the Boston Indoor Games junior mile next week.
MA - Massachusetts Coaches Relays at the Reggie Lewis Center.
MD - MIAA State Championship - Prince George's Sportsplex - Darrius Heyward-Bey, 12 McDonogh School 6.35 55m US#2.
MD Prince George's County Championships -
Girls - E.Roosevelt wins 176 points, Largo 2nd 112, C.H.Flowers 3rd 41
Track MVP -Michaylin Golladay-Largo 40 points 55m 7.12, 55H 8.25, 300m 39.68, LJ 17-3.5. Field MVP- Heather Patton, Flowers TJ 36-0, HJ 5-2. 300m Meakes, Roosevelt 40.56, Takecia Jameson 40.77
Boys - E.Roosevelt wins 123 points, C.H. Flowers 2nd 89, Oxon Hill 3rd 52. Track MVP - Afolabi Aromire, Flowers 300m 34.56, 500m 1:05.38
Field MVP - Godson Akinnawo, High Point LJ 21-11, HJ 6-4. 55H Brett Brown, Flowers 7.55
ME Eastern Maine Indoor League - Old Town ME jr Cassie Hintz 10:40.94 2-mile US#1. You might say she ran all alone, winning by 2:27, except that she had to lap the nearest runners several times.
NC - Eastern HS Challenge at UNC Chapel Hill. Snowstorm kept many away, but good performances were still achieved.
Mt Tabor NC sr J-Mee Samuels 6.24 55m US#1.
Clayton NC soph Johnny Dutch 7.56p 55H US#2
Thomas Dale VA sr Dennis Boone 24-5.75 LJ (Boone is already US#1 at 24-8.5 earlier).
NV - 15th Pole Vault Summit in Reno replaces gambling pits with vaulting pits in the Hilton Hotel.
TX - Carl Lewis Invitational - U. of Houston.


Three US#1's, Five US#2's in big opening in Texas... and Scott Sellers boasts one of each.

Cinco Ranch Katy TX sr Scott Sellers 7-3 HJ US#1 and 23-11 LJ US#2
Wayne Hobley LA 6.84 60m US#1
Donald Buckram, Jr. Five Hills TFC 6.91 60m US#2
Tenille Wilson AL 7.52 60m US#1
Bianca Knight MS 24.46 200m US#2
Candis Kelley TX 45-2.5 SP US#2
Leeandra Robinson TX 8.71 60H US#2

WA Washington State Open - West Valley Spokane sr Rashad Toussaint 48-8.75 US#1, beating the old #1 by nearly two feet.
New Balance Games photo album
45 action pix and notes by John Dye from the NY Armory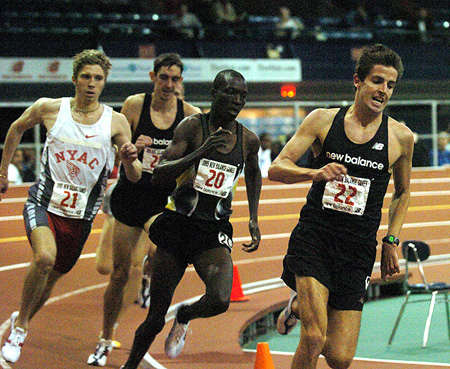 57 Nicole Leach 53.48 400m US#1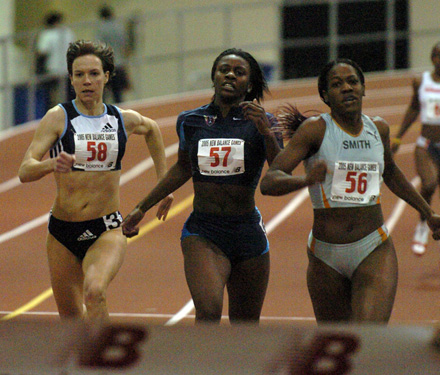 The impending blizzard held down attendance, but the meet went on. With fewer heats, the schedule was accelerated and the meet was over by 4 pm.
Nicole Leach 53.48 400m US#1
West Catholic PA sr Nicole Leach finished in a blanket between two Olympians in the elite women's 400 meters. Ronetta Smith of LSU and Jamaica 53.34, Leach 53.48 and Ieva Zunda of Latvia 53.53. Leach hung with Smith the whole way and staved off the late charge of Zunda.
Mary Liz McCurdy NY 4:52.87 US#1
McCurdy led wire to wire in a seemingly effortless race with splits of 70.8, 2:25.1 and 3:39.8 [Walt Murphy]
Clemore Henry 48.49 400m US#1
Transit Tech NY star was 6th in the elite race but improved on his US#1 ranking.
Mary Saxer 13-0 PV
Lancaster NY sr Mary Saxer, the national record holder at 14-0, cleared 12-0 and 13-0 easily and then missed three times at an Armory record 13-5.5.


Millrose Mile Fields Set


NEW YORK Jan 22 -- High school mile fields were announced by invitations directors Larry Byrne and Jim Spier for the Millrose Games February 4 at Madison Square Garden. .
BOYS
GIRLS
CHRIS BARNICLE, Newton North HS, Newtonville, MA
GEARY GUBBINS, Southampton HS, Southampton, NY
CARLOS JAMISON, North Rockland HS, Thiells, NY
ANDREW JESIEN, Walter Johnson HS, Bethesda, MD
ANTHONY LaMASTRO, Pope John XXIII HS, Sparta, NJ
JOHN MARTINEZ, North Rockland HS, Thiells, NY
DAN McMANAMON, Shenendehowa HS, Clifton Park, , NY
MARK RUSSELL, Lockport HS, Lockport, NY
BRYAN SCOTLAND, St. Benedict's Prep, Newark, NJ
ROLANDA BELL, Sacred Heart Academy, Hempstead, NY
NICOLE BLOOD, Saratoga Springs HS, Saratoga Springs, NY
SARAH BOWMAN, Fauquier HS, Warrenton, VA
LINDSAY FERGUSON, Saratoga Springs HS, Saratoga Springs, NY
MARY LIZ McCURDY, Bay Shore HS, Bay Shore, NY
KARA McKENNA, Suffern HS, Suffern, NY
KRISTIN REESE, Carmel HS, Carmel, NY
AISLINN RYAN, Warwick Valley HS. Warwick, NY
BRITTANY SHEFFEY, Bellport HS, Brookhaven, NY
DANIELLE TAURO, Southern Regional HS, Manahawkin, NJ
Nichole Jones - Shopping for Challenges
Texas teen went to the Houston Marathon/Aramco Half Marathon planning only to shop, but "the hype got to me." The 15-year-old Westfield Spring TX sophomore came back the next day and ran a stunning time in the half-marathon, which is twice as far as she had ever run before. Story by Don Rich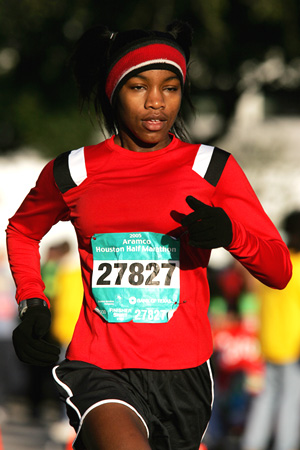 Jones finished the Aramco Houston Half Marathon in 1:21.34, which was good for 15th out of 3,630 women and 90th out of 6,732 runners overall. In outdoor track as a sophomore last year, Jones had bests of 2:13.01 800m, 4:36.31 1500m, 4:54.17 1600m (3rd Texas 5A), 10:11.45 3000m and 10:52.14 3200m.
National Rankings Update
DyeStat Elite and DyeStat Honor Roll as of Jan. 20.
The DyeStat national performance list for the indoor season soared past 1,000 this week after 442 performances made the honor roll by meeting the DyeStat Elite cutoffs.
NY Armory Meets on YES




First of a series of telecasts of high school meets at the New York Armory will be the Dec 28 Marine Corps Holiday Classic on the YES network on the dates at right.

Thu, Jan 20, 9:00pm

Fri, Jan 21, 7:00am

Sun, Jan 23, 4:00pm

Mon, Jan 31, 6:30pm

Wed, Feb 2, 1:30am

Tues, Feb 3, 9:00am
2 more standout runners enter Junior Invitational Miles at Boston Indoor
Shenendehowa NY jr Dan McManamon and Towson Catholic MD soph Devon Williams have been added to the field for the Junior Invitational Miles at the Reebok Boston Indoor Games at Reggie Lewis Center on Jan. 29. McManamon has the fastest mile of the indoor season (4:14.28). Williams was the national athlete of the year for the 2004 indoor season as a freshman and she has already set a new national record this season in the 500 meters (1:11.44). With deep fields for both boys and girls, the new Junior Invitational Mile is set to be one of the best in the country in its inaugural year. The reigning Foot Locker Cross Country national champions, Kenneth Cormier and Aislinn Ryan, and Saratoga NY star Nicole Blood headline a field of elite international runners.
Meet calendar updates -- We have updated our meet calendar for 2005 indoor and outdoor seasons. ATTN meet directors: If we missed your meet, send email to John Dye.
.

VISIT

TRACK-TECH.COM
for


USA Open T&F Camp, FL,
USA Open XC Camps, CO,
USATF Jr Elite Camps CA
T&F TRAINING software
USATF Development Videotapes

DyeStat uses Hy-Tek
for meet results
The Harrier
by Marc Bloom