ShopDyeStat


unique items
for the HS athlete
--Parents Guide

--Training G
uide
--Training Profiles
--Pace Calculator
--the Harrier
--HS Track 2004
National Rankings Update
DyeStat Elite and DyeStat Honor Roll as of Jan. 20.
The DyeStat national performance list for the indoor season soared past 1,000 this week after 442 performances made the honor roll by meeting the DyeStat Elite cutoffs.
Nichole Jones - Shopping for Challenges
Texas teen went to the Houston Marathon/Aramco Half Marathon planning only to shop, but "the hype got to me." The 15-year-old Westfield Spring TX sophomore came back the next day and ran a stunning time in the half-marathon, which is twice as far as she had ever run before. Story by Don Rich

Jones finished the Aramco Houston Half Marathon in 1:21.34, which was good for 15th out of 3,630 women and 90th out of 6,732 runners overall. In outdoor track as a sophomore last year, Jones had bests of 2:13.01 800m, 4:36.31 1500m, 4:54.17 1600m (3rd Texas 5A), 10:11.45 3000m and 10:52.14 3200m.

photo by Vic Sailer, PhotoRun
THIS WEEK
News items posted to DyeStat in the week ending Jan 20
NY Armory Meets on YES




First of a series of telecasts of high school meets at the New York Armory will be the Dec 28 Marine Corps Holiday Classic on the YES network on the dates at right.

Thu, Jan 20, 9:00pm

Fri, Jan 21, 7:00am

Sun, Jan 23, 4:00pm

Mon, Jan 31, 6:30pm

Wed, Feb 2, 1:30am

Tues, Feb 3, 9:00am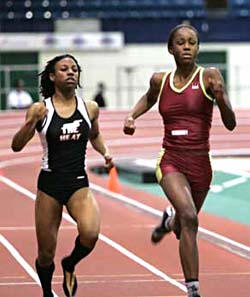 "Sparks flew as Davis caught Williams..." - and a new US 600m record was in the books.
It was a huge weekend at the New York Armory for Queen of Peace NJ sr Janine Davis. Coming off a US #4 all time 1000 meters of 2:48.69 Saturday Jan 15 at the Stanner Games, Davis matched up Sunday with Towson Catholic MD soph Devon Williams (the US 500m record holder) in the MAC Record Assault Challenge, and sparks flew. Williams set the pace early on, actually hitting the 500m mark in close to 1:12.0. Davis (left, in black uniform ) caught Williams with less than 50m left and charged home for a new National Record time of 1:29.27, breaking Stacey Ann Livingston's (Boys and Girls, NY) time of 1:29.69 set at the NY Mayors meet on 2/24/02, also at the NY Armory. Williams finished in 1:31.05. -- Tim Fulton - Armorytrack.com (photo by Kim Spir)
Mary Saxer - 1st US 14-footer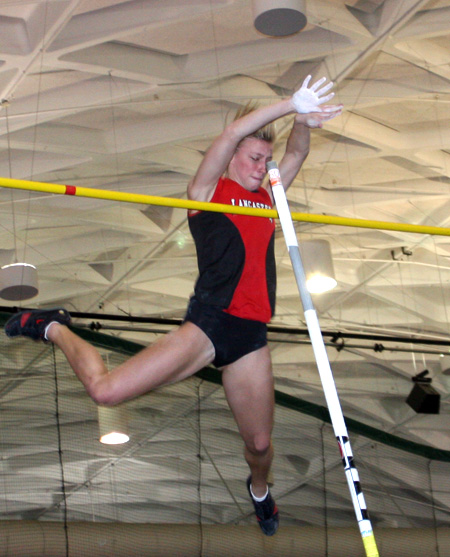 Dartmouth Jan 8 - photo by Dan McManamon
the West Coast is heard from
fast mile at altitude by Ken Cormier in Albuquerque - US#1 marks in Seattle by Brittany Daniels and Stephen Oliver 1/15 - Two more top 3000's 1/16 @ U of Wash.
Foot Locker champ Ken Cormier may be the man to beat on the oval as well, reports DyeStatCal editor Rich Gonzalez. Cormier tooks his speed up a notch with a visit to the Albuquerque All-Comers Indoors. His 4:15.30 "is worth sub-4:10 at sea level," Gonzalez said. It was the first indoor meet in Albuquerque on a new mondo surface installed at the Convention Center.
Meanwhile in Seattle, nNational TJ record holder Brittany Daniels (Merrill West HS, Tracy) opened her senior season with a nation-leading 20-01.50 and 42-10.75 double at the University of Washington Dempsey Indoor preview. Teammate Miranda Garrido goes 7.77 in 60m in final, the #3 US prep time of the year. Central Catholic Portland OR sr Stephen Oliver ran 8:37.49 3000m US#1 in a race won by Julius Achon. The next day at the University of Washington Open Meet, Riverside Auburn WA sr Jordan McNamara ran 8:40.96 US#2, followed by Crater OR jr Isaac Stoutenburgh in 8:41.09 US#3. Also at the meet, Kamiak WA sr Kelly Spady went 4:19.26, the US#6 mile. And David Gettis (Dorsey HS, Los Angeles), the two-time California state 400m champion and big-time football star, orally commits to Baylor University. Gettis has bests of 46.39 and 21.50 and is rated among the best wide receivers on the West Coast. [Rich Gonzalez and reports]
Stanner Games
Queen of Peace NJ's Janine Davis 2:48.69 1000m
#4 all-time leads super performances...
Mary Liz McCurdy, Bayshore NY 2:50.74 US#2 is on her heels, with Sarah Bowman, Fauquier VA 2:55.28 US#3 less than five seconds back. Bryan Scotland, St. Benedict's NJ 2:27.91 tops US 1000m list, pushed by NY trio. 3200m US leader list also has a new trio on top, lead by Ryan Sheridan, Whitman NY 9:12.50. St. Peter's Lionel Williams 1:19.68 600m sets new National Soph Class record, also #4 All Time. Lauren Biscardi, Shoreham-Wading River ups own US#1 HJ to 5'10.25". Aislinn Ryan, Warwick, NY 4:57 US#3 Mile in preparation for 1/29 Boston Indoor Junior Invitational Mile. Other highlights from 1/15 Stanner Games at the NY Armory. 100 DyeStat Elite performances at Stanner.
2 more standout runners enter Junior Invitational Miles at Boston Indoor
Shenendehowa NY jr Dan McManamon and Towson Catholic MD soph Devon Williams have been added to the field for the Junior Invitational Miles at the Reebok Boston Indoor Games at Reggie Lewis Center on Jan. 29. McManamon has the fastest mile of the indoor season (4:14.28). Williams was the national athlete of the year for the 2004 indoor season as a freshman and she has already set a new national record this season in the 500 meters (1:11.44). With deep fields for both boys and girls, the new Junior Invitational Mile is set to be one of the best in the country in its inaugural year. The reigning Foot Locker Cross Country national champions, Kenneth Cormier and Aislinn Ryan, and Saratoga NY star Nicole Blood headline a field of elite international runners.
Southern Track Classic revived -- The meet, held from 1999-2003 at Dinwiddie VA, will be revived this year at Richmond. Co-hosts are King's Fork High School and the University of Richmond. Contact King's Fork principal and meet director Dan Ward.
Meet calendar updates -- We have updated our meet calendar for 2005 indoor and outdoor seasons. ATTN meet directors: If we missed your meet, send email to John Dye.
.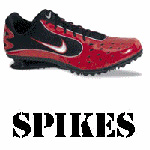 VISIT

TRACK-TECH.COM


for


USA Open T&F Camp, FL,
USA Open XC Camps, CO,
USATF Jr Elite Camps CA
T&F TRAINING software
USATF Development Videotapes


.


DyeStat uses Hy-Tek
for meet results
The Harrier
by Marc Bloom