BOYS

GIRLS

Sean Cuevo NY 6.36

55m

Santana Lowery MS 6.90

Montel Williamson NY 6.99

60m

Clarenchell Tate PA 7.66

Edino Steele NY and Bryant McCombs NJ 21.93

200m

Clarenchell Tate PA 24.54

Edino Steele NY 33.74

300m

Fracena McCorory VA 37.60

Clemore Henry NY 48.60

400m

Nicole Leach PA 54.90

Romaine McKay MD 1:06.23

500m

Devon Williams MD 1:11.44 USR

Edino Steele NY 1:21.7

600m

Janine Davis NJ 1:30.00

Bryan Scotland NJ 1:53.32

800m

Latavia Thomas PA 2:12.73

Luis German NY 2:31.34

1000m

Brittany Sheffey NY 2:56.19

1500m

Emily Malinowski NY 4:50.32

Dan McManamon NY 4:12.78 c

1600m

Lindsay Ferguson NY 4:54.91 c

Dan McManamon NY 4:14.28

Mile

Brittany Sheffey NY 4:55.39

Dan McManamon 8:47.14

3000m

Aislinn Ryan NY 9:47.10

Geary Gubbins NY 9:23.32 c

3200m

Cassie Hintz ME 10:46.92 c

Geary Gubbins NY 9:26.72

2-mile

Cassie Hintz ME 10:50.92

Dennis Martin SC 7.56

55H

Theresa Lewis MD 8.01

Carrington Queen PA 8.23

60H

Rokesha Williams MD 8.86

Ryan Fritz PA 7-0.25

HJ

Ashley Haislip VA, Carin Knight NY and Lauren Biscardi NY, all 5-8

Justin Oliver GA 23-10.75

LJ

Arantxa King MA 19-03.50

Andre Black AL 46-11

TJ

Kirsten Fields NY 39-3.75

Jordan Scott GA 16-0

PV

Mary Saxer NY 14-0 USR

Ryan Whiting PA 68-9.5

SP

Alexa Manning NJ 43-0.5

Simon Gratz PA 1:27.96

4x200

Middle College - Medger Evers NY 1:40.97

Simon Gratz PA 3:20.14

4x400

West Catholic PA 3:48.57

Shaker NY 7:59.8

4x800

Saratoga NY 9:20.69

Simon Gratz PA 3:34.1

SMR

West Catholic PA 4:01.24

Northport NY 10:19.35

DMR

Saratoga NY 12:03.03

updated Jan 13
Honor Roll
- DyeStat Elite performances posted in the week ending Jan 6
Event name, Performance, By, Meet, Note
Boys
B-55 6.45 Cuevo, Sean, 2005, Yorktown NY 1/2/2004, West Point Inv NY, # 1 USMA
B-55 6.47 Santos, Francisco, , Lehman NY 1/2/2004, West Point Inv NY, # 2 USMA
B-200 21.93 Steele, Edino, 2005, Pacific NY 12/11/2004, Seton Hall Open II NJ, # 1
B-200 22.75 Cotton, Jamar, , Irvington NJ 12/29/2004, Seton Hall Inv NJ, # 1
B-300 33.74 Steele, Edino, 2005, Pacific NY 12/26/2004, MAC Holiday NY, # 1 NYArmory
B-300 35.82 Craig, Cameron, 2005, Lakewood NJ 12/18/2004, Bishop Loughlin NY, # NY Armory
B-400 49.71 Green, Joe, 2005, Ediston Tech NY 12/26/2004, Upstate Holiday NY, # 1 RIT
B-400 50.04 McRae, Rob, 2005, Shenendehowa NY 1/2/2004, West Point Inv NY, # 1 USMA
B-400 50.42 Burton, Andre, 2006, William Tennent PA 12/30/2004, Burdette Classic PA, # 1 Lehigh
B-400 50.49 Featherstone, Khaliff, 2008, Simon Gratz PA 12/30/2004, Burdette Classic PA, # 2 Lehigh
B-500 1:06.6 Beauvais, Alie, 2006, Hempstead NY 12/3/2004, Nassau Coaches NY, # 1 NYArmory
B-500 1:07.5 Estis, Nick, 2007, Clarkstown S. NY 12/3/2004, Nassau Coaches NY, # 2 NYArmory
B-500 1:08.1 Stults, James, 2005, Great Neck NY 12/3/2004, Nassau Coaches NY, # 3 NYArmory
B-500 1:08.2 Jayadevan, Rajiv, 2005, Port Jefferson NY 12/3/2004, Nassau Coaches NY, # 4 NYArmory
B-500 1:08.7 Alek-Finkelman, Craig, 2005, Clarke NY 12/3/2004, Nassau Coaches NY, # 5 NYArmory
B-500 1:09 Duran, David, 2005, Howard MD 12/6/2004, Howard Co meet MD, # 1 PG Sportsplex
B-600 1:21.7 Steele, Edino, 2005, Pacific NY 12/12/2004, MAC Holiday NY, # 1 NYArmory
B-600 1:21.7 Williams, Lionel, 2007, St. Peter's NY 12/18/2004, Bishop Loughlin NY, # NY Armory
B-600 1:22.71 Van Eeden, Marcel, 2005, Mendham NJ 12/31/2004, Wayne Valentine NJ, # 1 Drew U.
B-600 1:23.6 Stein, Mike, 2005, Wayland MA 1/3/2005, Dual County #2 MA, # 1 Reggie Lewis
B-600 1:24.68 Westman, Max, 2005, Lower Merion PA 12/18/2004, Bishop Loughlin NY, # 7 NY Armory
B-1000 2:33.1 Howell, Chris, 2005, Syosset NY 12/3/2004, Nassau Coaches NY, # 1 NYArmory
B-1000 2:36.4 Lampert, Adam, 2005, Syosset NY 12/3/2004, Nassau Coaches NY, # 2 NYArmory
B-3000 8:47.14 McManamon, Dan, 2006, Shenendehowa NY 1/2/2004, West Point Inv NY, # 1 USMA
B-3000 8:49.19 Blixt, Nick, 2006, Deerfield Academy MA 1/2/2004, Boston U. Mini MA, # 6
B-55H 7.74 h Nelms, Cory, , Neptune 12/19/2004, FDU Holiday Classic NJ, # 1
B-60H 8.23 Queen, Carrington, , Chichester PA 12/30/2004, Burdette Classic PA, # 1 Lehigh
B-HJ 6' 7 Edwards, Skip, 2005, Portland ME 12/30/2004, U. Southern Maine ME, # 1
B-HJ 6' 6 Mongoven, Quinn, 2006, Wilmot Union WI 12/11/2004, UWM open meet WI, # 1
B-HJ 6' 6 Edwards, Miles, , Winslow NJ 12/18/2004, Bishop Loughlin NY, # 1 NY Armory
B-LJ 24' 8.5 Boone, Dennis, 2005, Thomas Dale VA 1/6/2005, Thomas Dale quad VA, # 1 Arthur Ashe center
B-TJ 46' 1 Smith, Clarence, , Coatesville PA 12/30/2004, Burdette Classic PA, # 1 Lehigh
B-TJ 46' 0.75 Jones, Gary, 2006, Webster-Schroeder NY 12/30/2004, Rochester League NY, # 1 Hobart-Smith
B-TJ 44' 11 Gilbert, Nate, , Emmaus PA 12/30/2004, Burdette Classic PA, # 2 Lehigh
B-PV 15' 1 Winder, Jake, 2006, Plainfield South IL 12/18/2004, Ted Haydon Classic IL, # 3 Chicago
B-PV 15' 0.25 DeCesare, Casey, 2006, Irvington NY 12/28/2004, Holiday Classic NY, # NYArmory
B-PV 15' 0 Abitanto, Anthony, 2005, Gov Livingston NJ 12/29/2004, Passarelli Inv NJ, # 1 Drew U.
B-SP 57' 0 Digiorgio, Steven, 2005, Bayonne NJ 12/22/2004, Garfield NJ, # 1
B-SP 53' 8 Michaud, Ben, , Stags ME 12/30/2004, U. Southern Maine ME, # 1
B-SP 53' 7.75 Scott, Rashad, 2005, Truman NY 12/30/2004, PSAL Holiday Games NY, # 1 NYArmory
B-4x200 1:32.76 Boys Relay, , Simon Gratz PA 12/29/2004, Seton Hall Inv NJ, # 1
B-4x200 1:32.9 Boys Relay, , Seton Hall NJ 1/2/2004, NJCTC Relays NJ, # 1 NYArmory
B-4x400 3:27.48 Boys Relay, , Lehman NY 12/30/2004, PSAL Holiday Games NY, # 1 NYArmory
B-4x400 3:27.5 Boys Relay, , Seton Hall NJ 1/2/2004, NJCTC Relays NJ, # 1 NYArmory
B-4x400 3:28.4 Boys Relay, , Christian Brothers NJ 1/2/2004, NJCTC Relays NJ, # 2 NYArmory
B-4x400 3:29.06 Boys Relay, , Lehman NY 1/2/2004, West Point Inv NY, # 1 USMA
B-4x800 8:10.7 Boys Relay, , Seton Hall NJ 1/2/2004, NJCTC Relays NJ, # 1 NYArmory
B-DMR 10:28.7 Boys Relay, , Seton Hall NJ 1/2/2004, NJCTC Relays NJ, # 1 NYArmory
B-DMR 10:38.39 Boys Relay, , Chaminade NY 1/2/2004, West Point Inv NY, # 1 USMA
B-DMR 10:40.24 Boys Relay, , Arlington-Lagrangeville NY 1/2/2004, West Point Inv NY, # 2 USMA
B-DMR 10:40.71 Boys Relay, , Randolph NJ 12/18/2004, Bishop Loughlin NY, # 7 NY Armory
B-DMR 10:43.3 Boys Relay, , Christian Brothers NJ 1/2/2004, NJCTC Relays NJ, # 2 NYArmory
B-DMR 10:43.7 Boys Relay, , Roselle Catholic 1/2/2004, NJCTC Relays NJ, # 3 NYArmory
B-DMR 10:45 Boys Relay, , Pope John XXIII NJ 1/2/2004, NJCTC Relays NJ, # 5 NYArmory

Girls
G-55 7.04 h Hilaire, Elan, 2008, Baltimore MD 12/10/2004, Quick Feet Inv MD, # 1 PG Sportsplex
G-55 7.14 h Manning, Lakesha, 2007, Reservoir MD 1/5/2005, Arundel-Howard MD, # 1 PG Sportsplex
G-60 7.66 Tate, Clarenchell, 2008, Imani Philadelphia PA 12/30/2004, Burdette Classic PA, # 1 Lehigh
G-60 7.73 Murphy, Janessa, , Great Valley PA 12/30/2004, Burdette Classic PA, # 2 Lehigh
G-200 25.36 Gomes, Michelle, 2005, University FL 1/2/2004, Boston U. Mini MA, #
G-200 25.49 Prather, Brandi, 2005, University FL 1/2/2004, Boston U. Mini MA, #
G-400 56.03 Leach, Nicole, 2005, W. Catholic Phil PA 12/30/2004, Burdette Classic PA, # 1 Lehigh
G-400 58.2 Kraiss, Ryann, 2008, Methacton PA 12/30/2004, Burdette Classic PA, # 2 Lehigh
G-400 58.25 Layne, Lynne, 2006, New Rochelle NY 1/2/2004, West Point Inv NY, # 1 USMA
G-500 1:13.33 Davis, Janine, 2005, Queen of Peace NJ 12/11/2004, Seton Hall Open II NJ, # 1
G-500 1:13.9 Benjamin, Jeavon, 2005, Hempstead NY 12/26/2004, MAC Holiday NY, # 3 NYArmory
G-500 1:19.5 Richmond, DeDe, , Suffern NY 12/3/2004, Nassau Coaches NY, # 1 NYArmory
G-800 2:16.61 Sterrett, Adrenee, , Boys & Girls NY 12/26/2004, MAC Holiday NY, # 1 NYArmory
G-1000 3:01.25 Davis, Janine, 2005, Queen of Peace NJ 12/4/2004, Seton Hall Open I NJ, # 1
G-1000 3:02 Rush, Theresa, 2006, Valley Stream N. NY 12/3/2004, Nassau Coaches NY, # 1 NYArmory
G-1600 5:03.61 c Reese, Kristin, 2008, Carmel NY 12/18/2004, Bishop Loughlin NY, # NY Armory
G-1600 5:08.47 c Morelli, Lynn, 2005, St. Basil PA 12/30/2004, Burdette Classic PA, # 1 Lehigh
G-1600 5:09.56 Ennis, Jenn, 2006, Roxbury NJ 12/27/2004, DeSchriver Inv NJ, # 1 Drew U.
G-Mile 5:10.27 Morelli, Lynn, 2005, St. Basil PA 12/30/2004, Burdette Classic PA, # 1 Lehigh
G-3000 10:18.46 King, Jillian, 2008, Scotia Glenville NY 1/2/2004, West Point Inv NY, # 1 USMA
G-3000 10:33.12 Bowles, Lauren, 2005, Upper Dublin PA 12/30/2004, Burdette Classic PA, # 1 Lehigh
G-3000 10:33.48 Mundy, Lynne, 2006, Cornwall NY 1/2/2004, West Point Inv NY, # 2 USMA
G-55H 8.14 h p Zoller, Erika, 2005, Damascus MD 12/10/2004, Quick Feet Inv MD, # 1 PG Sportsplex
G-55H 8.38 Hepburn, Yvanna, 2005, N. Rockland NY 1/2/2004, West Point Inv NY, # 1 USMA
G-55H 8.48 Miller, Nora, 2006, Middletown CT 12/30/2004, Yale Developmental CT, #
G-55H 8.49 Smith, Michelle, 2005, Teaneck NJ 12/29/2004, Seton Hall Inv NJ, # 1
G-60H 8.86 Williams, Rokesha, 2005, Towson Catholic MD 12/26/2004, MAC Holiday NY, # 3 NYArmory
G-60H 9.26 Williams, Chanel, 2005, Plymouth-Whitemarsh PA 12/30/2004, Burdette Classic PA, # 1 Lehigh
G-HJ 5' 6 Babcock, Chelsea, 2007, Shenendehowa NY 12/18/2004, Bishop Loughlin NY, # 1 NY Armory
G-HJ 5' 6 Malacrida, Jessica, 2005, Paramus NJ 12/22/2004, Garfield NJ, # 1
G-HJ 5' 6 Knight, Carin, 2006, New Rochelle NY 1/2/2004, West Point Inv NY, # 1 USMA
G-HJ 5' 4 Butler, Rachel, 2007, Lee-Davis VA 12/29/2004, Green Dragon VA, # Arthur Ashe Center
G-HJ 5' 4 Stewart, Bianca, 2008, Columbia NJ 12/19/2004, FDU Holiday Classic NJ, # 1
G-HJ 5' 4 Alfano, Alaina, 2005, Hanover Park NJ 12/28/2004, Holiday Classic NY, # NYArmory
G-LJ 18' 11.5 Harvey, Natasha, 2005, Career CT 12/18/2004, New Haven Inv CT, # 1
G-LJ 17' 11 Miller, Nora, 2006, Middletown CT 12/30/2004, Yale Developmental CT, #
G-LJ 17' 8.25 Jenkins, Angela, 2006, Buffalo Gap VA 12/11/2004, Walt MCormack Relays VA, # 1 VMI
G-LJ 17' 7 Alvano,, , North Babylon NY 12/18/2004, Bishop Loughlin NY, # 1 NY Armory
G-LJ 17' 7 Alfano, Alaina, 2005, Hanover Park NJ 12/28/2004, Holiday Classic NY, # NYArmory
G-TJ 38' 6.75 Fields, Kirsten, 2005, Mount Vernon NY 1/2/2004, West Point Inv NY, # 1 USMA
G-TJ 37' 2 Butler, Rachel, 2007, Lee-Davis VA 12/29/2004, Green Dragon VA, # Arthur Ashe Center
G-TJ 36' 1 McBall, Sequoia, , Coatesville PA 12/30/2004, Burdette Classic PA, # 1 Lehigh
G-PV 11' 9 Regan, Lindsay, 2006, Easton PA 12/30/2004, Burdette Classic PA, # 1 Lehigh
G-PV 11' 0 Friedman, Robin, 2006, Hillsborough NJ 12/29/2004, Christmas City PA, # 2 Lehigh
G-PV 11' 0 Gale, Melissa Marie, 2006, Millville NJ 1/5/2005, SJTCA large schools NJ, # 1
G-SP 41' 3 Wright, Rachelle, 2007, Potomac MD 12/18/2004, Howard Winter Fest MD, # 1 PG Sportsplex
G-SP 40' 5 Johnson, Iman, 2006, Columbia NJ 12/27/2004, DeSchriver Inv NJ, # 1 Drew U.
G-SP 39' 7.5 Manning, Alexa, 2005, Longwood NY 12/18/2004, Bishop Loughlin NY, # 1 NY Armory
G-SP 39' 7 Zivanovic, Daria, , St. Dominic Acad 1/2/2004, NJCTC Relays NJ, # 1 NYArmory
G-SP 39' 4.5 Howard, Kathy, 2006, Lee-Davis VA 12/10/2004, Winter Frolic VA, # CNU
G-SP 39' 2.5 Shump, Karen, 2008, Penncrest PA 12/30/2004, Burdette Classic PA, # 1 Lehigh
G-4x200 1:30.99 Girls Relay, , Sheepshead Bay NY 12/12/2004, MAC Holiday NY, # 2 NYArmory
G-4x200 1:43.03 Girls Relay, , West Catholic PA 12/30/2004, Burdette Classic PA, # 1 Lehigh
G-4x200 1:43.87 Girls Relay, , West Catholic PA 12/29/2004, Seton Hall Inv NJ, # 1
G-4x200 1:45.4 Girls Relay, , Simon Gratz PA 12/30/2004, Burdette Classic PA, # 2 Lehigh
G-4x200 1:45.4 Girls Relay, , Hempstead NY 12/3/2004, Nassau Coaches NY, # 1 NYArmory
G-4x200 1:47.4 Girls Relay, , Piscataway NJ 12/19/2004, FDU Holiday Classic NJ, # 1
G-4x400 3:58.94 Girls Relay, , West Catholic PA 12/29/2004, Seton Hall Inv NJ, # 1
G-4x400 4:01.4 Girls Relay, , West Catholic PA 12/30/2004, Burdette Classic PA, # 1 Lehigh
G-SMR 4:13.92 Girls Relay, , West Catholic PA 12/29/2004, Seton Hall Inv NJ, # 1
G-DMR 12:39.8 Girls Relay, , Msgr. Donovan NJ 1/2/2004, NJCTC Relays NJ, # 1 NYArmory
one thing is consistent - the inconsistencies.


NY blocks competition; PA finds a way to allow it.


From New York to South Carolina, and in many states in between, there is growing evidence that the reasons and reasoning for enforcing sanctioning rules are not only inconsistent from state to state, but flexible - sometimes for the benefit of athletes and other times to their detriment. New York prohibits competition against non-association members; Pennsylvania has found a way to admit the non-members. The issue is affecting entries of elite athletes from private schools at the big indoor meets in New York -- Bishop Loughlin Games, Hispanic Games, New Balance Games, Millrose Games -- as well as outdoor and cross country meets such as the Penn Relays and the Great American.
Don Rich's Part 3 of a series

and now a farce, says Ed Grant


"And now it has become a farce. How else to describe the latest episodes in the controversy stirred up by the New York high school athletics association's attempt to decide who can and cannot compete in open track and field meets in which their schools are involved."
Ed Grant story tells more examples of problems with state sanctioning, including the New York-Maryland catch 22 -- New York won't let its athletes perform against schools who aren't a member of their state association, but Maryland private schools are not allowed to join the Maryland association.

a race with no winners


first of a series by Don Rich
National stars such as Towson MD Catholic's Devon Williams, the US prep indoor athlete of the year last year, and West Catholic PA's Nicole Leach and Latavia Thomas are being barred from running against New York athletes at the New York Armory, the mecca of indoor track in the US. Why? Because of more rigid enforcement of meet sanctioning rules by the New York State Public High School Athletic Association.
College Choices 2005



The first 155 college choices by the class of 2005 are listed by college and state in College Choices 2005 lists.
DyeStat Featured Meets
Here are the 2005 indoor and outdoor meets featured on DyeStat with on-site coverage. Other meets may be added.
Marine Corps Holiday Classic - Dec 28 NY Armory
Hispanic Games - Jan 8 NY Armory
New Balance Games - Jan 22 NY Armory
Millrose Games - Feb 4 Madison Square Garden NY City
Armory Collegiate Games - Feb 4-5 NY Armory
Simplot Games - Feb 17-19 Pocatello ID
Nike Indoor Championships - Mar 12-13 Landover MD
Mobile Challenge of Champions - Apr 1-2 Mobile AL
Arcadia Invitational - Apr 8-9 Arcadia CA
Mayor's Cup - Apr 15-16 Icahn Stadium, Randalls Island NY
New York Relays - Apr 22-23 Icahn Stadium, Randalls Island NY
Penn Relays - Apr 28-30 Franklin Field, Philadelphia PA
Loucks Games - May 12-14 White Plains NY
Great Southwest Classic - June 2-4 Albuquerque NM
Nike Outdoor Championships - June 17-18 Greensboro NC
USA Junior Nationals - June 24-25 Carson CA
LAST WEEK
News items posted to DyeStat in the week ending Jan 6
Notes and Quotes from the NY Armory

Despite winning national cross country title, Aislinn Ryan's goal is still the same -- win a NY state title.

Kevin Tschirhart has grown as a runner -- he patiently bided his time on the DMR anchor leg
PA Burdette Classic - Thrilling boys 400 produced one of five US#1 marks at this meet 12/30. Wm Tennent sr Andre Burton 50.42 edges Simon Gratz fr Khaliff Featherstone 50.49, with Lower Merion sr Max Westman 50.72 third. - photo by Don Rich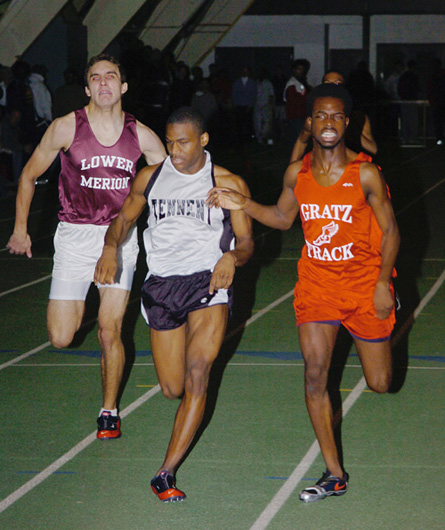 PA runner tells how it feels
to run at the New York Armory
"There is no feeling in the world that could compare with the feeling I got standing on the starting line for each race I ran at the Armory. People screaming and cheering, lights flashing, people running out of their minds . . . . the feeling I got was indescribable, but I'll try,"
Mike Carpenter's story as told to Don Rich
Ritz runs great in Italy
Former 2-time Foot Locker cross country champ Dathan Ritzenhein finished a close third in 28:24 in the Silvesterlauf 10km road race Dec 31 at Bolzano Italy. Ritzenhein pressed the pace in the late stages but was outkicked at the very end by Sergiy Lebid 28:23 and Olympic marathon champ Stefano Baldini 28:23. It was the first road race in years without an African on the medal stand. Ritzenhein told the IAAF reporter afterward, "I ran 27:38.50 in Stanford last April but I think that my future is road racing. I would like to tackle the marathon in the years to come. This winter I hope to make the US team at the World Cross Country Championships." IAAF story and photo on the Bolzano 10K