now on sale ...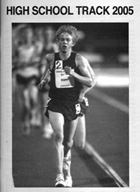 Want to know who has the all time record in the 4xMile relay? Or the freshman record in high jump? You need Jack Shepard's HIGH SCHOOL TRACK 2005. "I never leave home without it," says John Dye.
ShopDyeStat


unique items
for the HS athlete
--Parents Guide

--Training G
uide
--Training Profiles
--Pace Calculator
--the Harrier
--HS Track 2005
THIS WEEK
News items posted to DyeStat in the week ending Feb 24
AR -- Arkansas All-Comers - Spencer McCorkle (Bryant), 16' 0" US#5 - 51 performances make Arkansas all-time list
CT-- Connecticut Open Championships - Norwich Free Academy sr Myles Bradley takes US#1 rank in 55H (7.26) and also long jumps 24-2.25 US#2.
DE -- Delaware State Meet -- Postponed to 2/26 because of scheduling problem with track.
ID -- Simplot Games - Idaho State University, Pocatello ID. DyeStat on-site coverage.
IL -- LincolnWay East sr Blair Majcina high jumped 6-10 in the Lonelle Poole Inv to break a 25-year-old Bloom HS fieldhouse record.
KY -- Kentucky Invitational - U. of Kentucky - Over 124 Dyestat Elite marks! - 27 Top Ten US performances - including two US#1's

While J-Mee Samuels was in Idaho erasing Ahmad Rashad's brief US#1 60, Rashad was seizing Samuels' briefly held #17 all-time 200 in Kentucky. Rashad's double: 6.82-21.46.
Maximum Output, MI 3:48.23 4x400 US#1
Angela Bizzari, OH 10:59.73 2-mile US#2 - Porsche Ries, MI 7.50 60 US#3 - Devon Williams, MD 54.67 US#3 -

LA -- Louisiana State Meet - Heat Sheets - Power outage leads to cancellation of some events - Trindon Holliday, Northeast improves his US#2 55m to 6.26 - Will Coppage, Alexandria, 24-01.25 LJ US#2 - Francois Gatson, Southwood Shrevesport 24-00.00 US#3 - Kenyatta Brooks, Jackson, 19-00.50 LJ US#7
MA - Massachusetts division championships - Boston - Division 1: Newton North sweeps - Chris Barnicle 9:34.45 2-mile US#6, anchors 4x800 - Division 2: Central Catholic-Lawrence sweeps - Central Catholic so Kristen Martin, 11:19.79 2-Mile US#7 - Division 3: Mansfield girls | Tewksbury boys - Alexandra Krieg, sr Wellesley 10:57.29 US#2 - Division 4: Hopkinton girls | Mohawk Trail-Shelbrn Falls boys - John Carroll's report



MA - New England AC meets at Harvard - Sunday 2/20
Women 1 Mile Run
================================================================
Name Age Team Finals
================================================================
1 Chantelle Dron 17 Unattached 4:48.93 US#1
2 Amanda Chase 23 Zap Fitness 4:50.18
3 Carrie Zografos 25 Boston Athletic 4:59.22
4 Laura Hayden Gr. Boston TC 4:59.33
5 Julie Komosinski Brown University 5:00.36
6 Sloan Siegrist Gr. Boston TC 5:02.63



MD-- Maryland regionals -
MD-- Maryland State Meet - Heat Sheets for Mon-Tue meet - Afolabi Aromire drops his US#1 500m by almost two seconds to 1:03.52 and tUS#5 34.35 300 - Eleanor Roosevelt 7:59.73 4x800 US#4 - Theresa Lewis, Western, tied her US#1 55H 7.95
ME-- Maine State Meet
MI - MITS meets - Grand Blanc sr Geena Gall 2:11.45 800m US#2. Lahser Bloomfield Hills sr Chris Faison 6-10 HJ US#3t.
MO - Missouri All Comers - Highland Park Topeka KS sr Jared Huske, US#1 in 60H at 7.86, won his specialty in 7.91, the 200 in 22.84, and was second in the 60m dash (7.02) and 400m (50.58).
NJ - New Jersey Group 4 and 1 championships - Princeton
NV -- U. Nevada Reno HS Invitational
NY - New York Sections - At Cornell, Dryden jr Megan Stuttle doubled 18-3.5 and 36-7.75 LJ/TJ, setting Section 4 records in both events.
NY -- 2nd National Hall of Fame Classic - New York Armory. - Preview - Brittany Sedberry NJ 10:37.02 2-Mile US#1 MR - Krista Simkins PA 54.63 US#3 - Kevin Tschirhart NY 9:18.15 2-Mile US#2 - Coltsneck NJ 7:51.21 4x800 US#3
OH - Feb 13 - Oberlin HS Inv - Ashley Muffet, Hoover 46-02.25 SP - Freddie Lenix, Glenville 6.60 55-23.07 200
OH - Sid Sink Open - Bowling Green State U - Elyria OH jr Christina Madison, sister of former Elyria star Tianna Madison who is now at the U. of Tennessee, long jumped 19-7 US#6. She was also second in the 60m (7.28). Mumford Detroit sr Blake Figgins doubled 1:57.36 and 4:24.41 800/1600.
OH - Oiler Invitational - U. Findlay - Hoover North Canton OH sr Ashley Muffet improved her US#2 season best to 46-10.5 SP.
OH - Image One HS Meet #2 @ Marietta College -



Big meets in PA --
Nicole Smith, 5-10.50 tUS#1 HJ, 19-01.75 LJ US#5



PA - 2/26 PTFCA Indoor State Meet - Features Nicole Leach, Latavia Thomas and West Catholic girls - Nicole Smith - Simon Gratz boys - Ryan Whiting - Ryan Fritz - Previews - Girls - Boys
RI -- Rhode Island Indoor Championships - Good Sam" leads Westerly to team win with 4:36.76 1500 US#1... "Twin Golds" keep the Shot Put and Weight Throw titles all in the family.
VA -- St. Catherine Richmond jr Katie Doswell has been accepted to run in the 800 meters in the USA Indoor Championships in Boston this weekend. She tripled in the League of Independent Schools Championship at Woodberry Forest School VA last weekend with a 10-2 PR in pole vault, 5:03.8 1600m and 11:07.7 3200m. All were meet records.
VT -- Vermont State Meet
Brittany Daniels soars,
J-Mee Samuels roars.

Bianca Knight, Kira Robinson, Nicole Leach, Ebony Collins, Justin Oliver, Heidi Houle, Teekay TC (Wilson Long Beach), and Michaela Wallerstadt also star as US#1 and all-time ranking performances abound.
Doubles by Daniels 20-5 and 43-5. Samuels 6.72 and 21.47. Oliver 47.68 and 23-6.5, and Teekay TC 1:38.77 and 3:48.85. Eleven Simplot performances are US#1 for the season on the NIKE LIST.
J-Mee Samuels 6.72 and 21.47
Mt. Tabor NC senior explodes at the finishes to beat Nate Yorks CO 6.80 in the 60m and Justin Oliver GA in the 200m. Both are US#1 times this season, the 60m is US#9t all time, and the 200m is a Simplot meet record.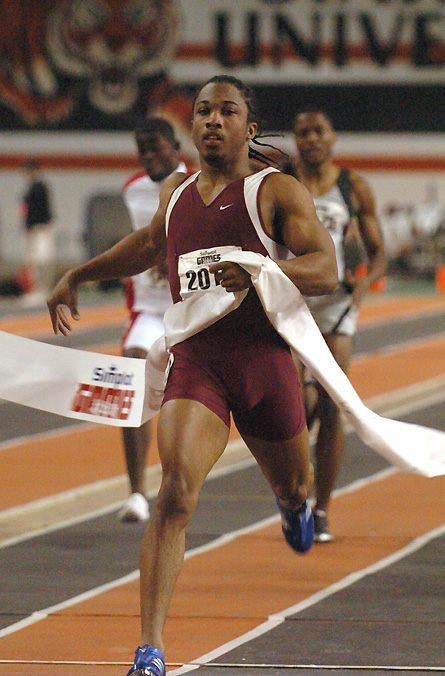 Brittany Daniels CA 20-5 and 43-5.
Below, Daniels soars to 20-5 long jump, breaking the meet record three times in an earlybird special (started at 8:15 am). She returned in the afternoon to break the meet record in triple jump at 43-5, second best indoor TJ ever in the US.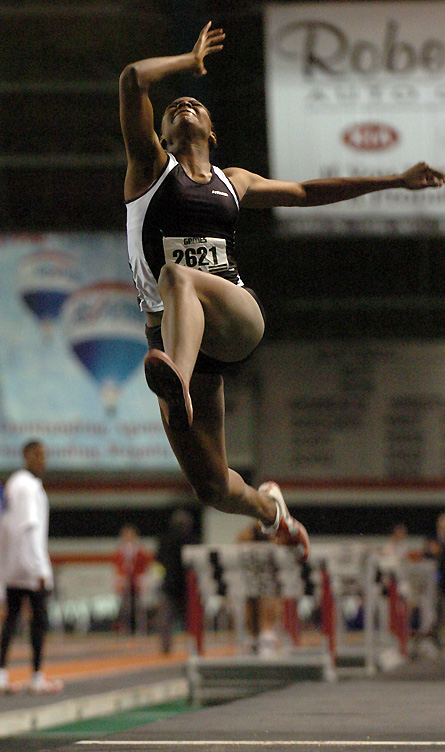 Bianca Knight 23.70 200m US#11 all time
Ridgeland MS soph is only 0.06 off the national sophomore class record (23.64 by Sanya Richards in 2000). Relegated to the morning sections after running 10th in the prelims Friday, Knight burned up the track with a good night's rest, winning the event outright when Ebony Collins won the seeded section in 24.02. Knight got into Pocatello at midnight Thursday after an ordeal trip with 2-hour flight delays on each of three flights between Mississippi and Idaho. Knight, below, later ran 55.68 in the 400 meters, also in one of the "slower" morning sections.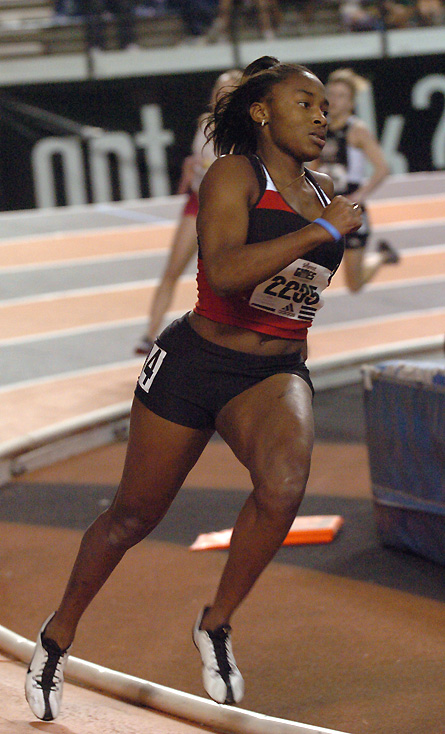 Nicole Leach 54.05 (left), Elan Hilaire 54.06 in a fabulous finish that required 5 minutes study of the Lynx photos. The Owings Mills MD freshman beat Leach to the turn after the break and held a little daylight into the far turn. Leach spurted off the last turn and looked ready to put Hilaire away, but the two churned furiously side by side to the tape. Hilaire set a new freshman class national record (was 54.25 by Char Foster in 1995).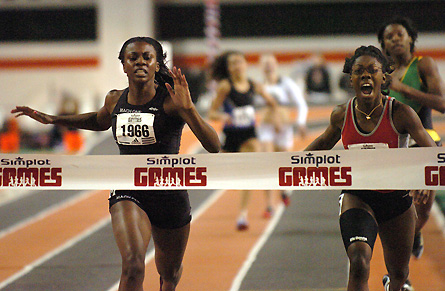 Simplot photos by John Dye
Sanctioning Crisis
Problems end for non-member PA schools competing against NY teams in state - and there's progress on other fronts, too.
According to PIAA Assistant Executive Director Jodi Good, the state associations of Pennsylvania and New York have reached an agreement to enable non-member schools from any state to compete against NY athletes in any event in any sport in PA. The breakthrough agreement, worked out in a telephone conference Tuesday, involved PIAA Executive Director Bradley Cashman and NYSPHSAA Executive Director Nina Van Erk, along with NY Assistant Executive Director Lloyd Mott. The agreement does not include out-of-state meets, such as those at the New York Armory in New York. But it is major progress. 7th in a series on the Sanctioning crisis by Don Rich
In high school track, not all rules are created equally. Why the rules of competition and the rules of eligibility are managed differently.
At the heart of the current sanctioning discussions - and sometimes arguments that threaten to disrupt major meets for many seasons to come - are the rules of eligibility. 8th in the series on the Sanctioning crisis by Don Rich | Sanctioning Crisis series index
Watertown WI freshman Andrew Perkins ran 4:21.20 finishing second in a college race at Carthage College, Kenosha WI, Saturday 2/12. This breaks the national freshman class record of 4:22.62 set by Jeff See of Middletown OH in 2002.

file photo by Wisconsin Track & Field
Taking a shot
at the record books
Ryan Whiting chases 70' and more.



Central Dauphin PA senior Ryan Whiting didn't come out of nowhere. It's where he's going this year that has everyone turning from the track to watch, and to watch out for, the shot put.




Jen Barringer chooses Colorado
Florida distance star makes her decision after qualifying for her second straight World Cross at the USA Cross Country Championships in Vancouver WA. She will join U. Colorado freshman Liza Pasciuto, who won the junior women's race at Vancouver in which Barringer finished third. " I'm excited about my future as a runner and student at Colorado. The decision was the hardest one I've had to make in my life," Barringer said. "I had my choices down to the best schools/coaches in the nation.".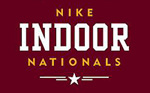 Registration now open
Normal Registration Deadline Sun. Feb 27
VISIT

TRACK-TECH.COM
for


USA Open T&F Camp, FL,
USA Open XC Camps, CO,
USATF Jr Elite Camps CA
T&F TRAINING software
USATF Development Videotapes

DyeStat uses Hy-Tek
for meet results
The Harrier
by Marc Bloom