now on sale ...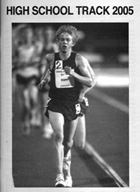 Want to know who has the all time record in the 4xMile relay? Or the freshman record in high jump? You need Jack Shepard's HIGH SCHOOL TRACK 2005. "I never leave home without it," says John Dye.
ShopDyeStat


unique items
for the HS athlete
--Parents Guide

--Training G
uide
--Training Profiles
--Pace Calculator
--the Harrier
--HS Track 2005
Sanctioning Crisis
Problems end for non-member PA schools competing against NY teams in state - and there's progress on other fronts, too.
According to PIAA Assistant Executive Director Jodi Good, the state associations of Pennsylvania and New York have reached an agreement to enable non-member schools from any state to compete against NY athletes in any event in any sport in PA. The breakthrough agreement, worked out in a telephone conference Tuesday, involved PIAA Executive Director Bradley Cashman and NYSPHSAA Executive Director Nina Van Erk, along with NY Assistant Executive Director Lloyd Mott. The agreement does not include out-of-state meets, such as those at the New York Armory in New York. But it is major progress. 7th in a series on the Sanctioning crisis - by Don Rich
Maryland athletes suffering from New York sanctioning decisions - Baltimore Sun article
Simplot Games
Big meet in Pocatello ID starts tonight (Thursday) with weight throw and a bunch of 1600m prelims. Friday is a full day of prelims, and then comes Saturday, all finals all day long. Fields are loaded with big names: Kevin Craddock CA, Brittany Daniels CA, J-Mee Samuels NC, Nate Yorks CO, Justin Oliver GA, Poly Long Beach CA, Transit Tech NY, Montbello CO, Sarah Matthews CO, Ebony Collins CA, Bianca Knight MS, Sade Williams CA, Nicole Leach PA, Jeavon Benjamin NY, Elan Hilaire MD, Heidi Houle UT, Libby Jenke CA, Rolanda Bell NY, Kira Robinson CO, Deana Carson CA, Shana Woods CA, Jenna Utecht FL, Wilson Long Beach CA, James Logan CA, Chelsea Taylor CO, Michaela Wallerstedt NE, and Sarah Cardinal ID.
Simplot Entries - Heat Sheets - Previews: Boys - Girls
DyeStat on-site with John & Donna Dye, Doug Speck and Mike Kennedy
New Freshman Mile Record
Watertown WI freshman Andrew Perkins ran 4:21.20 finishing second in a college race at Carthage College, Kenosha WI, Saturday 2/12. This breaks the national freshman class record of 4:22.62 set by Jeff See of Middletown OH in 2002.
Taking a shot
at the record books


Ryan Whiting chases 70' and more.



Central Dauphin PA senior Ryan Whiting didn't come out of nowhere. It's where he's going this year that has everyone turning from the track to watch, and to watch out for, the shot put.




Jen Barringer chooses Colorado
Florida distance star makes her decision after qualifying for her second straight World Cross at the USA Cross Country Championships in Vancouver WA. She will join U. Colorado freshman Liza Pasciuto, who won the junior women's race at Vancouver in which Barringer finished third. " I'm excited about my future as a runner and student at Colorado. The decision was the hardest one I've had to make in my life," Barringer said. "I had my choices down to the best schools/coaches in the nation."
THIS WEEK
News items posted to DyeStat in the week ending Feb 17
Laef Barnes improves US#1 mile time to 4:12.00 and pulls four more preps under 4:20 at U-Washington - Johnny Dutch NC 7.40 55H is new US#1, tying national sophomore class record - J-Mee Samuels NC improves US#1 55 meter time to 6.23 - Tara LA sr Ken Hall 51-0.25 TJ is first over 50 feet this season - Scott Sellers TX improves US#1 HJ to 7-5 - Sarah Griffen Matthews CO improves US#1 long jump to 20-8.5 - Weaver and Amity win CT titles - Myles Bradley breaks two CT records - Natasha Harvey CT 19-00.50 LJ US#6 - Kara McKenna NY 4:39.3 1500m US#1 - Kristin Reese NY 9:58.8 3000m US#4 - Annaliese Chapa OR 4:54.58 mile US#6 - In PA Carnival, US#1 shot putter Ryan Whiting over 68 feet again - Krista Simkins has top 10 double - West Catholic girls win first PCL title since 2000 as Leach-Thomas named co-MVP's - Jordan Scott 16-4 takes US#1 in pole vault at TN Volunteer Classic; Jenna Utecht triples; Justin Oliver 6.38, Eddie Rush 6.39 in 55m. Nicole Leach and Latavia Thomas lead West Catholic girls to first Philadelphia Catholic League title. Top marks at Slippery Rock PA. Michael Morrison scores 54.5 points in Virginia district meet. Eric Flores 61-11 SP US#3 in South Dakota. Woodson boys, Ballou girls win DC titles. Brittany Sheffey 4:37.09 1500m in NY qualifier.
CO Colorado School of Mines All Comers - Mullen Denver CO sr Kira Robinson 8.46 60H US#1. Niwot CO jr Sarah Griffen Matthews, already the national leader in long jump, added 5 inches to her season best with a jump of 20-8.5.
CT -- Connecticut class championships -
Class LL: Amity sweeps team titles - 14 Class State Records set - Myles Bradley, Norwich Free, gets two with 7.46 55H US#4, 23-09 LJ US#5 - Kristin Mitchell, Glastonbury fr doubles: 5:15.70 1600 SR-11:28.93 3200. Class M: Weaver sets three Class state records: 1:48.15 4x200, 4:05.18 4x400, 4:20.62 SMR - Sashauna Stewart doubles 7.31 55-8.45 55H Class S: Natasha Harvey leads Career girls to title and three Class S records with 19-00.50 LJ US#6, 8.22 55H, 1:46.95 4x200 - Hyde jr James Nixon doubles 6.46 55, 35.29 300 - A.I. Prince Tech boys 92 - Class L: Remi Ray leads Staples boys to team win and two Class L records with 1:21.68 600m tUS#6, 3:29.12 4x400 - Middletown jr Nora Miller doubles 8.37 55H, 18-06.00 LJ - Hillhouse girls 54
CT -- Feb 19 - Connecticut Open Indoor Championship - Start Lists
DC - DCIAA Championships - Woodson boys, Ballou girls win team titles. Andria Smallwood doubles 39.51 300m and 1:15.53 500m. Richard Marcellus 6.48 55m (Darnell Smith 6.49). Lorenzo Elliott 1:06.31 500m US#7 (Marcellus 1:07.68).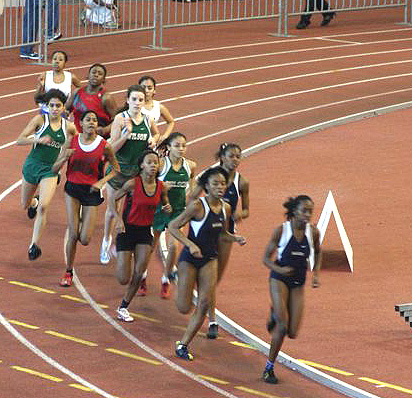 MD -- Maryland regionals
NC -- NC State Meet - Clayton NC soph Johnny Dutch grabs US#1 mark in 55H at 7.40, tying the national sophomore class record. He set the national freshman class record last year with the same time . Mt. Tabor sr J-Mee Samuels improves US#1 55 meter time to 6.23. Salisbury sr Brandon Cathcart 48-0.5 TJ US#3 (Daniel Joseph 47-11.75 US#4, Nigel Orr 47-5.75 US#5). .
New York Counties

Rockland County - Suffern jr Kara McKenna (left) won the 1500m in 4:39.3 US#1 after winning the 3000m in 10:06.6.

Northern Counties - Carmel fr Kristen Reese 9:58.8 3000m US#4.

Kara McKenna photo by Tim Fulton at Dec. 28 MAC meet.
NJ -- Lavino Relays - Lawrenceville School - Hopewell Valley girls had a big triple: 1:44.7 4x200, 3:56.6 4x400 and 4:07.7 SMR. Matt Brock, Lawrenceville NJ, 23'9" LJ US#5 - Springfield Montco PA, 8:05.0 4x800 US#8
NY -- Section 11 State Qualifier - At Suffolk West, Bellport soph Brittany Sheffey 4:37.09 1500m US#2, with Sachem East freshman Laura Green 15 seconds back.
NY -- MAC Valentine Relays -- New York Armory
NY -- CHSAA Championships - Sacred Heart NY jr Rolanda Bell 4:37.43 1500m US#2, and she anchored Sacred Heart to 9:43.78 victory in the 4x800. Kellenberg NYboys 7:59.13 4x800 US#3 won a thriller over Chaminade NY 8:00.52 US#4 and became the third team under 8 minutes this year.
Pennsylvania Track Carnival - US#1 shot putter Ryan Whiting of Central Dauphin is over 68 feet again - Wissahickon sr Krista Simkins doubles 24.65 200m US#5 and 56.05 400m US#8. Cumberland Valley jr Curtis Bixler 8:51.59 3000m US#11.

Curtis Bixler


Ryan Whiting

PA -- Philadelphia Catholic League Championships - Lehigh - West Catholic won their first indoor PCL championship since 2000, but it was close. Cardinal O'Hara was 2nd just seven points back of the Burrs' 133. Nicole Leach and Latavia Thomas were named co-MVPs of the girls' meet. Nicole Leach 24.78 US#5 - 7.69 60m tUS#8 - 57.63 400 - 9.59 60H (2nd) - Nia Ali 9.00 US#7 - Latavia Thomas 2:19.04 800 - 5:23.71 Mile - anchors winning 4x200 and 3rd place 4x800
PA Pennsylvania Week by Don Rich - sr Nicole Smith, McDowell 39-07 TJ US#3, jr Erin Hannon, Bradford 5-08 HJ tUS#3, sr Rob Rankin, Upper Saint Clair 60-07.25 SP US#5
Jordan Scott 16-4 US#1
Georgia junior at Volunteer Classic - collage by Anthony Cheatham

TN -- Volunteer Classic - U. of Tennessee. Oconee GA jr Jordan Scott 16-4 PV for new US#1. Georgia boys run a hot 55m: Redan sr Justin Oliver 6.38, Westlake Atlanta sr Eddie Rush 6.39 (US#8 and 10). Oliver doubled in the 400m in 49.44. Hiram GA jr Timothy Grier 23-8 LJ. Norcross GA sr Lauren Burns 7.12 55m. St. Thomas Aquinas FL sr Jenna Utecht triples 8.20 55H US#6, 18-6.5 LJ and 5-6 HJ. TN soph Margaret Jorgensen 5:08.81 1600m (Kate Niehaus 5:09.86). Brentwood TN sr Lauren Stewart 40-8.75 TJ, second girl this year to go over 40 feet. Winfield WV sr Maggie Tincher 11-0 PV.
SD Pope and Talbot Jellow Jacket Invitational - Black Hills State University - Custer SD jr Eric Flores 61-11 SP US#3.
TX -- U. Houston All Comers - Scott Sellers high jumped 2.26 7-5, beating college jumpers. Sellers was just a quarter inch off his national indoor record set at the Nike Indoor Nationals last March. Sellers only missed once from 2.03 through 2.26 before missing three times at 2.28 7-5.75, which would have been a new high school record. Sellers also long jumped 7.12m 23-4.5. Tara LA sr Ken Hall, who set the national TJ record of 54-10.25 at the USATF Jr Olympics in Eugene OR last summer, is the first over 50 feet this year at 51-0.25. Hall is reportedly not in school this year and will take the GED and attend a junior college next fall.
UT -- Taylorsville/Kearns Indoor T&F Invitational - Heidi Houle, Mountain View, 2:09.6 800 US#1 by 3 secs - Nate York, Littleton 6.95 60m tUS#6 - 22.18 200 tUS#9 - Chris Carter, Roy 49.01 US#2
VA -- Southeastern District - Virginia allows participation in unlimited field events plus three running events, so Great Bridge jr Michael Morrison took full advantage and scored 54.5 of his team's 118 points -- 1st PV 15-6 (tied his facility record for HS athletes at Christopher Newport Univ), 1st TJ 43-4, 1st 4x400 relay 3:35.6, 2nd HJ 6-4 (previous PR 6-0), 2nd 300M 36.27 (first time in competition), 2nd 55H 8.09 PR, 2nd LJ 21-10.5.
VT -- Vermont Indoor T&F Championship - Essex boys - Mt. Anthony Union so Kris Haynes 1:24.10 600m state record - Lamoille so David Kennedy 37.02 300m state record - Fair Haven Union girls - Jan Carlson, Brattleboro, 17-09.50 LJ
WA -- UW Husky Classic - Central Catholic Portland sr Annaliese Chapa 4:54.58 mile US#6 and .
WA -U-Washington Open #3 - Mead WA sr Laef Barnes improved his US#1 mile time to 4:12.00 and pulled four more preps under 4:20: Catlin Gabel OR sr Harry Miller 4:16.07, Redwood CA sr Jake Schmitt 4:17.36, Sandy OR sr Devin McDaniel 4:17.58, and Auburn-Riverside WA sr Jordan McNamara 4:19.63.
WA Junior Olympics Western - San Luis Obispo CA 8th grade sensation Jordan Hasay won the 1500m in 4:37.08, fastest in the nation this season.
Sanctioning Crisis
Maryland athletes suffering from New York sanctioning decisions - Baltimore Sun article.
Galen Rupp 25:14 wins Junior Men 8k
High school 3000 and 5000 meter record holder qualifies for US team at World Cross along with Stewart Eagon, Hakon DeVries, Christopher Landry, Jeremy Mineau, and Ryan Vail. (3 Oregon runners)
No surprises except for the weather - Leo Collins story

Junior Men 8k
-

441 Hakon Devries, 50 Galen Rupp, 494 Chris Landry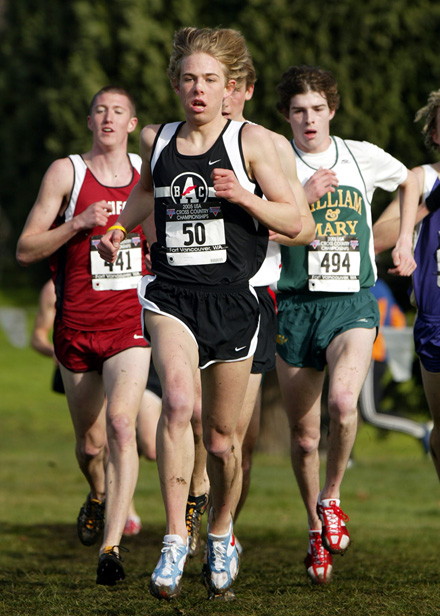 photos by Brian Myers / PhotoRun
Shalane Flanagan 13:24.3 wins Women 4k
Also on World Cross team: Shayne Culpepper, Melissa Buttry, Blake Russell, Lauren Fleshman and Amy Mortimer.
Dathan Ritzenhein 36:59.9 wins Men 12k by 14 seconds over former teammate Jorge Torres -
2003 Foot Locker champ Matt Withrow is 4th -
also on World Cross team: Tim Broe, Jason Lehmkuhle and Ian Dobson.
| | |
| --- | --- |
| Dathan Ritzenhein | Shalane Flanagan |
Liza Pasciuto wins Junior Women 6k -
preps Erin Bedell TX and Jennifer Barringer FL make US team for World Cross
Liza soars to first national title - Leo Collins story

Men 4k -
Tim Broe, Adam Goucher, Don Sage, Josh McDougal, Jorge Torres and Alan Webb

Women 8k -
40-year-old Colleen DeReuck
| | |
| --- | --- |
| | Katie Doswell's Debut - Who is this girl who brought her Virginia road show to Broadway and made it a smash hit? Surprise winner of the junior girls invitational 1000m at the Armory Collegiate Games talks about her season. Coach Ben Ackerly says, "The truth is I still don't know how fast she is." |
DONNA ON THE SIDE IN NEW YORK


a double feature
Nike Nationals -
3 of them now


With addition of the NSSF outdoor championships, Nike now sponsors national meets in all three seasons. So they have synchronized their graphics for Nike Team Nationals (cross country), Nike Indoor Nationals and Nike Outdoor Nationals
Meet calendar updates -- We have updated our meet calendar for 2005 indoor and outdoor seasons. ATTN meet directors: If we missed your meet, send email to John Dye.
.

Rocky Mountain Distance Summit
Feb 19 Colorado Springs
$90 ($50 for students) gets you Tim Broe, Shalane Flanagan, Brad Hudson, Jay Johnson, Jeff Johnson , Weldon Johnson, Kevin Sullivan, and Greg Weich -- plus lunch and Nike dri-fit shirt.
VISIT

TRACK-TECH.COM
for


USA Open T&F Camp, FL,
USA Open XC Camps, CO,
USATF Jr Elite Camps CA
T&F TRAINING software
USATF Development Videotapes

DyeStat uses Hy-Tek
for meet results
The Harrier
by Marc Bloom