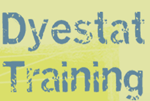 New section on powerhouse programs and star runners.
Galen Rupp blog on his training in Europe, where he just ran 7:49.16 for a new US junior 3000m record and was named USATF athlete of the week.
now on sale ...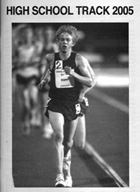 Want to know who has the all time record in the 4xMile relay? Or the freshman record in high jump? You need Jack Shepard's HIGH SCHOOL TRACK 2005. "I never leave home without it," says John Dye.
NTN pre-season kit
Here is all the information needed to size up the second year of the Nike Team Nationals cross country meet. Regional pages, pre-season rankings, last year's results. Pre-season regional #1 teams include the top four boys teams from the inaugural event in 2004 -- York IL, Fayetteville-Manlius NY, Mead WA, and Royal CA -- plus girls defending champ Saratoga NY.
NTN home page - Northeast | Southeast | South | Midwest | Heartland | Southwest | Northwest | California |
2005 summary
exploits of 2004-2005


Ending its 9th year, DyeStat observes more fabulous achievements by American high school track and field and cross country athletes.
Nike Athletes of the Year - These are DyeStat's picks as the premium athletes of the year; those who excelled at the highest level, the cream of the crop in 2004-2005 - the 33 most outstanding athletes in high school track and field. New this year: the DyeStat MVPs - the creme de la creme - the boy and girl who were the single most valuable performers of the year.
Nike List US#1 - the US#1 marks of the year for each event indoors and out.
Top Returnees - DyeStat Elite nationally ranking performers who were undergrads and will return next year. Outdoor - Indoor - Cross Country
New Faces - the freshmen (and even younger) performers who earned national ranking. Outdoor - Indoor - Cross Country
Big Meets - index to all the big meets covered by DyeStat. Cross Country - Indoor - Outdoor
College Choices - where the class of 2005 will attend college - 1,570 Choices
a look ahead . . . US Top 10 Beijing eligible juniors
Jim Spier and John Blackburn list the top 10 US performers in 2005 who were born 1987 or later and thus eligible for the World Junior Championships in August 2006 in Beijing. US Top 10 juniors for 2006 as of Aug 7
Pole Vault soars in upstate New York
HILTON NY - The Monroe County pole vault championship might as well have been a national championship.
1. Tiffany Maskulinski 14-0, recent Iroquois Buffalo grad heading for Washington State next month. This may be a new national HS record, breaking Mary Saxer's 13-9 earlier this year.
2. Jennifer Stuczynski 13-7, Roberts Wesleyan College, USATF Indoor national champion this year.
3. Mary Saxer 13-7, US high school record holder indoors and out, recent Lancaster NY grad heading for Notre Dame next month.
All three train with Rick Suhr's Suhr Sports.
AAU Junior Olympic Games


July 30 - Aug 6 at Tad Gormley Stadium, New Orleans
Doubles by Ahmad Rashad, Jared Huske, Blake Figgins, Jason Guillory, Neidra Covington, Chris Ward, Victoria Jordan, Ramzee Fondren, Ryann Krais, Jonathon Johnson, Justin Crawford, Tatiana Fisher, Ericka Sample.
YM - Ahmad Rashad MI doubles 10.65 -0.3 100m (10.52 +0.1 semi) and 21.17 -2.6 200m (21.02 -0.1 pre). Quentin Summers TX 46.39 400m. Jared Huske KS doubles 13.98 -0.6 110H and 52.65 400H. Blake Figgins MI doubles 1:52.67 800m (Carlos Franklin FL 1:52.71) and 4:01.21 1500m. Jason Guillory TX doubles 60-7.5 SP and 173-4 DT.
YW - Barbara Pierre FL 11.81 -0.6 100m. Porscha Lucas TX 23.95 -0.8 200m. Sandy Wooten TX 53.91 400m. Aja Jackson NC 2:12.21 800m. Krystal Barringer NC 14.17 -1.8 100H. Sandra Iwunze TX 59.68 400H US#5. Terry Contreras TX 5-10 HJ. Neidra Covington FL doubles 20-1.25 +1.0 LJ and 40-7.5 +1.6 TJ.
IB - Chris Ward FL doubles 21.59 -0.2 pre 200m and 47.26 400m.
IG - Victoria Jordan doubles TX 11.92 -1.9 100m and 23.77 -1.2 200m. Symone O'Connor NJ 54.61 400m (Diamond Marks GA 54.71 and Deangela McDougald KS 54.72). Ramzee Fondren MI doubles 2:11.59 800m and 4:41.72 1500. Ryann Krais PA doubles 14.54 -2.1 100H and 1:00.08 400H.
YB - Jonathan Johnson LA doubles 11.23 -2.0 100m (11.15 pre) and 49.19 400m. Justin Crawford NC doubles 13.57 -0.9 100H and 24.80 -1.0 200H.
YG - Tatiana Fisher FL doubles 12.20 -2.2 100m and 24.85 -3.4 200m. Taylor Bumpas PA 2:14.70 800m. Ericka Sample TX doubles 5-6 HJ and 17-9.75 +0.2 LJ.
National meet for ages 8 to 18.
NYC school looking for coach - LaSalle Academy, at 2nd street and 2nd avenue in Manhattan, seeks a head coach for cross country and indoor/outdoor track and field. Successful coaching credentials in cross-country and middle distances and above are necessary. Salary is competitive, and a full-time teaching position may be available for the coming school year. Send resumes and references to [email protected]
Mike Esposito goes to college job - Mt. Tabor NC coach Mike Esposito has accepted a position as track and cross country coach at High Point University. Esposito has coached national stars such as J-Mee Samuels, Matt Debole, Erica Montgomery, and Carly Matthews, and his boys and girls 4x100 relay teams hold state records. Mt. Tabor won nine state championships since 2001 under Esposito. [George Phillips, NCPrepTrack.com]
2005-2006 Meet Calendar is now posted.
Meet Directors: Please review this information for accuracy. Many meets below were carried over from last year, but we need you to tell us if the information has changed. Many of you may have new web sites. Also send us information on any missing meets. Email John Dye.
The WCSN webcast for the World Championships in Helsinki will cost only $4.95 (instead of the previously announced $14.95) for the entire meet, plus bonus coverage of Bislett Games. Go to World Championship Sports Network for more information and to subscribe.

The new webcast service will include start to finish live coverage (58 hours in all) of the IAAF World Outdoor Track and Field Championships at Helsinki Finland August 6-14. Every heat will be shown live and every event will be archived an hour after the event for later retrieval by subscribers. Viewers will need broadband internet access with at least 350 kb per second bandwidth. In addition to the webcast, there will be a daily 1-hour highlight show on CSTV (College Sports TV), PAX and Comcast Sports. The CSTV show will be at 10 pm Eastern for 9 straight nights starting Aug 6.

The new coverage is a cooperative effort between the International Association of Athletics Federations (IAAF), USA Track & Field (USATF), the World Championships Sports Network (WCSN), and Dentsu Inc. USATF CEO Craig Masback said, "This is a test for those who have been yearning for more coverage of elite track and field."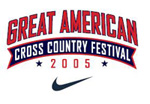 Sep 24 Cary NC
Registration now open - normal entry deadline extended to Aug 14.


DyeStat uses Hy-Tek
for meet results
ShopDyeStat


unique items
for the HS athlete
--Parents Guide

--Training G
uide
--Training Profiles
--Pace Calculator
--the Harrier
--HS Track 2005