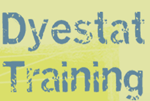 New section on powerhouse programs and star runners.
Galen Rupp blog on his training in Europe, where he just ran 7:49.16 for a new US junior 3000m record and was named USATF athlete of the week.
now on sale ...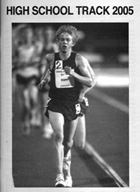 Want to know who has the all time record in the 4xMile relay? Or the freshman record in high jump? You need Jack Shepard's HIGH SCHOOL TRACK 2005. "I never leave home without it," says John Dye.
Chillin' in the Village - check out new photo from Pan Am Juniors.
2005-2006 Meet Calendar is now posted.
Meet Directors: Please review this information for accuracy. Many meets below were carried over from last year, but we need you to tell us if the information has changed. Many of you may have new web sites. Also send us information on any missing meets. Email John Dye.
DyeStat MVPs 2005

Fauquier High School
Warrenton VA, 2005

Mount Tabor High School
Winston-Salem NC, 2005

photo by Vic Sailer, PhotoRun

photo by John Dye, DyeStat

Wins
Outdoor DyeStat Elite US#1 1500m, 4:18.48
Outdoor DyeStat Elite US#1 Mile, 4:36.95
Pan Am Juniors, 1500m 4:17.61
US Junior Nationals 1500m 4:18.48
Nike Outdoor Nationals Mile 4:36.95
Penn Relays Mile 4:50.62
Indoor DyeStat Elite US#1 1000m 2:43.40 USR
Indoor DyeStat Elite US#1 1500m 4:28.09
Indoor DyeStat Elite US#1 Mile 4:46.79
Nike Indoor Nationals Mile 4:46.79

Wins
Outdoor DyeStat Elite US#1, 100m , 10.08 USR
Outdoor DyeStat Elite US#1 200m, 20.32
Pan Am Juniors, 100m 10.20
US Junior Nationals, 100m, 10.58
Nike Outdoor Nationals 100m, 10.34
Nike Outdoor Nationals 200m, 20.76
Arcadia 200m, 21.10
Indoor DyeStat Elite US#1, 200m, 21.22
Nike Indoor Nationals 200m, 21.22
Simplot 60m, 6.72
Simplot 200m, 21.47

by John Dye
DyeStat editor-in-chief

Both of our MVPs came back from troubled junior years to smashing success in their senior years. A year ago Bowman suffered through injuries and coaching changes, while Samuels was suspended from his high school team for a behavioral incident.

This year was a different story.

Samuels showed in 2004 summer meets that he was eager to make amends as he posted the best 100m time of the year (10.25). The stubby muscle man was on a mission his entire senior year, starting with a brilliant double at Simplot indoors in February and ending with a brilliant double at Nike Outdoors in June. He defended his US#1 ranking in the 100 meters by becoming US#1 all time, and he also sparkled at 200 meters, becoming the fifth best US prep ever indoors at 21.22 (fastest ever on a non-banked track) and the sixth best outdoors at 20.32.

Bowman runs with the philosophy of Steve Prefontaine -- taking it out hard and finding out who has the most guts at the end. Usually it is Bowman. The most striking example was the Nike Outdoor mile. As always, Bowman bolted to the front on the first turn and dared anyone to go with her. No one did until the last lap, when lethal kicker Brie Felnagle ate up all but one step of the lead and was surely going to pass Bowman on the far turn. But Bowman refused to lose, pulling away in the last 150 meters to win convincingly. It was arguably the greatest high school girls mile race ever, with Bowman (4:36.95) placing 3rd on the all time US list and Felnagle (4:39.71) fifth, giving the race two of the five US girls ever to break 4:40 (Polly Plumer 4:35.24 in 1982, Kim Gallagher 4:36.94 in 1982 and Ari Lambie 4:37.23 in 2003). Afterward, Bowman mourned missing Plumer's national record. "I tried, I tried," she said as coach Mike Byrnes came up to congratulate her.

Both MVP's broke national records -- Samuels in the 100 meters (10.08) and Bowman in the 1000 meters indoors (2:43.40). Both ended their high school careers with a flourish at the Pan American Junior Championships at Windsor Ontario in July, Samuels winning the 100m and Bowman the 1500m.

Both led our 2004-2005 champions table with more wins than any other athlete, Samuels with 11 wins and Bowman with 10. Both MVP's are heading for championship college programs - Bowman to Tennessee and Samuels to Arkansas.

NEXT - the complete Nike Athletes of the Year - 31 more athletes
a look ahead . . . World Top 10 Beijing eligible juniors
The next World Junior Championships will be held in Beijing in August 2006. Jim Spier has assembled lists of the world's top 10 performers in 2005 who were born in 1987 or later and thus eligible for Beijing.
Pan American Junior Championships
July 28-31 Windsor Ontario
DyeStat on-site with Marc Davis, plus highlights by Jim Spier.

Day 3 Sunday highlights with Jim Spier's notes
Gold medals keep on coming for Team USA - 57 medals in all, 2nd most by any Pan Am team ever.

J-Mee Samuels gets 2nd gold as anchor of winning 4x100 relay

photo by Patrick Davey

Sarah Bowman wins 1500m in US#4 all time high school time, with Erin Bedell getting silver
Ryan Whiting gets second gold (DT-SP).
Boldizsar Kocsor wins hammer.
Reuben McCoy and Greg Offerman 1-2 in 400H
Otis McDaniel and Tremaine Smith 1-2 in 200m
Rachel Yurkovich and Kara Patterson 1-2 in javelin.
US sweeps all four relays

. . . and also . . . .
M 1500 - Canadians upstage Matusak and Rupp
W 200m - US women fall to Anneisha McLaughlin JAM
W 400H - Krystal Cantey 2nd, Nicole Leach out of money
W 5000 - Peruvian beats Blood and Anderson.

Video by Marc Davis
Men's 200m - Otis McDaniel/Tremaine Smith. Women's 200m - Anneisha McLaughlin tops US. Men's 4x100 - Women's 4x100 - Men's 4x400 - Women's 4x400. Men's 1500 - Canadians top Matusak/Rupp. Women's 1500 - Sarah Bowman wire to wire again. Women's Pole Vault. Closing Ceremonies.
39th USATF
Junior Olympics


July 26-31 Indianapolis IN


on-site coverage by Doug Speck, Mike Kennedy and Pete Cava
Sunday
Sprint doubles for Bianca Knight and Kenyanna Wilson. Sade Williams and Jacob Scheuerman win in 400m. Shalina Clarke wins 100H. 400m hurdles are hot - US leader Ebony Collins breezes to 58.26, and two new top 5 US times are posted by Taveris Washington 51.10 in YM and Heather Trimiew 59.97 in YW.
Pete Cava feature


Scott Roth's travels

- pole vault takes him around the world. Along the way, he picks up a bosom buddy in friendly rival Jordan Scott of Georgia
AAU Junior Olympic Games


July 30 - Aug 6 at Tad Gormley Stadium, New Orleans
National meet for ages 8 to 18.
J-Mee Samuels breaks 100m record with 10.08 +0.7
GREENSBORO NC 7/24/05 - At the Russell Blunt East Coast Invitational age group meet on the North Carolina A&T track, Arkansas recruit J-Mee Samuels, of Mt. Tabor NC, broke the national high school record in the 100 meters by winning in 10.08 +0.7. Earlier, he had run a barely windy 10.05 (+2.1) in a heat. The old record (see Track and Field News) was 10.13 by Derrick Florence of Galveston TX in 1986.
Meanwhile, Tennessee recruit Sarah Bowman, of Fauquier County VA, won the YW 800m by 15 seconds in 2:05.27, US#3 this year. Both Bowman and Samuels were warming up for the Pan Am Juniors this week. Results and DyeStat Elite performances
The WCSN webcast for the World Championships in Helsinki will cost only $4.95 (instead of the previously announced $14.95) for the entire meet, plus bonus coverage of Bislett Games. Go to World Championship Sports Network for more information and to subscribe.

The new webcast service will include start to finish live coverage (58 hours in all) of the IAAF World Outdoor Track and Field Championships at Helsinki Finland August 6-14. Every heat will be shown live and every event will be archived an hour after the event for later retrieval by subscribers. Viewers will need broadband internet access with at least 350 kb per second bandwidth. In addition to the webcast, there will be a daily 1-hour highlight show on CSTV (College Sports TV), PAX and Comcast Sports. The CSTV show will be at 10 pm Eastern for 9 straight nights starting Aug 6.

The new coverage is a cooperative effort between the International Association of Athletics Federations (IAAF), USA Track & Field (USATF), the World Championships Sports Network (WCSN), and Dentsu Inc. USATF CEO Craig Masback said, "This is a test for those who have been yearning for more coverage of elite track and field."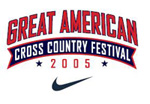 Sep 24 Cary NC
Registration now open - normal entry deadline Aug 7


DyeStat uses Hy-Tek
for meet results
ShopDyeStat


unique items
for the HS athlete
--Parents Guide

--Training G
uide
--Training Profiles
--Pace Calculator
--the Harrier
--HS Track 2005