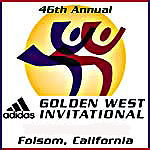 now on sale ...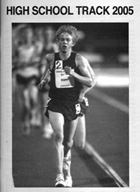 Want to know who has the all time record in the 4xMile relay? Or the freshman record in high jump? You need Jack Shepard's HIGH SCHOOL TRACK 2005. "I never leave home without it," says John Dye.
ShopDyeStat


unique items
for the HS athlete
--Parents Guide

--Training G
uide
--Training Profiles
--Pace Calculator
--the Harrier
--HS Track 2005
Donna on the Side in Mobile
Before the Meet - we find some new places to eat. Rancho Verde CA has an unforgettable voyage.
the Meet - winners and everyone else on the sidelines
38th ARCADIA INVITATIONAL
April 8-9 Arcadia CA
a DyeStat featured meet - DyeStat on-site

INDEX - Entries - Heat Sheets
Arcadia preview - Boys - Mile and 2-Mile have truly elite casts including Ken Cormier AZ, Mark Matusak CA, Chris Barnicle MA, Dan McManamon NY, Yosef Ghebray CA, Cody Harper NM, Jared Rohatinsky UT, Andrew Bumbalough TN, Laef Barnes WA, Jake Schmitt CA, Sandy Roberts NC, and three from Florida -- Justin Harbor, Jeremy Criscione and Bryan Sharkey. Kevin Craddock CA has no peers in the hurdles and is aiming for the record book. Typical California vs. the US matchups abound, especially in the 100, 800 and DMR. In the 100m, 2005 US#1 Jamere Holland CA takes on 2004 US#1 J-Mee Samuels of North Carolina. They are also in the 200. Ryan Finn of Canada, Cody Harper of NM, and Sean Tully of NY challenge California's best in the 800m. The DMR features Shenendehowa NY, Ridgewood NJ, Monsignor Farrell NY and Shaker NY from the East, and Royal, Don Lugo, Murrieta Valley, and La Sierra Riverside from California.
Arcadia preview - Girls -

Meet claims deepest girls 800m field ever with Heidi Houle UT, Latavia Thomas PA, Libby Jenke CA, Shannon Leinart MO, Brianna Felnagle WA, Evelyn Wing CA, Stacy Slight WY.
SPARQ for track and field debuts at Arcadia -

athletes are tested with new measure of track and field athleticism
National Indoor Championship Stats
In the battle of national indoor championships, the National Scholastic Indoor Championships in New York this year had more entries and more DyeStat Elite performances than Nike Indoor Nationals in Maryland. NIN-NSIC Comparison gives event analysis and ranks more than 1,000 Dyestat Elite performances at the two meets.
Stat of the Week - a new feature by John Sullivan
Sully is a track nut who can't get enough track stats. He cranks out lists for his own amusement -- and now he can amuse you as well.
HS Boys sub-1:50 800m by state - There have been 115 sub-1:50 800 meter races run in the US, and California runners accounted for 32 of them, or 28 percent. Texas 13 and Illinois 11 are the only other states in double figures.
THIS WEEK
News items posted to DyeStat in the week ending April 7
Cody Harper 1:50.71 is
New Mexico
state record

Albuquerque Academy NM sr Cody Harper won the 800m in 1:50.71 in the Buddy Robertson Invitational at Milne Stadium, Albuquerque NM. It was the fastest 800m ever by a New Mexico prep, breaking the record of 1:51.73 set in 1993 by David Krtummanacker.

photo by Dave Michel
NY Sophomore class national hammer throw record broken twice by Walter Henning. The St. Anthony's NY thrower went 213-0 at the 28th Iona Prep Invitational in New Rochelle NY on Wednesday (3/30) and topped that with a throw of 219-4 on Sunday (4/3) at the K of C Relays in Warwick RI. .
NY Hornet Relays - Weather mars first big high school meet at the new Icahn Stadium on Randalls Island in New York City. Field events were cancelled due to driving rain and wind and 50 degree chill.
TX Texas Week by John Sullivan - Chris Jones - Trevor Gerland - Eisenhower Houston boys - Scott Sellers - Nichole Jones - Katie Baker - Elsik Houston girls - Westbury Houston girls - Lancaster girls
TX Rice Bayou Classic - Houston - Strong headwinds marred first day action, but two runners defied the winds in prelims -- Westside Houston sr Katie Baker 54.68 400m and Cinco Ranch Katy sr Trevor Gerland 14.11 110H -7.2. Alief Elsik's Laroya Johnson 19-8 LJ nwi. Cinco Ranch Katy sr Scott Sellers 7-0 HJ.
TX Carter Shootout - Dallas - Lancaster girls sweep relays en route to team title. Desoto boys score in field events and 4x800 relay.
UT UHSTCA Invitational - Most Outstanding athletes are Jason Jeppsen, Chris Carter, Shawnee Slade and Michelle Harrison. Sarah Cardinal doubles 40-3 SP and 144-2 DT.
VA Metro Run and Walk Northern Virginia Invitational - Oakton HS.
Trindon Holliday LA and Francena McCorory VA win MVP honors with sprint doubles into headwinds on a cold night in Mobile

- Redan GA boys, Skyline Dallas TX girls double in relays - Justin Oliver GA and Bianca Knight MS win 400m - Phelon Jones AL doubles TJ/LJ
Move over, girls
Bethel VA junior Francena McCorory muscled her way into the national elite by toppling Texas 5A champ Krystin Lacy in the 100 meters, 11.87 -1.5 to 11.90, and an hour later doubling in the 200 meters over Bianca Knight, 23.85 -0.8 to 23.89.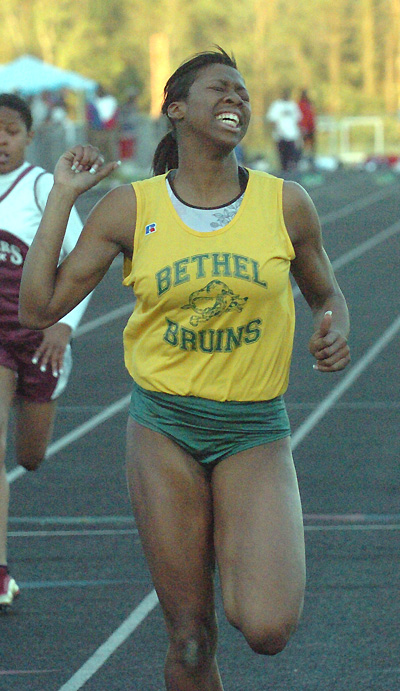 Two short, but powerful sprinters blazed down the straightaway in Mobile -- Northeast Zachary LA sr Trindon Holliday (right) focussed straight ahead in the 100 meters and duplicated his win over Mt. Tabor NC sr J-Mee Samuels in the 60m at Nike Indoor Nationals 3 weeks ago, each time side by side and each time too close to call without the Finish Lynx camera. Holliday 10.47 -0.3, Samuels 10.60. Holliday repeated over Samuels and Justin Oliver an hour later in the 200 meters.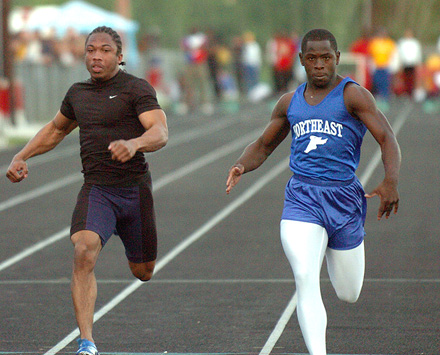 photos by John Dye - also see Winners Table for links to action photos of other events.
Three Alabama runners won distance events at Mobile. WINNERS TABLE links to event coverage with action pix of all running events.

Robert Bedsole
9:13.78 2-mile



Elisabeth Molen
10:53.94 2-mile


E.C. Gibbs
1:53.75 800m

Pat Tyson leaves Mead for U. of Oregon
Highly successful high school coach Pat Tyson will move to the University of Oregon to take over the distance program. Tyson is taking a leave of absence from Mead High School, Spokane WA, where he coached 12 state champion cross country teams in the past 19 years. Mead finished third in December in the first Nike Team Nationals cross country team championship. Tyson ran for Oregon and was Steve Prefontaine's roommate when he died. "Pre made me," Tyson told The Oregonian newspaper. "I was his little sidekick." The Eugene Register-Guard said leaving the security of teaching and coaching at Mead for the challenges at U.O. is " the kind of gamble that Pre would have taken himself.."
Galen Rupp to Oregon too? - After the Tyson announcement, the Eugene Register-Guard said that the Track & Field News 2004 high school Athlete of the Year, who set a national record for 5000 meters, would enroll in classes at Oregon Monday (4/4) and will run for Oregon this spring if NCAA eligibility papers can be cleared in time. Rupp did not sign any national letter of intent after graduating from Central Catholic Portland last spring and continued to train with former Oregon start Alberto Salazar, who was his high school coach and also runs the Nike Oregon Project of elite distance runners.
Maine legislature takes up ban on cross country teams competing in New England Championships. A public hearing was held Thursday (3/31) on LD 1130 , "An act to allow a state champion cross-country team to participate in New England competitions". [MORE]
Chris Lear book signing


Author of "Running with the Buffaloes" and "Sub 4:00" signs his books in New York City and talks about college distance running. Tim Fulton was there and writes about
Chris Lear and His Impeccable Timing
Gerry Lindgren Invitational
SALT LAKE CITY UT 3/29/05 -- A special 2-mile race will be held in Salt Lake City April 22 with 20 top runners from 10 states on hand, meet directors David and Aron Taylor announced. Entries include four Foot Locker finalists -- Cory Thorne NH, Chris Rombough WI, Mohamed Ige CO and Justin Switzer MI. The Taylors said the legendary Lindgren, who set HS records in 1964 that still stand, will be present for the race which honors his name, along with Jeff Nelson, who holds the national 2-mile record of 8:36.3 in 1979.
NIN v. NSIC winners
Nike Indoor boys winners beat NSIC winning marks 12-10. But NSIC girls won 14-8 over the Maryland meet. NIN-NSIC Winners Table
Armory Collegiate Series 2006
NEW YORK, NY 3/24/2005 -- Dr. Norbert Sander, president of the The Armory Foundation, announced a new Armory Collegiate Track Series for the 2006 indoor season at the New York Armory. The series will consist of eight Friday night sessions with leading college teams. MORE
30th GREAT SOUTHWEST
CLASSIC
Challenges
the USA
Once a regional post-season meet, GSW is now inviting top USA athletes to go against the best of 7 SW states, including those jackrabbits from Texas.
Albuquerque June 2-4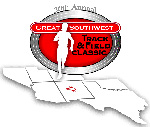 a DyeStat featured meet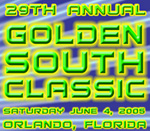 30 future Olympians competed here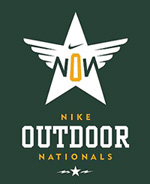 June 17-18 Greensboro Registration now open
a DyeStat featured meet
VISIT

TRACK-TECH.COM
for


USA Open T&F Camp, FL,
USA Open XC Camps, CO,
USATF Jr Elite Camps CA
T&F TRAINING software
USATF Development Videotapes

DyeStat uses Hy-Tek
for meet results
The Harrier
by Marc Bloom