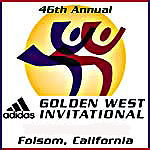 now on sale ...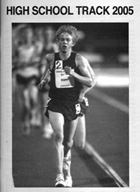 Want to know who has the all time record in the 4xMile relay? Or the freshman record in high jump? You need Jack Shepard's HIGH SCHOOL TRACK 2005. "I never leave home without it," says John Dye.
ShopDyeStat


unique items
for the HS athlete
--Parents Guide

--Training G
uide
--Training Profiles
--Pace Calculator
--the Harrier
--HS Track 2005
Michigan runner dies in auto accident
4/22/2005 -- Fremont MI sr Riley Klingel was killed in an auto accident on his way to school today. Klingel was named Mr. Michigan Cross Country by the coaches association as the leading senior. He finished second behind Foot Locker national finalist Dan Roberts at both the Portage Invitational and the Michigan state meet Division 2. Visitation and services are at the Wesleyan Church in Fremont Monday and Tuesday.
Top 2-milers from 10 states will run at East High School in Salt Lake City tonight at 6 pm Mountain time, with live TV on the local CBS station.
a conversation with Gerry Lindgren and Jeff Nelson
Gerry Lindgren was an idol. I'm in awe now just talking to him on the phone. -- Jeff Nelson.


Still the national record holders in the boys 2-mile after all these years, Gerry Lindgren (class of 1964) and Jeff Nelson (class of 1979) will meet for the first time at Salt Lake City Friday (4/22) at the Gerry Lindgren Invitational, a special 2-mile race featuring 20 top runners from 10 states. Lindgren and Nelson spoke to each other for the first time in a conference call recently and talked about why there was such a drought in HS distance running since their era and what it would take for someone to break their records now.
Stat of the Week - John Sullivan is a track nut who can't get enough track stats. He cranks out lists for his own amusement -- and now he can amuse you as well. Boys 2-Mile Record Progression - In 1964, Gerry Lindgren was the first to break 9 minutes. Then, Jeff Nelson in 1979 was the first (and still the only one) to go under 8:40.
546 College Choices
National Letter of Intent signing period ends first week. The National Letter of Intent signing period for the high school class of 2005 runs from April 13 to August 1. We will have updated our College Choices 2005 lists and now have 546 choices as of April 22. PIctures too. Send information on choices to John Dye, giving name, high school, event, college, and a way to verify. Some significant choices we haven't reported previously:
Leeandrea Robinson TX hurdles/jumps - Houston
Jonathon Gulley TX pole vault - Houston
Derek Scott CA, US#1 in pole vault, commits to Southern California and then tears his ACL in practice and is out for the season.
Bryan Scotland NJ mid-distance - Pennsylvania
Bever-leigh Holloway MD sprints/hurdles - Ohio State
Robbie Barany WA distance - Notre Dame
Kate Mattoon CA pole vault - Notre Dame
Tara Lenn AL distance - US Naval Academy
Sean McNamara IL distance - Michigan
Andrew Jesien MD distance - Virginia
Matt Maloney RI throws - Oregon
Megan Maloney RI throws - Oregon
at last, a track for Mervo Tech
Mergenthaler Vocational Technical High School in Baltimore ("Mervo Tech") has turned out top athletes for years without a track of its own. That changed Saturday (4/16) with the first Freddie Hendricks Track Festival, the first meet on Mervo Tech's new track. The meet was named in honor of former coach Freddie Hendricks, who overcame the lack of facilities for 40 years before retiring last year. Hendricks' top product was 1996 graduate James Carter, US champion 400m hurdler last year and fourth in the last two Olympic Games.
THIS WEEK
News items posted to DyeStat in the week ending April 21
NY - Red Raider Relays North Rockland HS

MVPs are Lynne Layne for a sprint double and John Hickey for a throws double. left, girls 800m, won by Somers jr Mary Alice Howard 2:19.32.
OH Elyria jr Christina Madison is out the season with a broken leg, which happened while long jumping Saturday (4/16). The younger sister of U. Tennessee star Tianna Madison ws the Ohio indoor long jump champion this year. [Jeff Branhan]
OH Federal League, North Canton - Hoover North Canton sr Ashley Muffett 48-5.5 SP goes to US#1.
OH -- Mansfield Mehock Relays - Mansfield OH - Willard OH sr Michaela Danhoff 43-7.25 SP, Middletown OH sr Jeff See doubles 1:54.50 800m and 4:11.73 1600m (Tony Jordanek 4:14.51, Dan Roberts MI 4:14.97), Glenville Cleveland OH doubles 1:28.40 4x200 and 3:24.21 4x400
OK Oklahoma Week by Phil Price - At U. of Oklahoma -- Tulsa Union jr Danielle Gilchrist doubled 14.31 +1.4 100H and 43.96 300H. At Ken Hogan Inv, Moore OK -- Westmoore sr Cory Summers doubled 57-2 SP and 173-10 DT.
PA - Pennsylvania Week by Don Rich - Amy Backel 141-0 JT. Ryan Whiting doubles, of course. Craig Miller wins negative split 1600m. Quads by Nicole Smith (5-9 HJ, 19-6 LJ, 40-.5 TJ, and 15.0 110H) and Erin Hannon ( 5-8 HJ, 17-1.75 LJ, 38-2 TJ and 15.21 100H). Osayi Osunde 200-1.5 JT.
PA Week - Northern York's Amy Backel 141-9 JT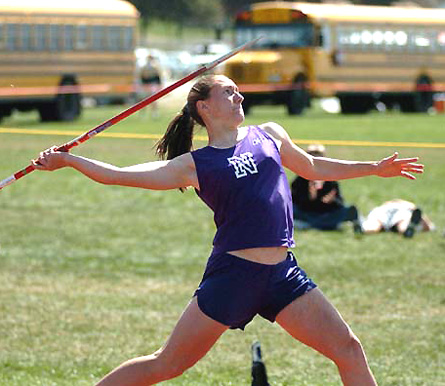 RI - LaSalle Academy tri - LaSalle sr Matt Maloney 212-2 JT, a new Rhode Island and New England record. Matt and his twin sister Megan will throw for the U. of Oregon next year.
SD Brandon Valley Invitational - Lincoln Sioux Falls sr Sayfe Jassim 47.9h 400m is 2nd fastest ever in South Dakota.
TN --

Germantown Invitational

- Bolton TN jr Rob Sorrell, winner of the Mobile mile 2 weeks ago, tripled in 90 minutes: 4:16.17 1600m, 1:57.08 800m and 9:31.54 3200m, with only 15 minutes between the 800 and the 3200. Cordova TN sr Simeon Harris 37.73 300H.
Galen Rupp trying to run for Oregon
The Associated Press reports that Galen Rupp, the 2004 high school track and field athlete of the year, has hired a law firm to help get NCAA clearance for him to join the University of Oregon track team. The firm submitted documentation to show that Rupp has not compromised his amateur status while training with Alberto Salazar and the Nike-funded Oregon Project. Rupp enrolled at Oregon recently after track coach Martin Smith resigned and Mead Spokane WA coach Pat Tyson was retained as a volunteer distance coach. [more]
at the meet - lots of action in the crowd and on the sidelines


Before the meet
Donna takes time to smell the flowers, and she also finds a peacock, movie sets, mountain views, and good food.
30th GREAT SOUTHWEST
CLASSIC
Challenges
the USA
Once a regional post-season meet, GSW is now inviting top USA athletes to go against the best of 7 SW states, including those jackrabbits from Texas.
Albuquerque June 2-4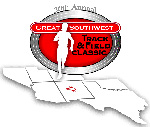 a DyeStat featured meet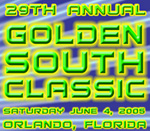 30 future Olympians competed here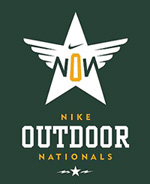 June 17-18 Greensboro Registration now open
a DyeStat featured meet
VISIT

TRACK-TECH.COM
for


USA Open T&F Camp, FL,
USA Open XC Camps, CO,
USATF Jr Elite Camps CA
T&F TRAINING software
USATF Development Videotapes

DyeStat uses Hy-Tek
for meet results
The Harrier
by Marc Bloom